Inspirational Monday (14) - How to Avoid Criticism.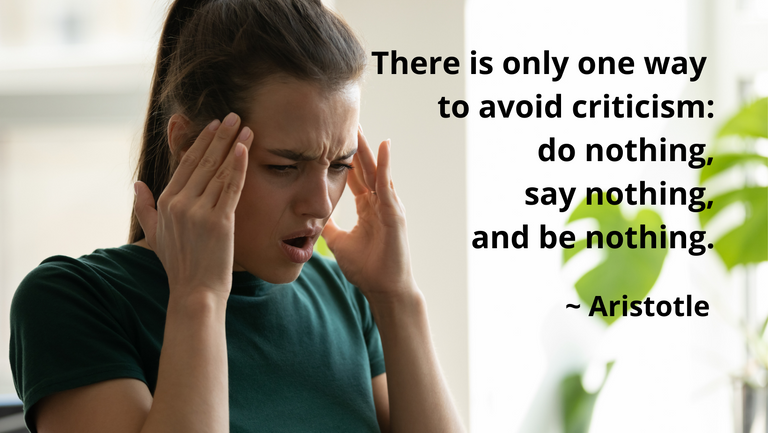 The thought for this week is so straight to the point and self-explanatory...it is hard to reason about this. There is actually nothing to reason about. It is simple. It is straight to the point.
There is only one way to avoid criticism: do nothing, say nothing, and be nothing. ~ Aristotle.
As we progress through life, there will always be people who try to make you fit into "boxes" (figuratively speaking) of their choice. It's amazing how everybody else always knows what's best for you...
I'm not referring to sound advice from someone who has already been there where you want to go...I'm talking about the eagerness of people who are all too eager to offer their advice and opinion on topics they know nothing about.
In some cases, it can even be people who actually do know, but they just don't care because they have their own agenda.
A good example of this is the current situation with the Grand-Slam female tennis champion, Naomi Osaka. Although she agreed to do an on-court interview after her victory this weekend, she made it known in writing that she would not be attending the post-match press conference.
She has received a fine of $15000.00 for that decision and now also faces potential suspensions from major tournaments if she continues to not fulfill her press obligations.
In a Mail Online article, which includes a copy of her written statement, stating her reasons for not attending, this incident is discussed in more detail.
The purpose of this post is not to determine whether she has a valid point or not. Although this might be an extreme example, it rather serves to show that the moment you decide to take a stand for something you believe in, there will be criticism.
Even though Naomi Osaka is already a world champion, you can take my word for it that the moment you make your decision to start your own journey, there will be people to criticize your decisions. Whether you want to hear it or not, you'll get it.
So, make peace with the fact that you will receive criticism. Depending on where you are in your journey and your circumstances, deal with it, ignore it, make adjustments where needed, but start working towards your dream.
Work on your goals, and do not allow criticism to rob you of your dreams.
---
---