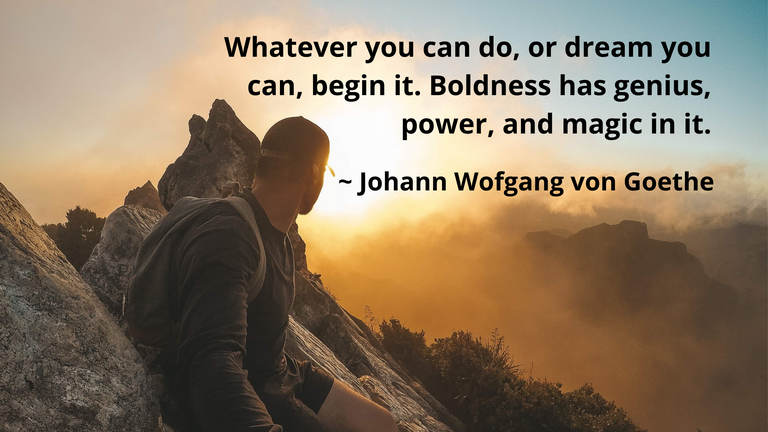 For me, the quote for this week fits in perfectly with the message I frequently hear in the CTP Swarm. Something you would hear @jongolson say daily is, "show up...every day".
It is emphasized to avoid "the Easy Button" and be willing to put in some effort. And the effort starts with showing up every day. And showing up means doing something.
Whatever you can do, or dream you can, begin it. Boldness has genius, power, and magic in it. ~ Johann Wolfgang von Goethe
Begin. Start. Take Action. Take the first step...however you want to say it, it means you actually have to do something. I think NIKE says it well..."Just do it".
If money is your problem and you think you don't have enough funds for what you want to do...start by creating a savings plan for yourself. Think of ways how you can earn some extra money that can go into your project.
If a lack of knowledge is holding you back, start by gathering information and learn. Start educating yourself with the information that is available online.
If you want to start earning some crypto, have a look at the Start Earning Today program. Start earning without any out-of-pocket expenses.
And if you want to learn more about blockchain technology and take your crypto experience to the next level, have a look at the Hive Guide.
If you are concerned about other people's opinions, build up enough courage to take the first step towards something important to you!
However small it might be, but be bold enough to take that first step. Start putting some money aside to start with your project. Start gathering information to educate yourself. Start engaging with people in a community of like-minded people.
Whatever you do, start doing something. Then it is a matter of "rinse and repeat, rinse and repeat"...until you start taking bigger steps and before you know it, you're on your way to whatever it is you want to achieve.
Without action, your goal will remain a dream. So, if you haven't started yet, I hope this post will encourage you to be bold enough to take that first step.
Leave a comment below and tell us how you are going to start.
Or, if you are well on your way already, share with us how you got started and where it has taken you so far.