Dear Hivers,
We hope you are all doing fine? We gave out an announcement post few days ago informing everyone that we will be completely moving all activities on Hive Bootcamp Hub from out indigenous Whatsapp group to Discord so as to make things easier for us and our members.
We think it is very necessary that we explain how our Discord server is set up. So, in this post, we will be discussing the different channels, their purpose and what they are meant for. Our Channels are divided into two main categories and they include:
HIVE TUTORIALS (TEXT)
HIVE TUTORIALS (VIDEO)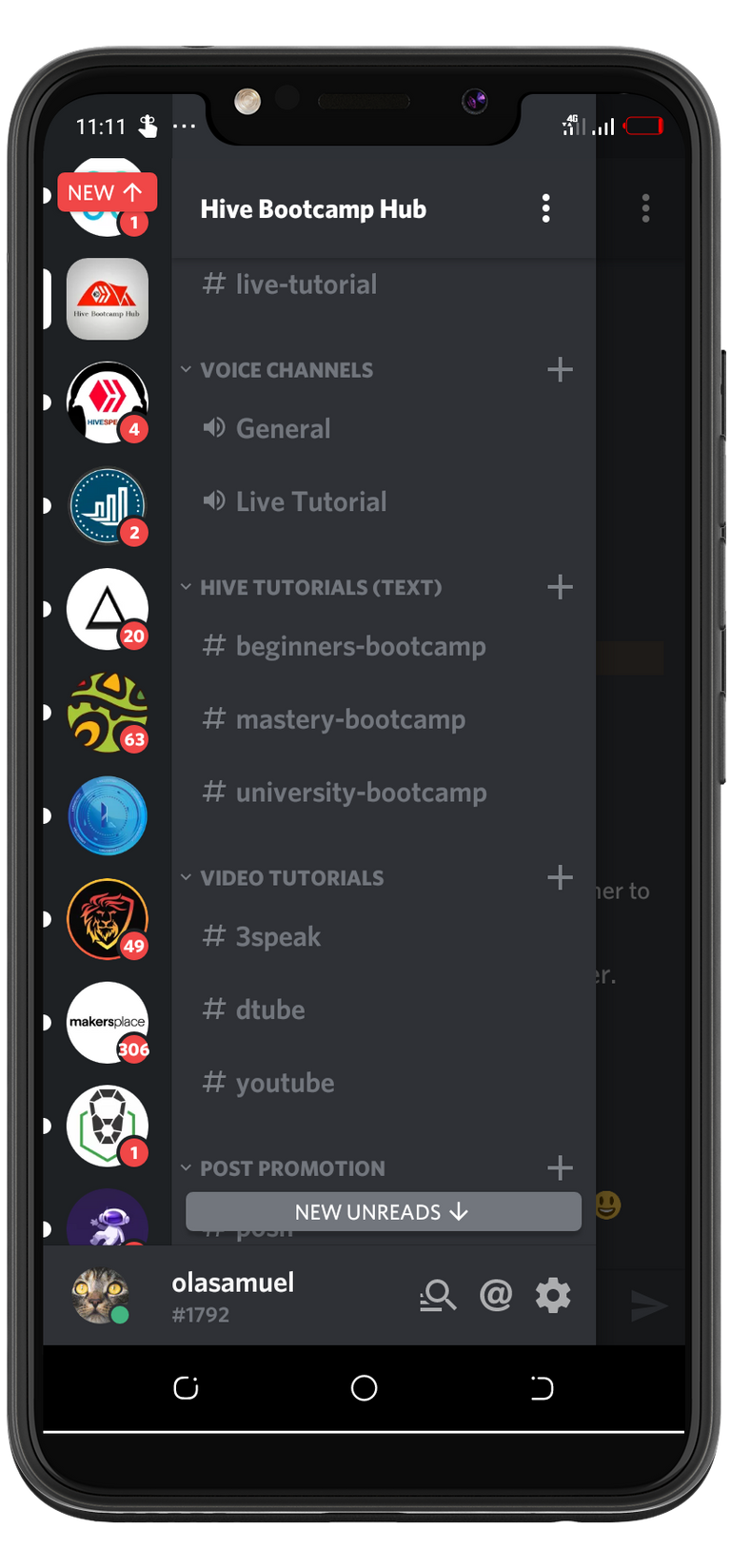 ---
HIVE TUTORIALS (TEXT)

---

This is the category where all lectures are written in plain words. The accepted language is English and those tutorials will be backed up with some pictures and screenshots if there is need so that our students can find it easy to navigate the Hive Platform. The Hive Tutorials Text Channels Include:
live-tutorial Channel: Just as the name implies, the live tutorial channel on Hive Bootcamp Hub Discord Server is the channel where fresh and new tutorials will be happening. Since it's live tutorial, we will always put up an announcement post on our official Hive account few days before the tutorial wo go live.

All other channels apart from the "live tutorial channel" are meant for recorded tutorials. Every teachings that happened on the live-tutorial will be compiled in a pdf format and will be dropped in either the Beginners Bootcamp, Mastery Bootcamp or University Bootcamp Channels depending on what the teaching is about.
beginners-bootcamp Channel: This is the channel where we educate new users about how to get started on Hive and earn while doing what they do for free on Web2 platforms like Facebook, Twitter and Instagram. This channel is mainly for tutorials concerningthe basics of Hive

mastery-bootcamp Channel: We are sure a whole lot of you do not even have an idea of Hive Tribes yet. Well, maybe we need to let you know you can earn different cryptocurrencies aside HIVE and HBD just from a single post on Hive. In Mastery Bootcamp, we will open your eye to a whole new world of opportunities on Hive. You get to earn other tokens such as Neoxag, Lassecash, Sports, Leo, Dblog, Marlians, CCC, UFM, Life, weedcash, and a host of other which you can also trade to your fiat currency on the Hive-Engine Exchange.

university-bootcamp Channel: Would you like to know how to exchange your Hive or HBD tokens to other tokens like BTC and ETH or even to Naira? This is where you get to explore those opportunities as we will be giving out lectures on how to use various exchanges like Binance, Bittrex, MXC, HuobiGlobal, Ionomy, Blocktrades, Hive-Engine and others where HIVE, HBD and Hive Tribe tokens are listed. Also, this is where we educate you to have a full understanding of cryptocurrency and blockchain. Such that, you can build a career with crypto and blockchain with the knowledge acquired.
---
HIVE TUTORIALS (VIDEO)

---

The Hive Tutorials Video Channel is mainly for Hive Tutorial Videos. However, we have three sub channels which include 3speak, Dtube and YouTube channels under this category. Thus, we plan to publish every tutorials we make on 3speak, Dtube and YouTube and students have the opportunity to choose whichever ones they like. We added YouTube because we think it's a way of promoting Hive to youtubers.
This is the time to get more serious with things
---
The Hive Bootcamp Hub Team ain't tired and we are very determined and focused to see you guys prosper and successful as a content creator and Crypto Enthusiast both on Hive and beyond.

All we need is your support
Join the Discord Server so you don't miss out 👇
---
It's our passion to make sure that the Hive ecosystem continue to grow and we believe the best way to go about this is to take actions that will help bring in new users and educate them on the things that they need to know to be a successful content creator and crypto Enthusiast on Hive.
This is just the beginning of great things on Hive Bootcamp Hub, as we look forward to enhancing, simplifying and making easy the onboarding process of newbies on Hive.
Don't Forget
In Hive Bootcamp Hub, We Nurture For A Brighter Hive Future
---
---
Latest Update

---
We planned on moving to discord completely before the end of June and we've got interesting plans in place to make sure things get better with Hive Bootcamp Hub so that we all can grow Hive together as one.
Kindly join our Discord Server here
---
The Hive Bootcamp Hub Roadmap

---
We plan on hosting a tutorial class every Saturdays of the week.

More effective measures to onboard new users and promote the Hive Blockchain will be put in place as we progress.

There are plans to move our classes to Telegram in the future due to the limited number of participants whatsapp can take.

A weekly or bi-weekly publication of our activities will be published to the Hive community.

We plan to hold webinars to facilitate our Hive Bootcamp classes in the future.

There's also the plan to organize contests and giveaways for newbies using part of the funds generated from post payout of @hivebootcamphub Hive account to encourage them
---
The Hive Bootcamp Hub Team

---

We can't do it all alone, Kindly show Support by rebloging!
---
Our Social Media Channels

---
Writing might seem lot like a confusing mess, but unleashing your creative mind is really all you need

designed by @dimsyto