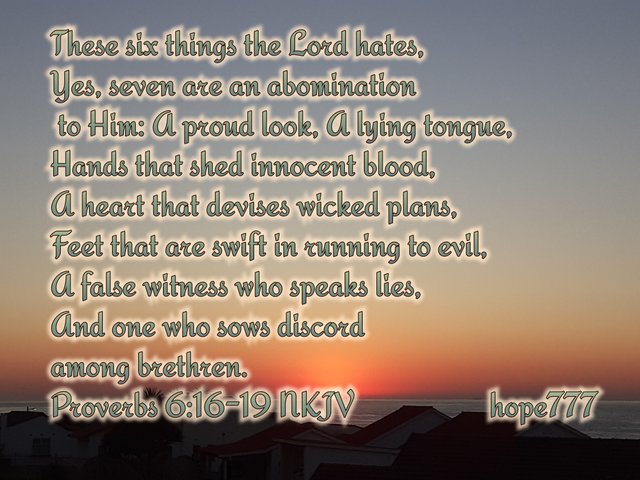 Greetings Brothers and sisters.
In these few verses 7 sins is mentioned that is an abomination to God. God hates these 7 sins.
A proud look - We have nothing to brag about. God made every one of us and before Him we are all equal.
My soul shall make its boast in the Lord ; The humble shall hear of it and be glad.
Psalms 34:2 NKJV
A lying tongue - there is more than one place in the Bible that said lying is an abomination to God.
Lying lips are an abomination to the Lord , But those who deal truthfully are His delight.
Proverbs 12:22 NKJV
We should pay serious attention to this as today, it's almost acceptable to lie. People lie and says it's a small lie. The above verse states the opposite of lying, truthfulness, and if we are truthful, God delights in us.
Hands that shed innocent blood - God is the giver of life, and no one has the right to take another man's life. The first murder was when Cain murdered his brother Abel and that had serious consequences for him, lifelong consequences.
And He said, "What have you done? The voice of your brother's blood cries out to Me from the ground. So now you are cursed from the earth, which has opened its mouth to receive your brother's blood from your hand. When you till the ground, it shall no longer yield its strength to you. A fugitive and a vagabond you shall be on the earth."
Genesis 4:10‭-‬12 NKJV
A heart that devices wicked plans - evil people have hearts that are planning evil deeds.
Keep your heart with all diligence, For out of it spring the issues of life.
Proverbs 4:23 NKJV
Feet that are swift running to evil - the evil person not only plans evil things he is quick to execute his evil plans.
Woe to those who devise iniquity, And work out evil on their beds! At morning light they practice it, Because it is in the power of their hand.
Micah 2:1 NKJV
A false witness who speak lies - again we are warned against lying in order to bear false witness.
A false witness will not go unpunished, And he who speaks lies will not escape.
Proverbs 19:5 NKJV
Above the Bible says that the false witness will be punished.
lastly one who sows discord under brethren. -
Now I urge you, brethren, note those who cause divisions and offenses, contrary to the doctrine which you learned, and avoid them. For those who are such do not serve our Lord Jesus Christ, but their own belly, and by smooth words and flattering speech deceive the hearts of the simple.
Romans 16:17‭-‬18 NKJV
Here it's clearly explained how discord is sowed Again, it comes to deceiving and lying "smooth words".
We are called by our Lord Jesus Christ to be the opposite, to be peacemakers.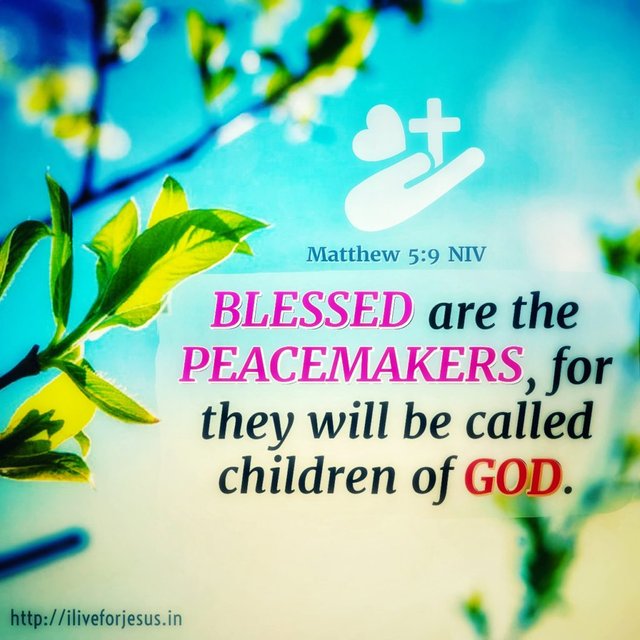 https://iliveforjesus.in/blessed-are-the-peacemakers/
Thank you for studying Proverbs with me.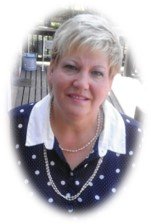 hope777