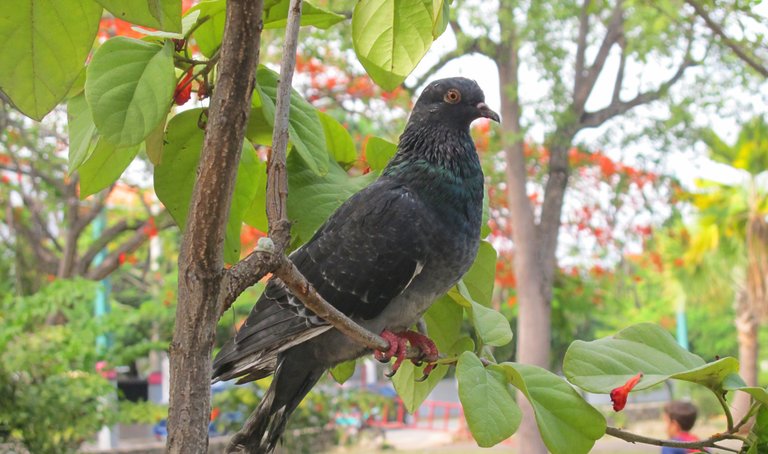 Piolin
The most unusual pet i've ever had is called ¨Piolín¨ (yes, like the animated cartoon). It is a dove, she likes to fly, walk, bite other doves and above all eat and sh**.
In my house she became a member of the family, and we love her very much.
This is Piolín:

Piolin
La mascota más inusual que he tenido se llama ¨Piolín¨ (si, como los muñequitos animados). Es una paloma, le gusta mucho volar, caminar, picar a los demás y sobre todo comer y cag**.
En mi casa se convirtió en un miembro más de la familia, y la queremos muchisimo.
Les presento a Piolín: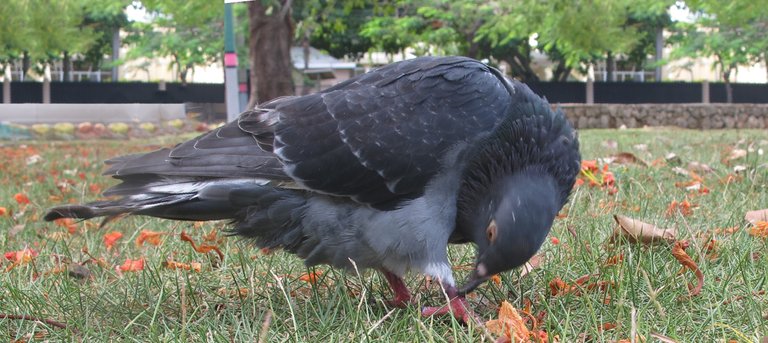 We found Piolín one day in our parking lot, being only a chick, it must have been about 1 week old, and apparently it fell from its nest (which was next to the air conditioning condensers) and since she doesn't know how to fly its parents couldn't help it and abandoned her.
But she didn't arrive this beautiful to our hands, she arrived this way:
A Piolín lo encontramos un día en nuestro parqueo, siendo solo un pichón, debía tener como 1 semana de nacida, y aparentemente se calló de su nido (que era junto a los condensadores del aire acondicionado) y como no sabe volar sus padres no podían ayudarlo y lo abandonaron.
Pero no llegó así de hermosa a nuestras manos, llegó así:

That's how we found her, super small, innocent, alone and ugly (don't judge her, all babies are ugly when they are just born). She barely had a few feathers, and we decided to adopt her.
Así la encontramos, super pequeña, inocente, solita y fea ( no la juzgues todos los bebes son feos cuando acaban de nacer ) apenas tenia unas cuantas plumas, y decidimos adoptarla.

But in spite of this we gave her a lot of love, we prepared a mixture of seeds with water and we built him a small house. She totally loved it.
Pero a pesar de esto le brindamos muchísimo amor, le preparábamos una mezcla se semillas con agua y le construimos una pequeña casita.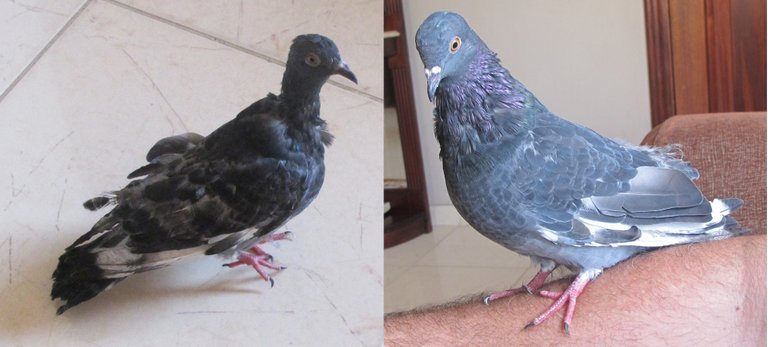 Then, she grew up and puberty helped her get prettier, in the first picture she has the first feathers coming out and in the second one she had already molted them.
Luego, fue creciendo y la pubertad le ayudó a irse poniendo mas bonita, en la primera foto tiene las primeras plumas y en la segunda ya las había mudado.
She used to do a beautiful dance where she spread her wings walking in circles, inflated his neck to show the beautiful colors of violet and blue-green and also sang.
Hacía un hermoso baile en donde abría las alas caminando en círculos, inflaba su cuello para enseñar los hermosos colores violeta y azul verdoso y también cantaba.
---
Well... it turns out that Piolín was not a ¨she¨ but a ¨he¨... and we figure this out at this very moment, when he fell in love with one of my socks and made love to her! It seems that he understood that my sock was a female pigeon. And it makes a lot of sense because with me he always had special treatment, he even let himself be caressed.
And now it turns out that all the dances he used to do were a courtship dance and when he inflated his neck to look more powerful and attractive. Male doves do this to impose themselves in fights and to court the females.
Bueno... resulta que al final de cuentas Piolín no era un ¨ella¨ si no un ¨el¨... y nos dimos en ese preciso momento, cuando se enamoró de una de mis medias y le hizo el amor! Parece que él entendía que mi media era una paloma hembra. Y tiene mucho sentido porque conmigo siempre tenía un trato especial, hasta se dejaba acariciar.
Y ahora resulta que todo el bailecito que hacía, era un baile de cortejo y cuando inflaba su cuello era para verse más poderoso y atractivo. Las palomas macho hacen esto pasa imponerse en peleas y para cortejar a las hembras.
Piolín also loved to bathe, i think it was his favorite time... He just lift his wings so the water would fall on his body and drip off.
A Piolin también le encantaba bañarse, creo que era su momento favorito... Él solo levantaba las alas para que el agua le cayera en el cuerpo y se escurria.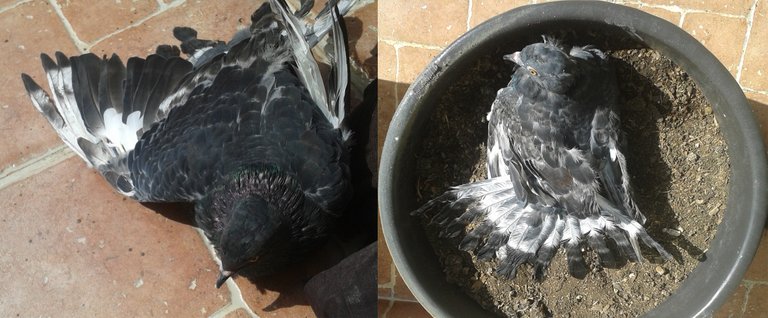 SOmething never could miss, her time to sunbathe in the day, especially on top of one of my mom's jars... here you see how on the right you have the first moult of feathers and on the second left you already have a new layer of feathers.
Nunca podía faltar, su momento de tomar el sol en el día, especialmente encima de uno de los tarros de mi mamá... aquí se ve como en la derecha tiene la primera muda de plumas y en la segunda ya tiene una capa nueva de plumas.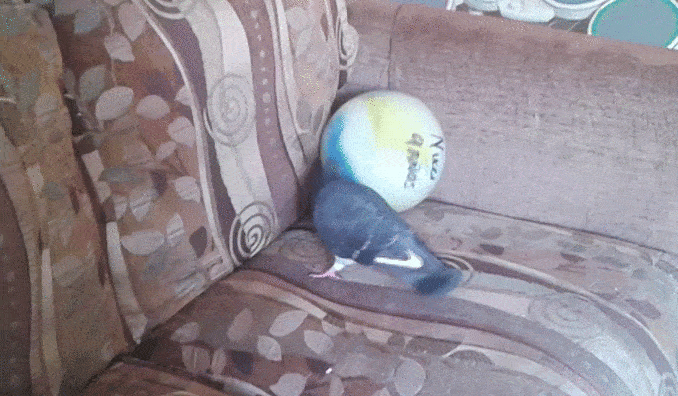 He liked to play a lot, to climb on the couches... and of course, as he believed he was people, he did not fly inside the house, only outside (thank God). He was very free really, he loved to go out, land on the power lines on the street, walk around and come back to the house. He used to do his own things outside.
Le gustaba mucho jugar, subirse en los sillones... y claro, como se creía gente no volaba dentro de la casa, solo afuera (gracias a Dios). Era muy libre realmente, le encantaba salir, posarse en los cables de electricidad, dar una vuelta y volver a la casa. Hacia sus necesidades fuera.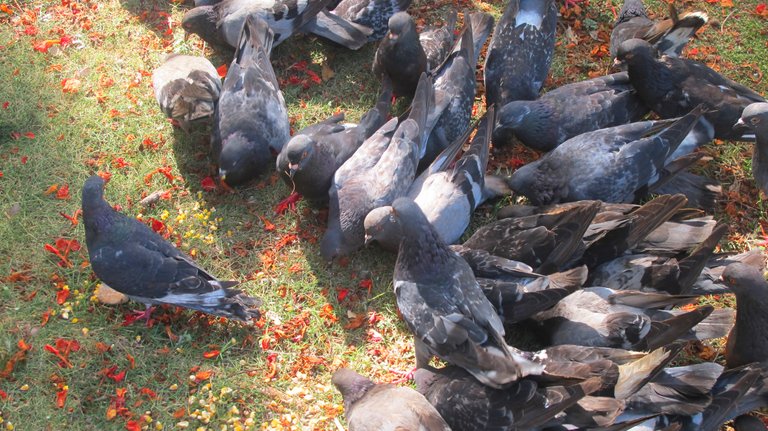 As i was saying, he thought he was people, we took him to the park several times and he ran to the other pigeons, we tried everything... we try also give him up.
This time it was very funny, because my whole family was ready to leave him, because he was already very old and had to continue with his life... it turns out that we left him, and went to the car to stayed seeing what he was going to do... and suddenly a boy arrived and grabbed him! HE GRABBED HIM! Our souls were broken, obviously he didn't fly away because he's not used to being afraid of humans. So we ran out to pick him up and took him back to the house.
Como decía, se creía gente, lo llevamos varias veces al parque y le corria a las otras palomas, intentamos de todo... hasta dejarlo.
Esa vez fue muy cómica, porque estábamos toda mi familia dispuesta a dejarlo, porque ya estaba muy grande y tenía que seguir con su vida, pues resulta que la dejamos y nos fuimos al carro y nos quedamos viendo a ver que hacia... y de pronto llegó un niño y lo agarro!! LO AGARRÓ!! Se nos partió el alma, obviamente no salió volando porque no está acostumbrado a tenerle miedo a los humanos. Así que salimos corriendo a recogerlo y nos lo llevamos de nuevo a la casa.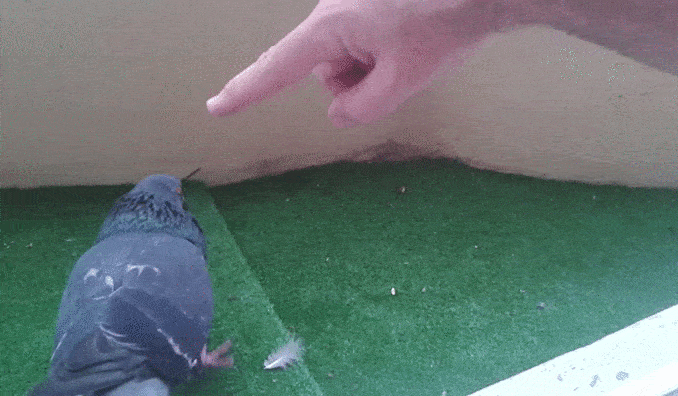 Here he is fighting with my dad's hand, they had an eternal fight... I imagine that Piolín wanted to mark his territory and my dad wouldn't let him.
Sometimes, he used to leave the house for a few days but he always came back, until one day he just didn't come back and until today he hasn't... although we always looked in the street to see if we could find him, because we put a little tairrap on one leg and it was recognizable to us... we decided to think that he must have found a girlfriend and moved out.
The truth is that it was a very nice experience and brought a lot of happiness to the house. It's a pity he's gone, but nothing, nature takes its course.
Thank you for coming here and for your visit, I hope to see you again. Have a nice day.
Aquí está peliando con la mano de mi papá, tenían un pleito eterno... me imagino que Piolín quería marcar su territorio y mi papá no lo dejaba.
A veces, él se iba de la casa por unos días pero siempre volvía, hasta que un día simplemente no volvió y hasta hoy en día no lo ha hecho... aunque siempre andamos mirando en la calle a ver si lo encontramos, porque le pusimos un pequeño tairrap en una pata y era reconocible para nosotros... decidimos pensar que seguro encontró una novia y se mudó.
La verdad es que fue una experiencia muy bonita y trajo mucha felicidad a la casa. Es una pena que se haya ido, pero nada, la naturaleza sigue su curso.
Gracias por llegar hasta aquí y por tu visita, espero volverte a ver. Que pases un bonito día.






---
--> Check out our products here <--
---