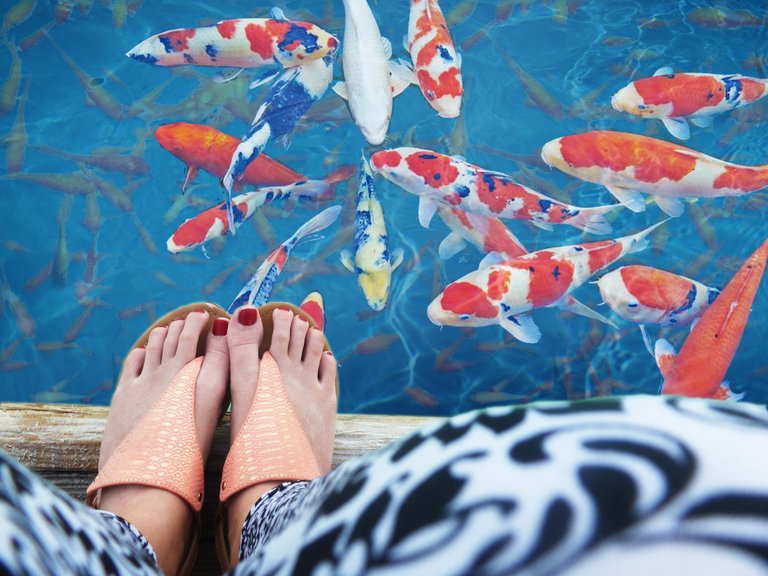 ¨Fishes of my dreams¨


Photo Filters and Effects Contest
WEEK 22
This photomontage is born from a dream and love i have for marine life... from a dream i have as an Interior Designer, that in the future, my house will have a big aquarium crossing the middle of the house, where the fish will have a healthy habitat and i can also enjoy its beautiful colors.
For the contest, i was looking for a photograph to edit, and i found this one of the last time i went to the beach and i found this angle interesting... and suddenly i thought, wouldn't it be interesting to see the fish swimming? And this is where the entry for the contest comes from.
Although these are pond fish, fresh water fish i do not care ... art has no limits! Here i leave you with my process of evolution:

Concurso Filtros y Efectos
SEMANA 22
Este fotomontaje nace de un sueño y amor que tengo hacia la vida marina... de un sueño que tengo como Diseñadora de Interiores, de que en un futuro, mi casa tenga un gran acuario cruzando por el medio de la casa, donde los peces tengan un habitad saludable y yo pueda disfrutar también de sus hermosos colores.
Para el concurso, estuve buscando una fotografía para editar, y encontré esta de la ultima vez que fuí a la playa y me pareció interesante este ángulo... y de pronto pensé ¿No sería interesante que se vieran los peces nadar? Y de aquí nace la entrada para el concurso.
Aunque estos son peces de estanque, de agua dulce no me importa... el arte no tiene límites! Aquí les dejo mi proceso de evolución: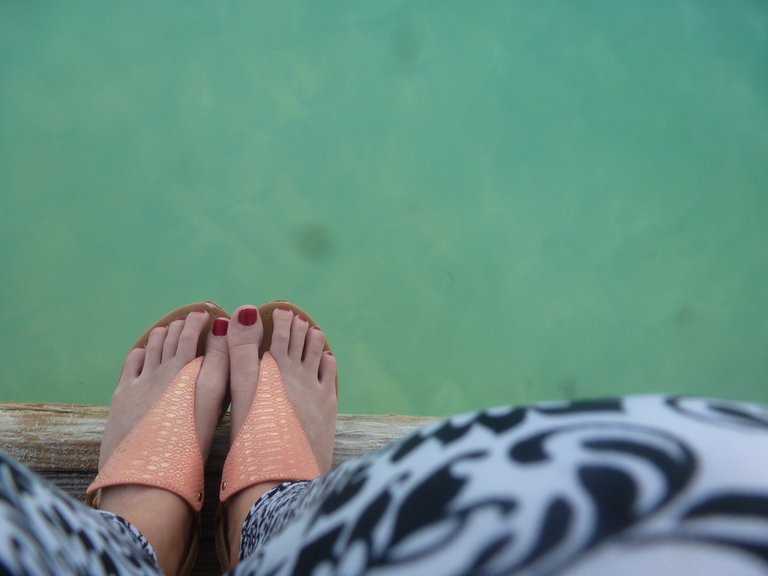 This is the original photograph, it is super simple, a view from a higher angle to my feet and to the shore of the beach from a dock.
Esta es la fotografía original, es super simple, una vista desde un ángulo superior a mis pies y a la orilla de la playa desde un muelle.

The first thing i did was to remove the bottom of the water and add a layer with a degraded blue background. Since the other color was very green and was a little dirty.
Lo primero que hice fue quitarle el fondo del agua y agregarle una capa con un fondo azul degradado. Ya que el otro color era muy verde y estaba un poco sucio.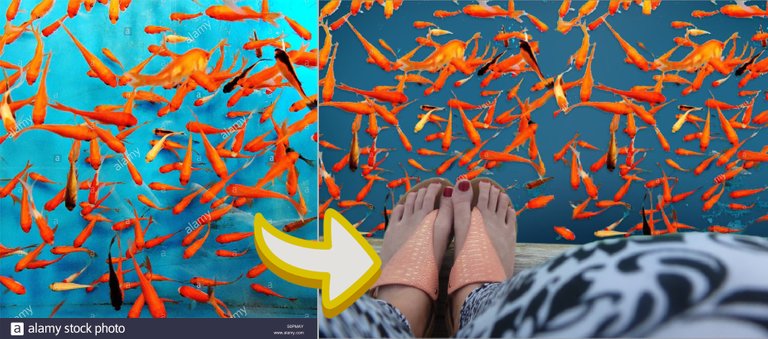 Fuente
Then i took the first image of fish, to create depth, i removed the bottom, created some soft shadows and with a mask I blurred the contours.
I added a duplicate top layer of my blue background with 40% opacity to give it the sense of remoteness i was looking for.
Luego tomé la primera imagen de peces, para crear profundidad, le quité el fondo, le creé unas suaves sombras y con una máscara le difuminé los contornos.
Le agregué una capa arriba duplicada de mi fondo azul con una opacidad de 40% para que le de la sensación de lejanía que buscaba.

Fuente
I did the same process with this image but a little more carefully because this one goes in a closer plane... i took off the background, filled in the gaps that got lost, erased a few goats and placed it at the necessary compositional scale. Generating a balance, as the feet are on the left side, it was necessary to complete the right side for the balance.
On top of that i duplicated another layer to the blue background to blur it a little.
Hice el mismo proceso con esta imagen pero un poco más de cuidado porque este va en un plano más cerca... le quité el fondo, rellené los huecos que se me safaron, borré unos cuantos chivos y lo coloqué a la escala compositiva necesaria. Generando un equilibrio, como los pies están del lado izquierdo, eran necesario completar el lado derecho para el balance.
Encima le dupliqué otra capa al fondo azul para difuminar un poco.

I lit the layers in the following order: blue background 1, bottom fishes, blue background 2 with opacity at 40%, front fishes, blue background 3 opacity at 30%.
Encendí las capas teniendo el siguiente órden: fondo azul 1, peces de fondo, fondo azul 2 con opacidad en 40%, peces de alante, fondo azul 3 opacidad en 30%.

To give the detail of movement to the water, i took this picture of the pool at my house, and added it as a Soft Ligth.
Finally, i added brightness, saturation and contrast to each layer until i found a combination that i liked.
Para darle el detalle de movimiento al agua, tomé esta fotografía de la piscina de mi casa, y la agregué como un Soft Ligth.
Por ultimo, le agregué brillo, saturación y contraste a cada capa hasta encontrar una combinación que me gustara.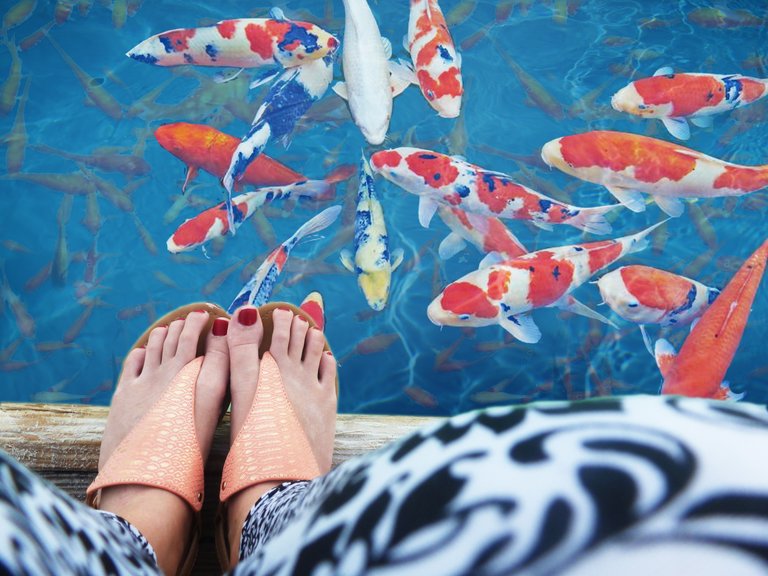 And voila, this is the final result. i really liked how it turned out, and it feeds my dream of the fish tank of my dreams.
I hope you enjoyed it as much as i did and learned something new!
Thanks for visiting my blog. See you next time.
Y Voilá, este es el resultado final. Realmente me gustó mucho cómo quedó, y alimenta mi sueño de la pecera de mis sueños.
Ojalá lo hayas disfrutado como yo y hayas aprendido algo nuevo!
Gracias por visitar mi blog. Hasta la próxima.



Challenge created by @drakernoise and @bliss11. With the tag #createthatlook.
This is my entry for week 22 of the ¨Photo Filters¨ contest, an original photograph taken on Punta Cana beach, Dominican Republic.
Camera: Panasonic DMC-ZS9
Edited with Photoshop
Terms of use for these images:
-Credit me, as the creator of the image.
-A #hivetip or a beneficiary would be appreciated.
-You may use this image only on Hive Chain.
-You may overlay text or edit to suit your needs.
Desafió creado por @drakernoise y @bliss11. Con la etiqueta #createthatlook.
Esta es mi entrada para la semana 22 del concurso ¨Photo Filters¨, fotografía original tomada en playa Punta Cana, República Dominicana.
Camara: Panasonic DMC-ZS9
Editada con Photoshop
Términos para uso de estas imágenes:
-Dáme crédito como creadora de la imagen.
-Se aprecia un #hivetip o un beneficiario de post.
-Solo se puede utilizar en la cadena de Hive Chain.
-Puedes colocarle texto encima como gustes.

---
--> Check out our products and social media here <--
---