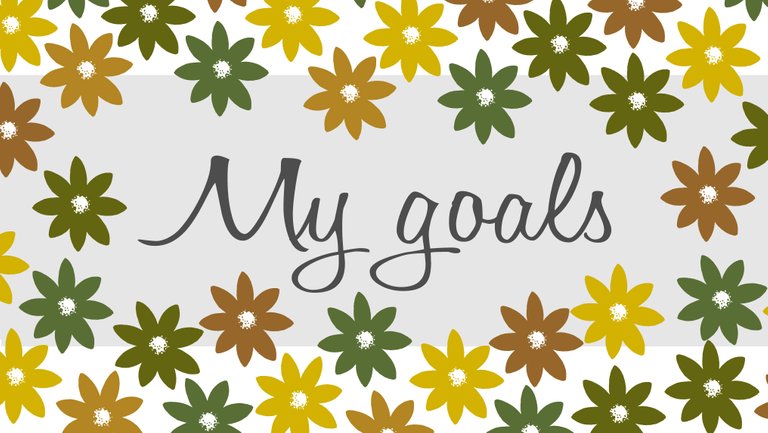 30 days blog challenge
08- My current goals
Create my own interior design company. In this (My dream job) post i talked about what i want to achieve with my company, and in this (My proudest moment) i expose one of my biggest design projects.
Floating my store tripode. Is a store that sells everything from household items such as wall clocks, prints, mattresses, fabrics, cushions, wallpapers and furniture ... to accessories such as mugs, wallets, backpacks, cup holders, thermos, T-shirts, socks, dresses and covers for cell phones and computers. All designs are inspired by photographs taken by me from nature and patterns made from it too.
Create a daily yoga habit. I want to create this habit because it is something that gives me a lot of peace, helps me keep moving and makes me more flexible.
Grow up in Hive I want to grow up here in all the blockchain and get to a point where i have as much power and can help others as always do @appreciator, @blocktrades and @theycallmedan, if any of you read this, i want to be like you when i grow up, i am fan of all of you... I want to leave my little grain of sand and that whoever sees my posts can learn something new.
Travel all over the world. I want to travel all over the world, i want to know every corner of my country and a big part of the world, i love to know about cultures and how design is in other places.
Now that I've told you my five goals, how about you tell me yours? Thank you for getting here, I hope to see you soon... have a great day.

30 días desafío para blog
08- Mis objetivos actuales
Crear mi propia empresa de diseño de interiores. En este (My dream job) post explico a detalle lo que quiero lograr, y en este (My proudest moment) expongo uno de mis más grandes proyectos de diseño.
Subir a flote mi tienda de tripode. Es una tienda que vende desde artículos para la casa como relojes de pared, impresiones, colchones, telas, cojines, empapelados y mobiliarios... hasta accesorios como tazas, carteras, mochilas, portavasos, termos, camisetas, medias, vestidos y covers para celular y computadoras. Todos los diseños son inspirados en fotografías tomadas de la naturaleza.
Crear un hábito de hacer yoga diario. Quiero crear este habito porque es algo que me genera mucha paz, me ayuda a mantenerme en movimiento y me hace más flexible.
Crecer en Hive. Quiero crecer aquí en toda la blockchain y llegar a un punto que tenga tanto poder y pueda ayudar a los demás como siempre lo hacen @appreciator, @blocktrades y @theycallmedan, si leen esto, quiero ser como ustedes cuando sea grande, soy su fan... Quiero dejar mi granito de arena y que quien vea mis post pueda aprender algo nuevo.
Viajar por todo el mundo. Quiero conocer todos los rincones de mi país y gran parte del mundo, me apasiona conocer sobre las culturas y sobre como es el diseño en otros lugares.
Ahora que te dije mis 5 metas actualmente. ¿Qué tal si te animas y me cuentas las tuyas? Gracias por llegar hasta aquí, espero verte pronto... que tengas un excelente día.

This is my entry for the 30 Day Blog Challenge, iniciated by @cwow2, and recommended by my friend @starstrings01, if you want to participate just take the following image and start writing your posts.
Este es mi entrada para el 30 Day Blog Challenge, iniciada por @cwow2, y me la recomendó mi amigo @starstrings01, si quieres participar solo tienes que tomar la siguiente imagen y comenzar a escribir tus post.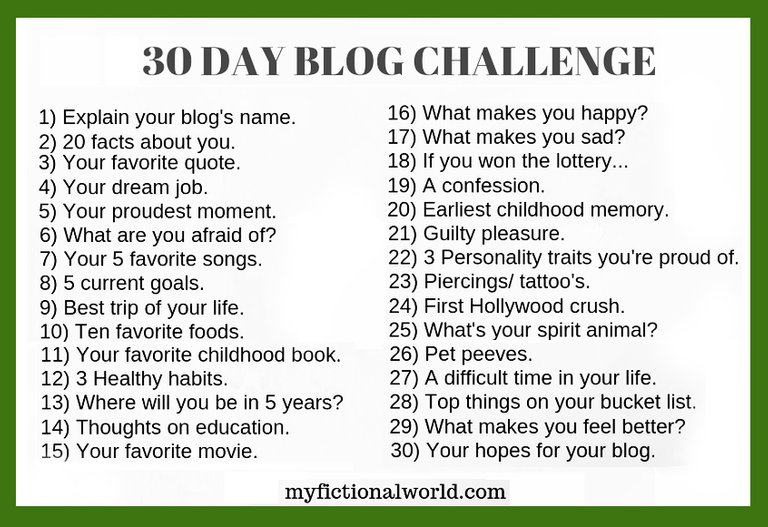 I edited the photo a little bit to my taste, but here is the original one: link.
La edite un poco a mi gusto, pero aquí va la original: link.

Past links of the challenge:
Day 01: My blog name
Day 02: 20 facts about me
Day 03: My favorite quote
Day 04: Dream job
Day 05: Proudest moment
Day 06: What am i afraid of
Day 07: My favorite songs





---
--> Check out our products here <--
---