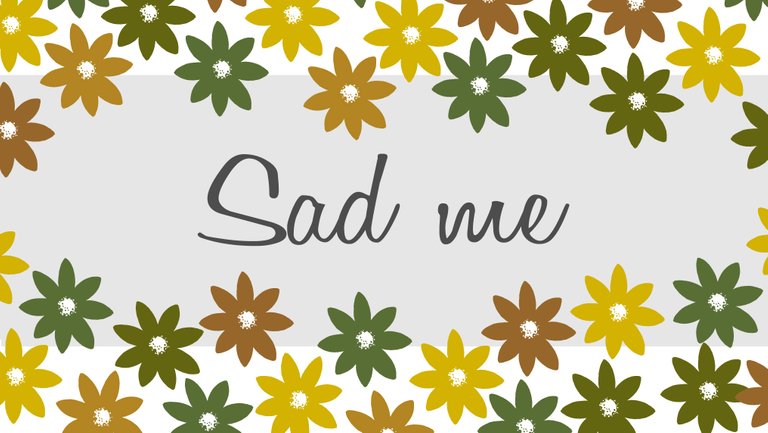 Created with Adobe Illustrator


30 days blog challenge
17 - What make me sad?
I always try not to condition my happiness and not to allow myself to feel sad... but there are times when it is necessary, because in this way we grow and learn as much from our mistakes as from those of others.
I feel sorry when i fail to achieve a goal i had set. When in a movie the protagonist who had already become fond of him dies, when i see a very young death and i feel that it is unfair... when i go to the beach and the sky becomes cloudy, when someone yell at me (in this one i also get upset), when i unintentionally make someone else feel bad and when someone hurt one of my friends.
But none of this takes away my happiness. Don't let your happiness depend on someone else or on any material achievement. Your happiness is in you.
And you What makes you sad?
Thank you so much for stopping by and reading to me, have a beautiful day.

30 días desafío para blog
17 - What make me sad?
Siempre trato de no condicionar mi felicidad y no permitirme sentirme triste... pero hay veces que es necesario, porque de esta forma crecemos y aprendemos tanto de nuestros errores como los de los demás.
Me apena cuando no logro conseguir una meta que tenía planteada. Cuando en una película se muere el protagonista que ya le había cogido cariño, cuando veo una muerte muy joven y siento que es injusta... cuando voy a la playa y se nubla el cielo, cuando me gritan (en esta también me molesto), cuando sin querer hago sentir mal a otro, cuando le hacen daño a alguno de mis amigos.
Pero nada de esto me quita mi felicidad, no permitas que tu felicidad dependa de otra persona ni de ningún logro material. Tu felicidad está en eres tú.
Y a tí ¿Qué te pone triste?
Muchas gracias por pasar por aquí y leerme, que pases un hermoso día.



This is my entry for the 30 Day Blog Challenge, iniciated by @cwow2, and recommended by my friend @starstrings01, if you want to participate just take the following image and start writing your posts with the tag #bloggingchallenge.
Also have some great writers joining the cause @suffgrace, @lauramica, @macchiata, @wolfofnostreet, @officialuroga, @rollinshive, @cosmictriage, @buttonn, @janettyanez, @jizzyjoe, @suzn.poudel and @martinstomisin always glad to support each other in this wonderful challenge! Can´t wait to see the next days to come.
Esta es mi entrada para el 30 Day Blog Challenge, iniciado por @cwow2, y recomendado por mi amigo @starstrings01, si quieres participar solo toma la siguiente imagen y empieza a escribir tus posts con la etiqueta #bloggingchallenge.
También tenemos algunos grandes escritores que se unen a la causa @suffgrace, @lauramica, @macchiata, @wolfofnostreet, @officialuroga, @rollinshive, @cosmictriage, @buttonn, @janettyanez, @jizzyjoe, @suzn.poudel y @martinstomisin siempre encantados de apoyarse mutuamente en este maravilloso desafío! No puedo esperar a ver los próximos días.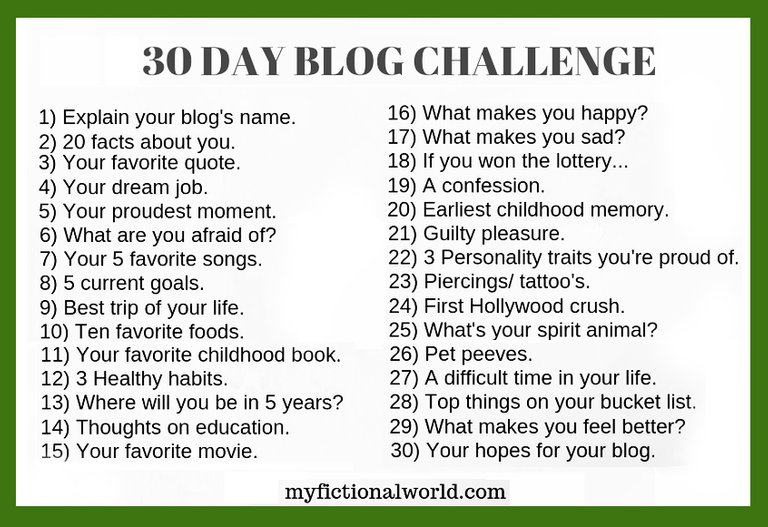 Edited with Adobe Photoshop, original here.

Past links of the challenge:
Day 01: My blog name
Day 02: 20 facts about me
Day 03: My favorite quote
Day 04: Dream job
Day 05: Proudest moment
Day 06: What am i afraid of
Day 07: My favorite songs
Day 08: 5 Current goals
Day 09: Best trip
Day 10: Ten favorite foods
Day 11: Childhood book
Day 12: Healthy habits
Day 13: 5 years from now
Day 14: Thoughts of education
Day 15: My favorite movie
Day 16: What makes me happy?





---
--> Check out our products here <--
---

---
All the illustrations are created by me with Adobe Illustrator and Adobe Photoshop.