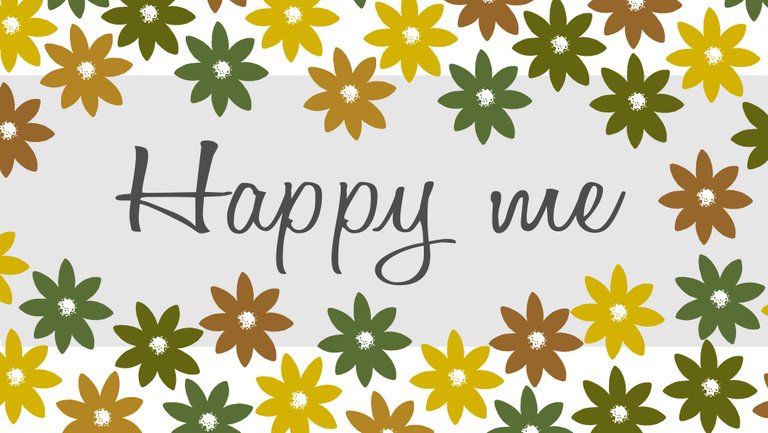 Created with Adobe Illustrator


30 days blog challenge
16 - What makes me happy?
I am happy with very little... i don't need a lot of achievements or money or objects... i am more about appreciating the moments and details of the day to day. Because if one day i can't achieve a goal.... my world can't fall apart, if my laptop breaks my happiness can't be broken... whatever happens the world goes on, with or without me.
I can't deny that getting what i want and having attention produces happy moments because if i did i would be lying... Who doesn't love to be congratulated or given a good commentary here at Hive? Everyone... but i try to make sure that this is not the only source of happiness and that if it doesn't happen i don't lose my world, because we don't always have the attention of others and we are not always going to get what we want, that's why we have to look for happiness in ourselves.
I like to write for myself, i also enjoy dancing alone, i paint from the heart, i love to listen to the birds sing, look at the sky and appreciate the clouds, have a good time with my friends, see them smile, enjoy every meal and especially every dessert, also see when my dog is full of joy when i get home, when i feel the wind on my face and in the park or in any trip off the city i feel the beautiful smell of nature.
I am happy when i express good vibrations, when i live in peace and harmony with myself. I always try to escape criticism that is not constructive, i try to judge less every day. I try to push away the negative energies and attract the positive ones. To love, to play and to dance
My recomendation? Live in peace with yourself, heal your wounds, live each day as if it were your last, meditate, express what you feel, enjoy the details.
Don't let your happiness depend on another person or any material achievement. Your happiness is in you.
And you What makes you happy?
Thank you so much for stopping by and reading to me, have a beautiful day.



30 días desafío para blog
16 - ¿Qué me hace feliz?
Yo soy feliz con muy poca cosa... no me hacen falta muchos logros ni dinero ni objetos... soy mas de apreciar los momentos y los detalles del día a día. Porque si un día no puedo lograr una meta.... mi mundo no se puede venír abajo, si se me rompe mi laptop mi felicidad no se puede romper... pase lo que pase el mundo sigue, conmigo o sin mí.
No puedo negar que conseguir lo que quiero y tener atención me producen momentos felices porque si lo hago estaría mintiendo... ¿A quién no le encanta que lo feliciten o que le hagan un buen comentario aquí en Hive? A todos... pero trato de que esta no sea la unica fuente de felicidad y que si no sucede no se me caiga el mundo, porque no siempre tenemos la atención de los demás y no siempre vamos a conseguir lo que queremos, por eso hay que buscar la felicidad en uno mismo.
Me gusta escribir para mi, disfruto también bailar sola, pinto desde el corazon, me encanta escuchar a los pajaros cantar, mirar al cielo y apreciar las nubes, pasar un buen momento con mis amigos, verlos sonreir, disfrutar cada comida y sobre todo cada dulce, también ver cuando mi perrita se llena de alegría cuando llego a la casa, cuando siento el viento en mi cara y en el parque siento el olor a naturaleza.
Yo soy feliz cuando expreso buena vibra, cuando vivo en paz y armonía conmigo misma. Siempre trato de escaparme de las criticas que no son constructivas, trato de cada día juzgar menos. Alejar las energías negativas y atraer las positivas. Amar, jugar y bailar.
¿Mi recomendación? Vive en paz contigo mismo, sana tus heridas, vive cada día como si fuera el último, medita, expresa lo que sientes, disfruta los detalles.
No permitas que tu felicidad dependa de otra persona ni de ningun logro material. Tu felicidad está en eres tú.
Y a tí ¿Qué te hace feliz?
Muchas gracias por pasar por aquí y leerme, que pases un hermoso día.

This is my entry for the 30 Day Blog Challenge, iniciated by @cwow2, and recommended by my friend @starstrings01, if you want to participate just take the following image and start writing your posts with the tag #bloggingchallenge.
Also have some great writers joining the cause @suffgrace, @lauramica, @macchiata, @wolfofnostreet, @officialuroga, @rollinshive, @cosmictriage, @buttonn, @janettyanez, @jizzyjoe, @suzn.poudel and @martinstomisin always glad to support each other in this wonderful challenge!
Can´t wait to see the next days to come.
Esta es mi entrada para el 30 Day Blog Challenge, iniciado por @cwow2, y recomendado por mi amigo @starstrings01, si quieres participar solo toma la siguiente imagen y empieza a escribir tus posts con la etiqueta #bloggingchallenge.
También tenemos algunos grandes escritores que se unen a la causa @suffgrace, @lauramica, @macchiata, @wolfofnostreet, @officialuroga, @rollinshive, @cosmictriage, @buttonn, @janettyanez, @jizzyjoe, @suzn.poudel y @martinstomisin siempre encantados de apoyarse mutuamente en este maravilloso desafío! No puedo esperar a ver los próximos días.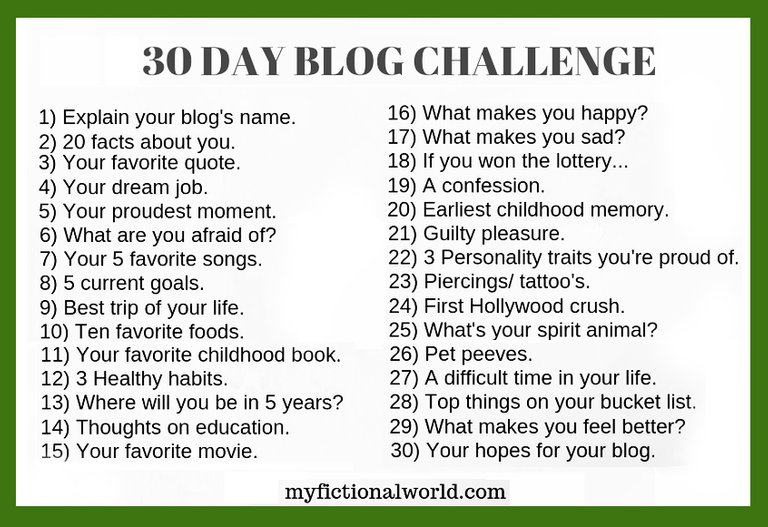 Edited with Adobe Photoshop, original here.

Past links of the challenge:
Day 01: My blog name
Day 02: 20 facts about me
Day 03: My favorite quote
Day 04: Dream job
Day 05: Proudest moment
Day 06: What am i afraid of
Day 07: My favorite songs
Day 08: 5 Current goals
Day 09: Best trip
Day 10: Ten favorite foods
Day 11: Childhood book
Day 12: Healthy habits
Day 13: 5 years from now
Day 14: Thoughts of education
Day 15: My favorite movie


Created with Adobe Illustrator
And following the initiative of @wesphilbin from #thoughtfuldailypost providing content that tries to be reflective, positive and shares the love of true commitment and healing.
Y siguiendo la iniciativa de
@wesphilbin
de
#thoughtfuldailypost
proporcionando contenido que trate de ser reflexivo, positivo y que comparta el amor del verdadero compromiso y la curación.





---
--> Check out our products here <--
---

---
All the illustrations are created by me with Adobe Illustrator and Adobe Photoshop.