LittleBit, the 3-year-old Tiger tabby that is under my care needed her claws trimmed. They were beginning to get so long that she was hanging on things and couldn't free herself, the poor dear. So, I wrapped her in a towel and took her to the pet groomer nail spa.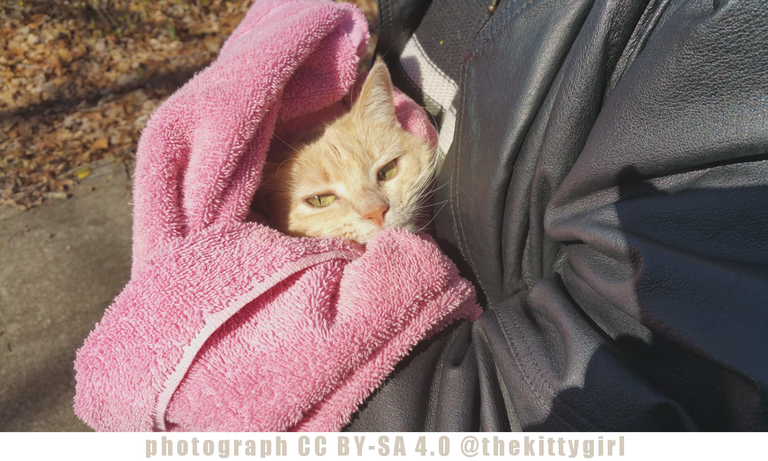 While we were there, the groomer said I should go across the room and see the white Yorkie that was there. I'd never heard of a white Yorkie! For detailed information about the various genetic causes of white Yorkies, see the article listed in the 'SOURCES' section of this post.
The Yorkie's owner was in the shop and had brought him in for grooming. She told me that this little guy was part of a long line of white Yorkies. She also said that the white varieties of this breed are not recognized as authentic Yorkshire Terriers by the major registries of dog breeds, as the color falls out of their accepted standards. 🙄 Some breeders might intentionally breed Yorkies to be white, but the breeder had assured this dog's owner that the lineage from which this pup descended happened naturally, without any planning. Also this dog is not an albino, but truly has a mostly-white coat. Isn't he a cutie? 😁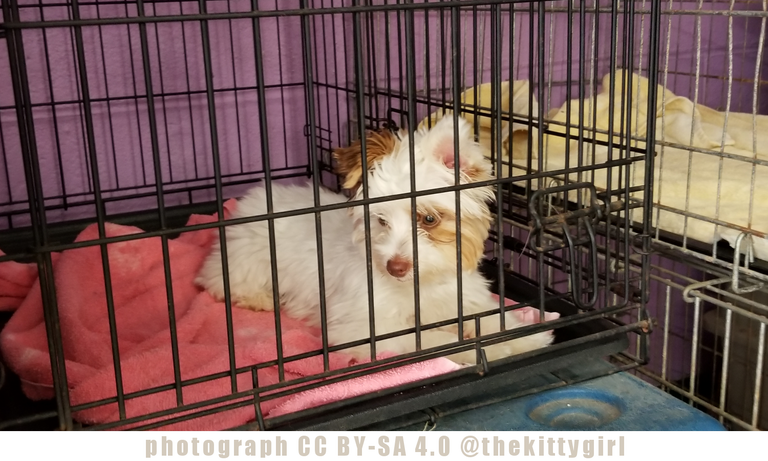 LittleBit was fascinated at all the goings-on at the groomer's place. The last time she was there, we were alone with one groomer and one cat in the shop. This time, however, there were two or three other cats as well as three or four dogs. I also let her peek at the fish swimming in the aquarium. She had a grand time, and was such a well-behaved little girl!
I am tagging @silversaver888 so she will see this, as she is a Mom to Yorkies and might enjoy seeing this sweet little guy! 💜

 😊
SOURCES
   1 DogsNet.com: White Yorkie – Myth, Legend, or a Very Real Breed?

banner made by me with a free clipart image from PNGio.com




to learn more about either of these projects, please visit: @heyhaveyamet or @theterminal

01-Aug-2020