LittleBit loves to look outside. She is happiest when she can perch in a window and observe all the goings-on outdoors. Once upon a time, my sister-in-law (whose cat this is) owned a house with a window-box — a little screened-in ledge that extended the windowsill a foot or so away from the outside wall of the house (similar to a bay window, but simpler in design). It was a perfect perch for this little girl. There was a little roof over it to keep her dry if it was raining (unless wind blew the rain sideways and through the screen).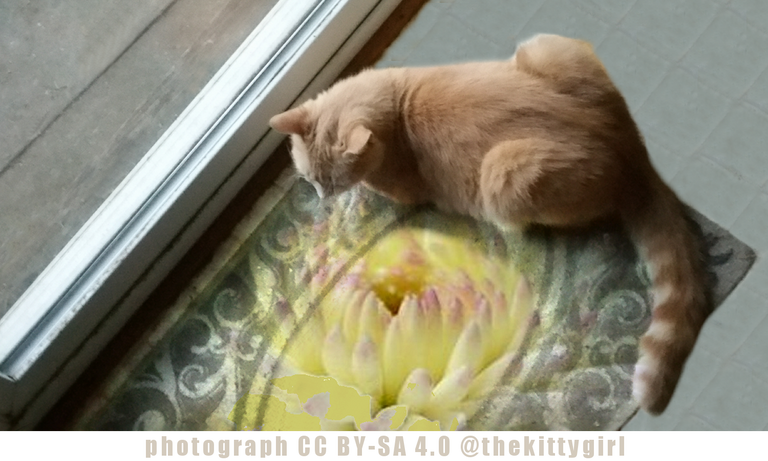 When my sister-in-law stayed with me for a couple of months, she pushed a chest-of-drawers under a window and that became LittleBit's favorite spot for a few months. It was perfect during the winter and early spring until the leaves returned to the trees. When my sister-in-law left to visit other people and temporarily left her cats in my care, LittleBit continued to enjoy that perch on the chest-of-drawers for a while until the leaves got bigger and blocked her view. (There is one tree right outside that window.)
Then, she switched to a spot beside the large sliding-glass door leading onto the concrete patio behind the house. The glass on that door comes to within two or three inches of the floor and she can see more without having to peer through the branches of a tree as she did it in the other spot.
So, this is her, lying on the door mat where she can get a good view of Outdoor Cat while he patrols the yard. Of course, there are occasionally birds, squirrels, chipmunks, and lizards scurrying-around outside. There's never a dull moment out there, and she wants to see everything!

 😊

banner made by me with a free clipart image from PNGio.com











24-Oct-2020