In a couple hours I am going to knock off from work and then take the rest of my summer vacations. I have two weeks ahead of doing nothing...
...but working on the house constantly, to try and get the upstairs surfaces moving, after I sand and paint the basement window frames prior to the plinth gettting painted, before I plant new grass and hopefully a hedge.
"Vacation"
Of course, it isn't all bad and after talking with my supervisor, I will also take some of the time held in my hours bank in September (around training deliveries), where I have about 10 full days held. Travelling makes it pretty easy to collect hours, and not travelling makes it very hard to claim them back. I have also put a lot of extra hours in over the furlough period that didn't fit into my 60%, so I will be working quite a few shorter days when I can.
This is the "new" view on the street.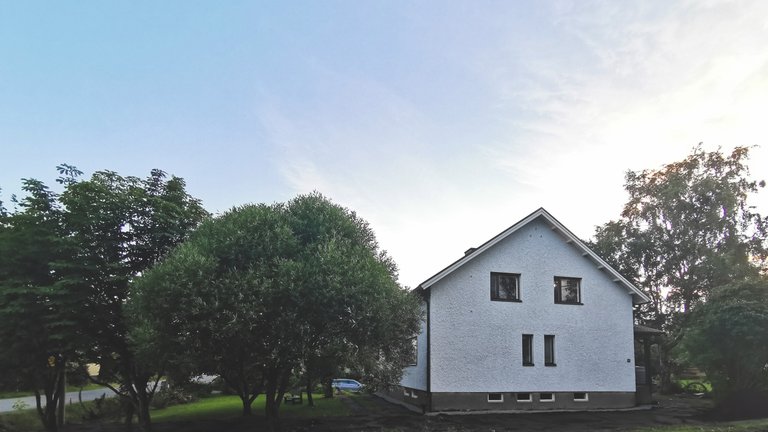 The earthmovers have spent the last two days clearing stumps from the hedge, creating a gravel driveway, preparing a place for the future terrace and digging out a 50cm deep square that will eventually be insulated and turned into a glass house using our old windows. Three days ago from the position the shot was taken, it was only possible to see the top floor windows and now, you can see "Bucky, the great white giant" - which sounds like a 1930s boxer.
Bucky looks happy
The garden feels strange without the privacy of the jungle of the hedge, but it also feels like a park and a place you can breathe. The hedge to come will be far more linear than the last and offer privacy in a few years time (once it is more mature) without encroaching into the garden inside. Fences seemingly aren't a thing here, at least not the 8-foot, barbed-wire one I would want.
One thing with having a bare Bucky is that the side of the house can't be used to store junk with the feeling that no one can see it. Storing things behind bushes in Finland is a losing strategy anyway, as they will lose their leaves in the Autumn and they won't grow back for 8 months. You can see how people "trick" themselves into thinking they stored things out of sight once the winter rolls round. Though, the snow covers everything too and makes even the messiest garden look neat.
Because of what has gone on this week outside, I have spent an inordinate amount of time in the garden working through the evenings and have been able to observe the expressions of people walking past. This is a relatively old neighborhood where the turnover of residents is low, which means people take interest in changes and probably gossip a fair bit. The house has been so obscured from the road for so many years behind either leaves or a jungle of branches, many people might have forgotten it is here, with some seeming surprised at what it looks like.
Today, the worker who is doing our attic is upstairs putting in the insulation with his son, because he doesn't know when he can come back and when it gets cold, the top floor was exposed to the weather. Right now the weather is warm and upstairs is sweltering - I am glad I don't have to spend too much time up there today, other than clearing rubbish from my demolition work, which they have kindly offered to take away in their trailer.
The problem is, my legs are hammered, my arms are failing and my body is saying - Taraz, fuck off. Yet, it has to be done and there are schedules to keep that I don't have control over, which means manning up and getting into it and crying in my sleep later due to the aches. I should probably take a day or two to recover, or a drink or two to dull the pain. Drinking is faster.
Right - off to work I go, like a dwarf.
The sore dwarf and the bucked-tooth giant.
Taraz
[ Gen1: Hive ]