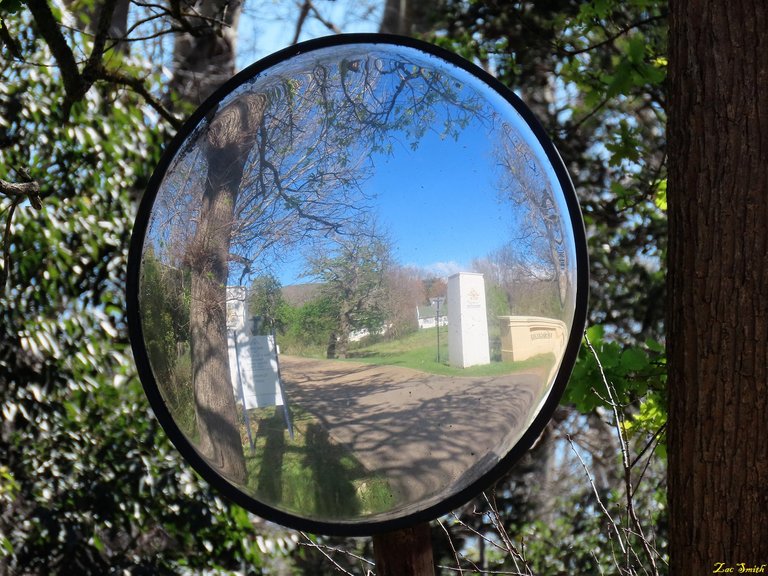 What is this you may say? A mirror in nature for ladies to do their make up? Nope! Not! 🤣
A paradox here, as it is a traffic mirror mounted at an entrance to show drivers oncoming traffic.
Right, but why is the mirror showing us the traffic behind our car and not the oncoming traffic over the one lane narrow bridge?
Let me explain!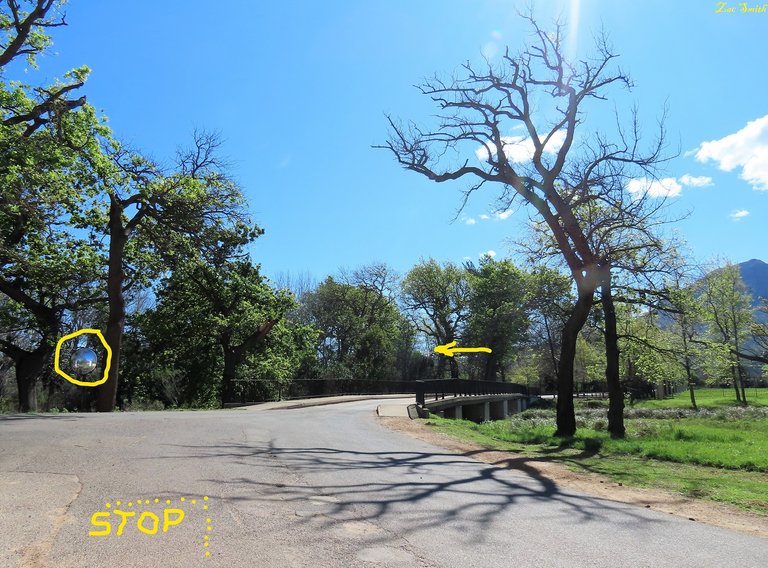 Our car was stopped just before the inserted stop sign, as the arrow at the right shows the direction of cars approaching the single car bridge.
The traffic mirror in the yellow circle showing the area behind our car?
So What's the answer here do you think?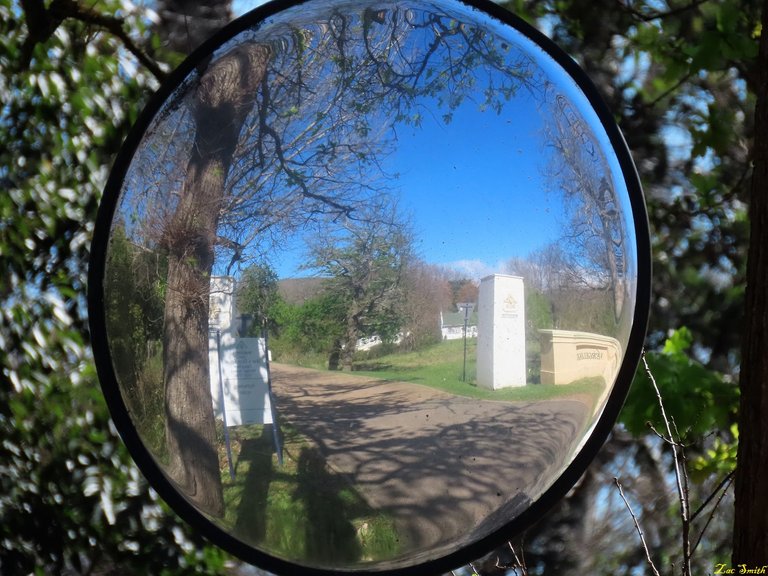 Here's a closer look at the road and the gate behind us, as we were waiting to cross the bridge in front of us!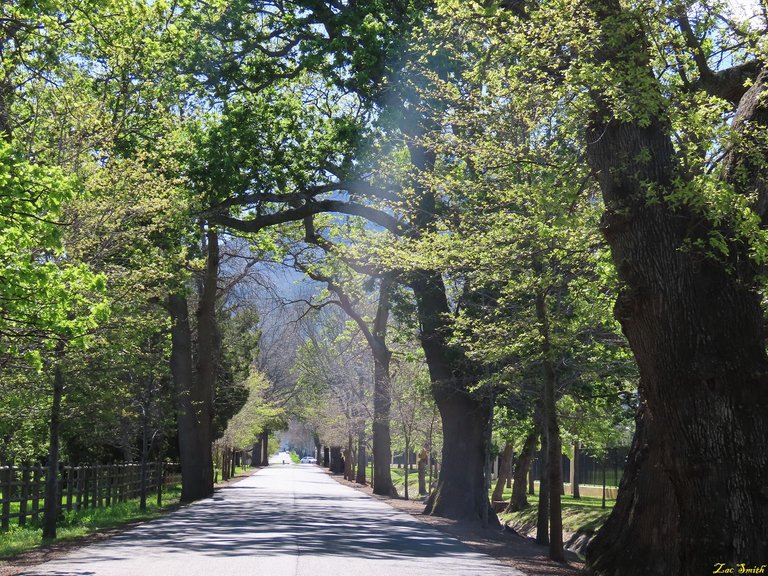 It is indeed a most beautiful oak tree lined road once we had crossed the bridge!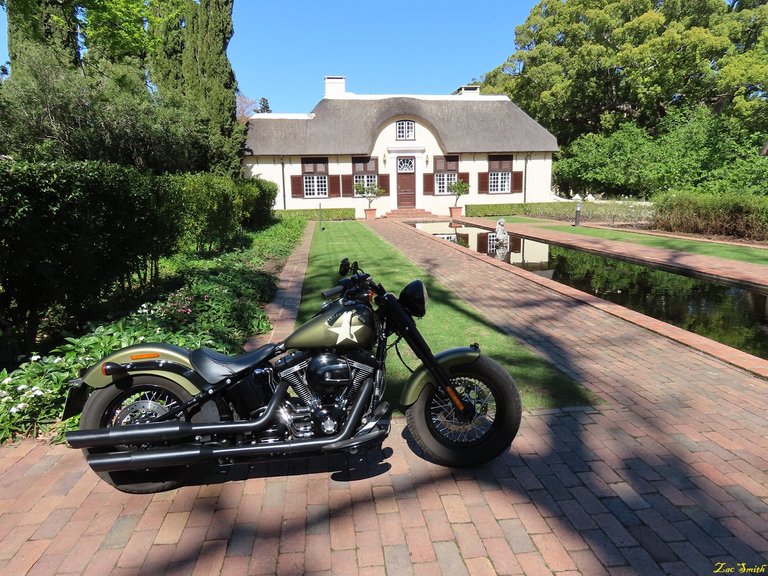 This photo above shows us comfort of the slow, very old ways in the building and the comfort of our modern lives in the speed of the Harley Davidson motorbike!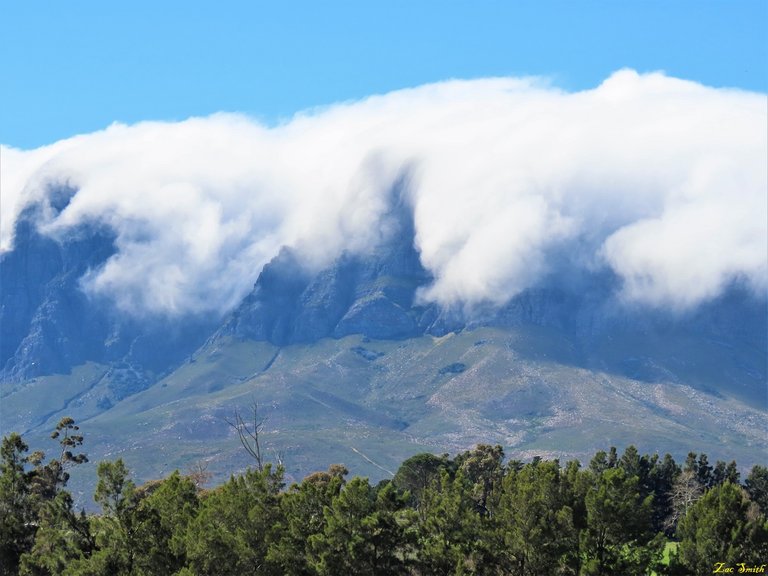 One of the reasons why we visited this farm, to see the clouds washing over the mountains.
I made a video of this and will show you in another mountain post!
Here is the answer below to the mirror paradox!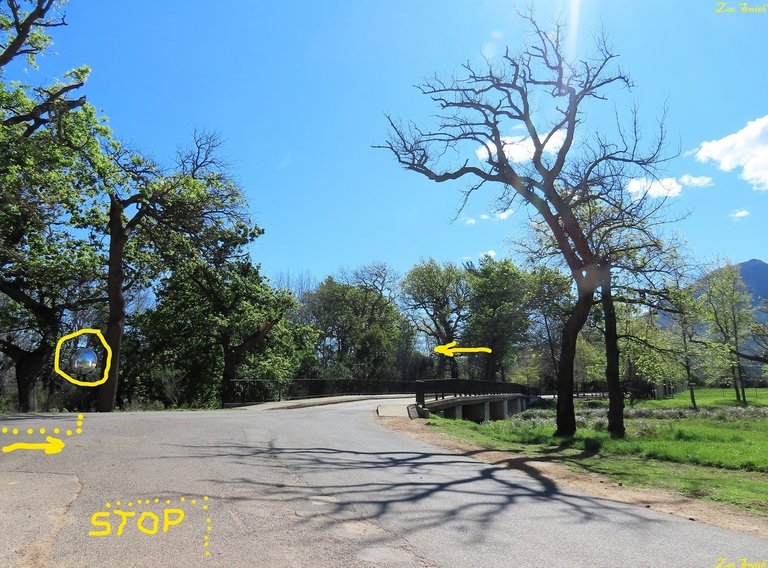 The new drawing below the yellow circle shows the direction of cars from a hidden entrance gate at the left of the road and they use the mirror to check for cars coming from the right and traveling in the same direction than we were!
Paradox solved! 🤣
Please no comments on my master drawing skills here 🤣
Us human beings are funny aren't we?
We will watch our bank balances with a beady eye, inspecting every finer detail in the balance sheets, but as we were parked next to the road here I watched the cars coming past and not one stopped to look at this mirror.
Everyone seemed to be in a headlong rush while we stopped to take photos of the mirror!
This is how we miss the small things in life that serve to make our existence complete, but sadly we strive with all of our might to gather funds, or we concentrate on other aspects of life such as importance, fame, acceptance, or whatever instead of living our lives to the full. Instead of just being.
I am not saying that money doesn't play a role in our lives, bur rather that we place too much importance on it, or other things and subsequently we are missing out.
Whatever it may be, this is only my way of looking at life!
And That Is All Friends!
I leave you with this!
"Health is the new wealth. Happiness is the new rich. Inner peace is the new success. Kindness is the new cool." —Syed Balkhi
Note: All photos are my own, unedited and cropped for uploading!
Camera used: Canon Powershot SX60HS
We hope that you have enjoyed the story and thank you for visiting a post by @papilloncharity
Disclaimer:
The articles, trademarks, and photos appearing on this @papilloncharity site may not be used in any advertising or publicity, or affiliation with any product or service, or for private purposes, without the author's prior written permission.
All posts are placed without prejudice!
PLEASE DO NOT COPY