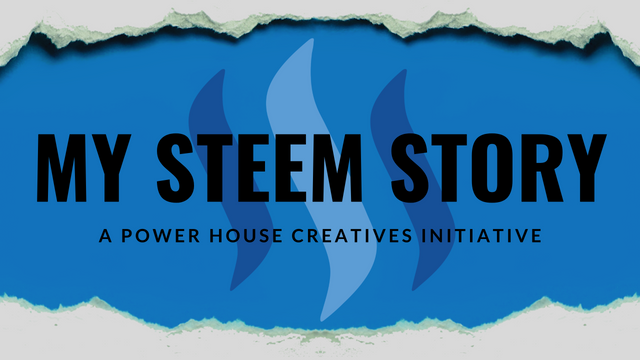 MY STEEM STORY
A Power House Creatives Initiative

Everyone has a story – and all our stories have something in common… we all started from nothing and knew nothing. People want to hear stories. They want to hear OUR stories — they want to know who we are, where we are from, what we are doing, who and what we love, what we have learnt and where we are going. People also want us to hear their story! Being a part of the Steem network is an individual journey for every single one of us and through this initiative we will share our stories not only with all who are already here – hopefully inspiring, guiding and informing them… but doing the same for everyone else in the world too. Through our stories we will prick the curiosity of those who have not yet arrived and illuminate and widen the already open doors to our one in a million blockchain.
We invite and encourage each and every one of you to participate and share your stories too! You can find the "how to" details at the end of this post.
---
FTO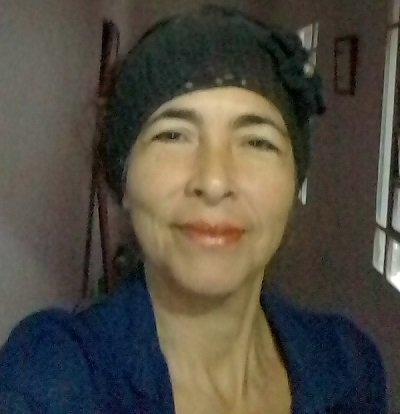 Where my Steem Journey began
My beautiful journey on this Steemit platform began on July 27, 2018. I had just fired my youngest son and his girlfriend. They left for the sister Republic of Peru. I really needed to distract the mind and I started surfing the Internet for entertainment. I was surprised, the new platforms offered, earn money for writing articles, I'm not very good at writing, but it would serve as therapy (I thought). So I signed up for several but then I left them ... That's how I came to Steemit, I really fell in love, its beautiful green color and its design, as well as the possibilities to comment and vote, and it looked very friendly. I registered and began my wait to be approved, I think it lasted 22 days, which became a long agony. Hahaha ... When I was finally approved, it was an immense joy.
Of course, I wrote a relief post about my son's departure, only two votes, but in reality I am glad that not many people have read it, my mental state at that time was false .
My presentation? never do it or if I did it it must be worthy of being expelled from the platform... But what I like is reading and commenting on posts and I loved when they answered me, it's still my favorite side of Steem.Another thing that I liked a lot was discovering wonderful people who were only dedicated to curating publications and that's what I wanted, but as you can imagine with 16 STEEM, there was not much I could do ...
My initial challenges & how I overcame them
My biggest challenge has been not having a phone or a camera, because I love taking photos and I know that this helps a lot to get better profits in the publication. And this allows me to give votes with more weight. At first I hated every time I didn't have RC because I kept reading good posts and couldn't vote or comment, something very frustrating. I was about to get discouraged, but help came ... I remember receiving a gift of 5 STEEM that made me continue and then I received two delegations of 50 STEEM each, who finished helping my account grow a little.
A month ago I received a gift phone and with this new tool I think I can go ahead with my Blog.
Another challenge has been to visit Discord, it really causes me claustrophobia, panic attack, etc, etc. LOL
Moreover, I think I will give up some communities, because they ask me to visit the Discord frequently, and that terrifies me.
I literally get paralyzed when I'm in Discord, but well I'll keep trying, I always find good posts there to heal.
More challenges? Not spending my Steem, because my precarious situation drives me to withdraw my tokens to cover real expenses, and cover real needs.However, I always wait a bit and some other solution is presented, so in two years there is very little that was withdrawn, and I hope to continue like this.
My Steem blockchain knowledge
I don't know anything about the blockchain.
The programming ... The witnesses ... I know that ... I don't know anything.
My Steem favourites
My favorites of Steem? What I really love is commenting on and voting for publications, rather than generating content, I love photography contests, I love taking photos ... I think I repeat myself ...
But I know that what will make my account grow the most, to give better votes is to publish, so I do that too.
My golden nugget advice
If you are new, you are not an investor and you want to enjoy Steem and its platforms. My advice is to start participating soon in competitions, games and everything that helps you get to know in the community ...
For example, if you are an artist, visit all the blogs you can about art, vote and leave good comments from the heart, that will be noticed and participate in all the art competitions you can ... So I recommend it to everyone. .. focus on your specialty.
Don't focus on your post and how many votes or comments you receive, first give it, be happy with Steem and pay for it.
Pay only what you no longer receive monetarily. The rest will come alone and give you experience.
My Steem hood & its peeps
I love healing, everyone and sometimes I just follow their healing paths to support them. I love curatorial communities and I am many.
Now I am entering many communities, but where I have more fun is where I can place my photos and comment on what others publish.
I just discovered the LEGO community DE hive-142010. Created by @galenkp and @brickmanbrad as moderator.
I think I'm going to create a niche there, I'm still thinking about how to get LEGO and take pictures and articles about this. It's what lately steals my dream. Hahaha
My five people labeled ... to join ...
@happyme
@galenkp
@brickmanbrad
@bitandi
@tramelibre
GENERAL INSTRUCTION:
Create a post titled: "My Steem Story – By @your.user.name"

The first three tags in order are to be as follows:
#hive-114105
#powerhousecreatives
#mysteemstory

ONLY make use of the cover image provided in this post.

Keep the same formatting and placement (intro, footer
instructions etc.)

Replace the personal photo with one of your own.

Tag 5 people to join in on the initiative.

Share your post to twitter.

Share your twitter link and Steem post link in the comments of @jaynie's "Steem Story" post.
POST INSTRUCTION:
Write a post which shares and gives adequate response to the following headings:
• Where my Steem Journey began
(How you first discovered Steem and your very first thoughts and impressions "as you landed".)
• My initial challenges & how I overcame them
(Share a bit about the difficulties you faced at the beginning, whether it was navigation, post creation, engagement – whatever – how you resolved them and how differently you feel about it now)
• My Steem blockchain knowledge
(Give a little bit of background on your blockchain knowledge when you began your Steem journey versus now.)
• My Steem favourites
(What are the things you do mostly on the blockchain – is it blogging, vlogging? What front ends do you like to make use of and what content genre's do you generally focus on?)
• My golden nugget advice
(What advice would you offer to those that are unfamiliar or new to this space)
• My Steem hood & its peeps
(Share a little about the communities you belong to, discord servers you frequent and perhaps a handful of the awesome people you follow)
Thank you for reading.