This is my entry for #marketfriday hosted by @dswigle. Recently I had to buy some ground turmeric from the Indian market in the old part of Bangkok. So, I took the opportunity to check out how Chinatown has been faring after the long lockdown. I haven't been there during night time for a long time as the crowd and traffic jam out me off. But this time, the atmosphere was much more sedate and there was no traffic jam. Things have certainly changed as time flew by. The reality of changes hit me hard on the fact that we had only a short time span on earth and that we were mere mortal. So, I ought to maintain the feeling of kindness in more abundance than my critical or analytical alertness. Then, my life would be much more enjoyable and rewarding.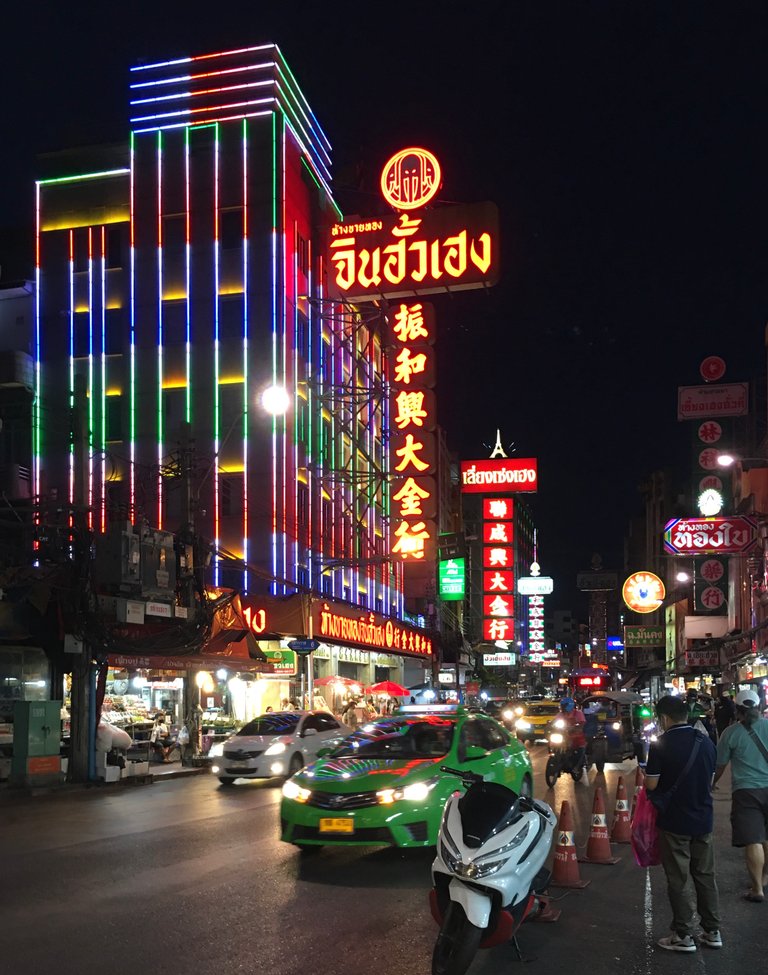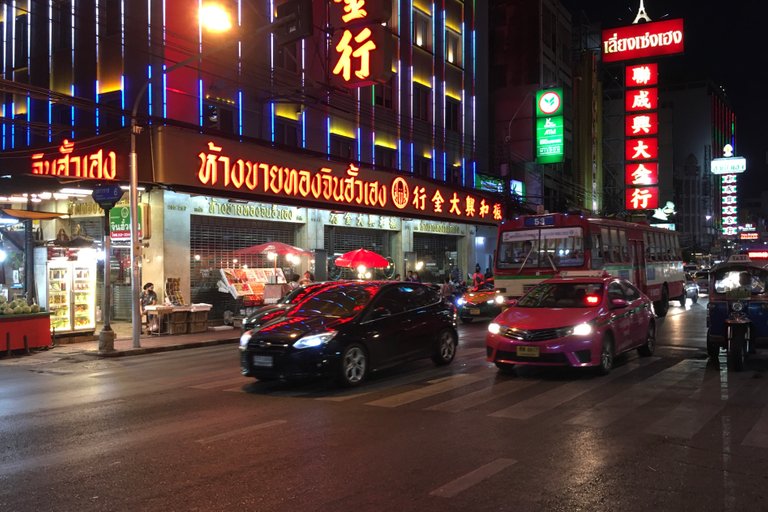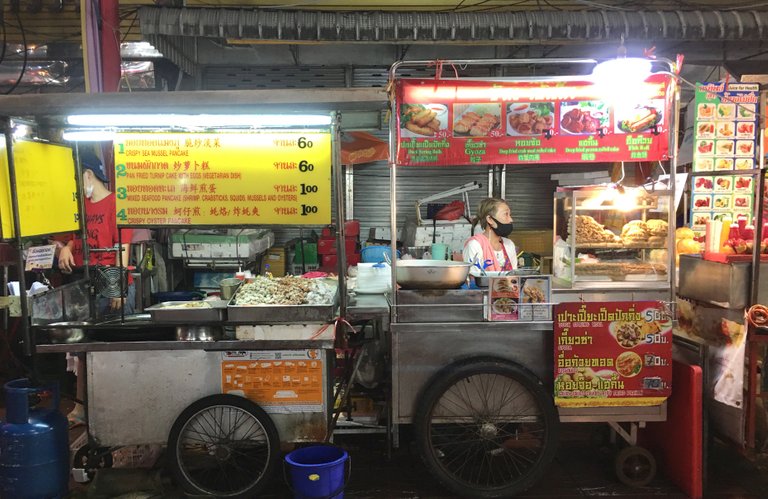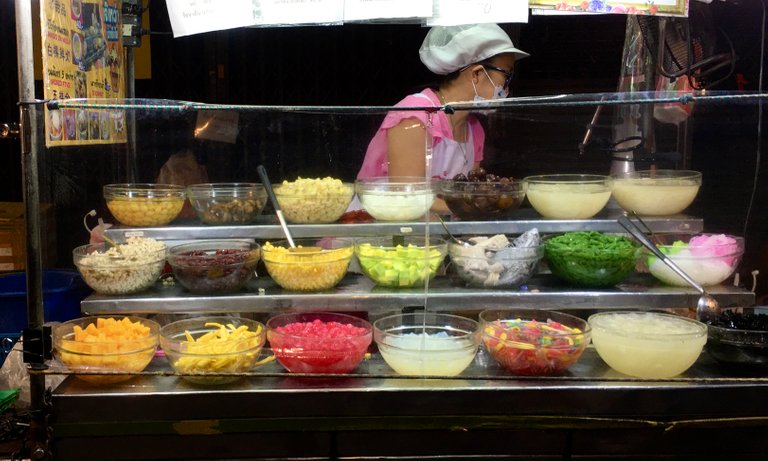 There has been some new style of lighting along Yaowarad road which passes through Chinatown. The new lighting arrangement has attracted more youngsters to visit Chinatown for taking selfies. Some serious photographers came very well equipped with heavy gadgets. I had to make the best of my precious old iPhone6 for the moment.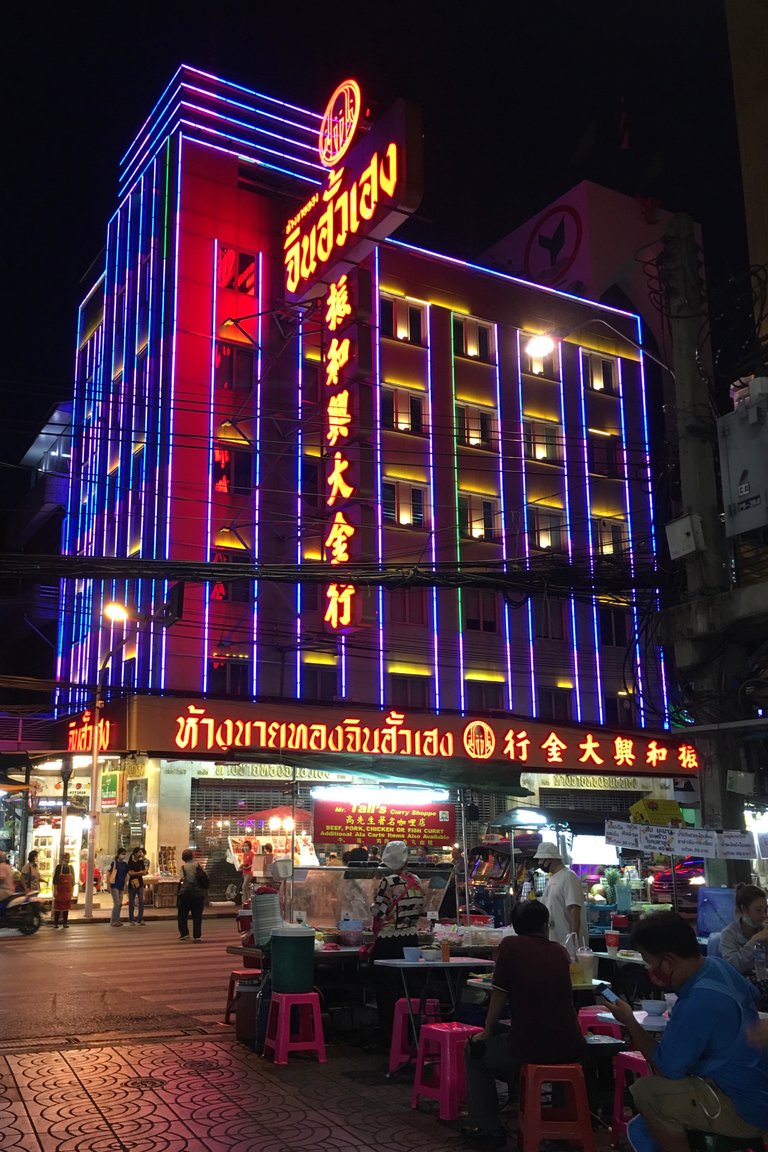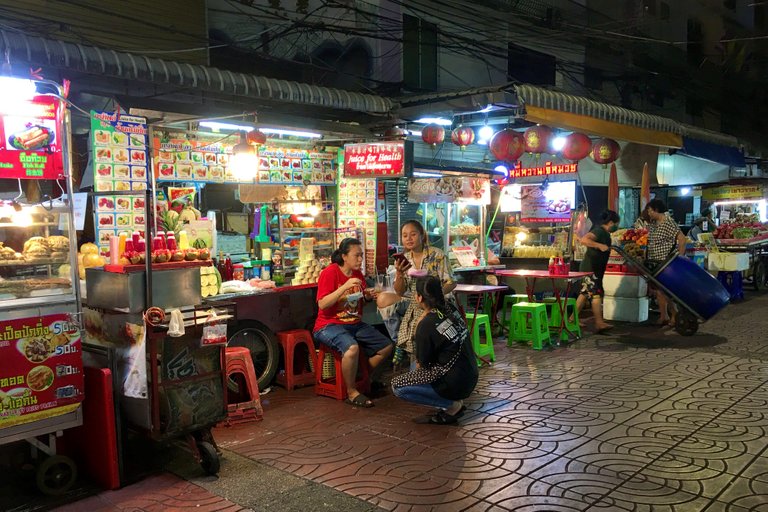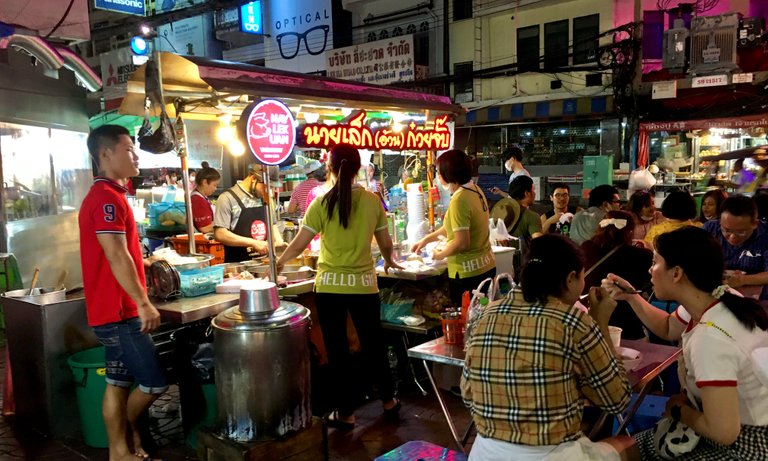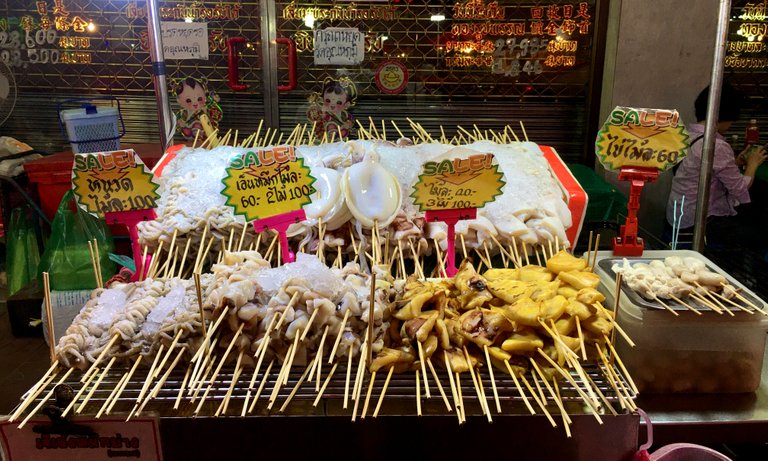 The streetfood stalls have been nicely organised to the left side of the road with tables and chairs along the pavement. I was quite impressed by the enthusiastic outlook of these vendors as they tried their best to make the presentation attractive and clean. I couldn't help feeling guilty walking along taking photos without buying anything. Being a semi-vegetarian, life has become rather complicated when eating out. Sometimes I had to tell the vendors that I was a vegetarian so that they wouldn't feel too dejected.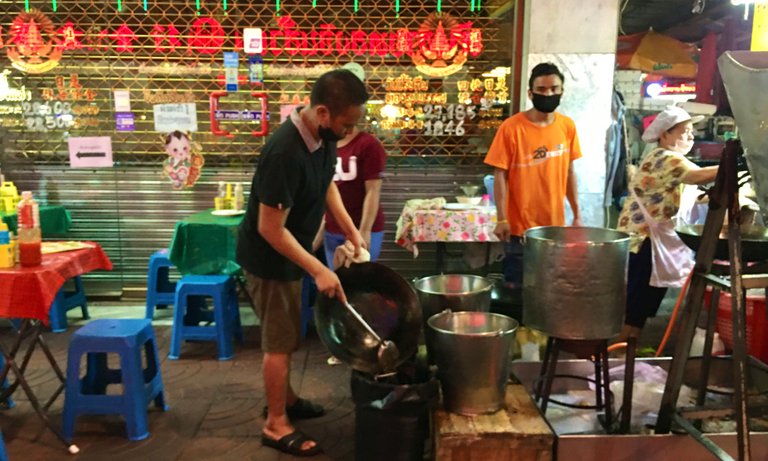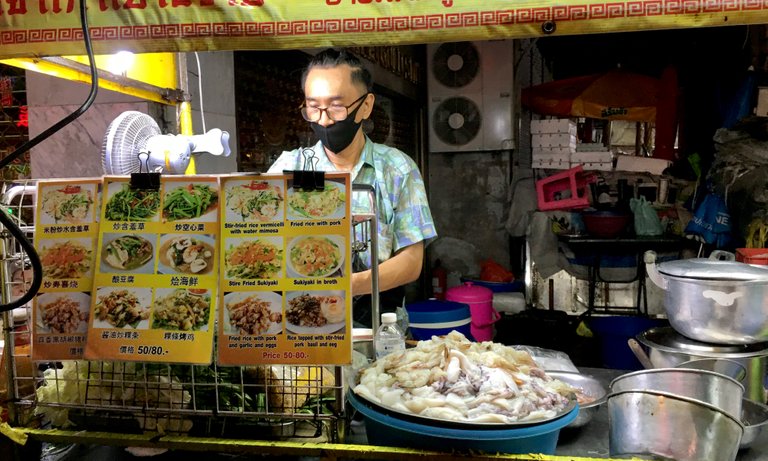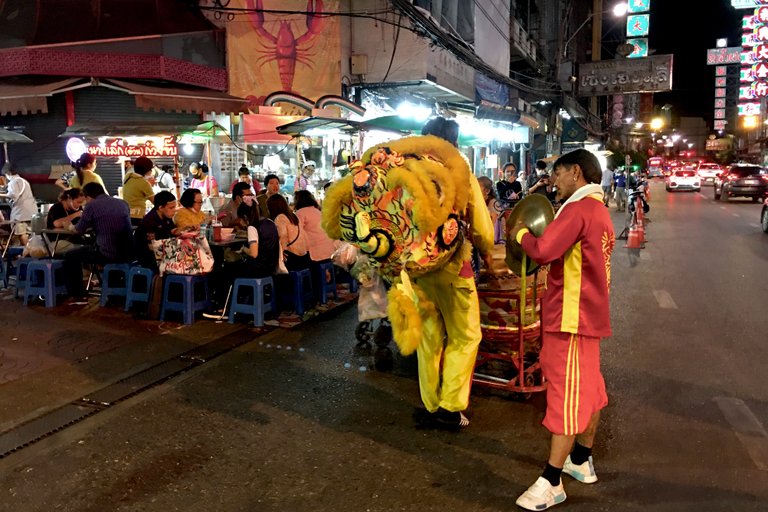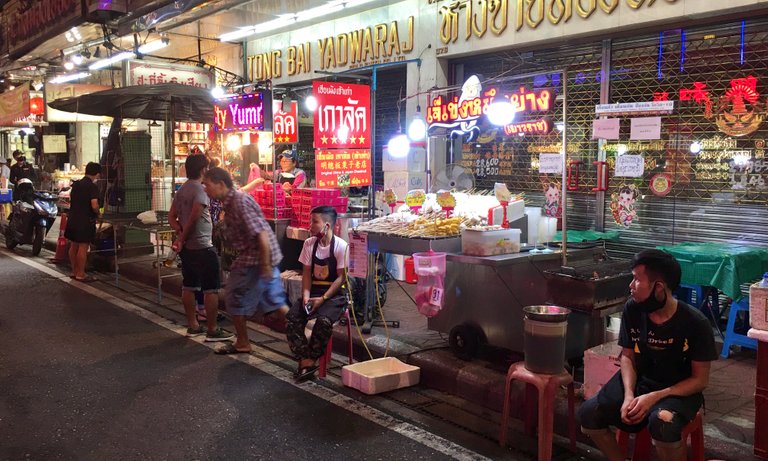 I wish there would be a good zone for vegetarians in Chinatown. But they would certainly not be in business very long as most visitors go to Chinatown to enjoy seafood and local specialties. Some of the seafood do raise debatable issues such as bird nest soup and shark fin soup; these are becoming less popular as the older generations of Chinese people become more informed about impact of their health. The old Chinese belief of promoting longevity by consuming exotic food and drug's ingredients has slowly become irrelevant to the modern scientific and space age society. I think our good culture will not be the same on ten years' time. So, I was witnessing history in the making while walking along Yaowarad road.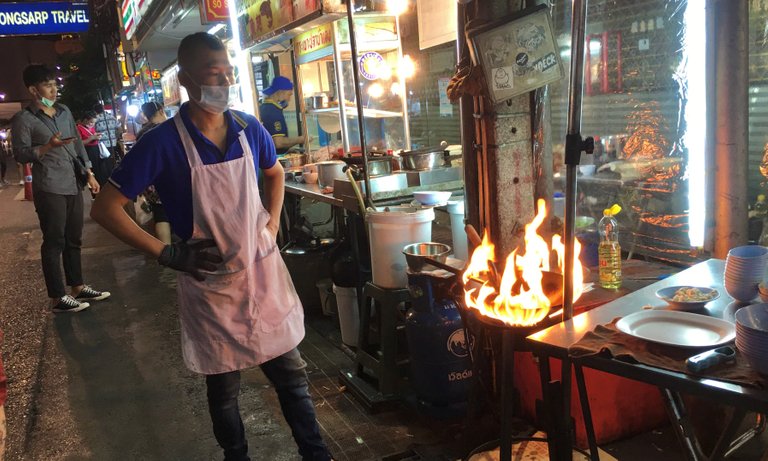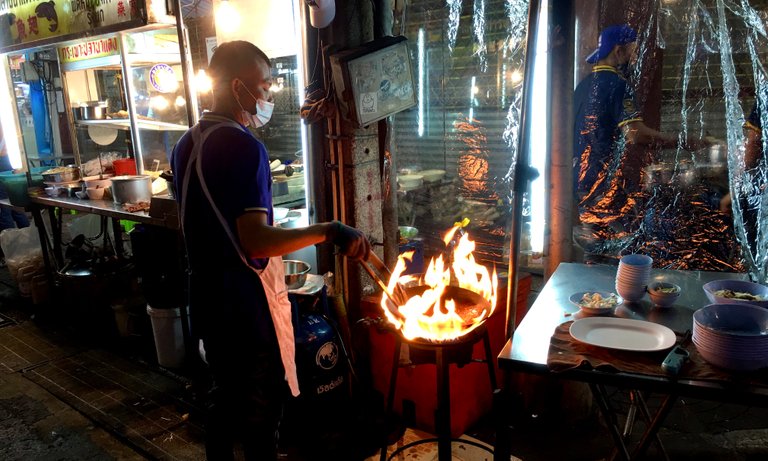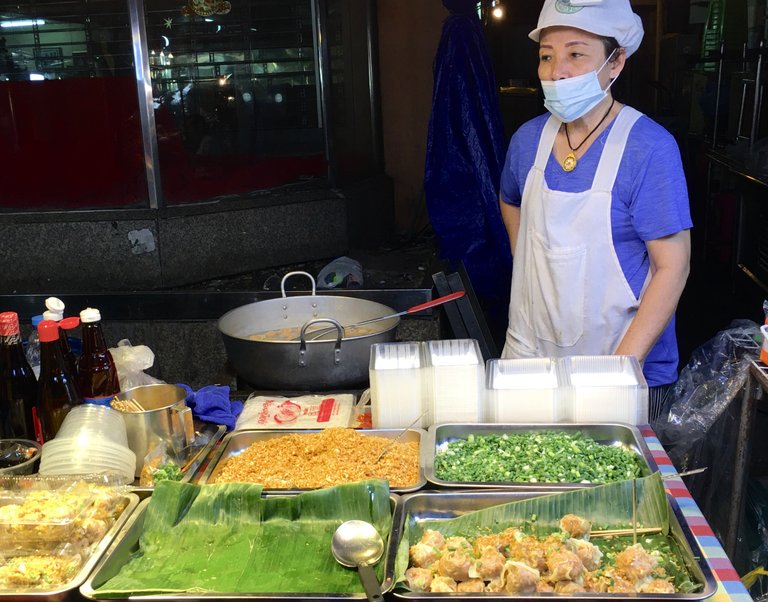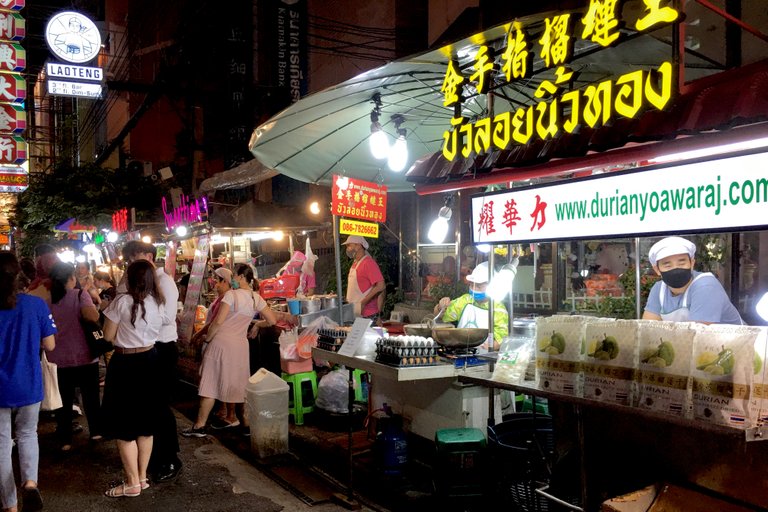 สัปดาห์ก่อนที่เราไปเดินหาซื้อขมิ้นชันที่ตลาดอินเดีย เราก็เลยไปเดินเที่ยวที่ถนนเยาวราชยามคำคืนด้วย เราไม่ได้ไปที่นั่นในเวลากลาวคืนมาหลายปีแล้ว ครั้งล่าสุดที่ไปเรายังจำได้ว่า คนหนาแน่นมาก เราต้องเดินเบียดฝูงชนที่มาหาของอร่อยกินตอนกลางคืน และรถก็ติดมากด้วย แต่เราไปครั้งนี้ บรรยากาศเปลี่ยนแปลงไปมาก การจราจรคล่องตัวและมีคนมาเดินเที่ยวค่อนข้างน้อยกว่าที่คิดไว้ มันทำให้เรารู้สึกใจหายและรู้สึกแย่แทนเหล่าคนขายอาหารด้วย เราเห็นความตั้งใจทำงานของคนขาย การจัดร้านอย่างดีและการรักษาความสะอาดด้วย เราต้องบอกคนขายว่าเราเป็นมังสวิรัติ เขาจะได้ไม่เสียใจที่เราไม่อุดหนุนของอร่อยๆเลย นี่ก็ทำให้ชีวิตเราค่อนข้างยากลำบากใจ เวลาต้องไปกินอาหารกับเพื่อนนอกบ้าน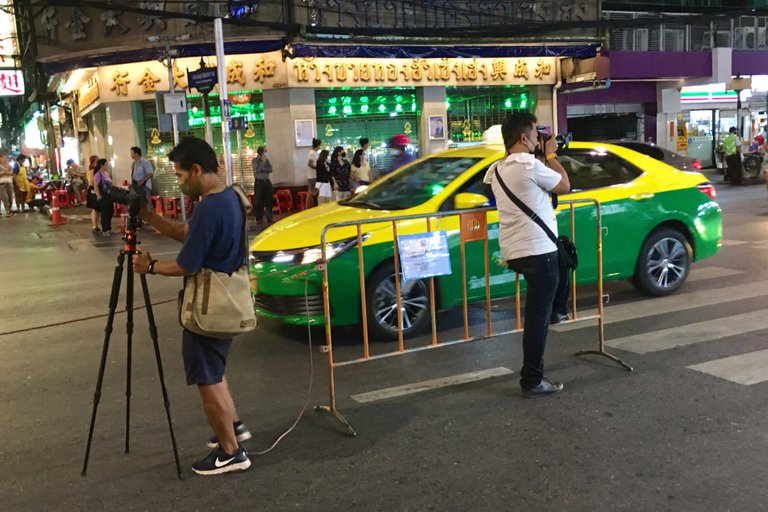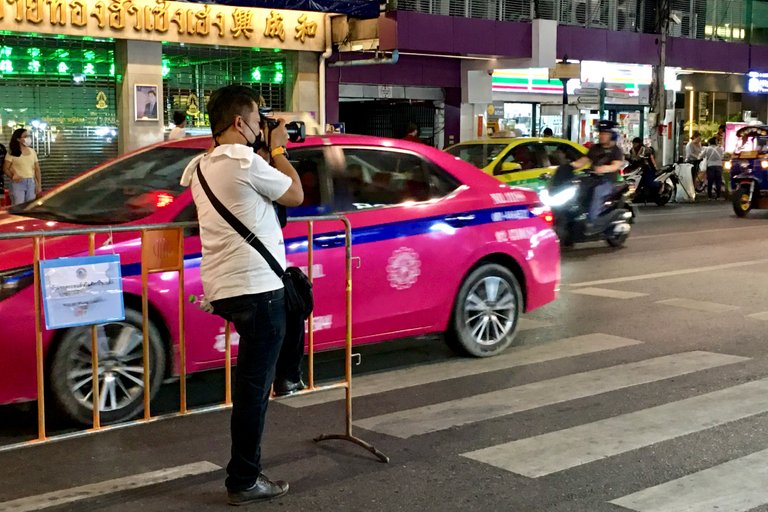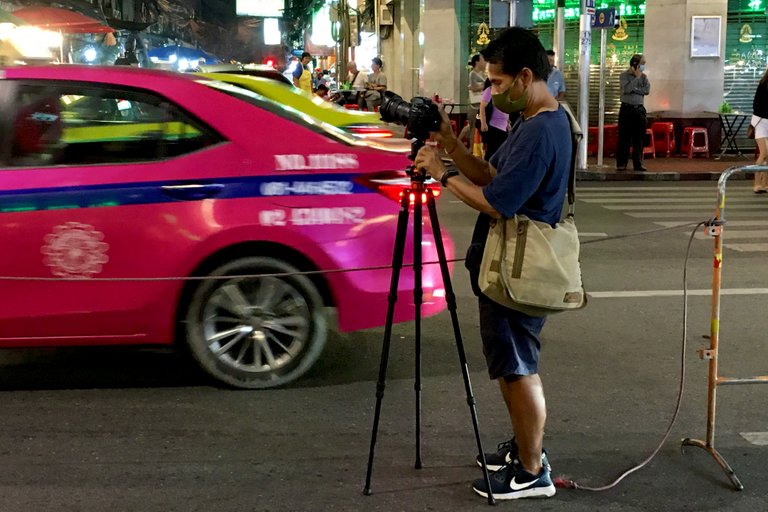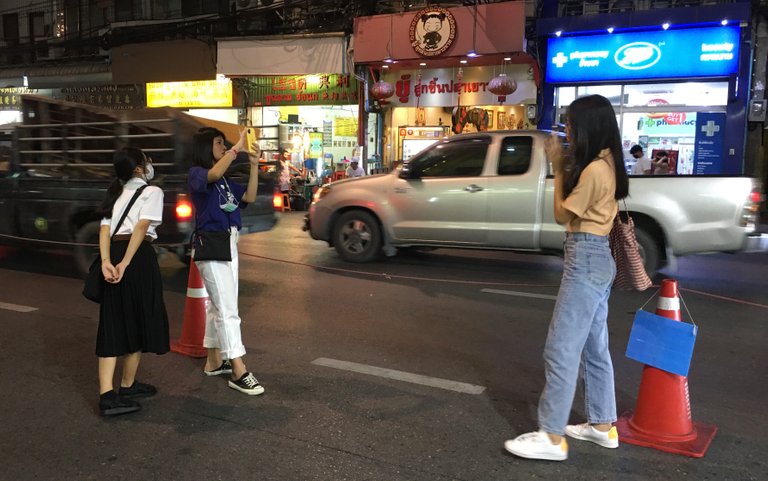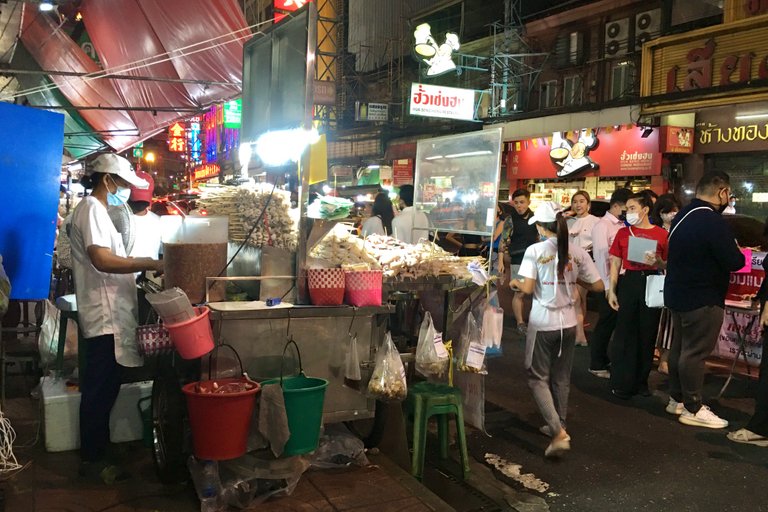 ตอนนี้ที่ไชน่าทาวน์หรือถนนเยาวราช มีการตกแต่งด้วยไฟแบบใหม่ที่ใช้หลอดแอลอีดี ทำให้เวลาถ่ายรูปแสงจะออกดำและเป็นสีฟ้า คนส่วนใหญ่ไม่รู้ว่าหลอดไฟแบบนี้มีผลเสียต่อดวงตามาก คนที่ใช้คอมพิวเตอร์ประจำจะรู้ดีว่า มีคนตาบอดไปแล้วหลายคน อุตสาหกรรมทุนต่างชาติกลอกคนไปทั่วโลกเพื่อกำไรอย่างเดียว และมีการจัดระเบียบส่วนที่เป็นแผงขายอาหารให้มาอยู่ทางด้านขวาของถนน แล้วจัดให้มีที่นั่งกินข้าวตลอดทาง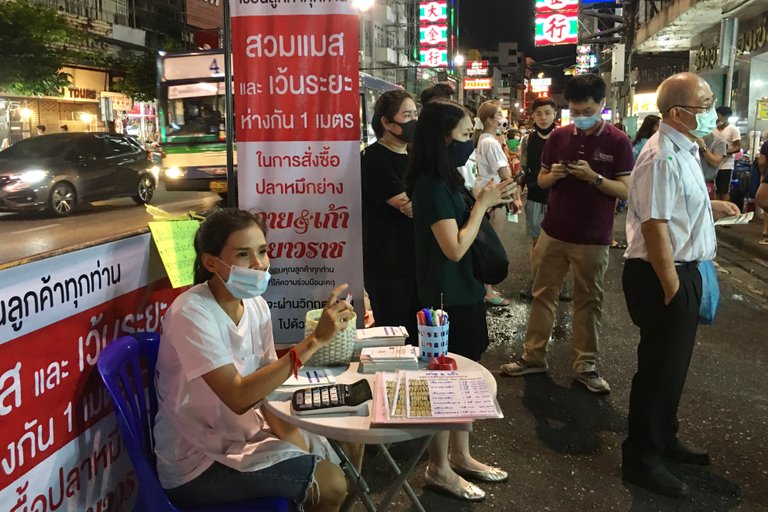 Customers had to get numbered tickets and wait in line at a famous seafood grill!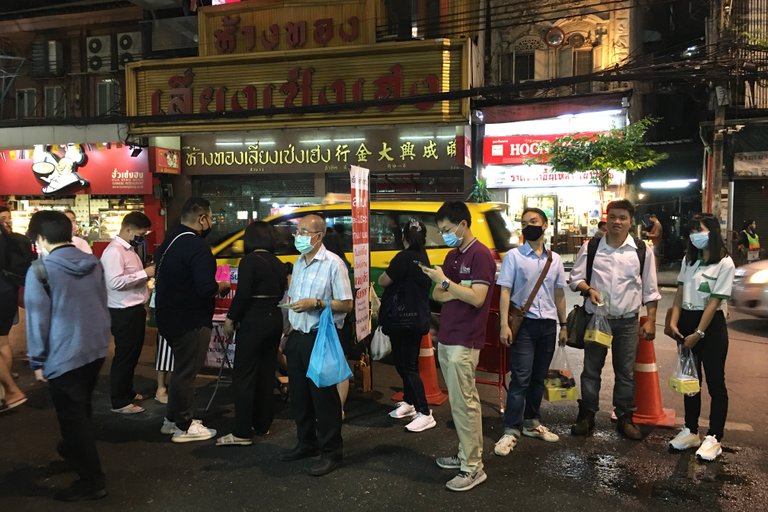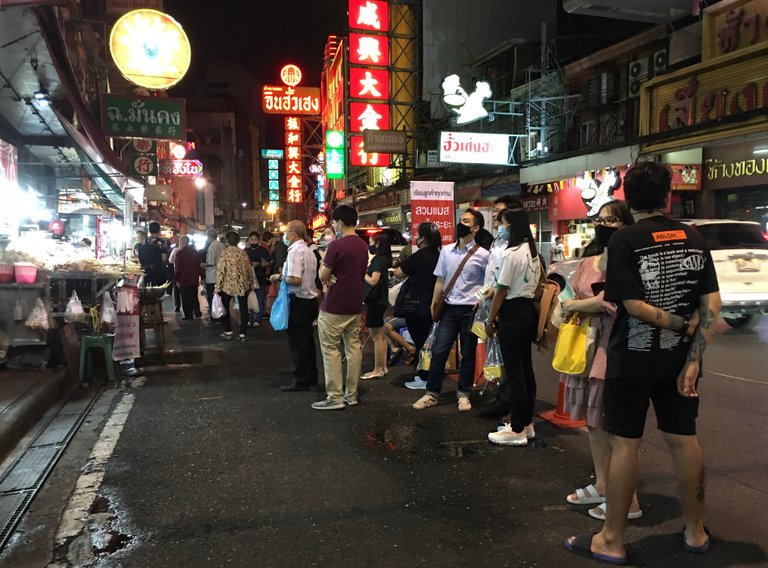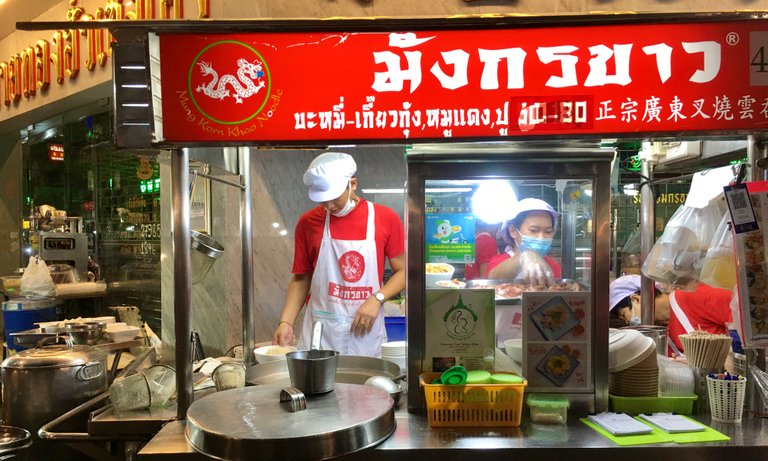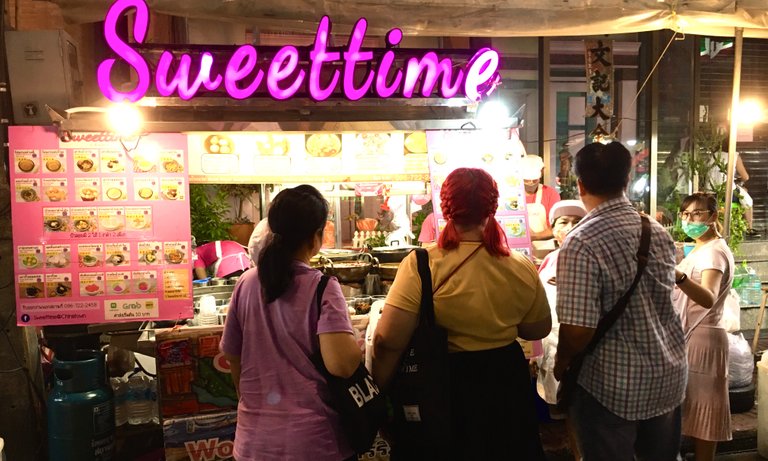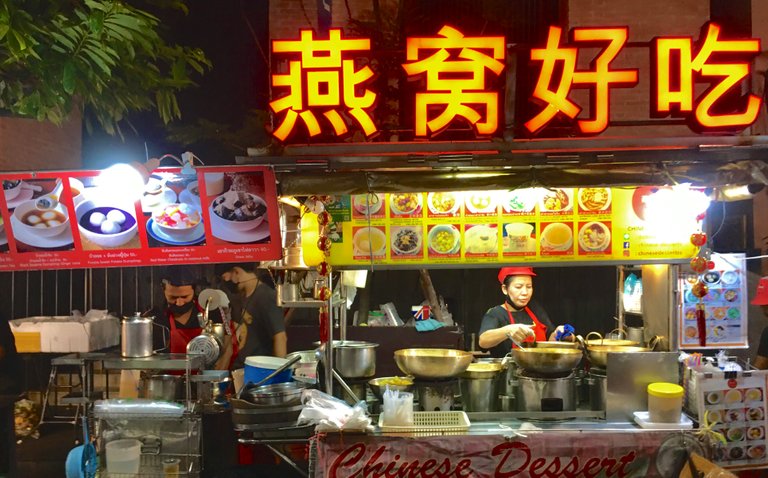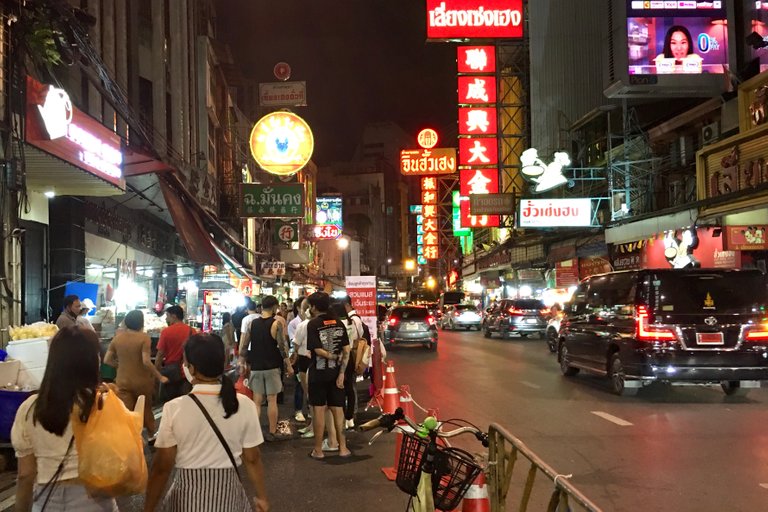 ตอนนี้ถนนเยาวราชเป็นจัดที่คนรุ่นใหม่มาถ่ายรูปลงสื่อโซเชียลกันมากกว่าแต่ก่อน ช่สงถ่ายภาพสมัครเล่นก็หอบเครื่องมือมาเตรียมถ่ายภาพกันเต็มที่ เรามองดูกล้องของคนอื่นแล้วหันมาดูตนเอง ก็ต้องบอกตนเองว่ากล้องไอโฟน6 ของเราก็ดีมากแล้ว เพียงแต่ว่าเขาไม่ชอบแสงน้อยเท่านั้นเอง เราเดินดูร้านอาหารแล้วก็นึกขำจนเองที่เป็นมังสวิรัติมานาน แต่ต้องมาเดินดูอาหารทะเลที่เราเคยชอบมากสมัยเป็นเด็ก ชีวิตก็เปลี่ยนแปลงไปตามกาลเวลา เหมือนย่านอาหารจีนที่เยาวราช เราคิดว่าวัฒนธรรมการกินอาหารคงจะไม่เหมือนเดิมในสิบปีข้างหน้า เรากำลังเดินดูประวัติศาสตร์ย่านร้านอาหารในชุมชนชาวจีนที่ถนนเยาวราช และกำลังบันทึกความทรงจำเป็นรูปภาพ เราจะกลับมาดูภาพเหล่านี้ในสิบปี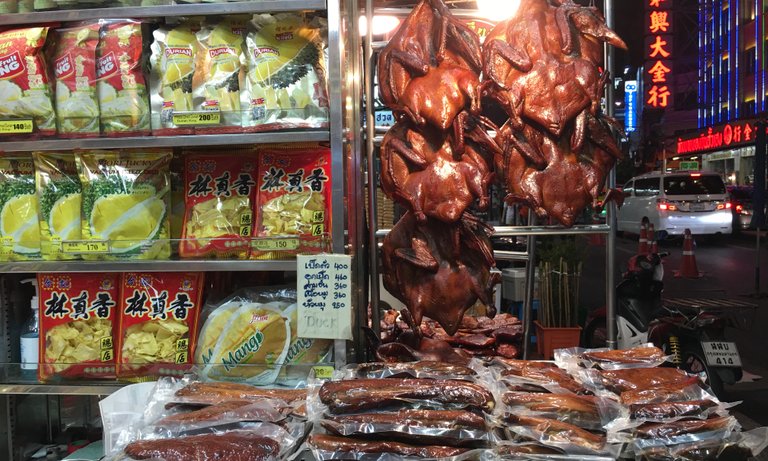 This is the shop I brought @gamer00 and @daabi2006 to buy the special shredded roast pork for souvenirs.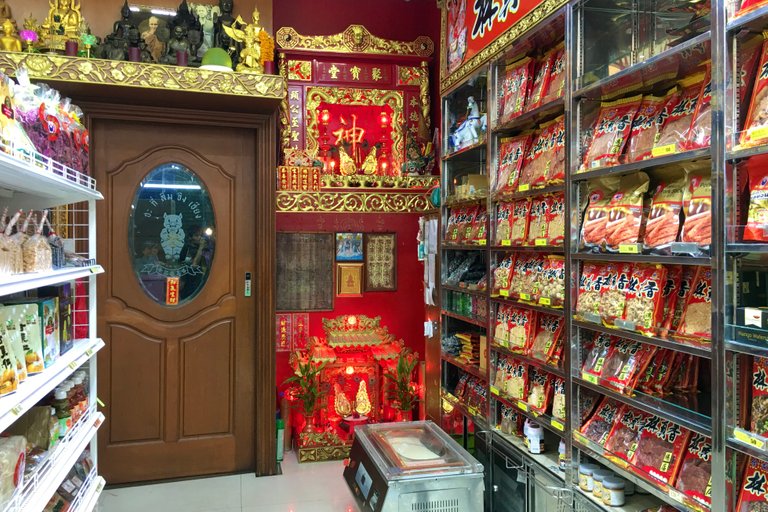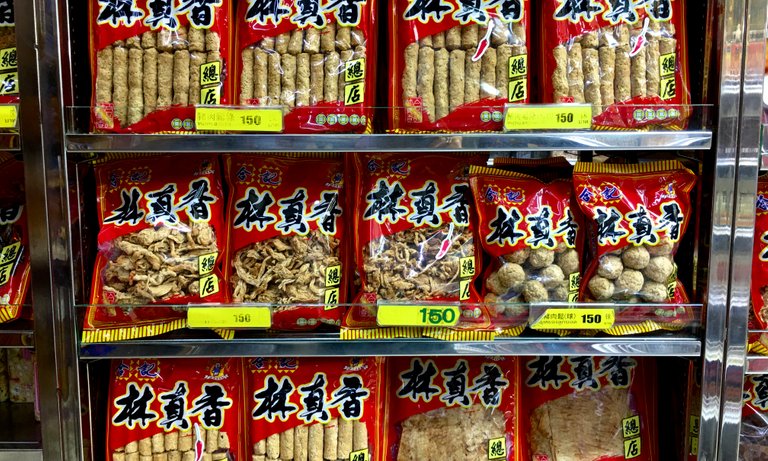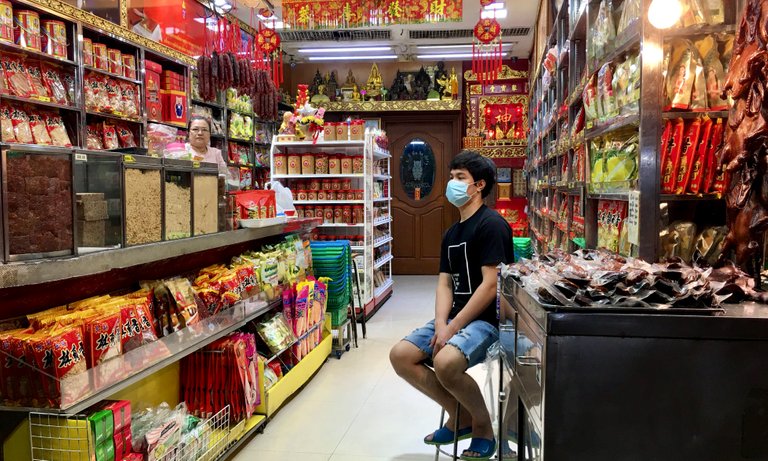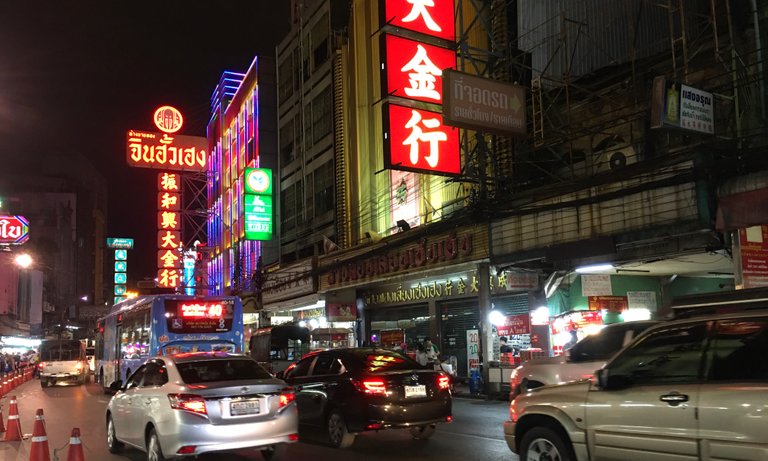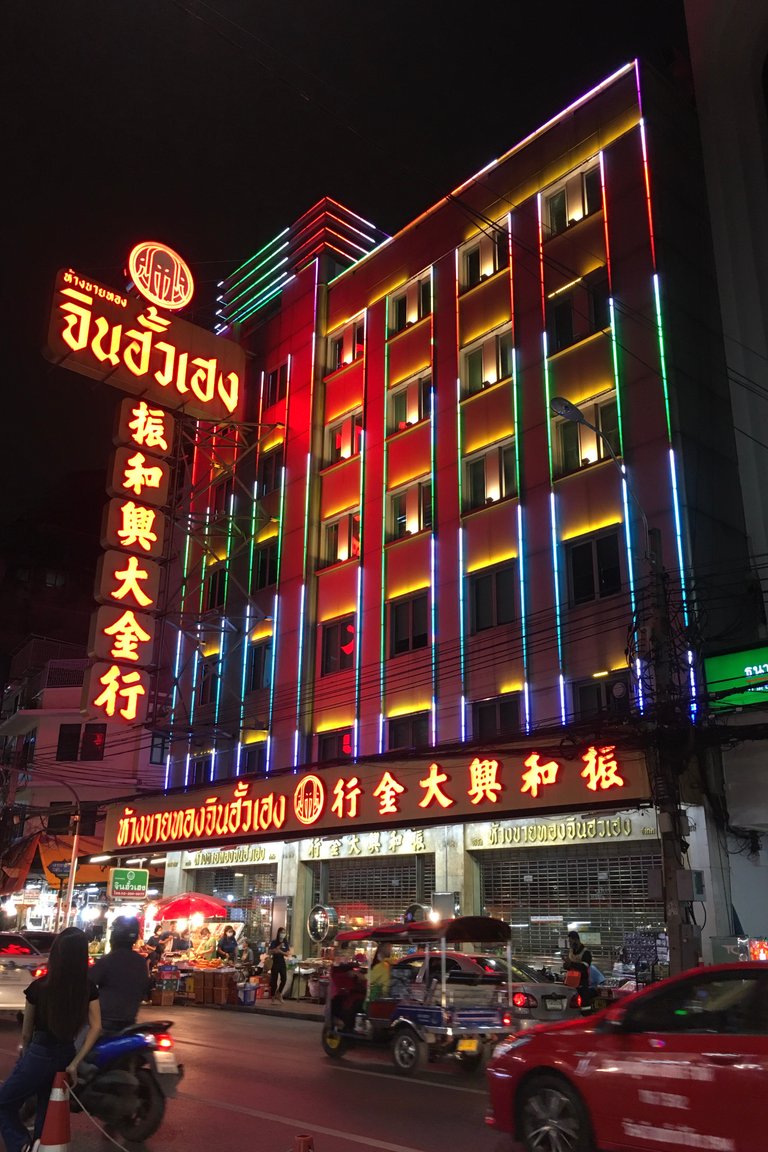 Wishing you all a very nice day.
Stay strong and healthy.
[//]:# (!pinmapple 13.740791 lat 100.509118 long Chinatown at night Bangkok d3scr)