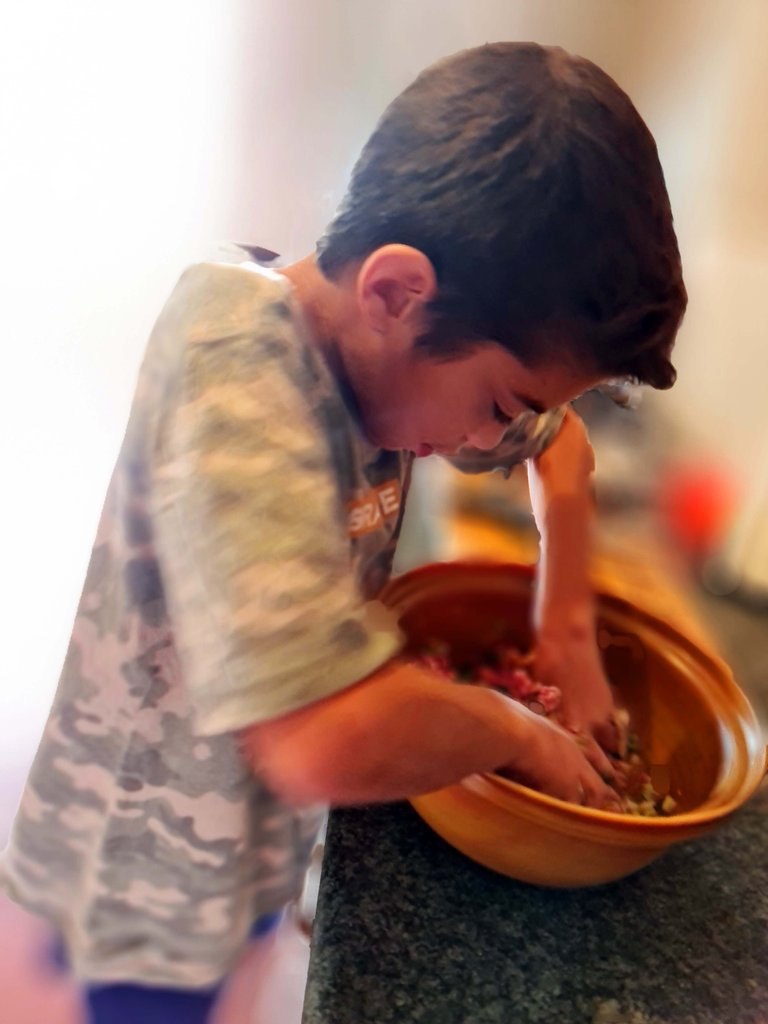 "To a child, LOVE is spelled T - I - M - E." - Zig Ziglar.
Today was a GOOD day! No, we did not go out anywhere, there was nothing fancy unfolding or any grand event to attend, in fact quite the opposite. I actually saw "other human life" for the last time on Thursday, and for good reason. There is a National triathlon happening in Hermanus and I made sure that I did NOT have to be anywhere NEAR the roads OR all the people this weekend... so essentially, complete hermit status until Monday.
That however, does not mean that I didn't have anything at all planned for us. Jude gets a fair amount of extra grace with technology these days since our move into country bumpkin land because it is his only connection to his friends back in Cape Town. They sit on phone calls, video calls, chat and play online together. Yes, he has good wholesome activities developing this side of the world and is making new friends, but it is not an overnight process.
I made a decision in the week that I wanted to start bringing Jude's presence back into the things which I do on a daily basis. He has ALWAYS loved being given "adult responsibility" and responds really positively to it because he feels like it is important and that he is trusted enough to do it. Around midday today, I pulled him into the kitchen and told him that he is cooking dinner. Jude is already quite capable in the kitchen, but has not done anything like we did today - and it was something which he knows "his granny" (my mom) taught me, so he was particularly keen.
It turned out to be a really special afternoon and I thought I would share it with all of you whilst making use of the "Highlight of My Day" post prompt from my 10th issue of The Weekly which I publish every Monday. It is a compilation of Lifestyle Lounge post suggestions and inspirations. Below is a snapshot of the prompt.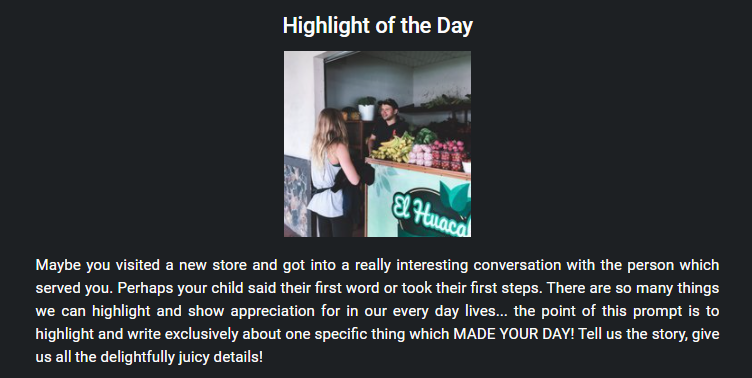 ---
My Boy and I - Cooking up a Storm!
"Cooking with kids is not just about ingredients, recipes and cooking. It is about harnessing imagination, empowerment and creativity." - Guy Fieri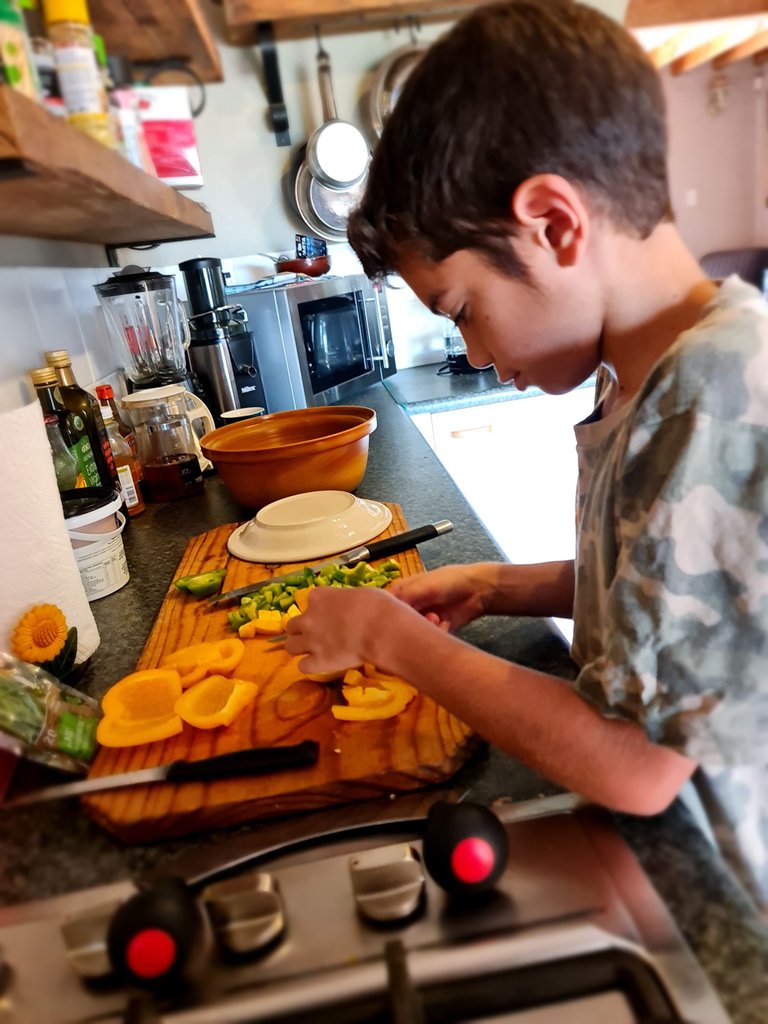 So, on the menu for tonight was nothing fancy... just some home made Frikkadels, which I shared with all of you recently. Some cauli rice, tossed with spiced and fried frozen veg. This is probably about as basic as you will ever see me get haha... but I wanted Jude to make something which I knew he would enjoy EATING! He LOVES frikkadels, and although he has no need to eat low carb "cauli rice" - he will eat it happily. It was also a lot more fun to prep and cook than it was to simply boil a pot of plain rice. He already knows how to do that and whilst we DID actually do that on the side later... (it was a promised bonus for him if he did well with everything else) - which he did, and therefore got it... so he will have both the cauli rice and traditional white rice alongside his frikkadels.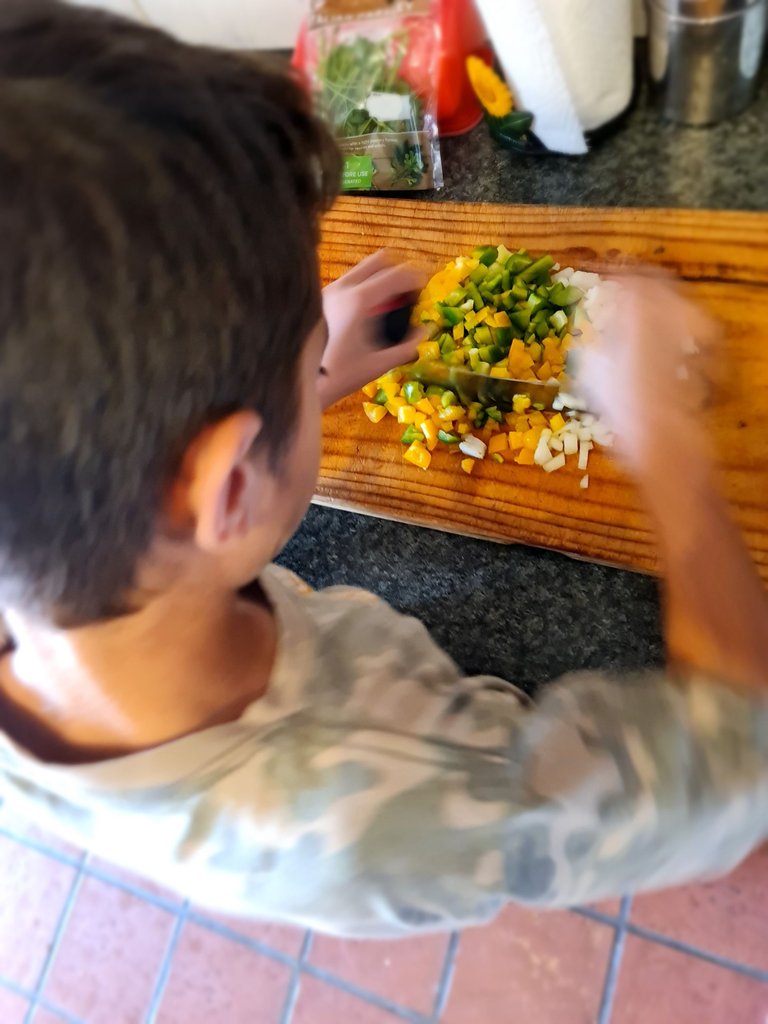 There is always a lot of chopping involved in the making of frikkadels and today Jude learnt how to peel and dice an onion like a chef would, how to slice and dice a bell pepper like a pro and then he got to enjoy the always enormous satisfaction of getting the diced pieces smaller by having a go with the mezzaluna chopper - which was NATURALLY his favourite part... well, second favourite part. I think he enjoyed mixing all the mince and other goodies together by hand the most - I mean who doesn't enjoy getting their hands stuck into some foodie muck, haha!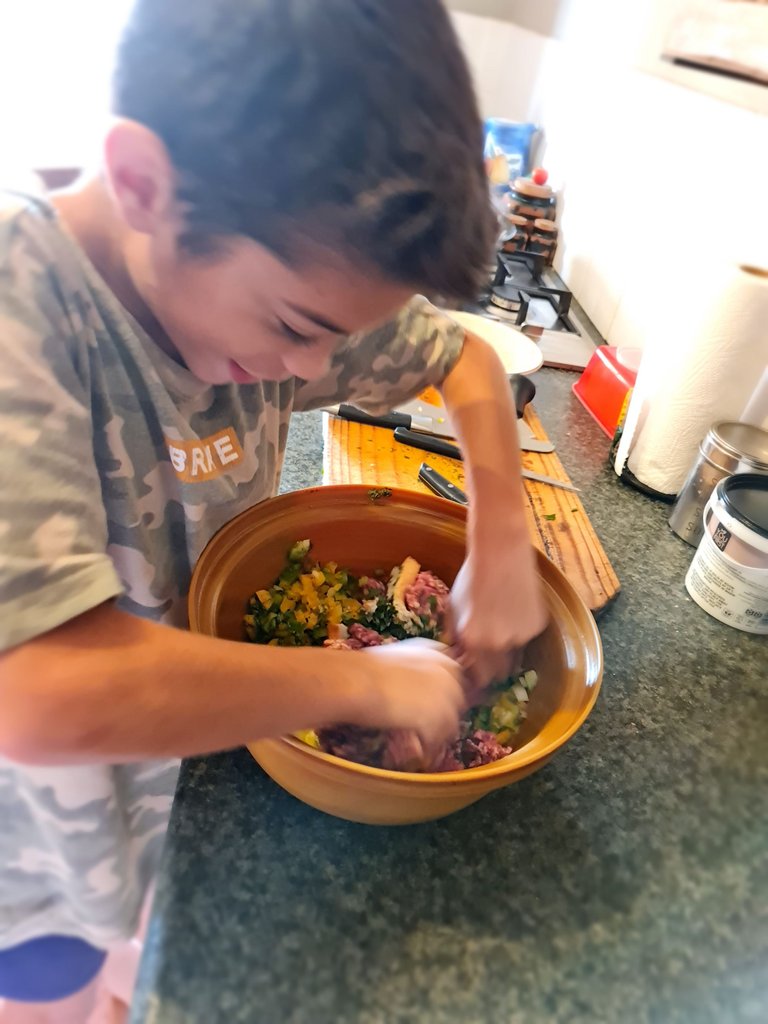 He rolled all the meatballs and admittedly, I struggled a little to cook them because I don't think the pressure of his palms is quite as firm as mine, so I had to be really careful when frying them because when he saw one or two fall apart - he immediately said "it is my fault that they are falling apart" - to which I obviously had to offer reassurance that this was absolutely NOT the case and that it happens to me all the time too! But... all said and done, I think he REALLY did a super job for his first round ever! He was a little nervous working with the sizzling oil - naturally... so was not able to turn them quite as quickly as they should have been - but he did a stellar job in my opinion!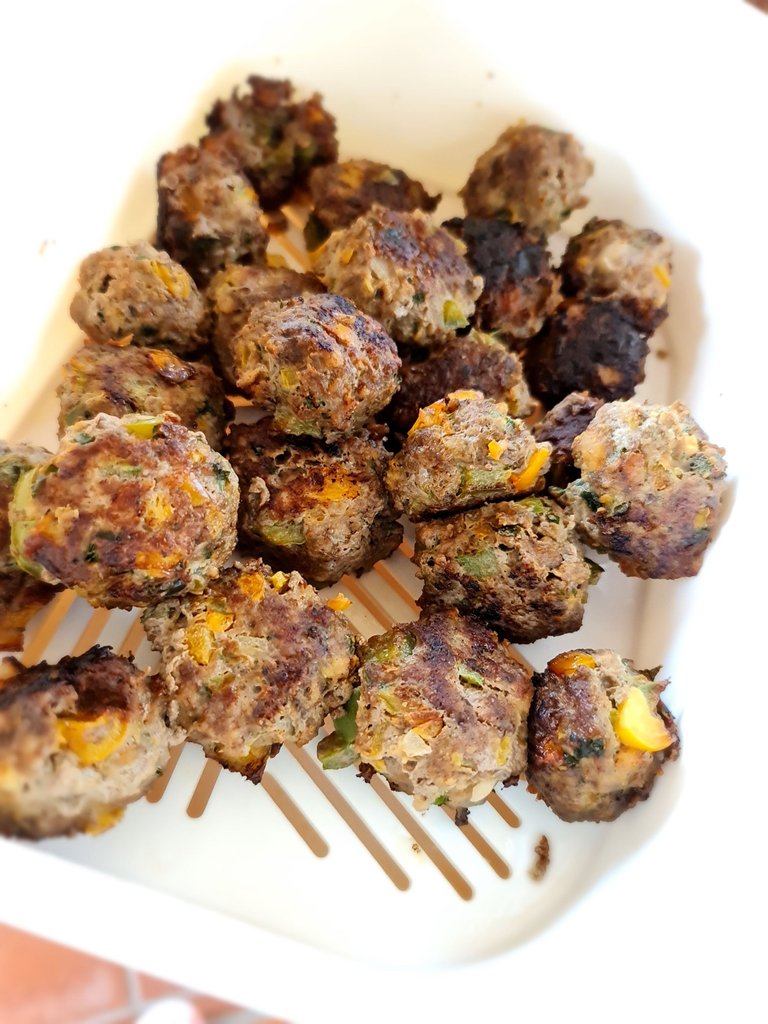 Next we moved on to the creation of the cauli mash and BOY did he enjoy that part - because the grating procedure is SO damn messy, lol! The cauli pretty much flies EVERYWHERE!!!! - which was obviously hysterical! He moaned a few times about his arms going to fall off, but he persevered and successfully grated two whole cauli rounds. Spiced it all and got it ready to steam.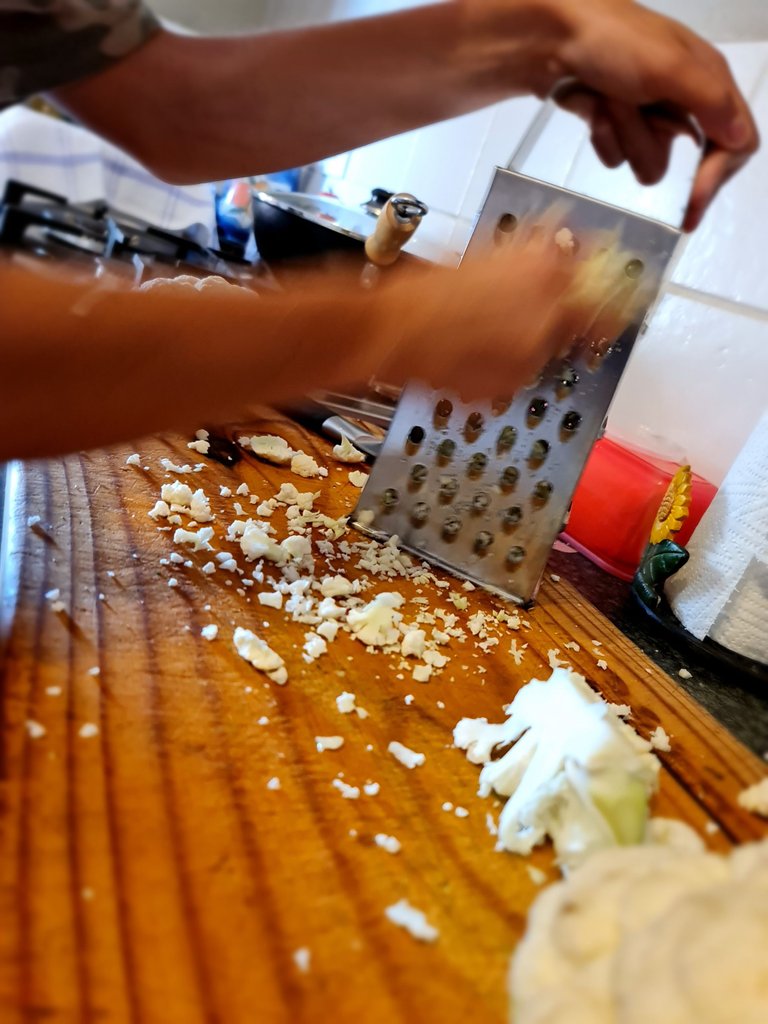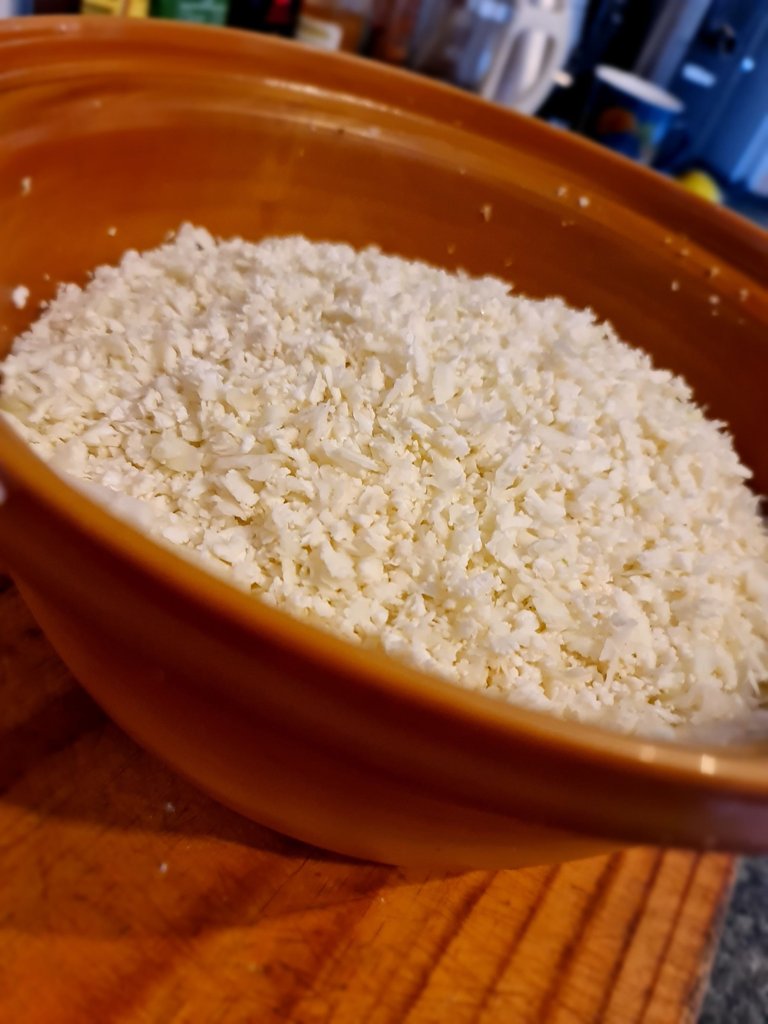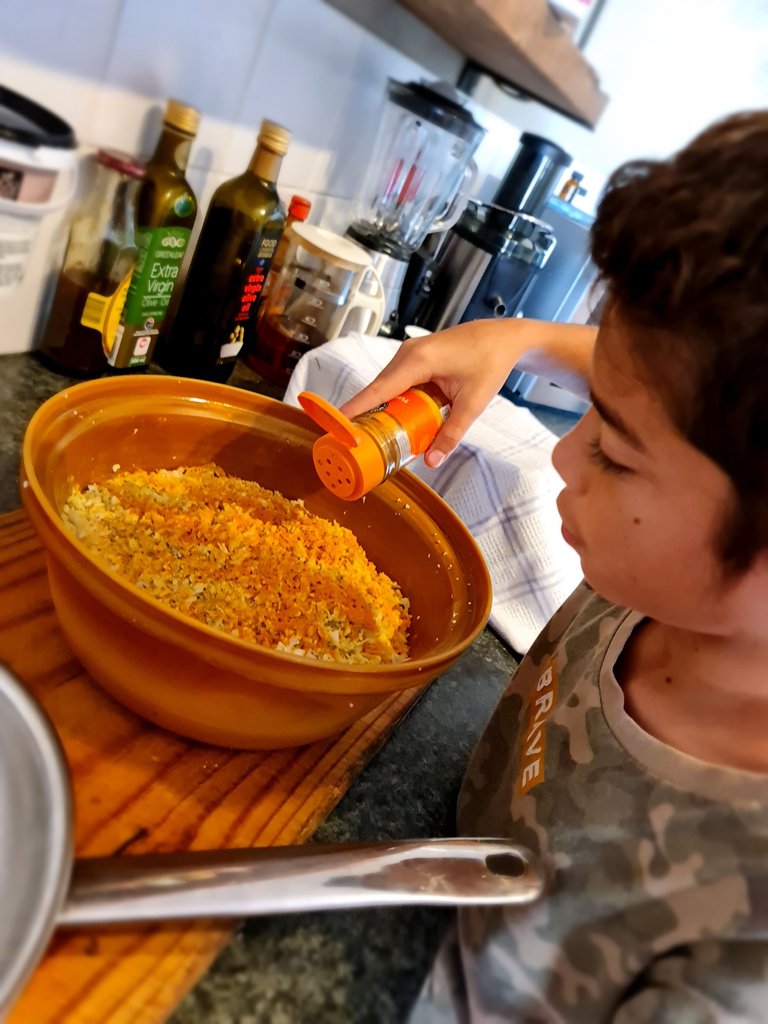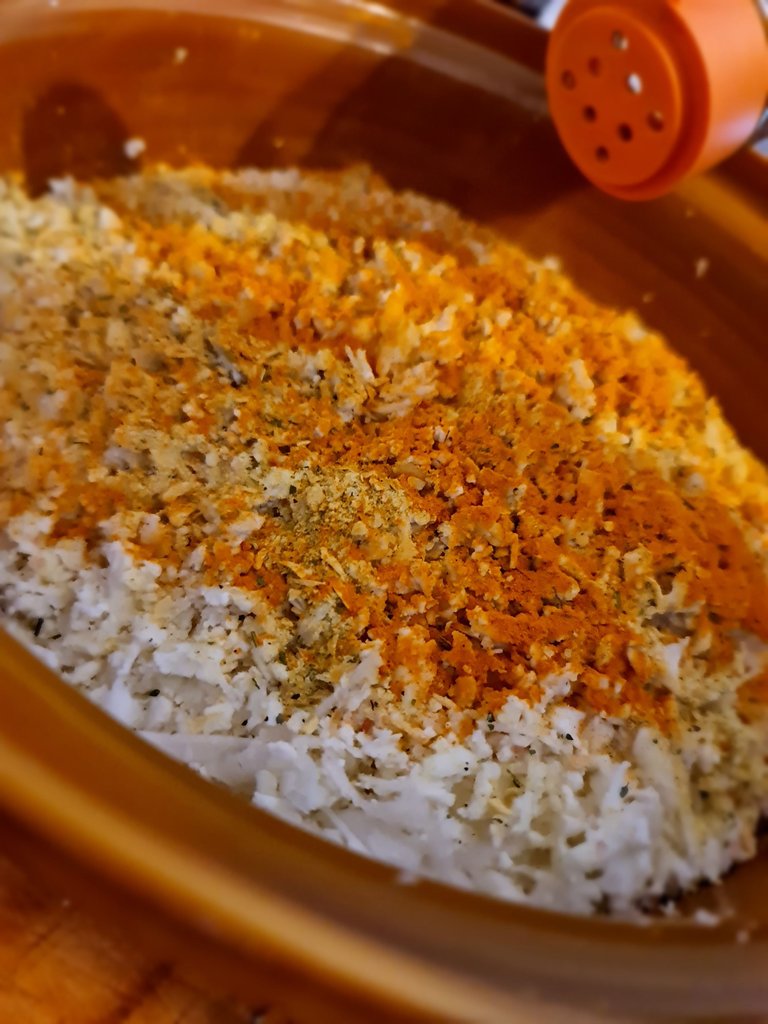 My dads pan was not really big enough for all the cauli so we just used his little wok. Jude did it all - added the oil, the cauli - stirred it so that the cauli was well coated with olive oil and then popped the lid on - stirring it every couple of minutes whilst it steamed away. He enjoyed this part too... in fact, I think it was round about here that he said to me "mommy, this is fun!" - bless his heart - and mine almost melted! How blessed am I that my eleven year old boy still calls me "mommy". Long may it last!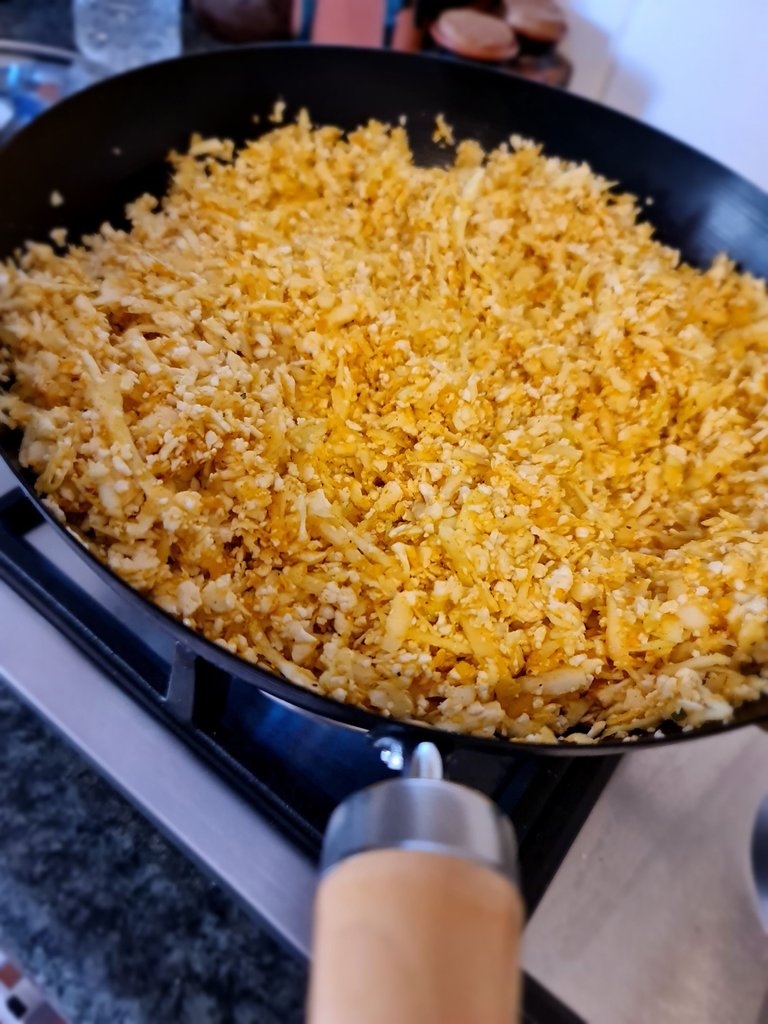 Last on the agenda was the mixed frozen veg, which was pretty straightforward. A simple bit of seasoning, a little olive oil and staying nearby to stir it regularly - which he did... until probably the last five minutes when the focus left the building and he disappeared outside to play with the dog and then jump into the pool, lol! He did so well and for a child where lengthy concentration is not really a "thing" I was amazed at how long he stayed focused and actively involved. I suppose the apple did not fall very far from the tree - because if it interests me, you will have my attention for hours on end - if not, good luck trying to get anything out of me at all, haha!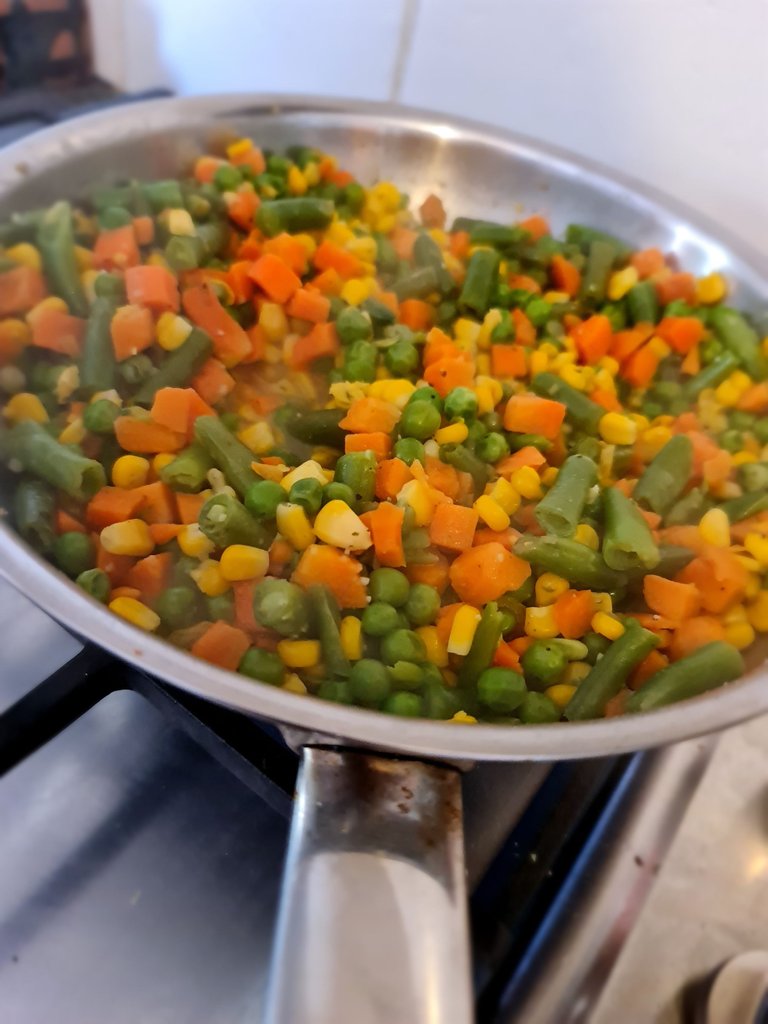 It was such a precious afternoon. I loved every minute and although I suppose it constitutes a lot more than a moment... I suppose, my entire day was a highlight then. I love spending quality time with my little man. How he opens up and talks to me, shares his thoughts - asks the most random questions and is also... such a little gentleman, offering to help me at every opportunity.
Memories created from moments like today are so incredibly important! These are the ones we remember as we grow older and cherish forever - I know they are for me, when I think back to my mom and time spent with her in the kitchen (and elsewhere) as a child. I hope he looks back to these times one day and smiles, as he cooks a meal for his family or that "someone special", remembering that it was the love and friendship we shared as mom and son which allowed us to be able to enjoy such special times together, whilst he developed a skill set simultaneously.
Time is such a precious commodity. Once it is spent we can never get it back, so spend time with your kids. Create memories and make every moment count."
❤❤❤
Until next time...
Much Love from Cape Town, South Africa xxx
Jaynielea

JOIN US ON DISCORD
SUBSCRIBE TO THE LIFESTYLE LOUNGE COMMUNITY HERE
JOIN US ON TWITTER


ALL IMAGES ARE MY PROPERTY UNLESS OTHERWISE CREDITED