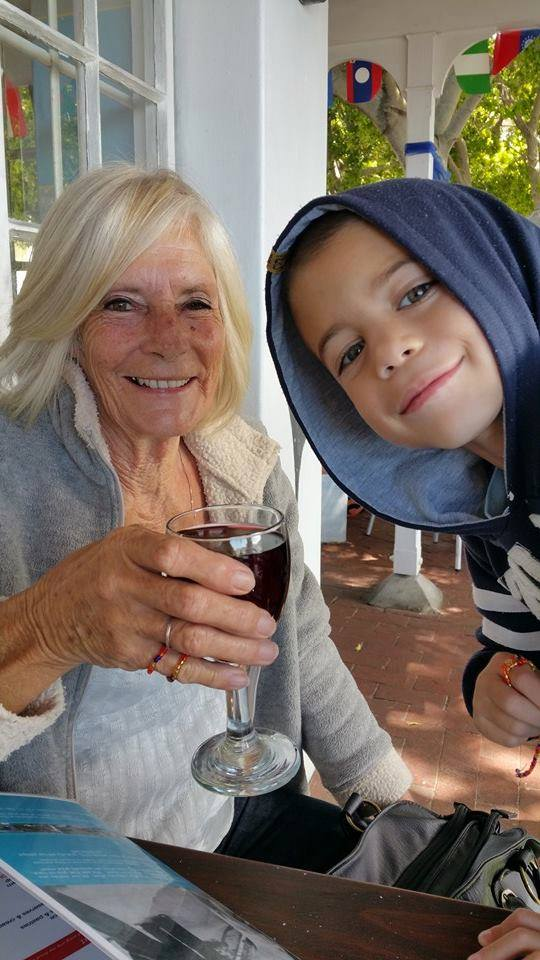 "A mother is the truest friend we have, when trials heavy and sudden fall upon us; when adversity takes the place of prosperity; when friends desert us; when trouble thickens around us, still will she cling to us, and endeavor by her kind precepts and counsels to dissipate the clouds of darkness, and cause peace to return to our hearts." ― Washington Irving
Today is Mother's Day - my first without my own mom and at a point in my life where I really could have done with her warm presence. I would have woken up to a lengthy message from her, telling me what an amazing mom I am to my son and how much she loves me. No doubt we would already have been on our way to somewhere beautiful for lunch and an afternoon out in the sunshine, enjoying the little moments together. Instead, I woke up this morning and didn't even want to open my eyes. I simply wished the ground would swallow me whole. Here I sit, on the bed – alone inside and out, empty, hollow and overwhelmed by, well –it all if I am honest. I genuinely have not felt this hollow "within myself" in a very long time. I really miss my mom so very much right now.
I am normally someone who can dig deep to reach the part of me that shines, but I am finding this incredibly hard at the moment. I feel like I am on some horrid rollercoaster ride that just never ends and I suppose what I am finding most frustrating is that I have so many blessings in my life right now and ahead of me and those should easily overshadow this "life hurdle", but for some reason – they aren't. I suppose I am going to have to dig a lot deeper and try a whole lot harder.
At emotionally challenging points in my life, my mom would always say to me "Jaynie, allow yourself to feel the emotions – acknowledge them and then allow them to move through you and let them go". Perhaps now would be a good time to listen to her advice – I am just not entirely sure I know how but I guess, me sitting here offloading everything onto my blog is my way of attempting a start. The entire reason I started writing and blogging many years ago was for the process of healing and it helped me an incredible amount as the months turned into years. The healing aspect of it became less of a necessity and it grew into a happy space where I shared pretty much all the facets of my life and journey from a position of strength, so it would make sense then to make use of that tool again… so here I am.
"Pain is a pesky part of being human, I've learned it feels like a stab wound to the heart, something I wish we could all do without, in our lives here. Pain is a sudden hurt that can't be escaped. But then I have also learned that because of pain, I can feel the beauty, tenderness, and freedom of healing. Pain feels like a fast stab wound to the heart. But then healing feels like the wind against your face when you are spreading your wings and flying through the air! We may not have wings growing out of our backs, but healing is the closest thing that will give us that wind against our faces." ― C. JoyBell C.
So much in my life has changed in such a short space of time – a bit of whirlwind really, or perhaps a little more like a tornado and through it all I feel like I have lost sight of the things which truly matter. As I sit here now writing this, I am taken into thoughts of my mom, her unwavering strength as a human being and as a mother. It never mattered what she was going through inwardly, she never allowed that to show outwardly or to spill out and onto her children. As gentle as she was in character, she was probably the strongest women I will have known and ever will. I was blessed to have had her as my mother… we all were and I can only hope that one day, my son will feel the same way about me as his mom.
I have been blessed with the most incredible son and I simply have to find the strength within myself to be the person that he needs me to be. I know she is in there, I just need to find her again – which I will and hopefully sooner rather than later. We have so much to look forward to and I want to be able to enjoy it all fully, so I need to put all my heart into moving through this space and out on the other side.
"As my sufferings mounted I soon realized that there were two ways in which I could respond to my situation -- either to react with bitterness or seek to transform the suffering into a creative force. I decided to follow the latter course." ― Martin Luther King Jr.
As cliché as this sounds, times like this really are about putting one foot in front of the other, no matter how hard that may be. Distraction can carry you a fair amount of the way too and then there is also the release… the "processing of emotion", which is pretty much what I am attempting to do right now by writing this. I am not really sure what to do with the rest of this day or how to fill myself with something other than the rocks sitting inside my stomach, so I suppose I will lean toward a bit of distraction to keep me moving forward.
"You can spend minutes, hours, days, weeks, or even months over-analyzing a situation; trying to put the pieces together, justifying what could've, would've happened... or you can just leave the pieces on the floor and move the fuck on." ― Tupac Shakur
❤❤❤
Until next time...
Much Love from Cape Town, South Africa xxx
Jaynielea

JOIN US ON DISCORD
SUBSCRIBE TO THE LIFESTYLE LOUNGE COMMUNITY HERE
JOIN US ON TWITTER


ALL IMAGES ARE MY PROPERTY UNLESS OTHERWISE CREDITED