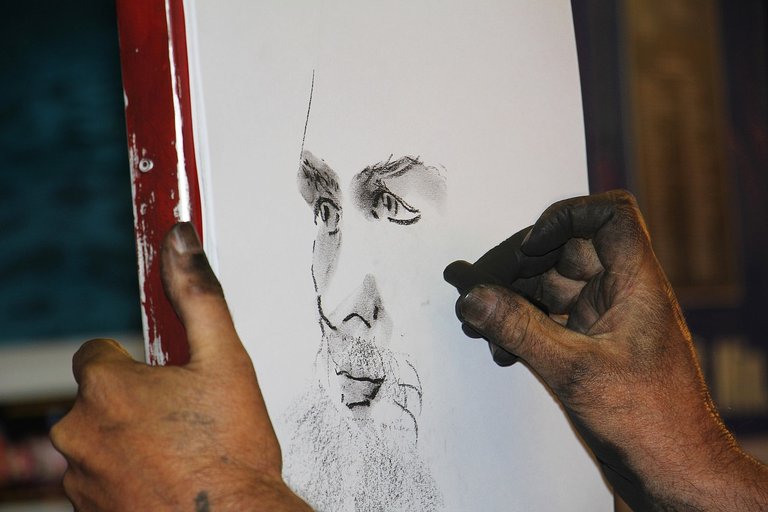 Bad Drawing 101

First of all, to start this story, I have to be honest and clear up the fact that I did not follow ALL the rules for this contest. Now for the explanation. I read that we were to draw a picture of ourselves, so it would be a selfie on paper. I'm a terrible drawer, so I immediately got a mirror, looked at myself in the mirror, and tried to draw what I saw.
Then, after the "drawing" was finished, I read the rest of the rules.
The rules say that we have to
show your drawing process in the post
Well, I didn't really see that rule until after I had painstakingly completed the exercise of drawing my selfie on paper. At that point, there was no chance the drawing exercise I had completed was going to be ditched, and the whole thing restarted from the beginning, so I could take pictures at different stages.
There really was ONLY ONE stage anyway – me looking at my reflection in the mirror and then trying to put on paper what I was seeing. That's it. There was no "process" beyond that, except the evidence that I erased a lot, mainly because I made my face look fat, which it isn't. I also drew my nose too wide.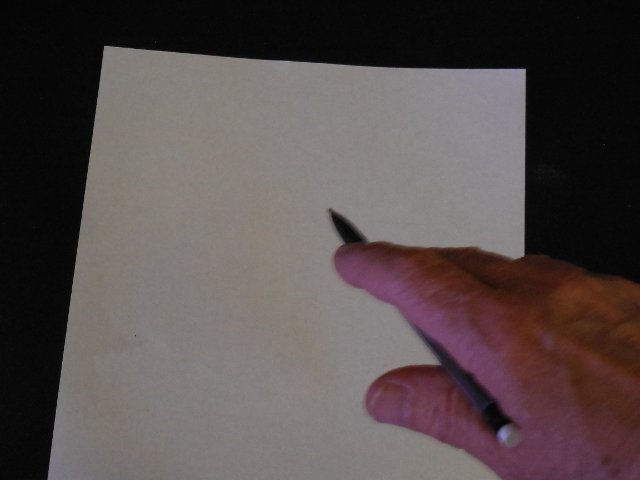 I did take this picture after the fact to illustrate step one of my "process;" My hand, holding the pencil I used and a blank sheet of paper. This is exactly how everything looked prior to when I started moving the pencil on the paper, to "draw."

Because of my extremely curly hair, some people who see the image but don't read the text, may think I am a black person, which I am not. I am Irish-Ukrainian, but I guess it's possible one of my ancestors was black. I'll never know though, because I'm not gonna hand over my DNA to find out, when I don't really care who all my ancestors were or what color their skin happened to be.
The ancestors I already know about will suffice to make my life complete.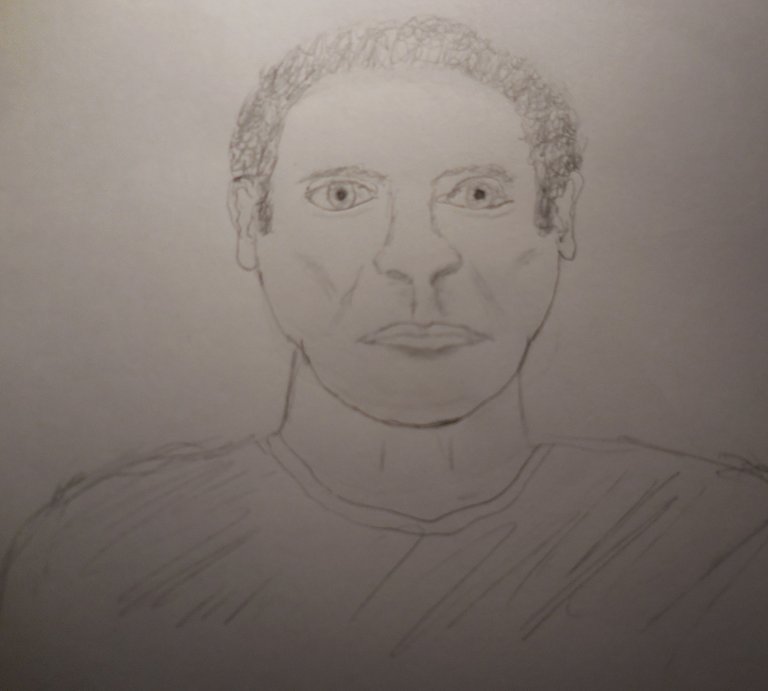 If I were a fugitive on the run from the law, I would be comfortable with the police having a copy of this drawing to have in their files as their official image of me, because no one would ever find me if they were using this awful attempt at drawing to do it, even if they were conducting a dragnet of the city and surrounding areas, hoping to find ME.

It is pretty funny though, and I've had a few laughs doing this "drawing" for @zord189's PHC contest this week, and a good laugh always makes things worth doing.
Bad Drawing 101 © free-reign 2020

This is my entry for the Power House Creatives contest hosted by @zord189. The contest is for PHC members only. Please join us if you'd like to participate. For this week's contest, @zord189 has tasked PHC contestants to draw a "selfie" rather than taking a selfie with our phone cameras.
Thanks for reading!

Sources for images used in this post:
(Public Domain photos are from Wikimedia Commons)
A Real Artist: Image by S. Hermann & F. Richter from Pixabay
Drawing Process: Image by Me
Drawing OF Me: Image by Me