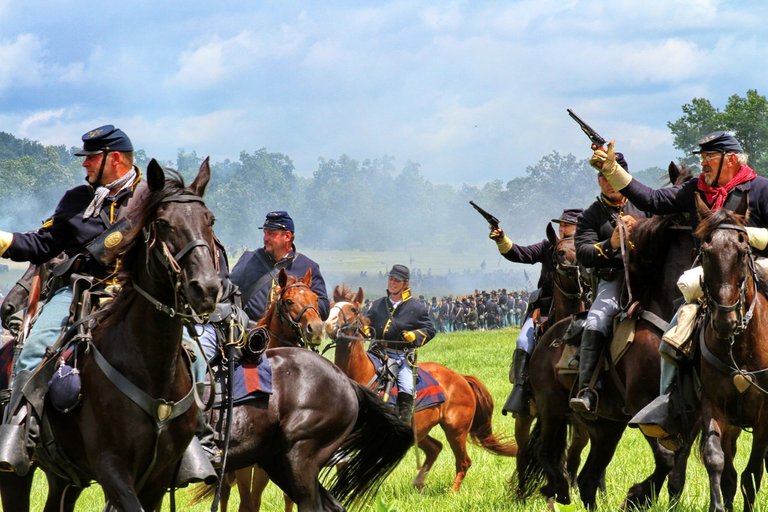 Haunting.Those are the words that come to mind when I think of Gettysburg. The Gettysburg Civil War Battle Reenactment in Gettysburg is held in July, usually to coincide with Independence Day. This is the first year that it was not, but, we will look back to one of the reenactments that I attended. I cannot think of a better way to make history come alive than to experience it first hand. It was so real! There were live mortars, charges with horses, and artillery shells. I bought the tickets online and headed up to Gettysburg, Pennsylvania.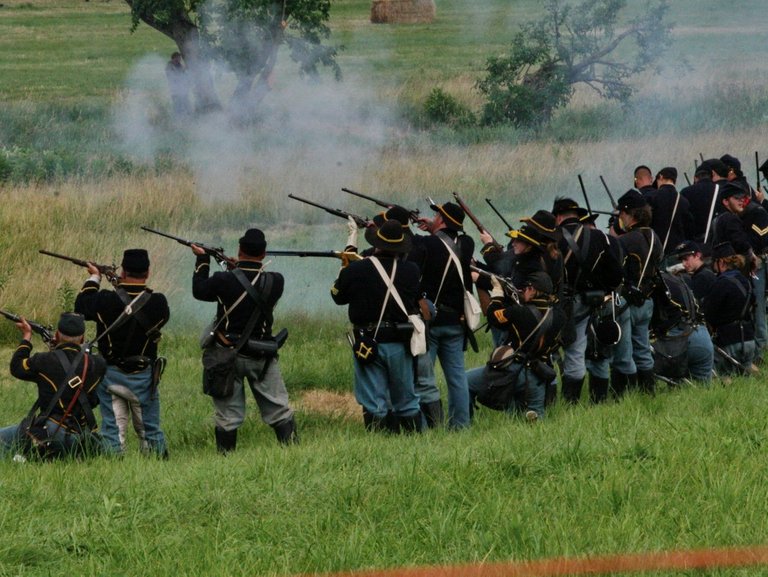 Have you ever wondered why both sides of the Civil War still fought with rows of infantrymen facing off against each other? One would think that this tactic was disproven 80-90 years previously during the Revolutionary War when the Colonists used guerrilla tactics to counter the advantages of the linear volleys the British presented.
The Civil War reenactment is done by living historians to educate and recreate the events of that time. I think it is one of the best reenactments that I have ever seen, hands down.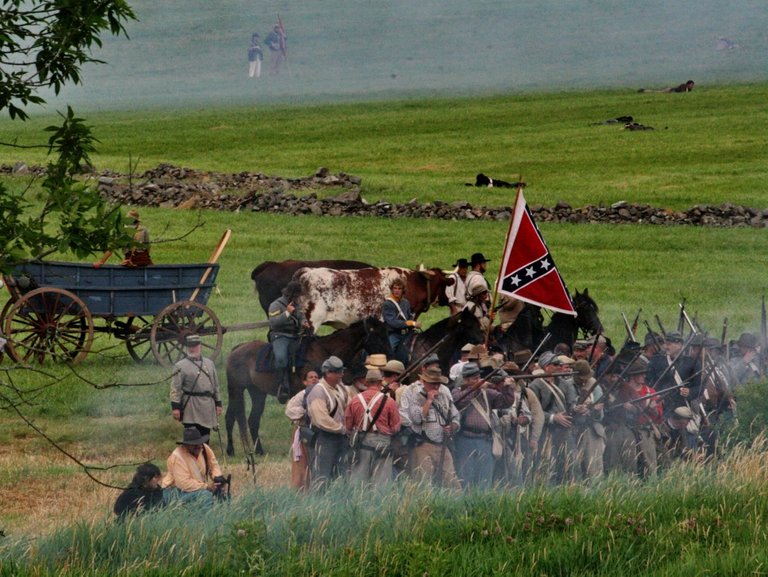 In reality, this usage "of rocks, trees, rifles, and militia" (guerrilla tactics)only worked once, at the Battle of Lexington and Concord. The British quickly adapted by maintaining their firing while charging the militiamen with bayonets before the militia was able to reload.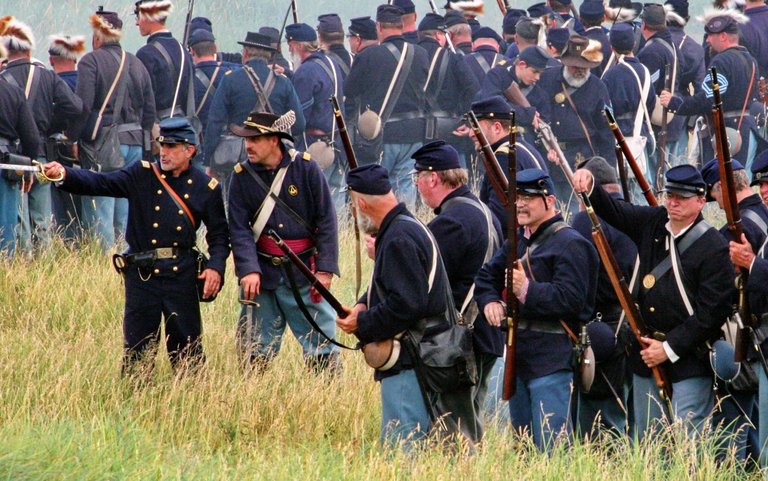 The fact is, that with the technology of the day, this was still the best tactics during the Civil War. With the invention of the Minié ball (the first "bullet")and rifled barrels by Claude-Etienne Minié in 1847, the effective range of Revolutionary War muskets (50-100 yards) was expanded out to as far as 350yards. The increased range made "charging with bayonets before your enemy could reload" impossible and necessitated this force on force "concentrated fire" to attrite your enemy.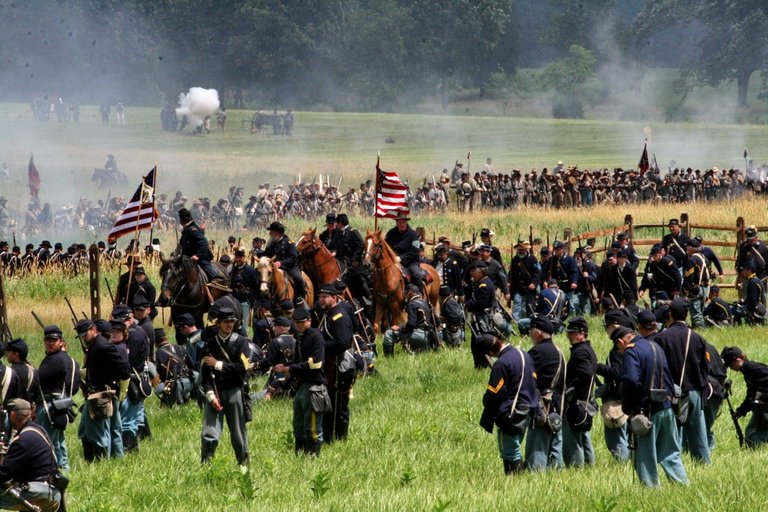 Across the hot, sun-scorched fields of Gettysburg came waves of soldiers in gray, steady, and ready, making their way towards the thinning blue line of Union soldiers. One by one, they fell. - at Gettysburg Battlefield.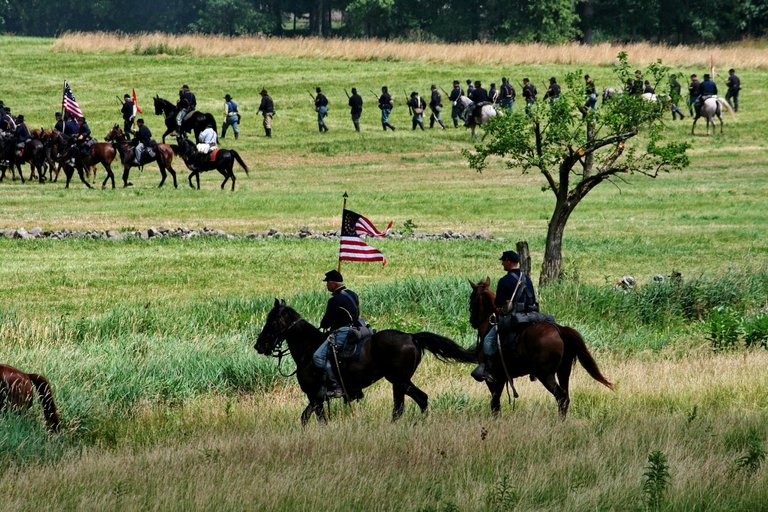 Gettysburg became one of the turning points in the Civil War. It was General Robert E. Lee's plan to invade the North and force an immediate end to the war.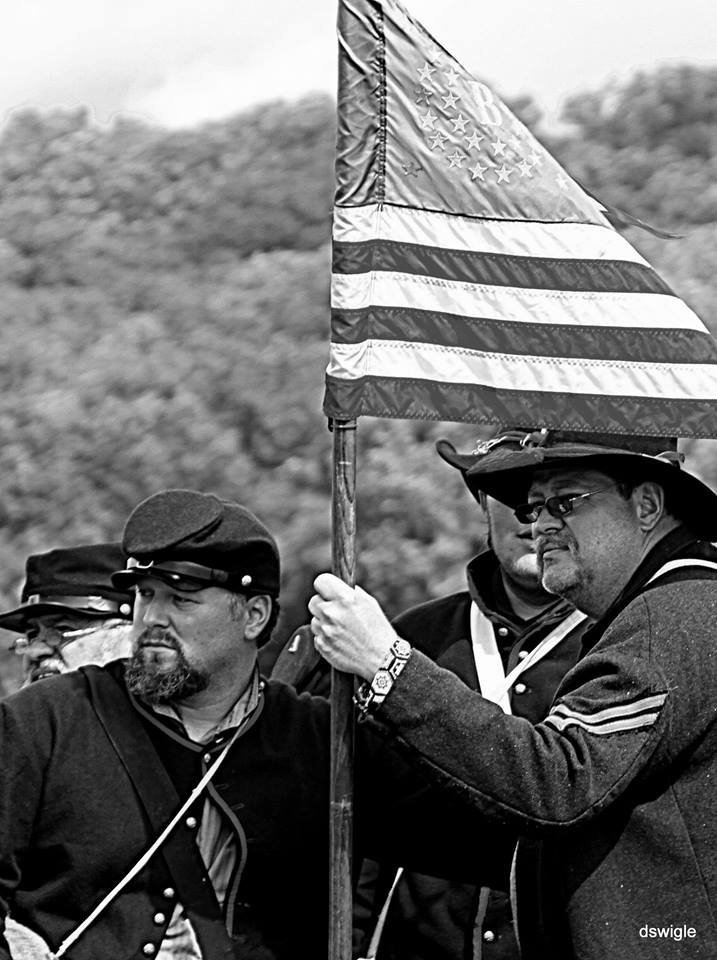 Gunshots rang out, followed by the sounds of cannon fire. The musket and cannon fire grew more and more intense — at Gettysburg Battlefield.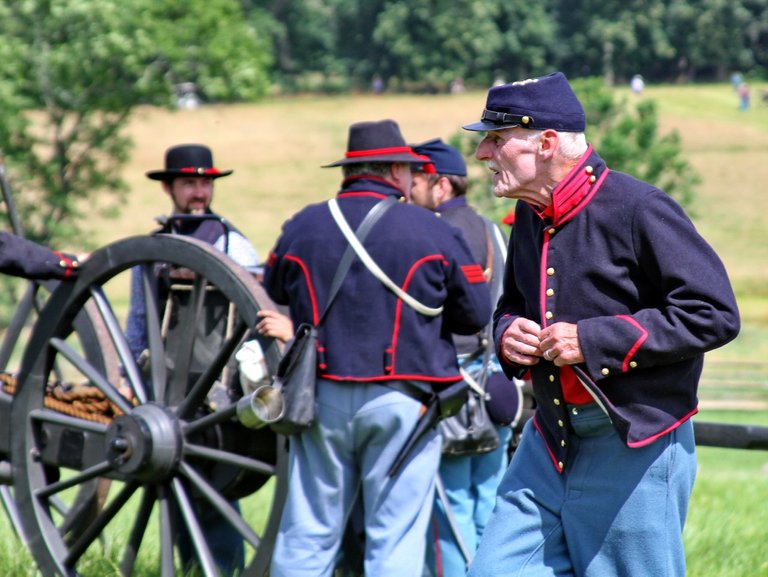 I cannot, for the life of me understand, especially when I see the sheer number of opposing forces - above me, the sky, the sky is choking on clouds of smoke. -at Gettysburg Battlefield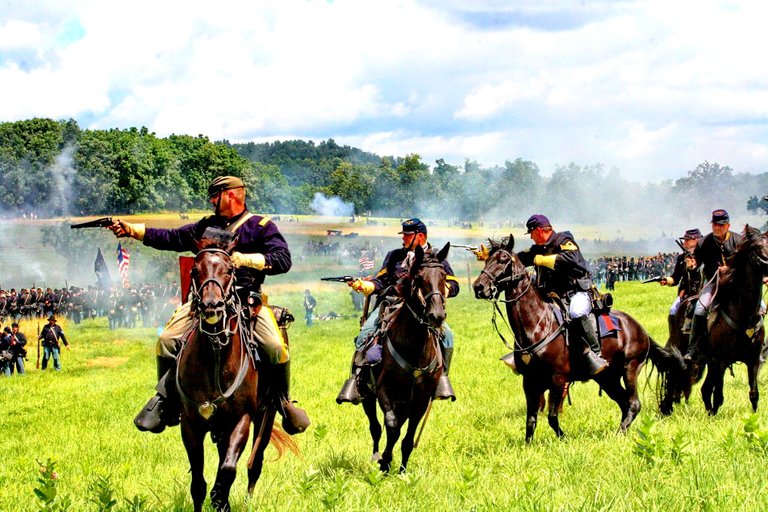 Columns of blue-clad infantry arrived just in time and moved quickly toward McPherson's Woods to shore up the collapsing Federal line — at Gettysburg Battlefield. source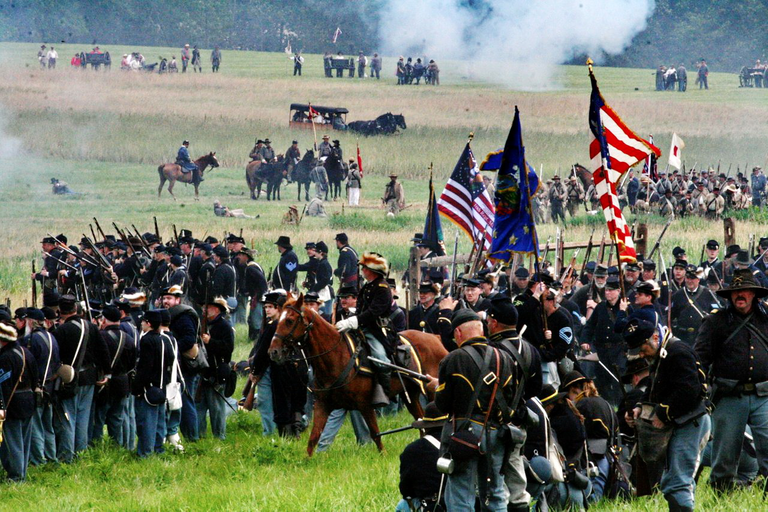 The only real option to this battle of attrition was for one side to wear down their enemy (and win!), for the one side (or both) to retreat or to try and out-flank your enemy. If you succeeded in flanking your enemy, you were able to fire down their line rather than perpendicular to them (like the line vs.line). When firing down their lines, it was almost impossible to miss, and your enemy can't effectively return fire without shooting their own men who were in their way of returning fire. When a side was able to flank an enemy, that portion of the battle was basically over. The flanked side retreated as quickly as they could, surrendered or died.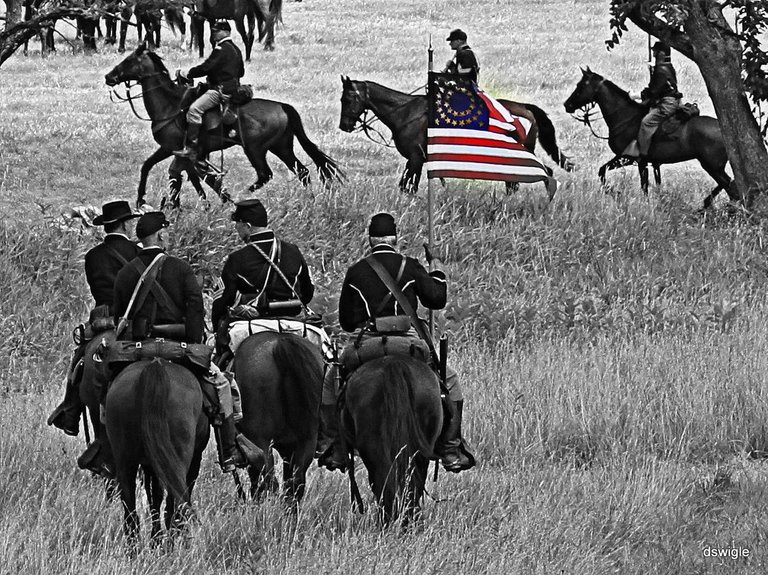 The battle involved the largest number of casualties. Up to 10,000 soldiers lost their lives, both Union and Confederate. This was considered the war's turning point.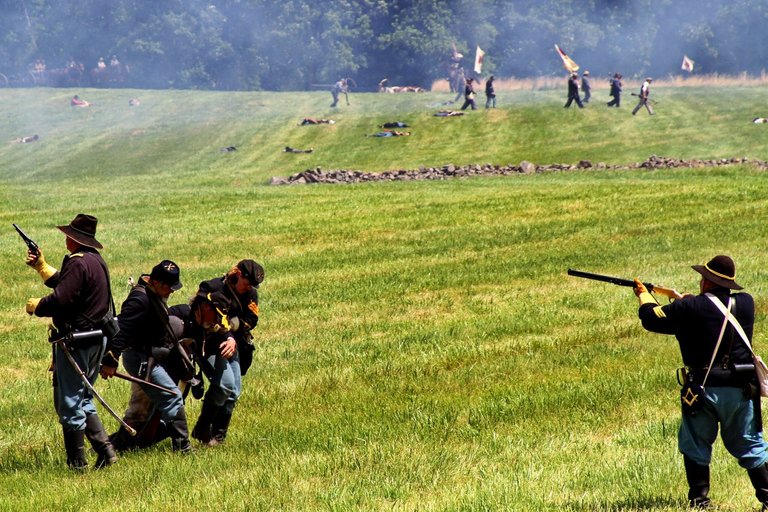 Flags fluttering the buglers blowing, troops of troops colliding; the land boiling with smoke and fire. — at Gettysburg Battlefield.
You can see pictures and paintings, but it is really hard to imagine. I walked through the camps, where everything was, just as it had been. The reality of it is beyond words. — at Gettysburg Battlefield.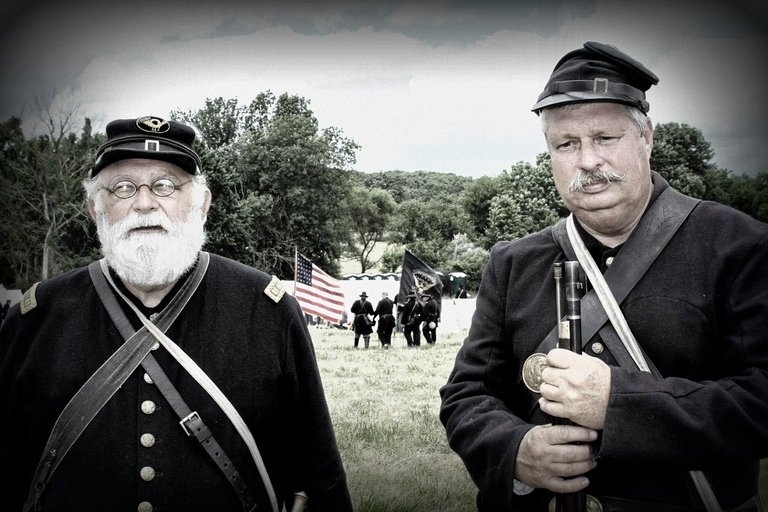 July 1-3 in 1863, Union troops repelled a massive artillery assault on Cemetery Ridge in southern Pennsylvania. As a consequence, Confederate General Robert El Lee was forced to retreat and ultimately abandon his attempt to reach Washington, DC via Pennsylvania.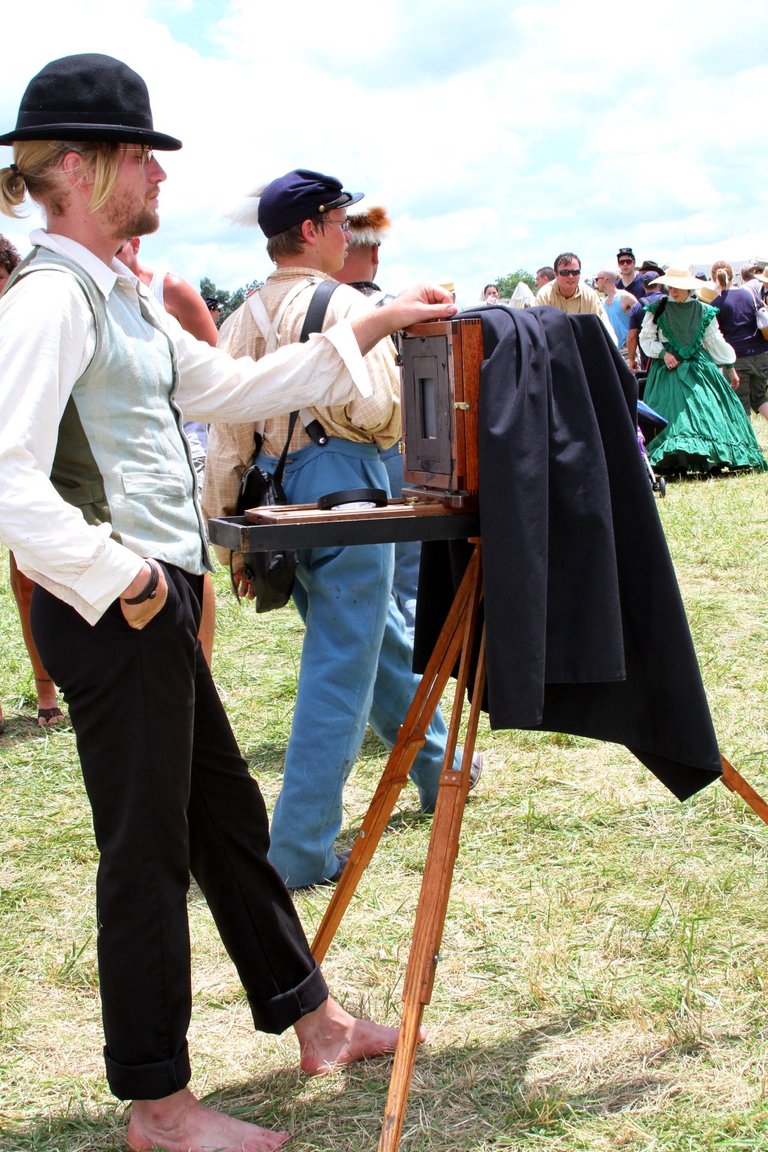 ´¨)
¸.• ´¸.•´¨) ¸.•¨)

(¸.•´ (¸.•' 
Let the sun shine in on your life

So the joy may touch your soul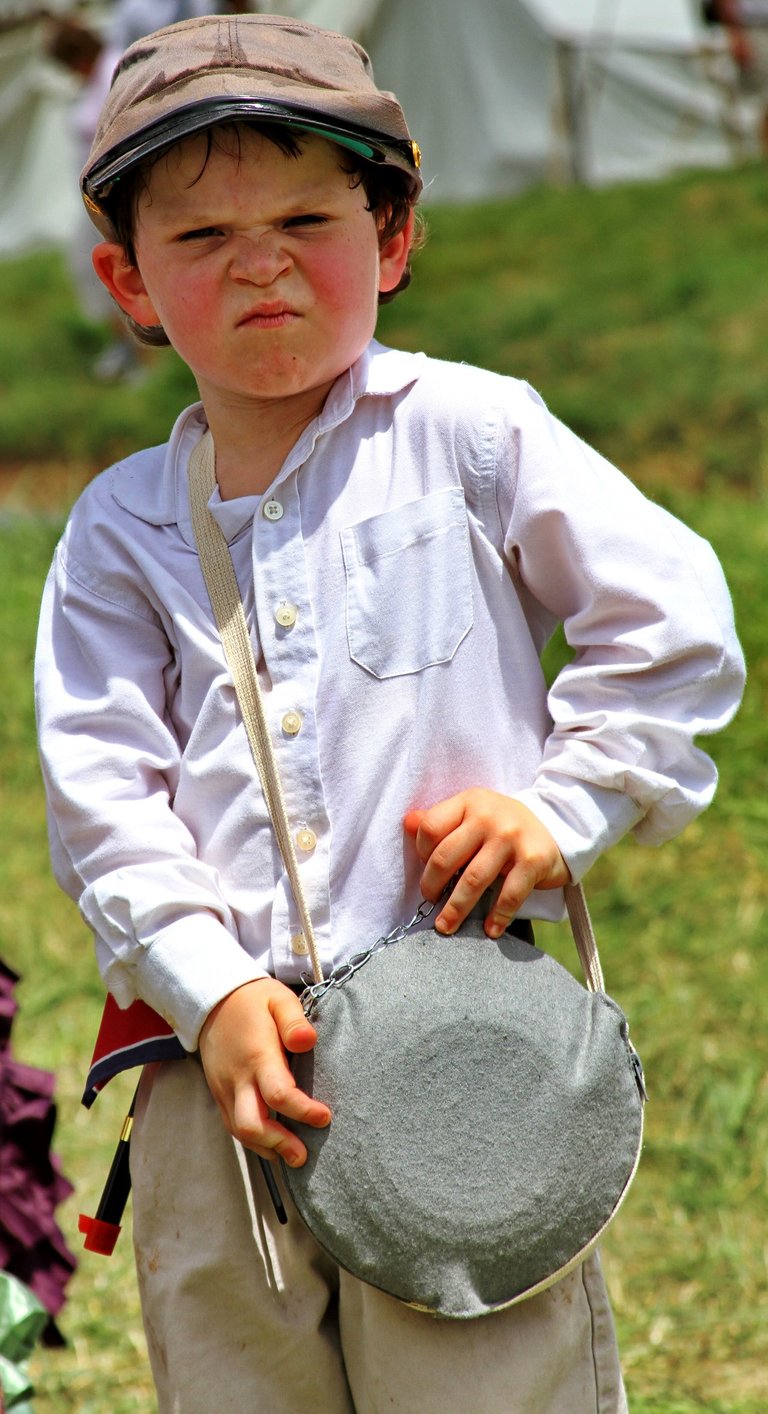 Happy Birthday, USA! I hope it was a good one! While life is not always perfect here, my love for you is deeply entrenched.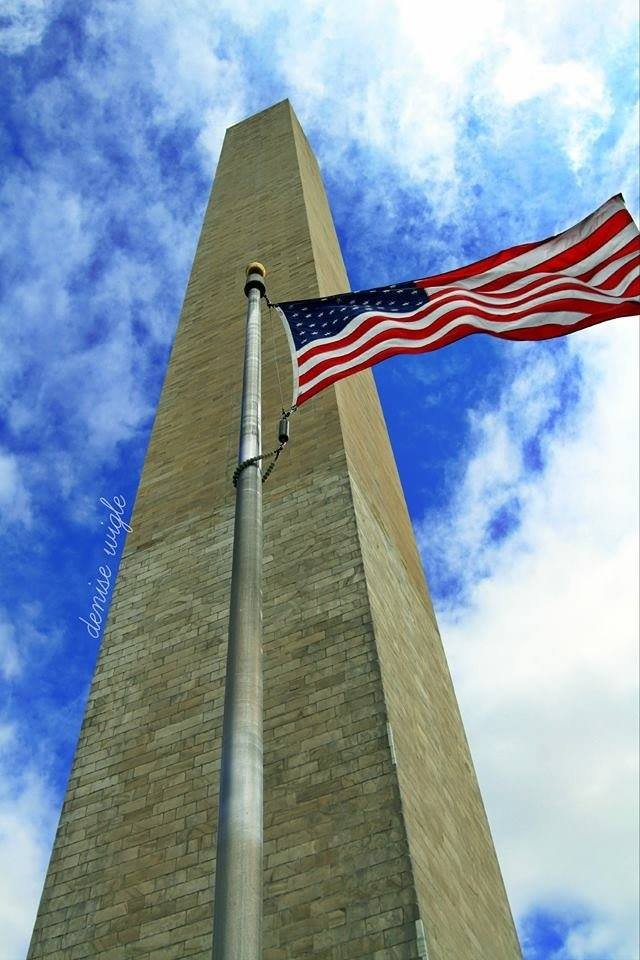 As always, there must be a flower. Always. To color my world. #alwaysaflower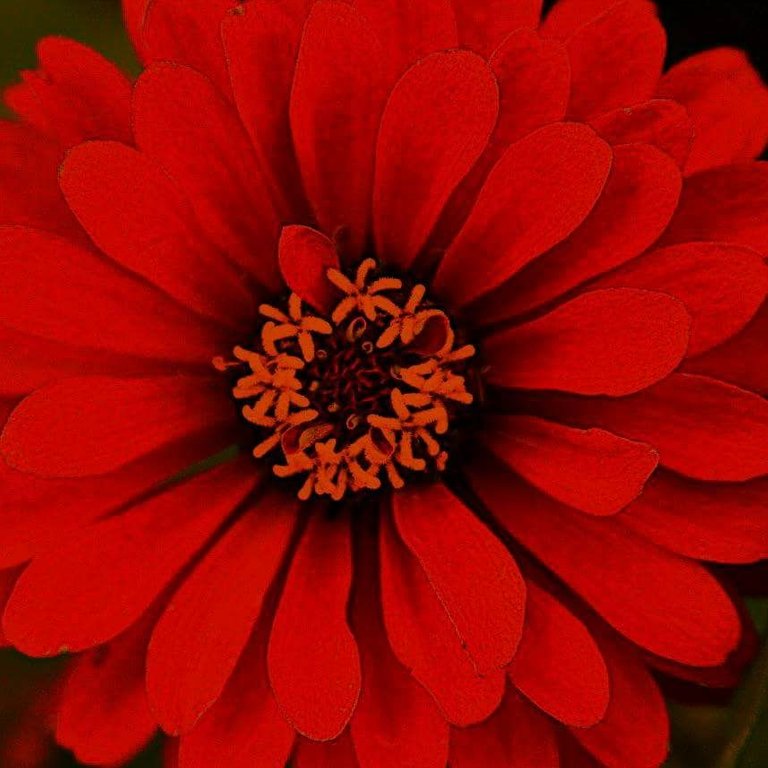 And just like that, this post is over! Come back tomorrow and we'll do it again! Parts of this post had been previously used last year as there was no reenactment this year! Have a great day!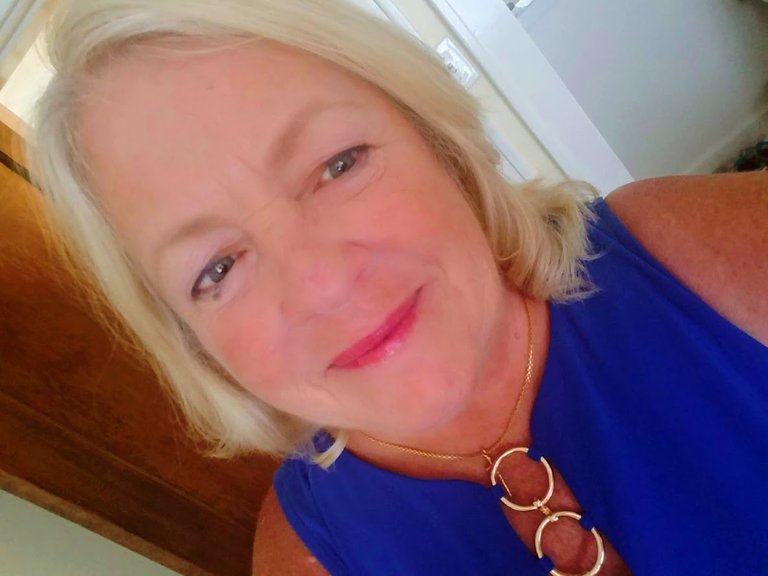 ---
Thank you for visiting my post 💖 Don't ever forget what a wonderful world we live in, people. Some days, it is not as easy to see,just how wonderful it really is. For me, I try to do my part. Kindness counts. Wherever you go, whatever you do.

they set my aunts house on fire
i cried the way women on tv do
folding at the middle
like a five pound note.
i called the boy who use to love me
tried to 'okay' my voice
i said hello
he said warsan, what's wrong, what's happened?
i've been praying,
and these are what my prayers look like;
dear god
i come from two countries
one is thirsty
the other is on fire
both need water.
later that night
i held an atlas in my lap
ran my fingers across the whole world
and whispered,
"where does it hurt?"
it answered,
"everywhere"
"everywhere"
"everywhere"
warsan shire

#TeamUSA is a growing community of quality-content people from the United States or those living here. Check us out on Discord!