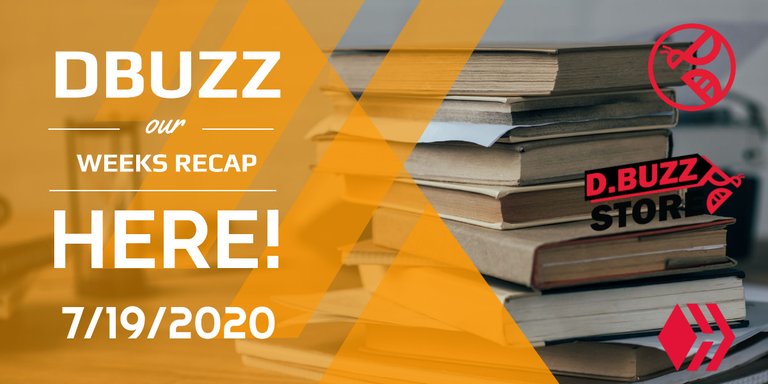 Recap of this Week's Posts by D.Buzz (7/19/2020)
Hey guys and gals,
Henry Wadsworth Longfellow, the great American poet and educator who wrote books like "Paul Revere's Ride", once said, "Sunday is the golden clasp that binds together the volume of the week."
Well said Henry, well said.
Personally I tend to agree with Henry on this. Life is a collection of short stories put together, that eventually form a library that is our existence. This is also one of the reasons why I like to do this weekly recap. It helps put together the many smaller stories that than make up the larger picture of who we are.
As a company and as a group of friends designing and building, @DBuzz marches foward on to the next chapter. :D
Let's take one more look at this chapter before moving D.Buzz on to the next.
---
Monday
WAZZZZZzzzz up, #DBuzzMondays challenge rock in the block. Tag to your friends on D.Buzz with a WAZZZZZzzz up and win a prize!
Read it here:
---
Tuesday
We want to keep you up-to-date with how the form is developing, as such we dropped six cool things that the team has been developing this week.
Read it here:
---
Wednesday
The rollout of three new rock 'n' roll HIVE designed T-shirts for you. Check them out and let us know what your thoughts are on this!
Read it here:
---
Thursday
Our community highlight for the week! @phage93 an epic beekeeper that is running a HIVE of his own!
Read it here:
---
Friday
This week we put the spotlight on the Stellar DApp: Peakd (*It's what we're using to type this article in fact).
Read it here:
---
Saturday
Want to win 25 HIVE? Heck, if I did not work for the company, you know I'd be all over this like honey on a stick.
The GOLDEN BUZZ Awards, round 4! Post your favorite buzz and WIN!
Read it here:
---
Sunday
That's today! Or maybe yesterday or the day before depending on when you're reading this...
---
Thanks for being an active reader here on our blog.
As we move forward, we aim to build a strong community.
If you have any suggestions on what we can do better, please let us know.
See you all Monday!
The DBUZZ team.
D.Buzz over and out.
---
---
Do you know what D.Buzz is?
D.Buzz is a censorship-resistant short form microblogging platform that empowers you to share your thoughts in 280 characters or less.
If you haven't tried it, give it a buzz today!
@jacuzzi is the content creator of the graphics and text in this article. We strive to have a fun and neutral stance on topics. If you have any concerns with the content, please contact @jacuzzi or us for clarification.
---

---