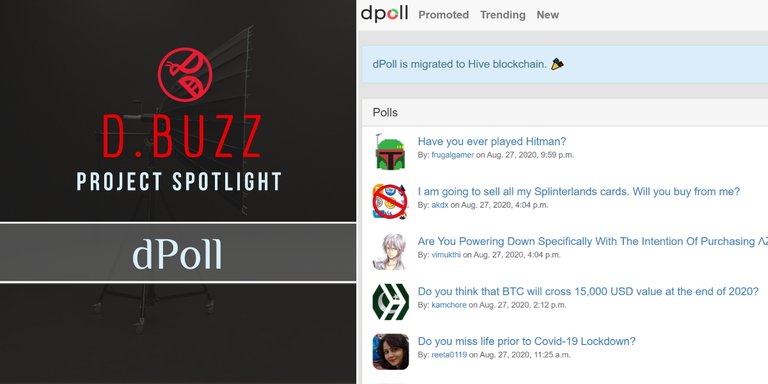 ---
Project Spotlight by D.Buzz
>> dPoll <<

---
Hey Guys and Gals,
Quick show of hands do you like voting on things yes or no or maybe? oh that's right, I cannot see your hands because we are a decentralized organization based around the world. If there was only a way to capture people's input on different poles and questions ... If only... Oh wait there is! dPoll!
dPoll is decentralized voting system allows us to input our thoughts and vote on questions, and today we are going to highlight it!
---
As always though, before diving into this highlight, a big shout out to https://hivedapps.com, a site that lists the TOP DApps. Thank you, @therealwolf, for building and maintaining this fantastic website.
---
This week, we will be looking at "dPoll"
Web URL: https://dpoll.io/
Hive account : -
Currently, listed as the 13th most used DApp on the block, dPoll allows anyone with a HIVE account to post questions and seek feedback.
Do you want to know If Godzilla fought Darth Vader who would win? perhaps you want take a poll on what you should have for dinner, or what price ETH will be, no matter, ask the question, post and poll the HIVE mind.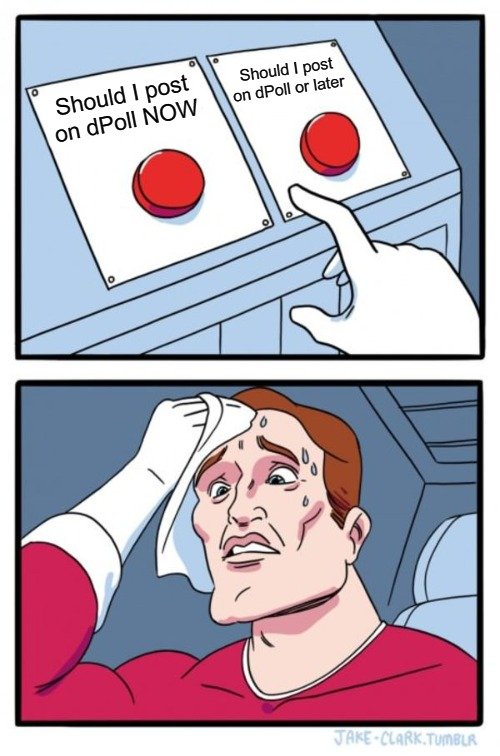 Don't sweat it, post now and later! The vision is simple and the website well laid out, post your quandaries and get valuable feedback.
Also as of Apr 1, 2020, dPoll does not set its self as a 5% Beneficiary on your post anymore! source, woot! and Wow and Thanks!
The creative team behind this project consists of four members.
You can each them on their discord channel at: https://discord.gg/ZcV8SGr
---
The Daily stats for dPoll for today (8/28/2020):
Users: 23
Transactions: 110
Volume: HIVE: --
Volume: HBD: --
Rewards: HIVE: 0 HIVE.
---
What do you say?
Do you have any thoughts or feelings about dPoll
Do you use this Dapp?
Let us know in the comments below!
Over and out.
---
---
Is a censorship-resistant short form microblogging platform that empowers you to share your thoughts in 280 characters or less.
Censorship resistant and built for the community with love.
---
We strive to have a fun and neutral stance on topics. If you have any concerns with the content, please contact @jacuzzi, who writes and generates the content for our articles, or the @dbuzz team for clarification.
---


---