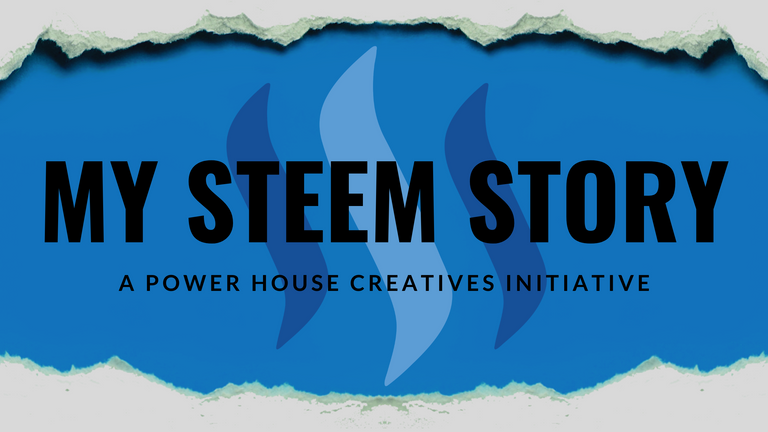 MY STEEM STORY
A Power House Creatives Initiative

Everyone has a story – and all our stories have something in common… we all started from nothing and knew nothing. People want to hear stories. They want to hear OUR stories — they want to know who we are, where we are from, what we are doing, who and what we love, what we have learned and where we are going. People also want us to hear their stories! Being a part of the Steem network is an individual journey for every single one of us and through this initiative, we will share our stories not only with all who are already here – hopefully inspiring, guiding and informing them… but doing the same for everyone else in the world too. Through our stories we will prick the curiosity of those who have not yet arrived and illuminate and widen the already open doors to our one in a million blockchain.
We invite and encourage each and every one of you to participate and share your stories too! You can find the "how-to" details at the end of this post.
---
MY STEEM STORY - BY @BLUEMOON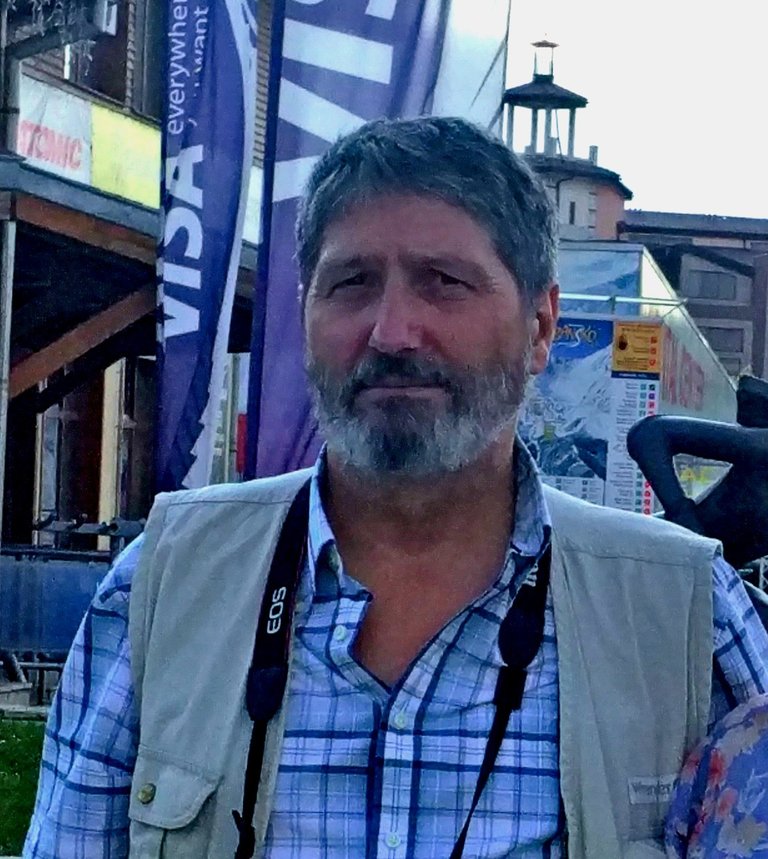 • Where my Steem Journey began
I made a small calculation and so I found out that I had spent up to 970 days and nights in Steemit, this social platform that rewards users for their activity. I'm amazed, I don't even know when the time has passed.
No, you don't realize when time passes if you feel good!
However, it was not so from the beginning. Like any start, it was really hard and frustrating. In my opinion, you have to have the determination, patience and curiosity to start and continue ... but, of course, this differs from person to person.
Now it's about my story, so I have to put a few on myself, to make it easier to understand.
I am from Bucharest, Romania and I am 66 years old. If I was six hundred years older now I would have carried the beast number and would have been a threat to humanity ... but fortunately, this is not the case with me now. Iron Maiden - The Number Of The Beast!
Source
Well, it was a digression, I just wanted to call one of my passions ... music!
I once had a dream to get rich through the internet! After ten years of intense activity, trying all the wrong methods, I only managed to get poor ... I tried almost everything, except crypto. Fatal mistake! I watched impassively at the birth of bitcoin ... a few cents a bitcoin flew around me. The trouble was that at the time I was working in a bank and I didn't understand how a virtual currency could be successful, especially since it was said that it would replace the money I was working with.
Ten years later, when bitcoin was worth over $ 1000, I began to be interested in the phenomenon. Too late, all the opportunities had passed. I started looking for other virtual currencies and so I found out about STEEM and Steemit, from a friend's post on Facebook.
This is how my adventure started on this social platform, initially attracted by the possibility of being rewarded with virtual currency.
I thought it would be easy but it wasn't.
What I initially understood was that I had to blog and post as often as possible. I started posting daily, although it was not easy at all, I did not know English well. I spend a lot of time writing a few hundred words and finding pictures that fit the subject chosen.
I thought it was worth the effort, and I also saw my pockets full of money as I saw that some people made hundreds of dollars a day with their blogs.
• My initial challenges & how I overcame them
Awakening to reality came pretty quickly, after a month and something I realized that I was only rewarded with one or two cents per post. It was frustrating, because I was making a lot of effort to make good blogs, appealing in my opinion and as good as those that received a lot more. I understood that the others were much older on the platform but I did not understand why this difference.
The frustration has led to the renunciation!
So I quit posting. Almost three months ...
Soon I started to get bored, with accessing Steemit I gave up Facebook, Twitter, Instagram, Linkedin. I missed doing the online activity, and so I went back to Steemit. To try again and try to understand what was the mistake from the first attempt!
This time I did a good thing (I'm surprised I did that), I started to watch what and how those who have good rewards do.
Thus, I noticed that all those who received great rewards also had many comments on their posts, so they had a great interaction with the others.
I suddenly realized that this was my mistake, I ignored that Steemit is a social network first and foremost.
I started to read and comment on the posts that I liked and found that very quickly I received the same thing. I started to meet people from all over the world and they started to know me. I was fortunate to meet Denise, @dswigle who is gifted with the gift of communication, gentleness, and pleasure to help. Her moral help and her advice made me find the right path and not be tempted to give up, even if it was just as difficult and with little growth in value.
Perseverance and patience made the difference!
... and the desire to learn! Because it's a lot to learn.
The opportunity to learn something daily is the greatest gift I receive from Steemit!
I have long forgotten about the dreams of enrichment. I didn't get a penny out of my account from what I gained from blogging and other rewarding activities, such as contests, challenges, and curation.
But I'm much richer in friends and in the things I have learned.
• My Steem blockchain knowledge
All of this is because of blockchain technology. I wasn't interested in the technical aspects, I didn't have the necessary knowledge in the field.
In Steemit there are people interested and specialists in all fields, from IT knowledge, blockchain, cryptocurrencies and up to writers, photographers, travelers, and cooking.
I'm interested in photographing, traveling, listening to music and cooking. I like to write about all this.
I'm glad that there are so many IT and blockchain specialists in charge of the technical aspects and to ensure the proper functioning of the platform. I follow their advice and take part in the actions that are necessary to keep this blockchain within parameters.
I am grateful to those who deal with the infrastructure and allow us, to the fewest techniques, to express ourselves freely here!
Because this is what we understand is blockchain, a decentralized place where we are free to express our opinions and products (blogs, photos ...)
• My Steem favourites
What do I actually do in Steemit? Mainly, in fact, that's just what I do ... I write blogs. At first, it was harder but perseverance leads to improvement!
I like to write about my city and country. Most blogs are about what is beautiful and interesting about Romania and about the places I visit in the country.
I consider this an obligation because in this way we make known the way of life for the others who live all over the world. Especially those who live in smaller and lesser-known countries ... Everyone knows where America is but quite a few know about Romania!
I really like to write about my travels and especially about my vacations. I'm in love with the sea and Greece and write a lot about it.
I have a great passion for photography and this helps me a lot. My blogs are full of photos and as they say "a picture does a thousand words" ... this helps me to write less, considering the difficulties of writing well in English.
The photos helped me win many contests and rewards as well.
At first, I only wrote on the Steemit platform but later there appeared several very good applications, each with its advantages and so I started to use almost exclusively eSteem Surfer, Esteem Mobile, Steempeak, Appics.
• My golden nugget advice
I consider that I am old enough here (over a month I will spend 1000 days and nights in Steemit) so that I can give some advice to the beginner colleagues or those who want to register on this platform.
They must know that every beginning is difficult, anywhere! I think they know this but still some want immediate results, because this is human nature.
Once again: Patience and Perseverance!
I never thought I'd reach this state in Steemit. Not that it would be anything special, I am not among the noted or special, I am from the middle category. The talented and the special reach much faster results, I address common people, like me, and I want to prove to them that everyone can reach a certain rank.
Because in Steemit there is a classification called Reputation! It starts with a reputation of 25 and it increases in line with the activity submitted. It is said, but I do not know if it is true, that after you have exceeded the reputation of 60 you are more noticed by the other colleagues.
I think I'll reach 69 after this post. I didn't think I would get here, but perseverance helped me.
• My Steem hood & its peeps
I don't know if the reader has retained what I said somewhere above. I am referring to the eventual reader and who is maybe a new member or a member dissatisfied with his results so far or maybe a reader who is tempted to join Steemit.
The key to success is interaction! Here is a social platform and the more you get in touch with more colleagues, the faster you find common interest groups with yours, the faster you evolve and you gain in reputation and rewards!
The vast majority communicate in the fastest way through Discord, where there are a lot of groups. I am registered in many but most use PowerHouseCreatives and eSteem. In these groups, I can also promote my blogs for greater visibility.
I'm not a good example of Discord. In the main group I frequent, Power House Creatives doesn't have a good reputation ... peeps ... I don't even know exactly what they mean (I hope not the worst). This is because I am not a good English speaker and then I do not participate in discussions too often, but I often read what my colleagues discuss and I have a lot to learn. Now I try to apologize to my colleagues for not being able to overcome this way of being ... "peeps" and thank them for accepting me among them.
About the groups in which I am lucky to be, there are not many because my time does not allow me to have an activity in many.
I am glad and proud that I am in the following: OCD, eSteem and PowerHouseCreative.
PowerHouseCreative is a special and very active group. A group with fairly strict rules where all members receive support from each other. I have accessed this group quite hard and I am happy that I am accepted.
Beyond groups and associations are the people! Our colleagues are so different, they belong to different cultures, with different habits but still with something in common, the desire to be useful to others (of course, they cannot all be the same, but the vast majority ... in the end nobody is perfect).
Although it is the hardest part, to name a few of the most important to me, this is because it always happens to omit someone and then I can't correct it, yet I have to say a few names that were closer to me.
The first one I mention is undoubtedly @dswigle. Without her I don't think that today I would have written this blog.
There are some colleagues who helped me and were models for me, from the beginning: @melinda010100; @barbara-orenya; @old-guy-phtos, @tattoodjay ...
Other colleagues, I met later: @c0ff33a, @nelinoeva, @ace108, @kus-knee
True influencers I follow, who strive to promote Steemit and guide us in this action: @theycallmedan, @acidyo, @anomadsoul ...
My Greek colleagues, although they are no longer very active. I said I love Greece and thank them for not giving me gifts (you know how they say: "you don't trust the Greeks, especially when they give you gifts" ... from Ulysse and the Trojan Horse). I'm kidding, they helped me a lot at the beginning of my activity: @onceuponatime (unfortunately, he died last week, R.I.P.), @tikotiko, @mariossap ...
Some Romanian colleagues, with whom I interacted or not, but they helped me through what they posted and I learned from them: @erikah, @vonaurlacu, @steemromania ...
Last but not least, @jaynie the initiator and promoter of PowerHouseCreatives and all the colleagues in this community, with all the high-quality members who deserve to be followed.
Now I would like to invite some colleagues to take part in this beautiful adventure to get to know us better. I launched more than a year ago a challenge called "SAM: Something About Me #sam-saturday" that seems to have been a precursor to this PHC initiative. I would like to invite some of the participants in SAM to tell us their story, they are already used to this kind of posting! Please, if you have time for this: @melinda010100; @barbara-orenya; @nelinoeva; @c0ff33a; @denissemata; @zirochka!
I tried to point out as much as I could of my activity in Steemit and to present a true image of this wonderful social platform. Below you have my thanks and apologies if I didn't succeed!
| @bluemoon | Thank you! | Disclaimer |
| --- | --- | --- |
| | I made this post with passion, effort, and respect for you. I hope the result proves it. | Since English is not my first language, please forgive any grammatical errors. |
---
GENERAL INSTRUCTION:
Create a post titled: "My Steem Story – By @your.user.name"

The first three tags in order are to be as follows:
#hive-114105
#powerhousecreatives
#mysteemstory

ONLY make use of the cover image provided in this post.

Keep the same formatting and placement (intro, footer
instructions etc.)

Replace the personal photo with one of your own.

Tag 5 people to join in on the initiative.

Share your post to twitter.

Share your twitter link and Steem post link in the comments of @jaynie's "Steem Story" post.
POST INSTRUCTION:
Write a post which shares and gives adequate response to the following headings:
• Where my Steem Journey began
(How you first discovered Steem and your very first thoughts and impressions "as you landed".)
• My initial challenges & how I overcame them
(Share a bit about the difficulties you faced at the beginning, whether it was navigation, post creation, engagement – whatever – how you resolved them and how differently you feel about it now)
• My Steem blockchain knowledge
(Give a little bit of background on your blockchain knowledge when you began your Steem journey versus now.)
• My Steem favourites
(What are the things you do mostly on the blockchain – is it blogging, vlogging? What front ends do you like to make use of and what content genre's do you generally focus on?)
• My golden nugget advice
(What advice would you offer to those that are unfamiliar or new to this space)
• My Steem hood & its peeps
(Share a little about the communities you belong to, discord servers you frequent and perhaps a handful of the awesome people you follow)