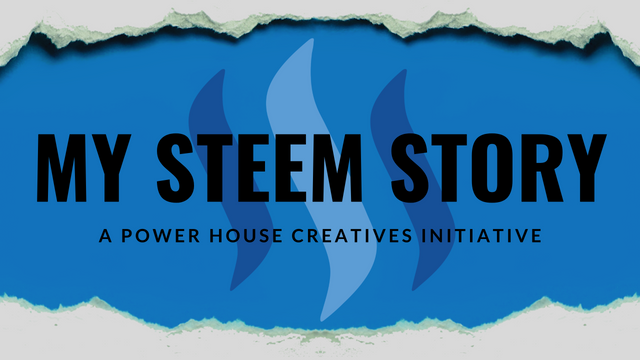 MY STEEM STORY
A Power House Creatives Initiative

Everyone has a story – and all our stories have something in common… we all started from nothing and knew nothing. People want to hear stories. They want to hear OUR stories — they want to know who we are, where we are from, what we are doing, who and what we love, what we have learnt and where we are going. People also want us to hear their story! Being a part of the Steem network is an individual journey for every single one of us and through this initiative we will share our stories not only with all who are already here – hopefully inspiring, guiding and informing them… but doing the same for everyone else in the world too. Through our stories we will prick the curiosity of those who have not yet arrived and illuminate and widen the already open doors to our one in a million blockchain.
We invite and encourage each and every one of you to participate and share your stories too! You can find the "how to" details at the end of this post.
---
# MY STEEM STORY - BY @bengy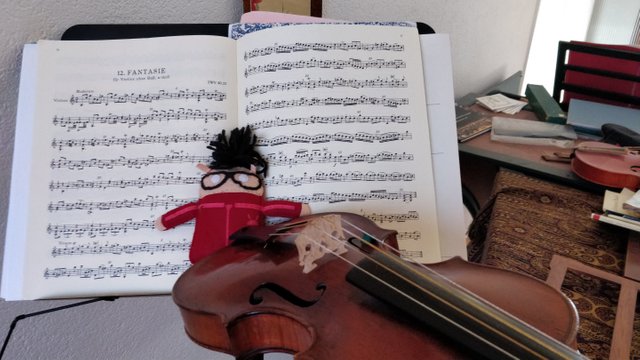 To begin with, I would like to invite a few people to also share their Steem story with the rest of the community!
@partitura
@apolymask
@thedarkhorse
@simplymike
@contrabourdon
Where My Steem Journey Began
My STEEM story begins in the end of 2017, near the peak of the last great crypto bull run. I had heard of STEEM a while before this, however, the concept of a social media site filled me with dread... after all, I wasn't fond of Facebook, and I had no other social media accounts at the time. Well, that wasn't true... I had a Twitter account that I used for contests!
Personally, I am really not a fan of Social Media... in the music world, you end up getting a feed of humble-braggers and "Look at how great my life is" posts. After all, at their heart... musicians are pretty insecure people!
So, getting back to the point... I found myself starting on STEEM in December 2017, when on a whim whilst I was visiting family in Australia, I signed up for an account. I wrote a post or two... and had a look around.... and then left it alone until about February the next year! To be perfectly honest, it was a pretty depressing place... there were posts that were of questionable value getting stupendous rewards... and others that you would see sinking to the bottom of the ocean! Plus, there was pretty much no support for little and new accounts... this was not a nice place to be!
So, that was the story of my inauspicious beginnings here on STEEM. I signed up, took a look around... and gave it a break!
My Initial Challenges
Like pretty much every noob here on this blockchain, I struggled to think about what to write... and what to post... and to get used to the feeling that I was just writing into a black hole. After all, I had my interests... things that I would like to write about, but what was this place... was this a daily "Dear Diary"?
So, the initial challenges were feeling like there was no support around... and that there was no one listening... and that I didn't really have much to write about anyway! Added to this, was the fact that I hadn't really written anything since leaving school... being a violinist, it isn't really a sort of field where you are playing with words quite so often!
However, it turned out that after a little bit of searching around, there were some flourishing communities and projects that were being set up by fellow noobs and minnows (plankton!) and a handful of far-sighted whales. Without the vision of these people who were not fixated by the ludicrous and toxic idea of ROI at all costs, STEEM would have seen an even greater decline in active numbers.
My Steem Blockchain Knowledge
STEEM was my first encounter with a dPoS (delegated Proof of Stake) blockchain, and it was for me an interesting insight into how this particular form of consensus protocol would work. It definitely is an interesting system, with it's own particular set of advantages and disadvantages. These governance and consensus ideas are something that had attracted me to cryptocurrencies and decentralised networks in the first place, so having a bit of a hands-on experience with an active network was interesting to say the least.
I think that STEEM has some advantages in the fact that it is incredibly active... and not just for fund transactions, gambling and speculation. These are things that are missing from most of the other blockchain projects, however, I would have to say that there is still huge room for improvement. There are structural flaws which could prevent the widespread adoption of this platform... and that would be a serious pity, as the community and network on STEEM is much more genuine (not completely price based...) than it is on many other blockchain "communities".
My Steem Favourites
I like to just write a bit about everything... I find that STEEM really has turned a bit into my "Dear Diary" where I can just have a moment or two each day to clear my mind and just follow a train of thought. Often, I will be writing a little about crypto, gaming, music, reviews and idle thoughts both great and not great! I guess that the tagline that I had started with still holds true:
Musician with a Science background, I write about many things, causing collateral damage to a wide variety of topics!
I pretty much exclusively use @steempeak for my interactions with STEEM, via posting and everything else. This front-end is leaps and bounds better than anything else on offer... all without pyramid referral schemes. So, I am more than happy to send off a daily cut of my earnings to the team for their great work! It isn't much, but if everyone did it....
Most of my posting is blogging... I'm camera shy! However, sometimes I will do a music post.. in that case, I will likely use Soundcloud embeds. I haven't been so keen on the decentralised equivalents here on STEEM as I have some pretty lax attitudes with the support that they give out! Thus, I don't think I will be using them...
My Golden Nugget Advice
Don't look at the rewards! I wish there was a way to hide this from view... but I think this can be the most toxic thing about this blockchain. The reward envy... yes, the distribution will never be the way that we think it should go, but it doesn't make things better to look and compare!
Maybe if I could include that as a suggestion to the @steempeak team? To have a toggle to hide it?
If you are here for the money (whales included..), then this is going to be disappointing for you! I have found that during my time here, I have sharpened up my writing skills... to a point where I have managed to write article submissions for Binance! So, discover what it is that you enjoy sharing and writing about... for me, it was the just the sheer thrill and focus of writing... even if no one was listening!
My Steem Hood & Its Peeps
Arrrghhh... I hate that title...
@teamaustralia - A PalNet group that helped out enormously in the early days with support!
@thealliance - Another community that has helped support my account during it's growth!
@steemitbloggers - Led by @jaynie and @zord189, a crack team of highly focused and quality bloggers!
@steemsilvergold - They bit me... now I have the precious metals bug!
@pifc - A week Curation Contest for finding under-appreciated authors. Run by @thedarkhorse.
@steembasicincome - The best way to gift support for other people, run by @josephsavage. It is a way for little accounts to help each other... after all, not all of us can be whales!
@ifc - A project by @apolymask, which was instrumental in keeping me around. It is on hiatus at the moment though.
@tasteem - Yep.... Tasteem has made me into that embarrassing person who photographs their food!
@splinterlands - I LOVE this game!
There are probably a few more that I just can't remember at the moment... but the main takeaway is that no account grows well by itself. You are supported by communities and others... a concept that is lost in the modern age, with the focus on the entrepreneur... for every successful person (and countless unsuccessful ones), there have been countless times that they have been caught and supported by people around them... even if they are too dense to realise it!
---
GENERAL INSTRUCTION:
Create a post titled: "My Steem Story – By @your.user.name"

The first three tags in order are to be as follows:
#hive-114105
#powerhousecreatives
#mysteemstory

ONLY make use of the cover image provided in this post.

Keep the same formatting and placement (intro, footer
instructions etc.)

Replace the personal photo with one of your own.

Tag 5 people to join in on the initiative.

Share your post to twitter.

Share your twitter link and Steem post link in the comments of @jaynie's "Steem Story" post.
POST INSTRUCTIONS:
Write a post which shares and gives adequate response to the following headings:
• Where my Steem Journey began
(How you first discovered Steem and your very first thoughts and impressions "as you landed".)
• My initial challenges & how I overcame them
(Share a bit about the difficulties you faced at the beginning, whether it was navigation, post creation, engagement – whatever – how you resolved them and how differently you feel about it now)
• My Steem blockchain knowledge
(Give a little bit of background on your blockchain knowledge when you began your Steem journey versus now.)
• My Steem favourites
(What are the things you do mostly on the blockchain – is it blogging, vlogging? What front ends do you like to make use of and what content genre's do you generally focus on?)
• My golden nugget advice
(What advice would you offer to those that are unfamiliar or new to this space)
• My Steem hood & its peeps
(Share a little about the communities you belong to, discord servers you frequent and perhaps a handful of the awesome people you follow)