I've Been Pretty Busy Lately ..
Leaving little time and room for posting content. I thought today, Easter Sunday, I should check in with everyone. I'm still alive and relatively happy despite my routines being messed with for the last several weeks. Despite it being the busy season at work and my mind feeling like mush by the time I arrive home, I have found a little time to invest in a budding hobby of mine. Oh.. What have I been up to? Well You'll just have to read on to find out.. Now won't you?!
I Was Feeling A Little Lazy ..
And was just scrolling through several of the sites where I purchase and sell things. I came across a lady who was cleaning house and selling a lot of pocket watch parts and chains and such. WHY NOT!! Just what I needed.. hehe. We negotiated a price we were both comfortable with, and settled at $56.00 USD. I thought $56.00 wasn't a bad deal, given the great condition most of these pocket watch movements were in. Well they arrived from California just yesterday. I haven't really had the time to settle down and go through them one by one, but at quick glance, they look awesome! $56 was a good bargain!!
So here is the majority of the lot ..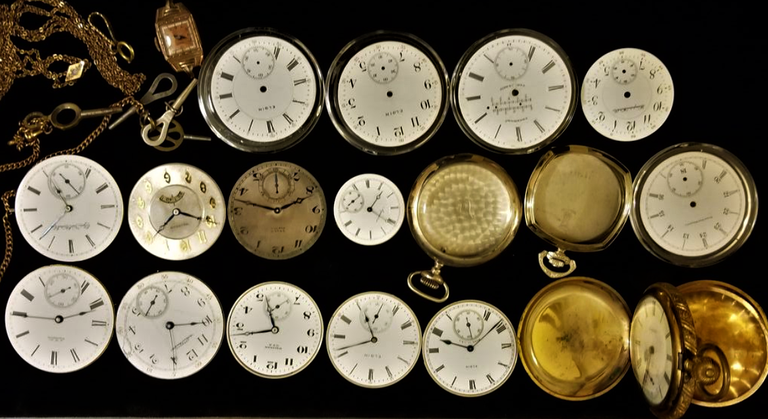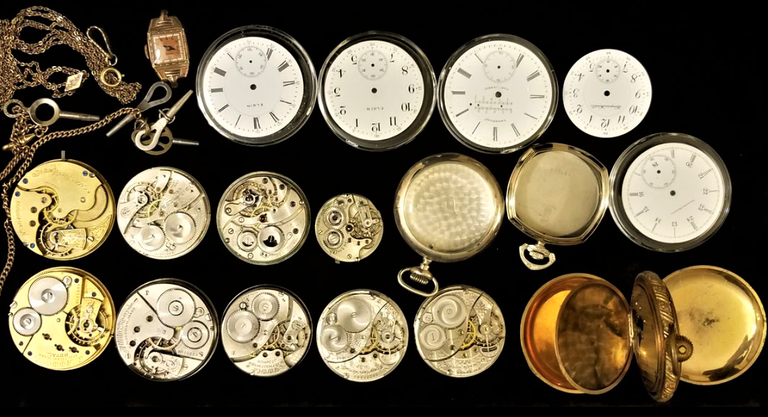 A Quick Look Over Reveals ..
9 Movements in total. I breifly looked at them, but have to compile a list and print outs in the next week or so. Figure they are dated between 1880 and 1930. Most are in superb condition. I will check them out as far as running condition goes, in the next few weeks.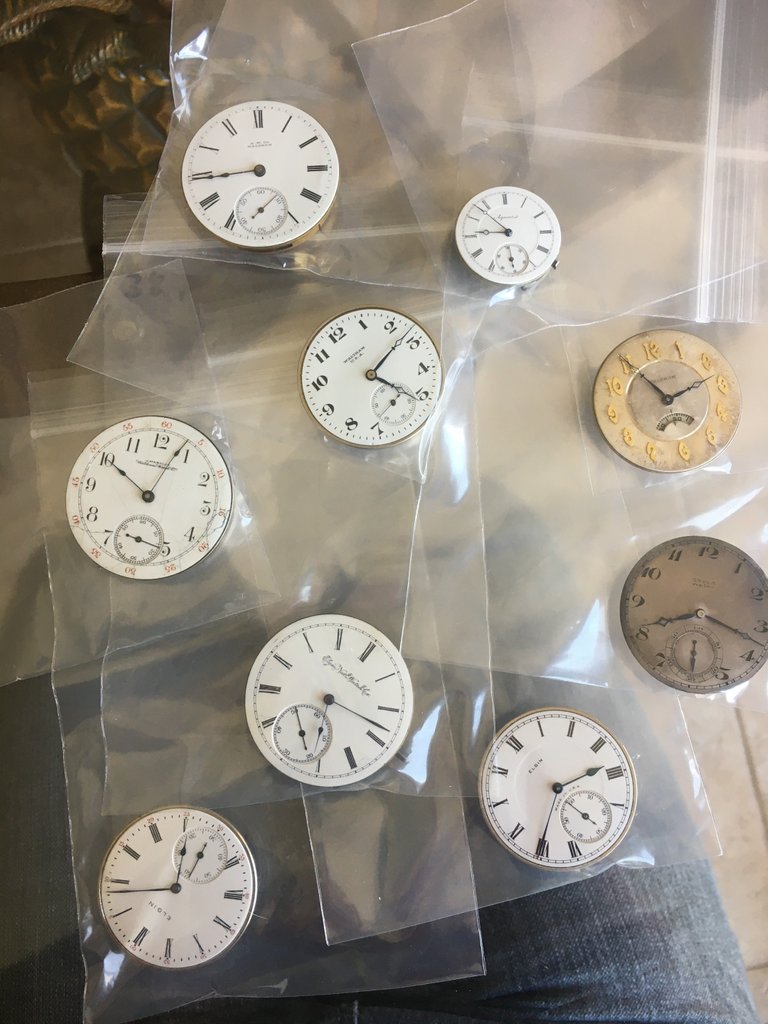 Also Included were several face plates. All porcelain and again most in fair to great condition. I don't have a use for these right now, and may end up selling them off.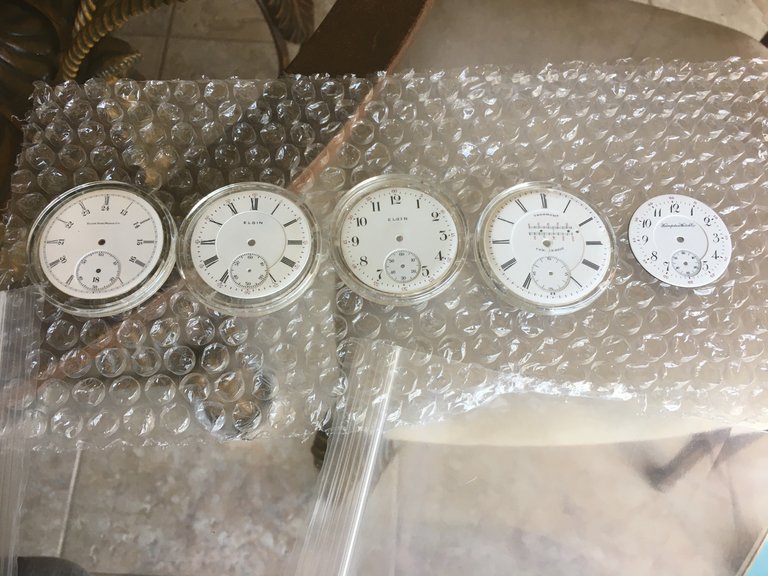 One fully assembled and not running pocket watch came with the lot. It's not in good shape and needs fixed. At about $100 USD per hour for a reputable watch repair expert to look at it, not at all worth it to me. Still neat to just look at.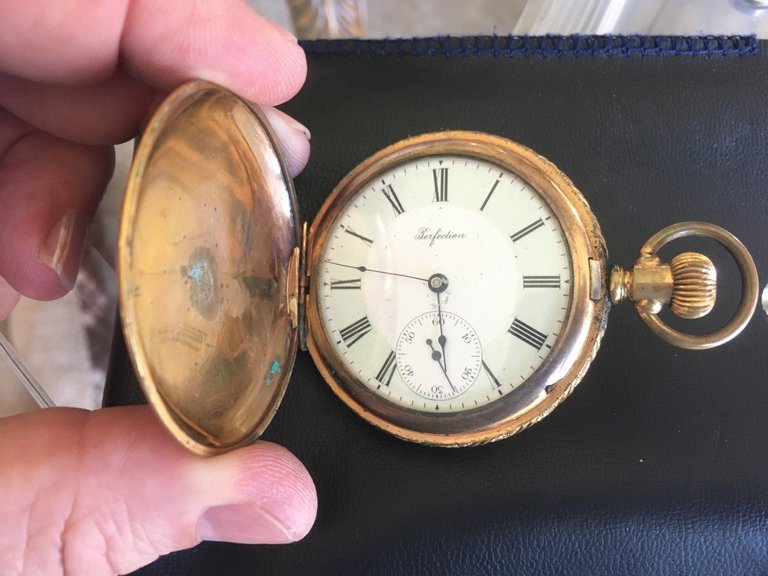 Two antique watch cases were included as well. One of them, the smooth round one, is silver. It appears to have never been used! Just like it came right out of the box. I can't wait to see if one of these movements fit into it, but I am not getting my hopes up on that one.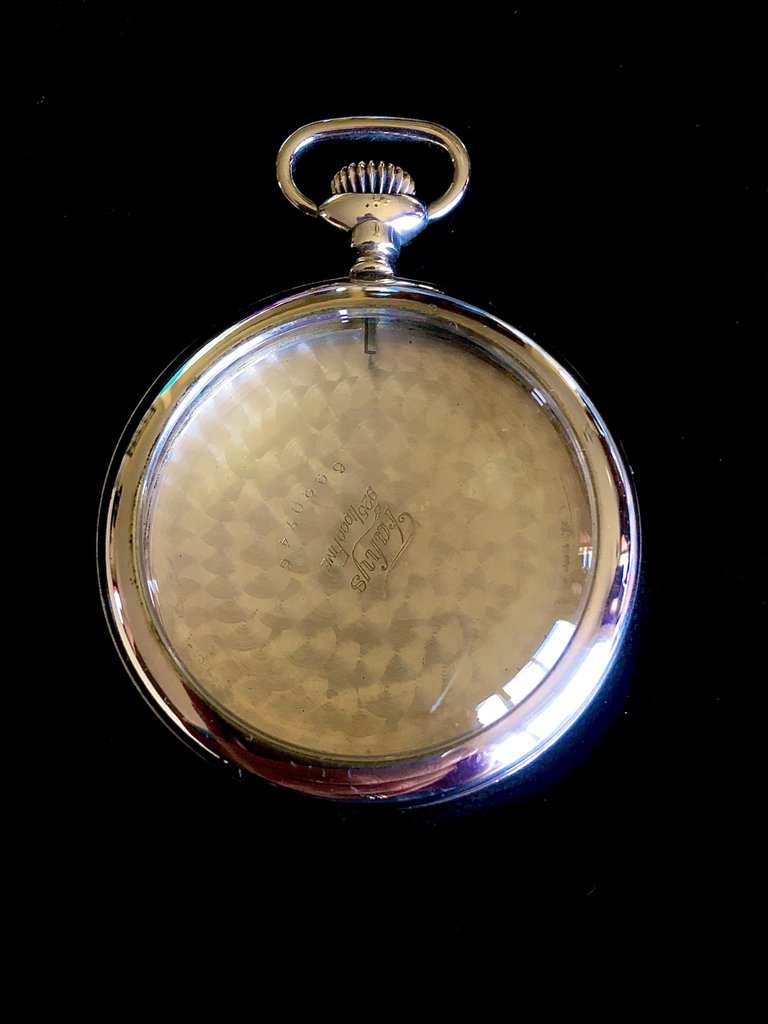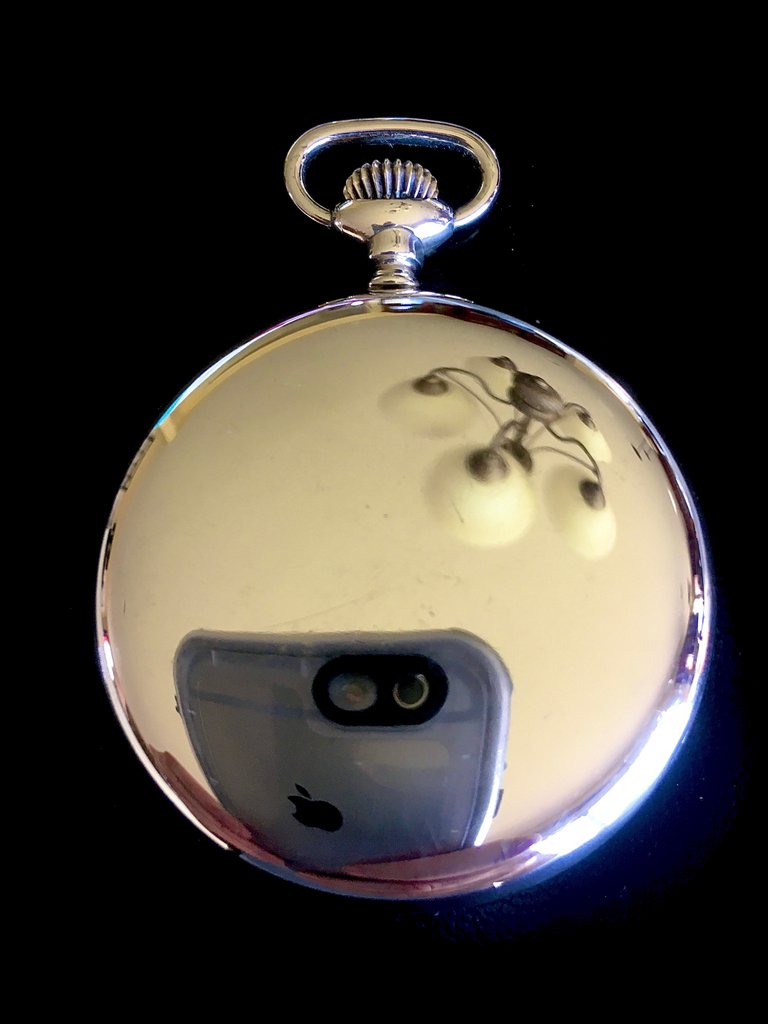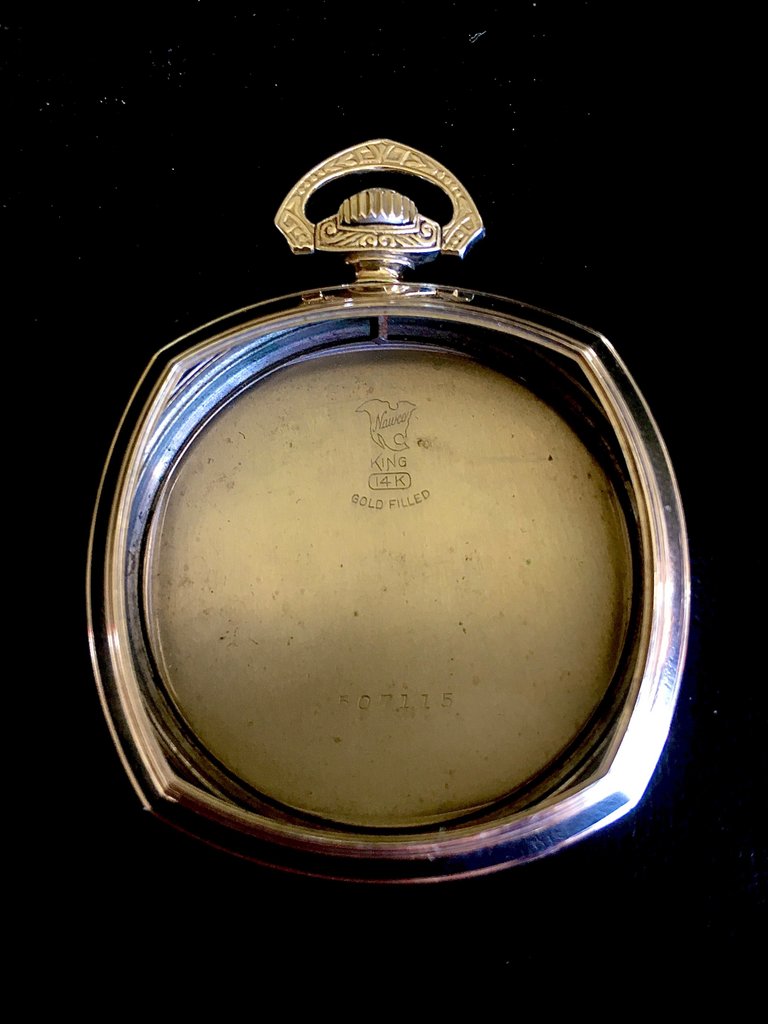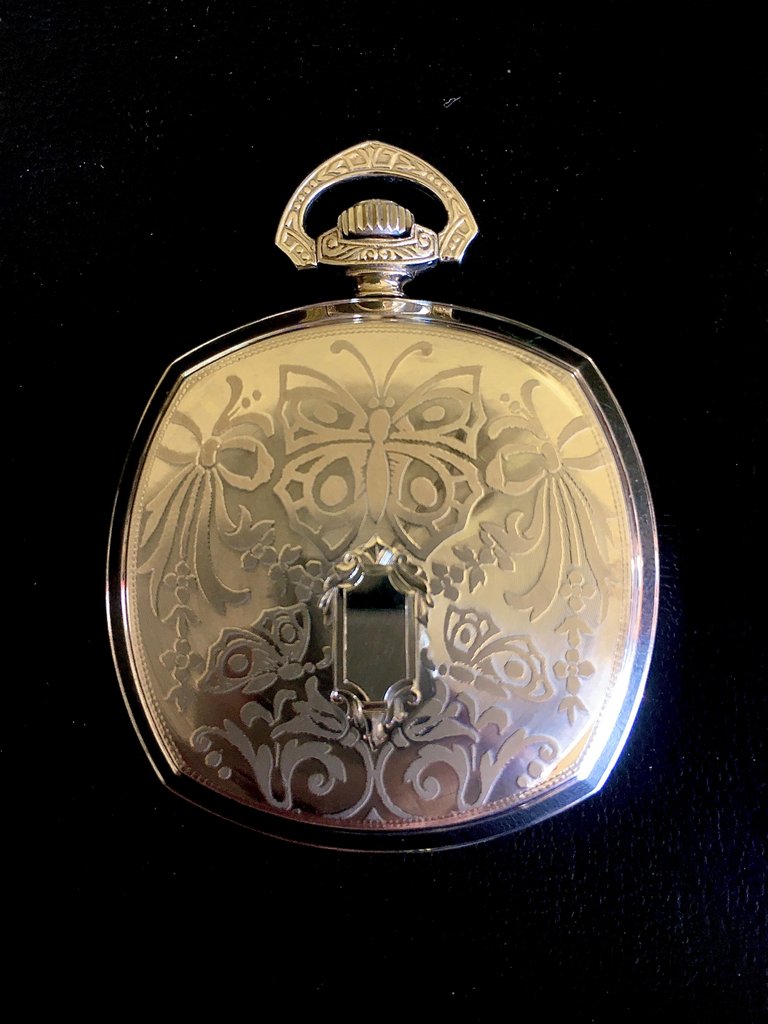 I found a few pocket watch keys in the mix. They were used to wind up pocket watches. Some watches use a key in order to wind them up instead of a built in dial winder like seen on the cases above. You will also notice a gold filled pocket watch chain. Both of the clasps on it are in need of a little TLC.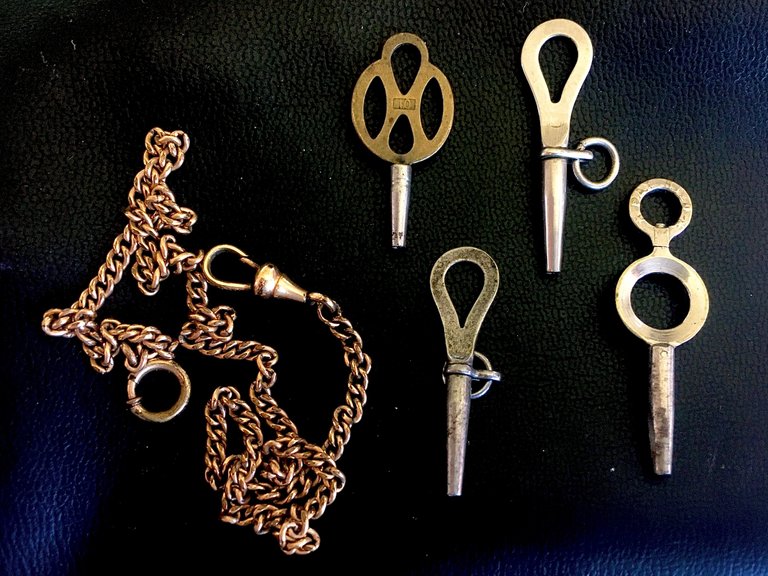 There was a small watch face from a ladies watch and some sort of decorative clasp. The watch was ticking away when I opened the package. So I guess it works. Not sure I am interested in it, but it works! haha.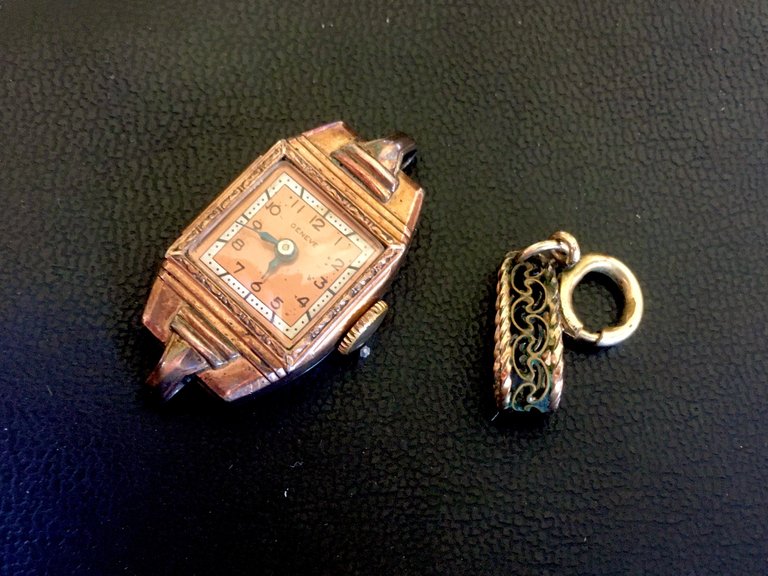 Last up is a gold filled, bolo style chain, quite possibly for a ladies pendant watch. One that someone would wear like a necklace. It is in great shape and may have a bit of value to it, if the right buyer comes along. I may not keep it, but rather part ways if a seller presents themselves. For now though she'll stay with the rest of the stuff until I have time to really go through all of it.
That's What I've Been Up To ..
Or at least as far as watches go! haha.. I'm on the look for another deal, so I'll keep my eyes open. Well.. I've had two cups of coffee and my stomach is telling me it's hungry. So I am off to get some breakfast and may just putter around in the yard today for a bit. The temps are going to be near 70F or 21C, with sunshine! Looking forward to it, and the yard can use some love.
Have A Great Day or Night my fellow Hivesters!!


Thank you for swinging by my blog and checking out the post. Have a great day!


All words, pictures and art pieces are the sole property of B D Miller Gallery, unless otherwise noted and credited, and are not to be reproduced or copied without the prior written consent of B D Miller Gallery.

About Me ~ The Artist
My art work incorporates a wide variety of subject matter, including landscape, seascape, cityscape, and still life images. My works are the product of a continuing process of exploration through which I seek to portray personal and visionary interpretations of my surroundings. My paintings are impressions of places and events from everyday life, an interpretation of my imagination, and personal responses to what I see and feel on a daily basis. More recently I have invested generous amounts of time into my landscape painting. I am surrounded by natural and man made beauty, which inherently presents itself in the tri-state area, and almost demands that I paint it.
Not everything is art. Art is not everything, but it comes close. Art is everywhere and all the time. Art makes you experience the beauty of the world, the people in it, and the places we call home. Art itself is so influential that it can tell stories, show feelings, and express passion or fury. Art exists in addition to language; expression of sensations and thoughts, revealing a way of thinking too subtle and delicate for words.
For me art requires love, honesty and perseverance. In return, it reveals some personal, non-analyzable, and creative untamed passion. For the public, art with its magnificent beauty, improves mood and health and builds better human beings and communities. It engages the intellect, softens the heart, strengthens the soul and frees the spirit.

If Your Interested In Purchasing Any Of My Work:
They can be found for sale in
OR
My Etsy Store
If you don't see the piece in either shop, It may still be drying. Let me know and I can upload it as soon as possible to be available. Or you can always make me an offer (in SBD or STEEM) in the comments section of this post. If we agree on a price, I will then ship the painting to you. (shipping costs will be determined by your location).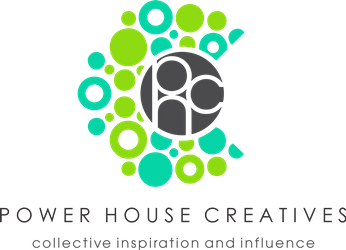 I Proudly Support: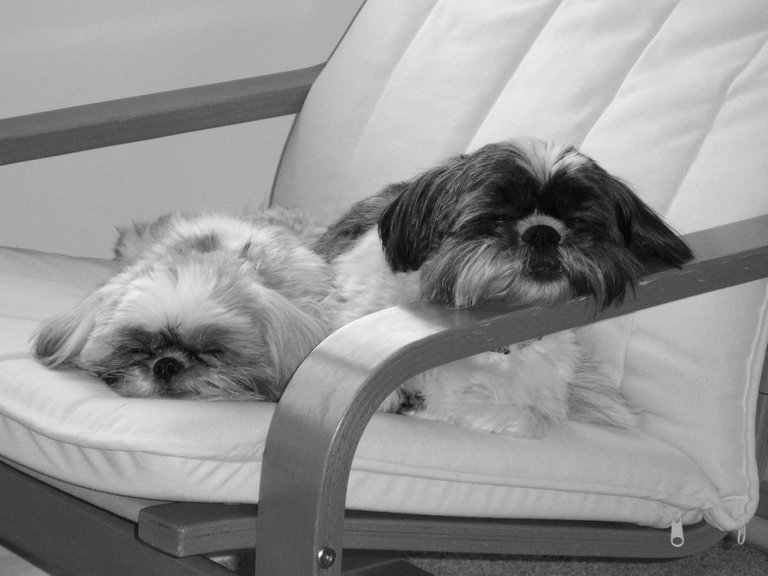 "The real test of friendship is can you literally do nothing with the other person? Can you enjoy those moments of life that are utterly simple?"
– Eugene Kennedy