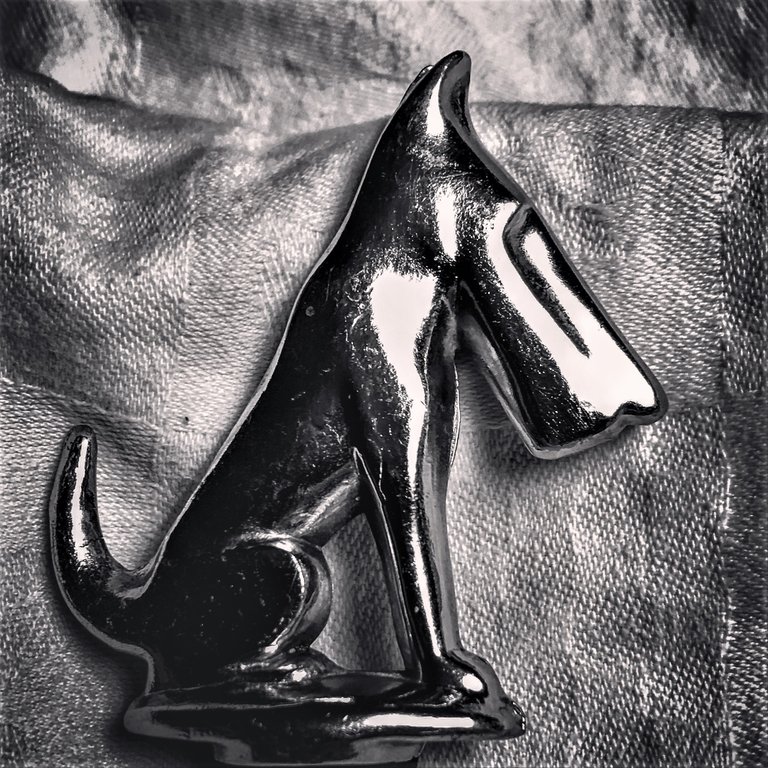 This Little Terrier ..
I purchased quite some time ago at a thrift store. I forgot I had bought it and came across it while rooting through a box full of thrift store finds. You may remember me saying a few times, that I am sorting through all the crap I have accumulated over the years, in order to sell them. I am expecting to make room for more.. haha. Just kidding. I would rather have a collection of one thing rather than many little things that don't quite speak to me in the same way. So there she was, at the bottom of the box. Perhaps because it was one of the first purchases to go in there or maybe because it's a solid piece of chromed metal.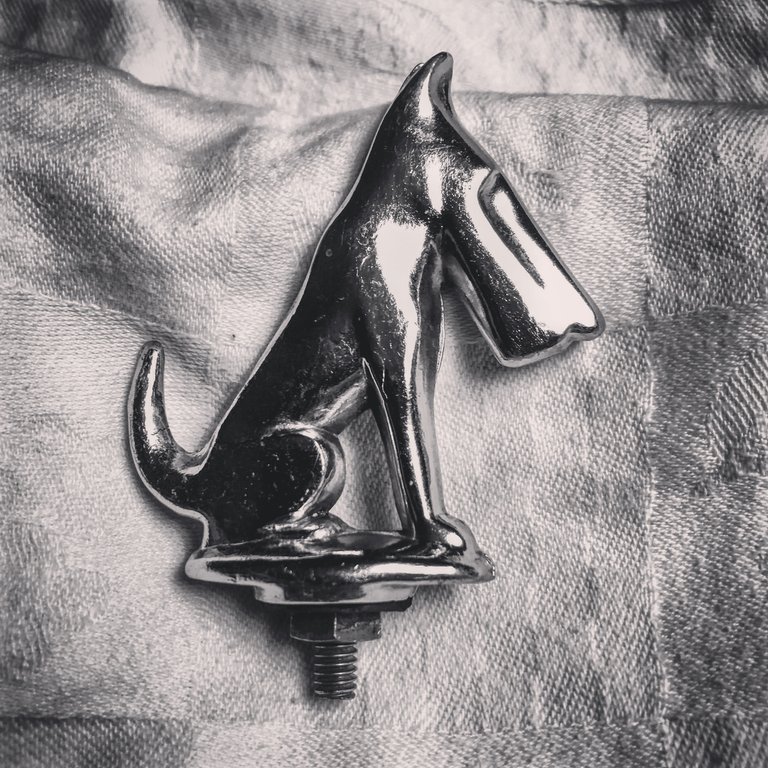 It's Life Before Me ..
Started as a Hood Ornament or Radiator Cap Ornament. It may have never been used or attached to a vehicle. It appears to be in almost pristine condition, with even the rubber washer and bolt in super shape. It's definitely an antique, but how old exactly? That information eludes me. I tried for a while to find out any information on this piece, with no avail. I could not find another on the internet like it.. a thousand others, but nothing quite the same. I am sure there are a few out there, just finding them is the hard part. Either way, I will most likely part with this. Maybe you want it!! Hehe.
Below are a few shots I took in order to get it listed for sale, either on Etsy or Bonanza. We'll see about that when I get an idea of what I want for it. The first photo is an unedited one, unlike the first few which I took to be a little more artistic.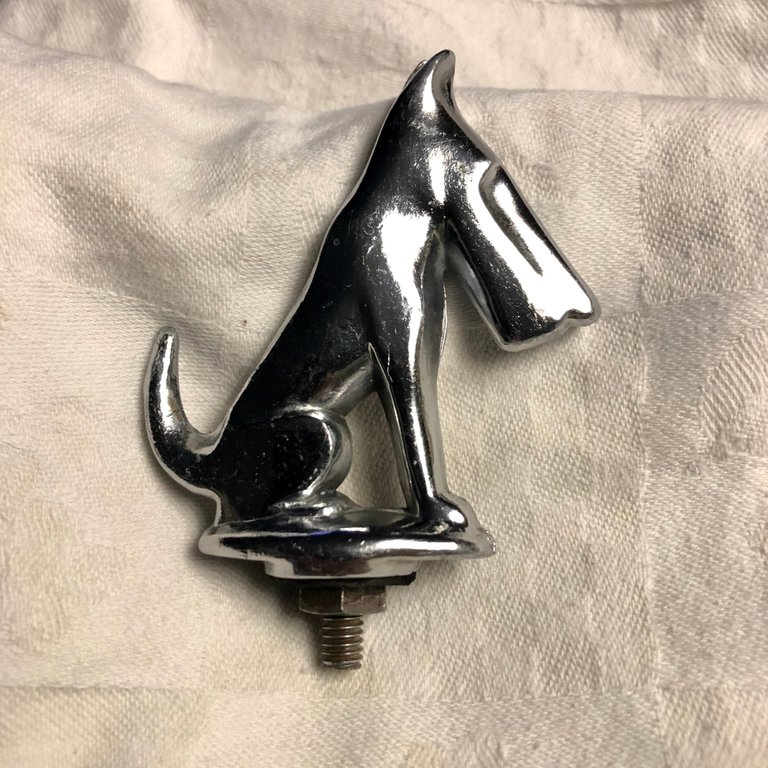 It's a skinny little Terrier! It measures about 3/4" at the head and 1.25" at the base. This is looking at the back of it.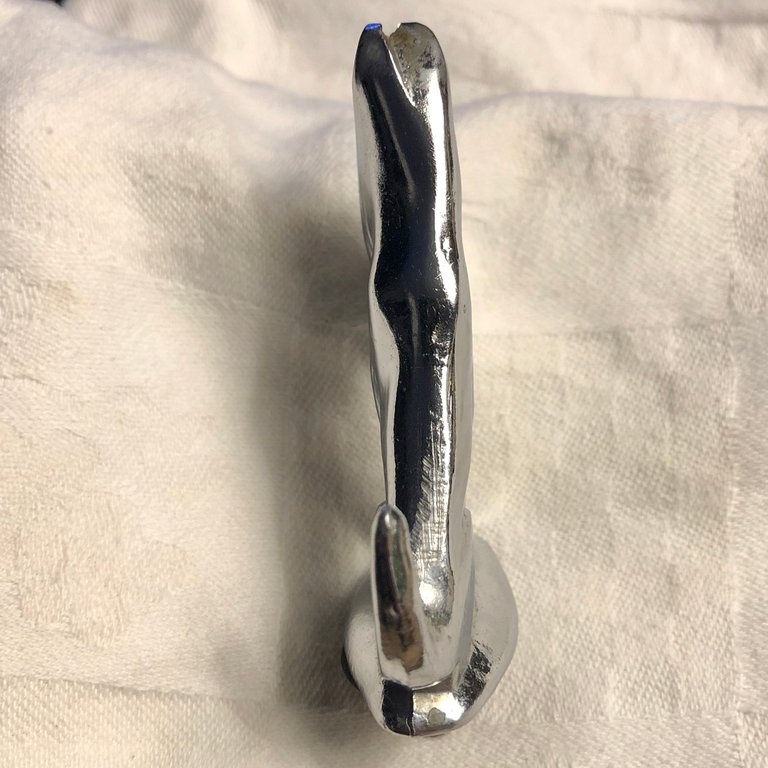 This one is looking strait on. Very aggressive looking.. hehe.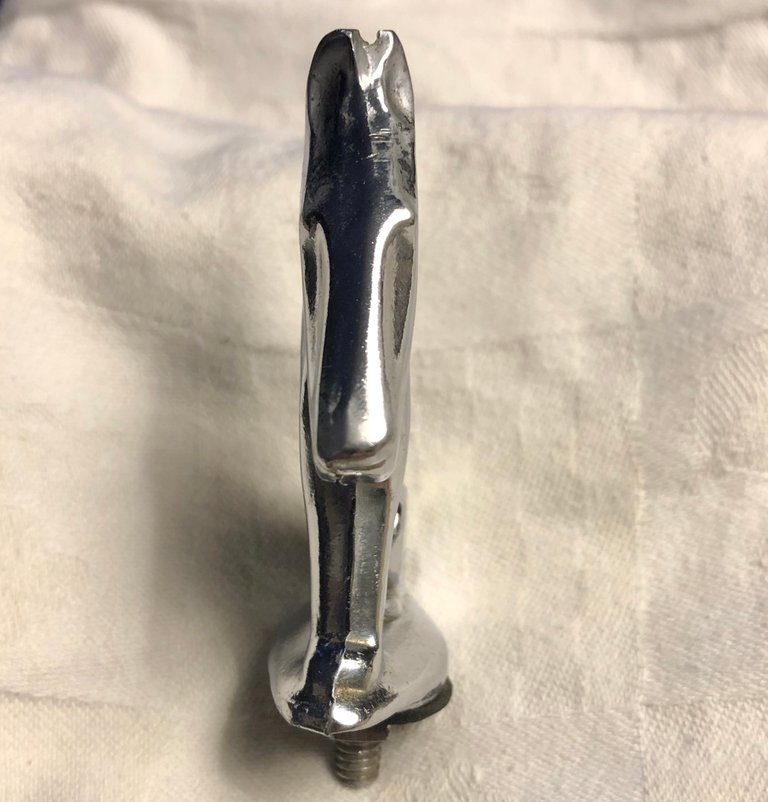 Looking straight down..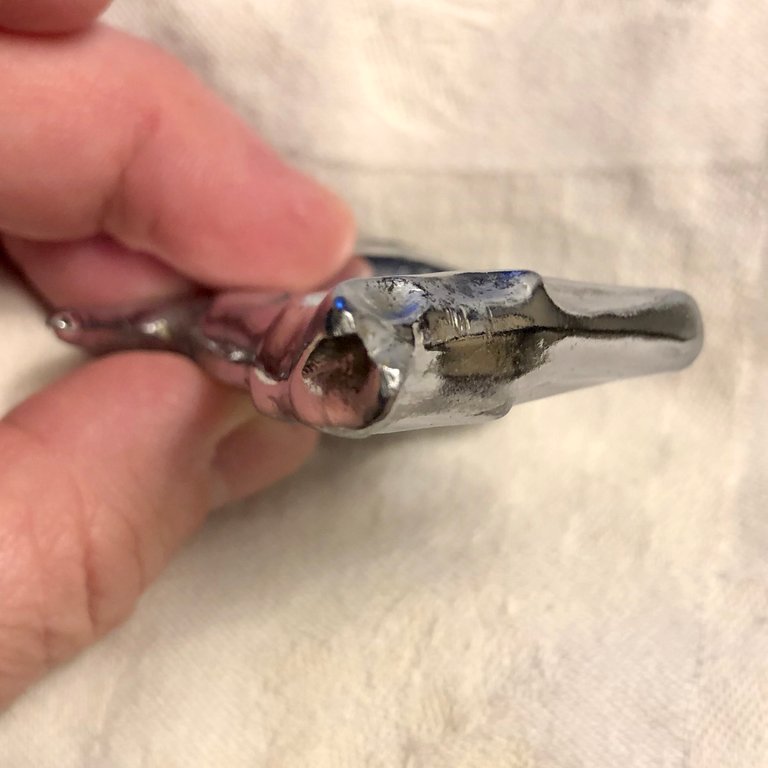 Up from the bottom. Just a tad bit of rust on the nut. That can easily be taken off and I most likely will before shipping it to the new owner. Whoever that will be.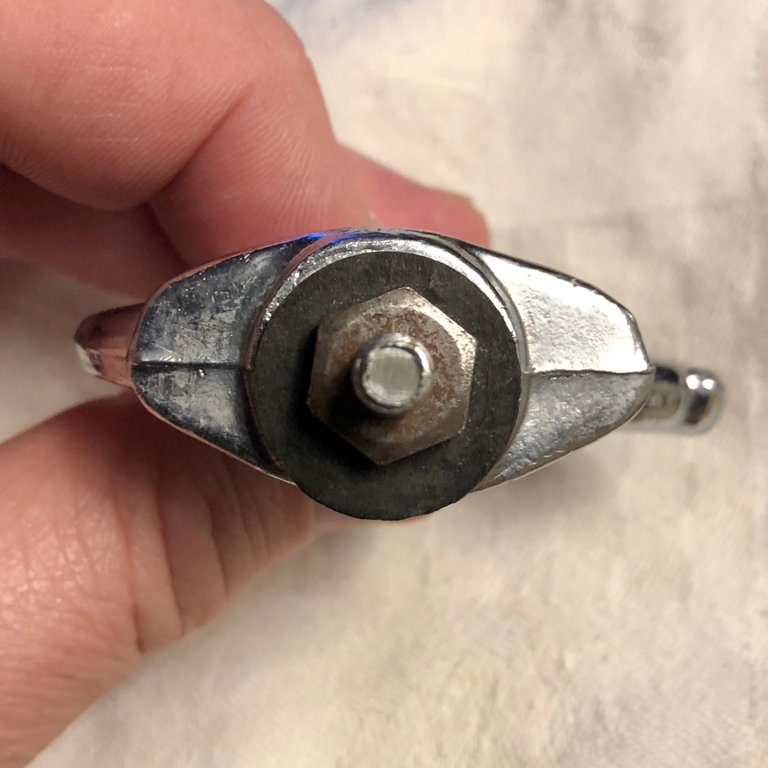 I thought I would include this photo. I wanted to include it because I was taking some photos of the actual measurements of the piece to include with my listing. The funny part of it all was that I found myself measuring it with another item I wanted to list.. an old Lufkin tape measure.. Also in superb shape. It is working so good that I may just keep it. The pup on the other hand must go!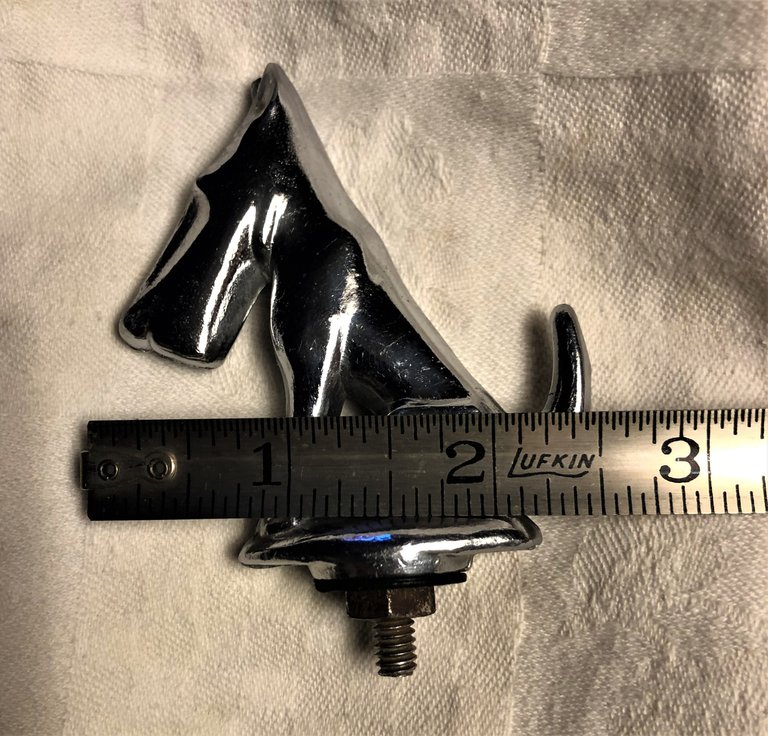 Interesting Find ..
But time for a new home. I know there is a collector out there that is wanting this gal. She will make a good companion for someone looking for a low maintenance dog.. Hehehe.
Have A Great Day or Night my fellow Hivesters!!


Thank you for swinging by my blog and checking out the post. Have a great day!


All words, pictures and art pieces are the sole property of B D Miller Gallery, unless otherwise noted and credited, and are not to be reproduced or copied without the prior written consent of B D Miller Gallery.

About Me ~ The Artist
My art work incorporates a wide variety of subject matter, including landscape, seascape, cityscape, and still life images. My works are the product of a continuing process of exploration through which I seek to portray personal and visionary interpretations of my surroundings. My paintings are impressions of places and events from everyday life, an interpretation of my imagination, and personal responses to what I see and feel on a daily basis. More recently I have invested generous amounts of time into my landscape painting. I am surrounded by natural and man made beauty, which inherently presents itself in the tri-state area, and almost demands that I paint it.
Not everything is art. Art is not everything, but it comes close. Art is everywhere and all the time. Art makes you experience the beauty of the world, the people in it, and the places we call home. Art itself is so influential that it can tell stories, show feelings, and express passion or fury. Art exists in addition to language; expression of sensations and thoughts, revealing a way of thinking too subtle and delicate for words.
For me art requires love, honesty and perseverance. In return, it reveals some personal, non-analyzable, and creative untamed passion. For the public, art with its magnificent beauty, improves mood and health and builds better human beings and communities. It engages the intellect, softens the heart, strengthens the soul and frees the spirit.

If Your Interested In Purchasing Any Of My Work:
They can be found for sale in
OR
My Etsy Store
If you don't see the piece in either shop, It may still be drying. Let me know and I can upload it as soon as possible to be available. Or you can always make me an offer (in SBD or STEEM) in the comments section of this post. If we agree on a price, I will then ship the painting to you. (shipping costs will be determined by your location).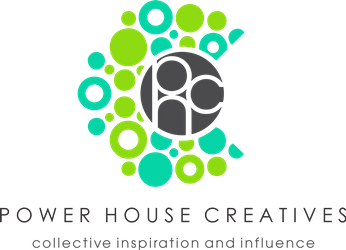 I Proudly Support: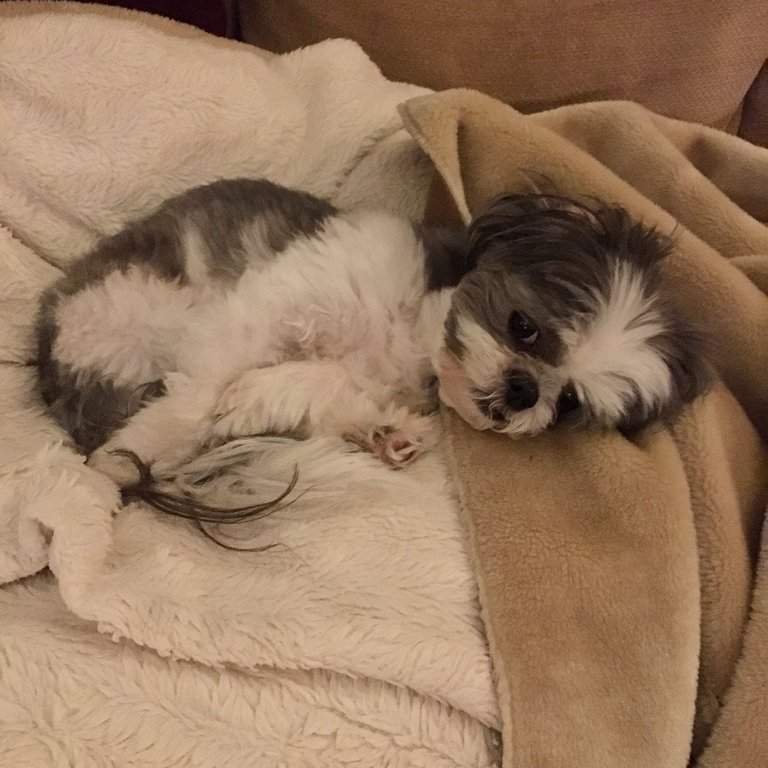 Good night! Good night! Far flies the light; But still God's love Shall shine above, Making all bright, Good night! Good night! ~ Victor Hugo