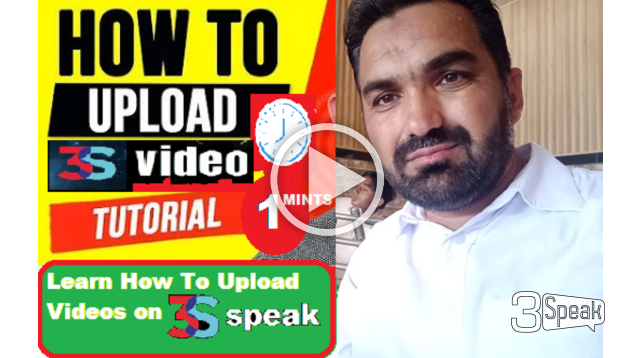 ---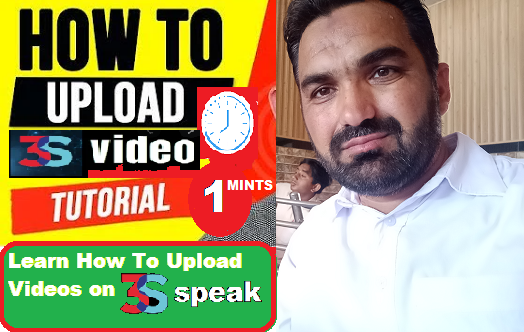 Dear my hive and 3speak friends!
in this video, i tried to create tutorial video, for new comers who do not know how to upload video on 3speak, so in this tutorial video, i tried my best to creat one mints video to learn how to upload video on 3speak, so hope this video will be helpful for new comers and if my video is really helpful then ,do not forget to write me more topic, i will try to create more video, if you all will suggest for my 3speak channels thank you very much for watching my video.
#3speak
hope you @theycallmedan will also enjoy it.
ScreenShots Tutorial how to upload video on 3speak just in one mints
#step1:
first login to your 3speak account, click on login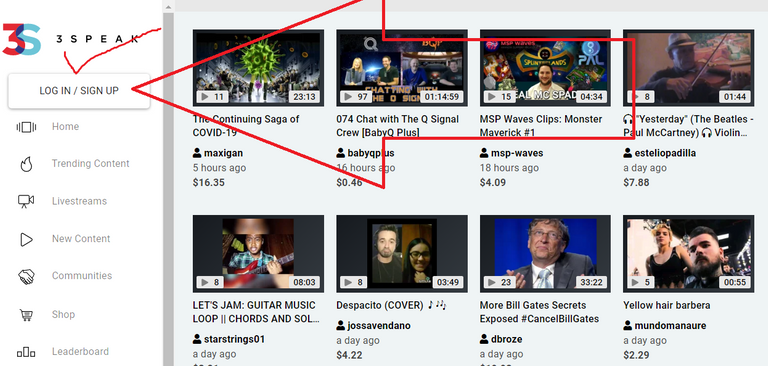 in 2nd step click on upload video button that is left side, you can see in screenshot

---
in step 3, you will be directed to dashboard, in this again click on upload video button that is left side, you can get idea in screenshot, follow red arrow in screenshot no 3

#step4 last step
in this last step, i pointed out all 9 steps that all necessary to complete , so first select video from your folder that you want to upload, then write tittle of your video, then write description this description can be in one words or just one letter but here you can write detail of your video, that what is in this video, in tag area, you will write tag, and if you want to write more than one tag, then seprate every tag with help of comma, so you can write here five tag maxmim, after writing tag, you can select your video language, or you can leave it english, then you will select community, in which community you want to publish your video, so there are many communities, you can find one, then there is payout, so keep it remain as it is, if you do not know, so next is thumbnail, in thumbnail you must add thumnail that will be appear on video, so after all doing these stpes then click save, and you will video will be uploaded or when you video uploaded then again click save , so after encoding video you video will be appear on hive and three speak, so
if you like my this tutorial of screenshot and video then write your guide line comments thanks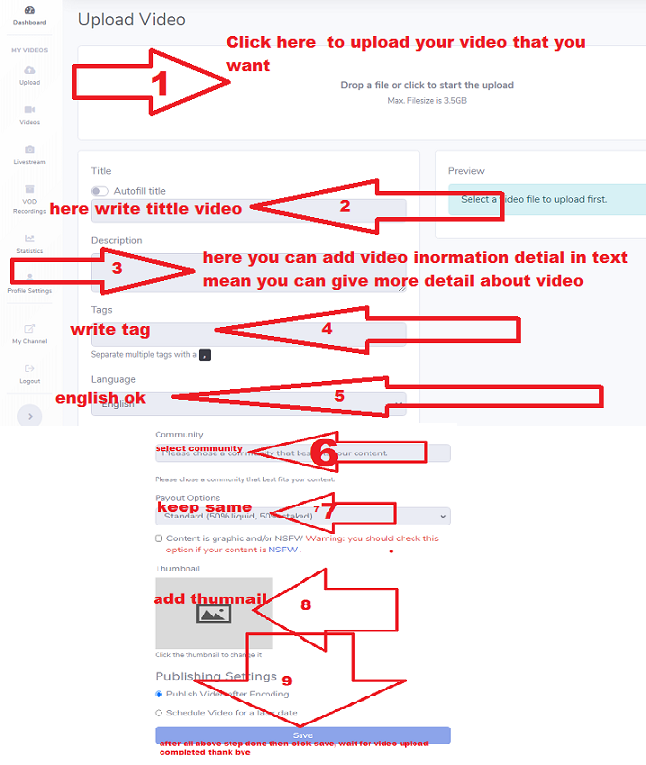 ---
if you love to read about love, you want to get motivation , if you like #nature #thoughts #yousafthoughts #photography #food #love then follow my blog. you will find every text that will give you satisfaction to your sould, my purpose of every talk and text is to give you satisfaction, if you will read i will get satisfaction.
yousaf mean beautiful and thoughs mean thinking, feeling, so its mean beautiful thoughts, positive feeling, if you want to read positive thoughts or you want to write beautiful thoughts then use #yousafthoughts thank you very much for reading my post, plz write comments under video or text to guide me more about this topic.
Subcribe my other social profile
Sign up Hive
My 3Speak Channel
My Hive profile
My Dtube channel
My Youtube channel
My Twitter profile
---


---
▶️ 3Speak