CALLING ALL ARTISTS!! Black & White Image Design Contest - 1000 HIVE in Prizes - Supporting The White Rose Movement (Guerilla Propaganda Stickers)
In case you haven't noticed, we are currently in the midst of a world-wide #informationwar. In the last year, the psychopaths & pedophiles running the world's banks, governments, and major corporations have tricked the masses into locking themselves in their houses, cutting off their oxygen supplies, and being afraid of human connection.
Considering that those same people own all of the corporate media and social media, they've effectively cut off the average person from hearing anything that doesn't fit with the narrative that serves their agenda.
This is where Guerilla Propaganda comes into play! Since the PTWTW (powers that wish they were) control the digital drip feed, the most effective way for us to reach the masses is through means that break out of the algorithms. In other words, we have to bring the battle back to the real world. Stickers, T-Shirts, Graffiti; these are the tools we need to focus on in these times.
Luckily, there's already folks all over the planet doing so! The White Rose is a non-organization (a la Anonymous) that started in the UK, mass producing stickers to bring truth to the streets. By simply going to their Telegram channel, you will find close to 100 high-res images, ready to print.
Here's a few of our favorites:
---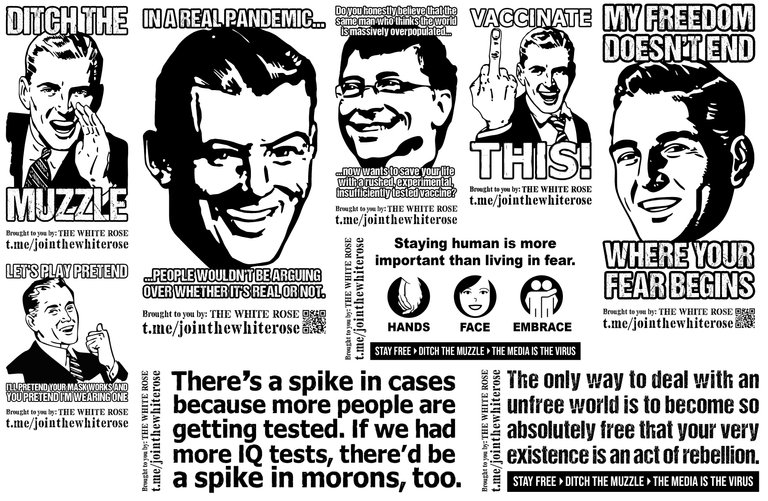 ---
The Contest
A couple of weeks back, @WeAreChange-CO got a sticker printer and started mass-producing them, using the White Rose's designs. Now, it's time we give back, and start coming up with some new designs for people around the planet to put up!
This contest is pretty simple. Just create a black & white sticker design, pointing out some obvious lie, some empowering phrase, some truth bomb. The goal is to have something short & poignant - something that can snap people out of their Matrix-induced trance of obedience & fear.
You can use famous quotes, give "official" statistics, re-make a meme from the internet, or whatever else gets your revolutionary creativity flowing!
---
Image Details
In order for your submission to be accepted, there are a few key factors to take into account:
Image must be black & white
Image must be high enough resolution for a clear sticker (600x600 pixels at least)
Keep in mind that the sticker tape is 2.4 inches wide - but can be any length
Image must use little to no grey-scale, as the printer turns it into a blurry pattern
Image must include the WR blurb & link:
Brought to you by: THE WHITE ROSE
t.me/jointhewhiterose
---
How to Enter
Create your image(s)
Post them - either as a comment here or as their own HIVE post
2a. If you make a separate post, leave a link in the comments below
Share this post on HIVE (and preferably elsewhere)
Follow @wearechange-co on HIVE
---
Other Contest Details
There is currently a 1000 HIVE prize pool for the contest, with 500 for 1st place, 250 for 2nd place, and 50 each for the next 5 designs.
The decision will be made through a vote by WRCC membership. We'll be judging entries based on multiple criteria, namely the message presented, clarity/quality of image, and following all of the submission rules.
This contest will run through midnight (Mountain Time) on January 31st. Any entries received after this point cannot be guaranteed to make it into the voting process.
So much gratitude for @Abundance.Tribe's sponsorship of this contest!!
---
---
Want To Print Your Own Stickers?
Here are the directions, as shared by the White Rose Telegram:
Step 1 - Buy $100/£80/€80 (or much less second hand on Ebay) 'Brother QL-800' label printer.

Step 2 - Download the latest sticker archive for free, pinned at the top of the White Rose Telegram channel (t.me/jointhewhiterose).

Step 3 - Print hundreds of stickers per minute, for DIRT cheap, from the comfort of your home.

Step 4 - Wake up the masses!
---
---
Donate via Bitcoin:
1HDpwdJqkdi6Yhve7AM6E9pYZADKL6t1iF
Support We Are Change Colorado here on Hive, and any other Social Media you use:
---
---