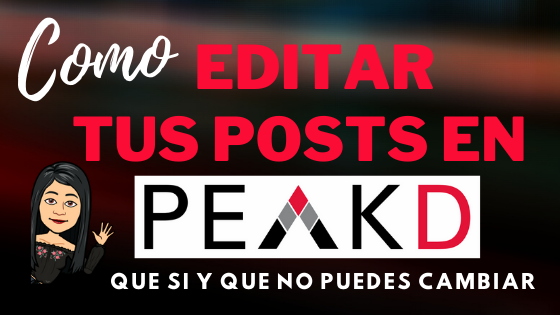 ---
Que Si y Que No, Puedes Editar en Tus Posts
---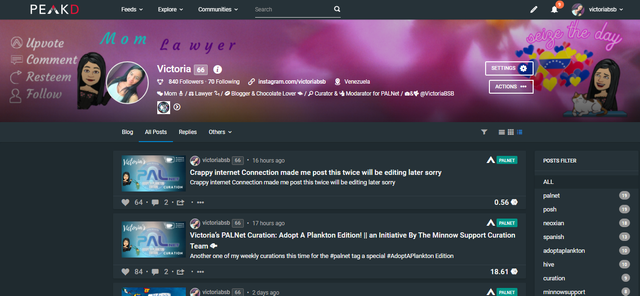 Este post no fue planificado porque en realidad estoy usando a mi beneficio el hecho de que mi internet en las noches apesta y mientras estaba peleándome con la señal para poder postear mi Curación Semanal, resulta que, se me publico dos veces 😒 entonces dije bueno será aprovechar hacer un tutorial de cómo se edita porque no solo me han preguntado al respecto, sino que en realidad no sabía que colocar en este doble post 😆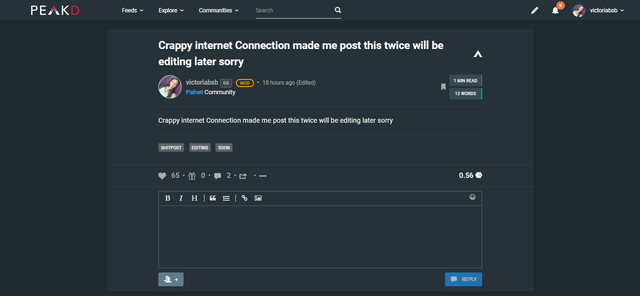 Recuerden que nada puede ser realmente borrado en la blockchain, aun cuando puedas editar todo queda grabado para siempre, si usan scribe.hivekings.com/ podrán ver el historial de ediciones de un post o comentario
Hago este tutorial desde PEAKD porque es la frontend que uso pero sirve para Hive.blog también solo que los botones están en distintos lugares.
Entonces aquí vamos…
Que No Podemos Editar?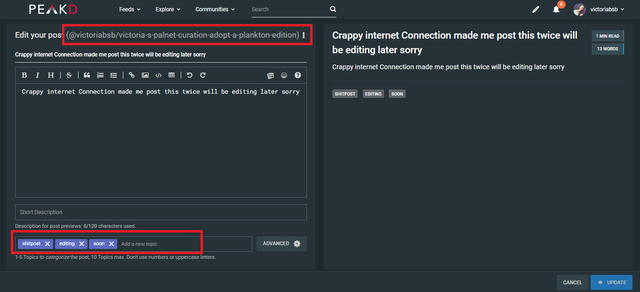 El URL o link
Al este crearse para tu publicación, será imposible cambiarla así que como podrán ver la mia se quedara https://peakd.com/hive-110490/@victoriabsb/victoria-s-palnet-curation-adopt-a-plankton-edition para siempre.

La Comunidad en la que publicaron
Dado que cuando publican en una comunidad esta se coloca como la primera etiqueta y la misma actúa como parte del URL y categoriza tu post, pues una vez publicado ya no podrá ser cambiado y no podrás quitarlo de esa comunidad.
En mi caso publico mis curaciones desde la comunidad de PALNet por lo que este post quedara en esa comunidad sin posibilidad de editarla o cambiarla.
La Primera Etiqueta
Aplica si no has publicado a una comunidad, esto es por lo mismo que anteriormente con las comunidades, la primera etiqueta se coloca como parte de la categoría de tu post y es parte del URL por eso no se puede cambiar.
Que Si Puedo Cambiar?
Todo lo demás, puedes cambiar como verán en este post ya no es para nada como estaba de hecho ayer mismo cuando ocurrió el error de duplicación entre rapidito y borre todo incluyendo el titulo para que no hubiera problemas, saben que el doble contenido es considerado abuso en la plataforma porque estarías tratando de monetizar dos veces lo mismo.
Así que como pueden ver solo con entrar a su blog y darle al menú de los 3 puntos en su post van a ver dónde dice editar y eso los llevara a la página de edición de sus post.
En este caso yo borrare todo el contenido previo incluyendo titulo y etiquetas y hare todo nuevo para colocar este tutorial, como pueden ver inicialmente tenia 3 etiquetas y agregare para usar el total de 10 etiquetas que permite PEAKD si lo hacen desde Hive.blog recuerden que allá solo están permitidas 8 etiquetas por lo que si van a editar un post que tiene 10 desde allá no podrán hacerlo y el sistema les dará error no permitirá guardar los cambios hasta que coloquen solo 8 etiquetas.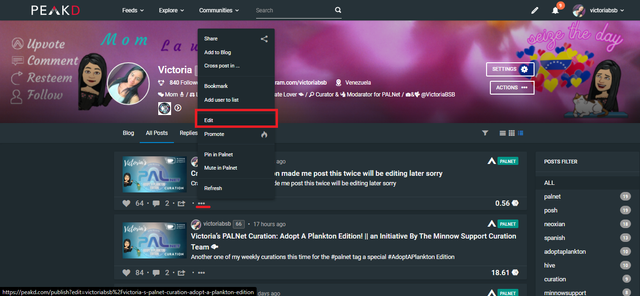 Listo un post sencillo y que salió de un error jajajaja espero los ayude igual nunca nadie me lee =( pero aquí esta la info por si alguien le da por leer!
---
As always, thank you very much for reading me and
I hope to read your comments!
---
Picture Credit: All images are of my property unless said otherwise and the emojis are made with Bitmoji.com!
---
Proud Member and Supporter of The Minnow Support Project, If You Are Not Yet on The Community What Are You Waiting For?? CLICK below!!!

---
---
😗 Follow me on my Other Social Media...❗️⬇️⬇️⬇️⬇️

You can find this post shared on Twitter Here
please give the tweet a like and retweet!
---