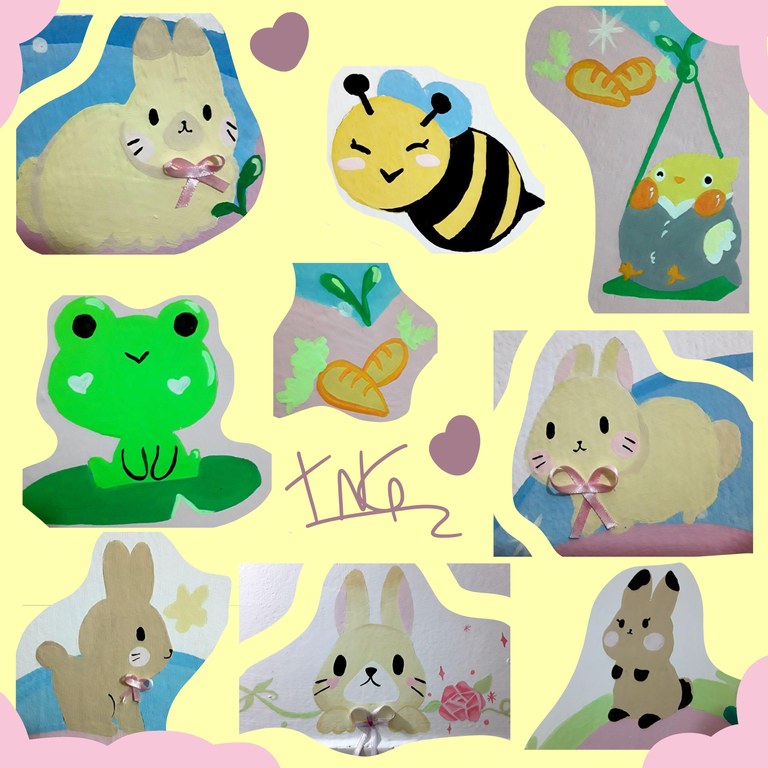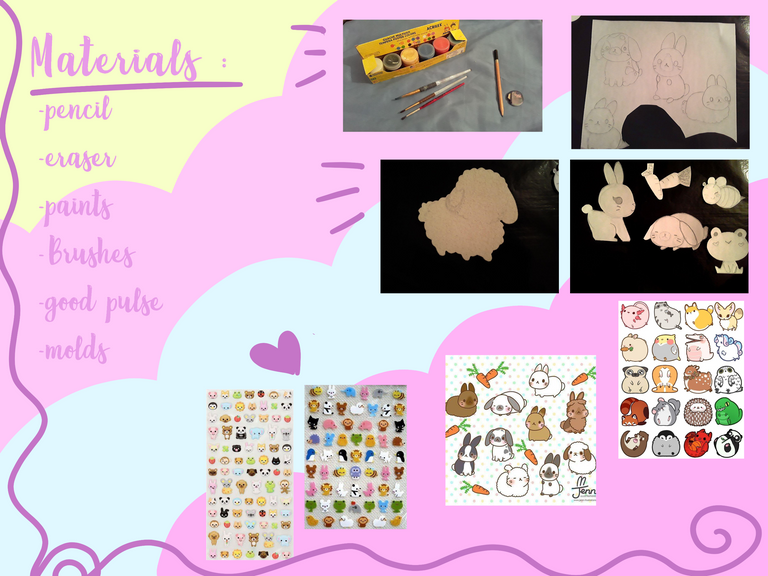 [ENG/ESP]
Hello pretty bees!
Today I bring a
###(tutorial attempt)
TUTORIAL!
SUPER PRETTY.
I really like to draw ~
And do you know what I like more than drawing?
nothing... (?)
hahaha draw cute bunnies
This time I had to make a mural in the bathroom.
🥕🥕🥕🥕🥕🥕🥕🥕🥕🥕
Hola lindas abejitas !
el dia de hoy traigo un
###(intento de tutorial)
TUTORIAL!
SUPER BONITO.
me gusta mucho dibujar~
y saben lo que me gusta mas que dibujar?
nada... (?)
jajajj dibujar conejitos lindos
en esta oportunidad me tocó realizar un mural en el baño.
[ENG/ESP]
The materials that we are going to need are quite simple, it all comes down to having a steady hand and not a shaky one
that is ... have a good pulse when drawing
for this case we are going to paint, so we will need:
Color paints

pencil

brushes of different sizes

draft (in case we screw it up)

last but not least: molds (made on paper)
🥕🥕🥕🥕🥕🥕🥕🥕🥕🥕
Los materiales que vamos a necesitar son bastantes simples, todo se reduce a tener una mano firme y no una temblorosa
es decir... tener buen pulso al dibujar
para este caso vamos a pintar, por lo que necesitaremos:
pinturas de colores

lapiz

pinceles de diferentes tamaños

borrador (por si la cagamos )

por ultimo y no menos importante: moldes (hechos en papel)
These are my molds, I took them from pinterest:
🥕🥕🥕🥕🥕🥕🥕🥕🥕🥕
Estos son mis moldes, los tomé de pinterest: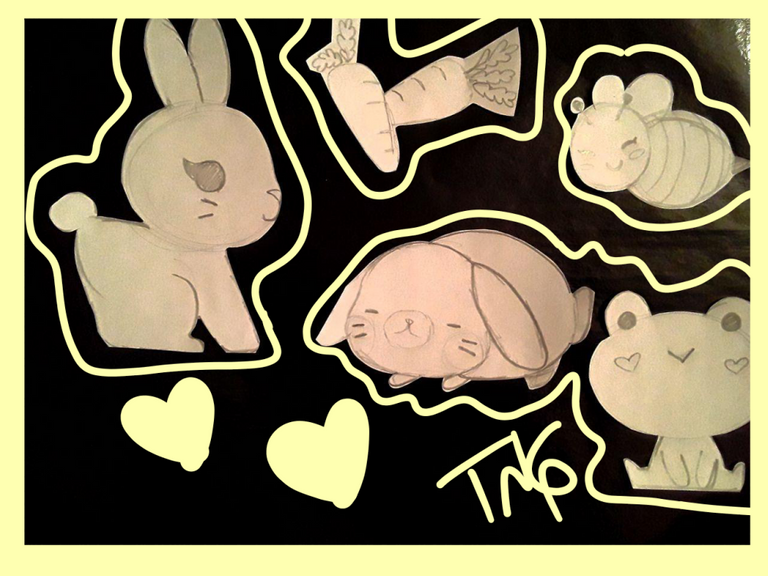 luego que tienes los moldes solo debes pasarlos a la pared (yo solo los utilicé como referencia de tamaño porque se dibujar)
pero en casi que no sepas un truco para plasmarlos en la pared tal y como están en tu molde de papel
solo debes volver a delinear el dibujo con lapiz
(trata de que quede con bastante grafito)
y luego lo volteas hacia la pared, y lo repasas por la parte de atrás.
🥕🥕🥕🥕🥕🥕🥕🥕🥕🥕
After you have the molds, you just have to pass them to the wall (I only used them as a size reference because I can draw)
but you almost don't know a trick to get them on the wall as they are in your paper mold
you just have to re-outline the drawing with pencil
(try to get enough graphite)
And then you flip it to the wall, and you run it through the back
PROCESS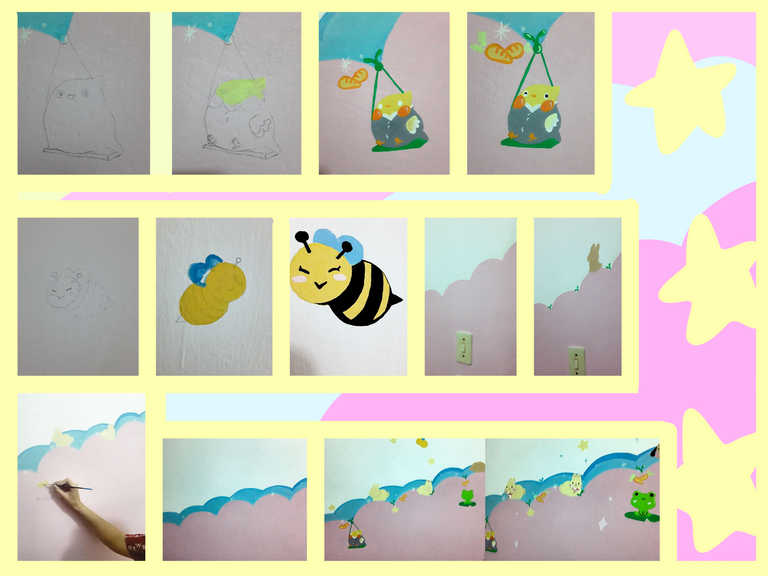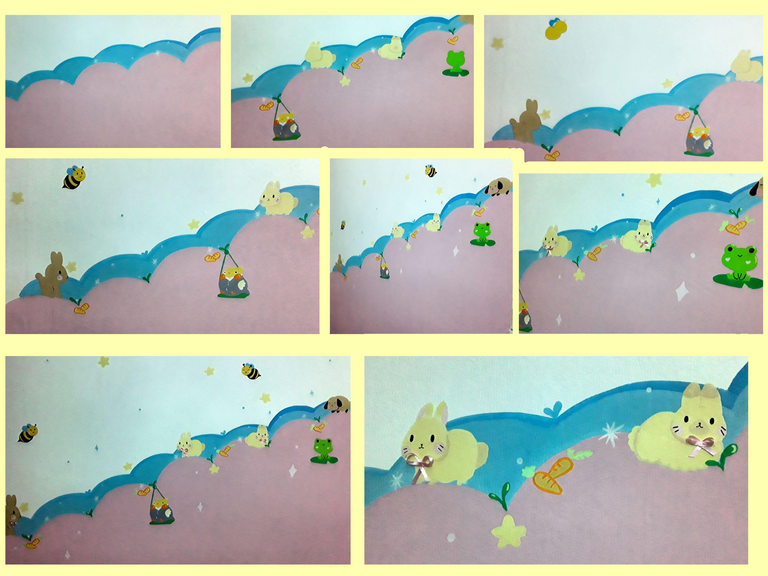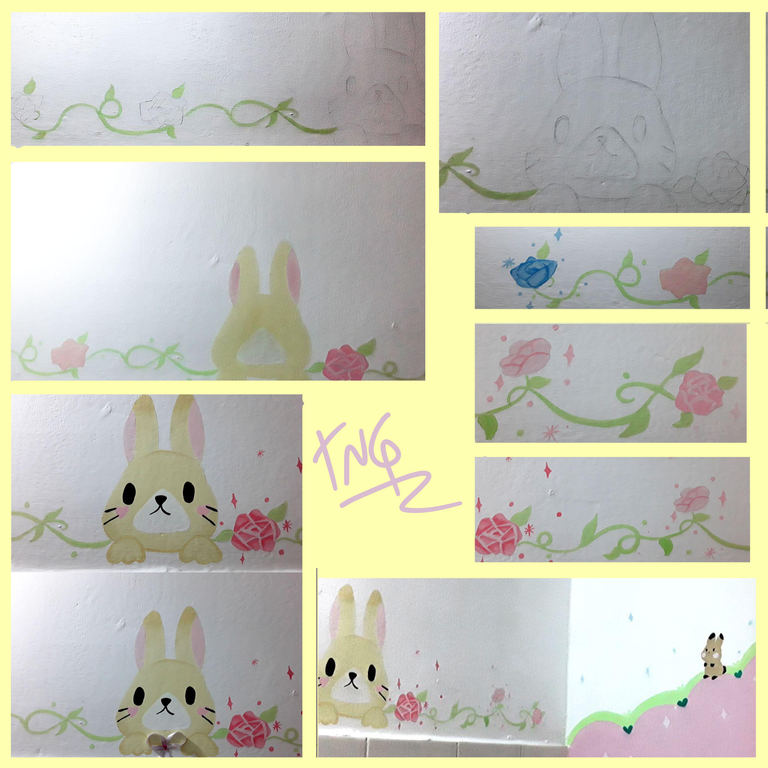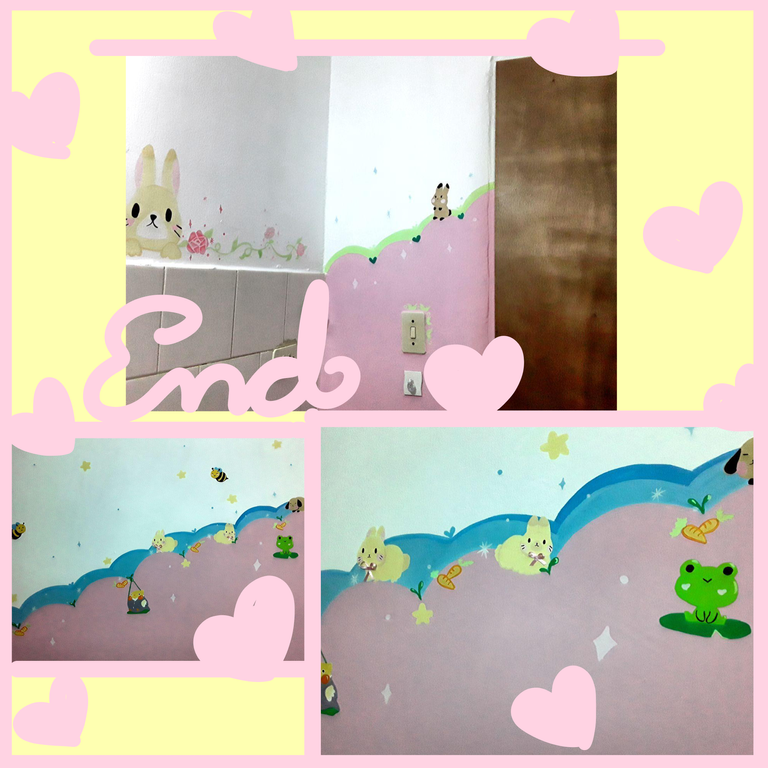 click here to follow me on twitter
ℍ𝕚! 𝕀𝕗 𝕪𝕠𝕦 𝕘𝕠𝕥 𝕙𝕖𝕣𝕖, 𝕥𝕒𝕜𝕖 𝕒 𝕝𝕠𝕠𝕜 𝕒𝕥 𝕞𝕪 𝕠𝕥𝕙𝕖𝕣 𝕡𝕠𝕤𝕥𝕤! 𝕐𝕠𝕦𝕣 𝕧𝕠𝕥𝕖 𝕙𝕖𝕝𝕡𝕤 𝕞𝕖 𝕘𝕣𝕠𝕨
the links you see below are direct entries to each of my posts
Testing pixel art step by step ~ Probando pixel art paso a paso 20/08/2020 Goldfish [eng/esp]
💐𝐵𝓁𝑜𝑜𝓂𝒾𝓃𝑔 𝑜𝓋𝑒𝓇 𝓎𝑜𝓊💐 15/08/2020 𝔻𝕒𝕚𝕝𝕪 𝔻𝕣𝕒𝕨𝕚𝕟𝕘 ℙ𝕣𝕠𝕔𝕖𝕤𝕤[Eng/Esp]
☘️𝒮𝒽𝑜𝓌 𝓎𝑜𝓊𝓇 𝒾𝓃𝓃𝑒𝓇 𝓁𝒾𝑔𝒽𝓉☘️ 14/08/2020𝔻𝕒𝕚𝕝𝕪 𝔻𝕣𝕒𝕨𝕚𝕟𝕘 ℙ𝕣𝕠𝕔𝕖𝕤𝕤[Eng/Esp]
🍋𝒯𝑜𝒶𝓈𝓉𝑒𝒹 𝐿𝑒𝓂𝑜𝓃🍋13/08/2020 𝔻𝕣𝕒𝕨𝕚𝕟𝕘 ℙ𝕣𝕠𝕔𝕖𝕤𝕤
𝐿𝒶𝓊𝑔𝒽𝓉𝑒𝓇 𝒾𝓃 𝓉𝒽𝑒 𝒹𝒶𝓇𝓀_____ 𝒹𝓇𝒶𝓌𝒾𝓃𝑔 𝓅𝓇𝑜𝒸𝑒𝓈𝓈 𝔸𝕦𝕘𝕦𝕤𝕥 𝟙𝟚, 𝟚𝟘𝟚𝟘
🐰𝐸𝓃𝒸𝒶𝓅𝓈𝓊𝓁𝒶𝓉𝑒𝒹 𝒷𝓊𝓃𝓃𝓎🥕__ 𝕕𝕒𝕚𝕝𝕪 𝕚𝕝𝕝𝕦𝕤𝕥𝕣𝕒𝕥𝕚𝕠𝕟 𝟙𝟘/𝟘𝟠/𝟚𝟘𝟚𝟘 ♥意桜いゴ佳🌸 (process/ Daily drawing challenge)
☘️ doodling bunnys ☘️ ☘️ 09/2020
🌹 𝔻𝕒𝕚𝕝𝕪 𝕚𝕝𝕝𝕦𝕤𝕥𝕣𝕒𝕥𝕚𝕠𝕟 𝕒𝕦𝕘𝕦𝕤𝕥 🌹 08/2020 🍀 KIKI´S ADVENTURE! drawing process/ 𝑔𝒾𝒻 𝒸𝓇𝑒𝒶𝓉𝒾❀𝓃 and video drawing process 🍀
🥝 today's second 𝔻𝕒𝕚𝕝𝕪 𝕚𝕝𝕝𝕦𝕤𝕥𝕣𝕒𝕥𝕚𝕠𝕟🥝 Someone from another planet ☄️
🐝𝔻𝕒𝕚𝕝𝕪 𝕚𝕝𝕝𝕦𝕤𝕥𝕣𝕒𝕥𝕚𝕠𝕟 𝕒𝕦𝕘𝕦𝕤𝕥🐝 06/2020 (illustration process)🍂
🌸 𝔻𝕒𝕚𝕝𝕪 𝕚𝕝𝕝𝕦𝕤𝕥𝕣𝕒𝕥𝕚𝕠𝕟 𝕒𝕦𝕘𝕦𝕤𝕥 🌸 05/2020 (Drawing process)
🌸𝒜 𝒷𝑒𝒶𝓊𝓉𝒾𝒻𝓊𝓁 𝒹𝓇𝑒𝓈𝓈🌸 𝔻𝕒𝕚𝕝𝕪 𝕚𝕝𝕝𝕦𝕤𝕥𝕣𝕒𝕥𝕚𝕠𝕟 𝕒𝕦𝕘𝕦𝕤𝕥 𝟘𝟙/𝟚𝟘𝟚𝟘🌸 (Drawing process)
🎀 𝒜 𝑔𝓇𝑒𝒶𝓉 𝒻𝓇𝒾𝑒𝓃𝒹𝓈𝒽𝒾𝓅 🎀 𝔻𝕒𝕚𝕝𝕪 𝕚𝕝𝕝𝕦𝕤𝕥𝕣𝕒𝕥𝕚𝕠𝕟 𝕛𝕦𝕝𝕪 𝟛𝟙/ 𝟚𝟘𝟚𝟘
_______𝐿𝒶𝓋𝓊 𝓂𝑒 𝒻𝑜𝓇 𝓉𝒽𝑒 𝓇𝑒𝓈𝓉 of our lives ________🎀𝕕𝕒𝕚𝕝𝕪 𝕕𝕣𝕒𝕨𝕚𝕟𝕘 𝕞𝕠𝕟𝕕𝕒𝕪 𝕛𝕦𝕝𝕪 𝟚𝟟 𝟚𝟘𝟚𝟘🎀
my last post: a portrait of: 𝕱𝖆𝖇𝖎𝖎 𝕻𝖚𝖋𝖋𝖑𝖊 sunset aesthetic
click here if you wanna see my recent post
𝕱𝖆𝖇𝖎𝖎 𝕻𝖚𝖋𝖋𝖑𝖊 𝒟𝒾𝑔𝒾𝓉𝒶𝓁 𝒹𝓇𝒶𝓌𝒾𝓃𝑔🎀𝓂𝓎 𝒻𝒶𝓋𝑜𝓇𝒾𝓉𝑒 𝓎𝑜𝓊𝓉𝓊𝒷𝑒𝓇 🎀 𝒹𝓇𝒶𝓌𝒾𝓃𝑔 𝓅𝓇𝑜𝒸𝑒𝓈𝓈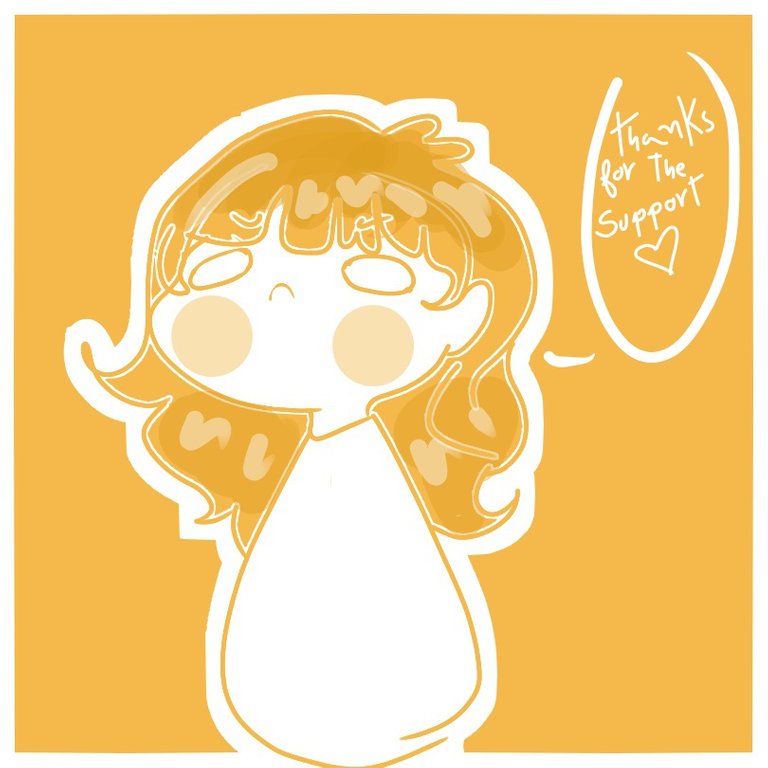 Thank you very much to all the people who vote for my post, you really help me a lot <3 ;; u ;; I'm bad at remembering names but believe me I appreciate you very much because you promote art <3