I don't know how to describe the journey I've taken in the last 14 months. Compared to my former life, it both is and isn't full of action. There are many dynamics that just don't seem real, but overall I would say I've got a pretty good life.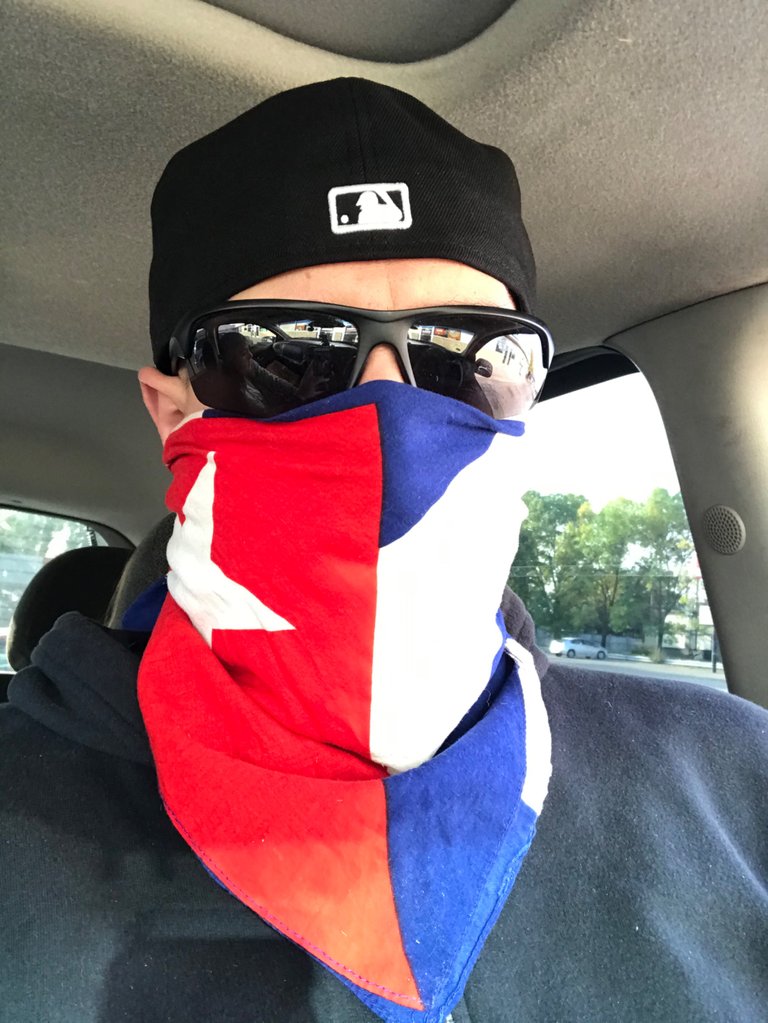 No sé cómo describir el viaje que he hecho en los últimos 14 meses. Comparado con mi vida anterior, está y no está lleno de acción. Hay muchas dinámicas que no parecen reales, pero en general diría que tengo una vida bastante buena.
You might be wondering what the hell I'm talking about, as most of you are somewhat recent followers. You should click each link and read my story. What seemed like years was actually only 6 weeks from the crash and burn to the rebuilding of my life. I have a guardian angel to thank for saving me from myself. Like a phoenix, I was destroyed and rose again from the ashes of my former self; better, bigger, stronger. And like any man, I needed help. If you are suffering from depression and you find your life turned upside down, reach out for help! There is no shame in reaching your hand out for help. I was able to swallow my pride and I did it! You should, too! Suicide is a selfish and cowardly act. DON'T BE A BITCH.
Se preguntarán de qué diablos hablo, ya que la mayoría de ustedes son seguidores recientes. Puedes clic en cada enlace y leáis mi historia. Lo que parecieron años fueron en realidad sólo 6 semanas desde el accidente y el incendio hasta la reconstrucción de mi vida. Tengo que agradecer a un ángel de la guarda por salvarme de mí mismo. Como un fénix, fui destruido y resucité de las cenizas de mi antiguo yo; mejor, más grande, más fuerte. Y como cualquier hombre, necesitaba ayuda. Si estás sufriendo una depresión y encuentras tu vida al revés, busca ayuda! No hay que avergonzarse de tender la mano para pedir ayuda. Pude tragarme mi orgullo y lo hice! Tú también deberías hacerlo! El suicidio es un acto egoísta y cobarde. NO SEAS UN JOTO.
Read the original series from 2019 here // Lea la serie original de 2019 aquí
https://peakd.com/palnet/@nathanpieters/sometimes-it-gets-lonely-but-i-will-be-okay-a-veces-se-siente-solo-pero-estare-bien
https://peakd.com/palnet/@nathanpieters/it-s-week-2-and-i-am-okay-es-la-semana-2-y-estoy-bien
https://peakd.com/palnet/@nathanpieters/it-s-week-3-and-i-am-great-es-la-semana-3-y-estoy-genial
https://peakd.com/palnet/@nathanpieters/it-s-still-week-3-and-i-have-a-wolf-problem-todavia-es-la-semana-3-y-tengo-una-problemas-de-lobos
https://peakd.com/palnet/@nathanpieters/it-s-week-4-and-i-am-content-es-la-semana-4-y-estoy-contento
https://peakd.com/palnet/@nathanpieters/impatient-impaciente
https://peakd.com/palnet/@nathanpieters/it-s-week-5-and-i-ve-had-a-setback-es-la-semana-5-y-he-tenido-un-reves
https://peakd.com/palnet/@nathanpieters/it-s-week-6-and-i-made-it-es-la-semana-6-y-lo-logre
https://peakd.com/palnet/@nathanpieters/it-s-week-7-and-i-m-comfortable-es-la-semana-7-y-estoy-comodo
https://peakd.com/planet/@nathanpieters/it-s-week-8-and-i-m-cold-es-la-semana-8-y-tango-frio
One of those dynamics is that the entire west coast of the US is on fire and due to the fact that the jetstream carries the the smoke 1400 miles and drops it right on top of me. It isn't so bad unless you have asthma. I have asthma. So even driving in the car it seems to help a little to wear a mask. This is a huge pain in the ass and makes me look stupid, except it's hard for me to look stupid because duh.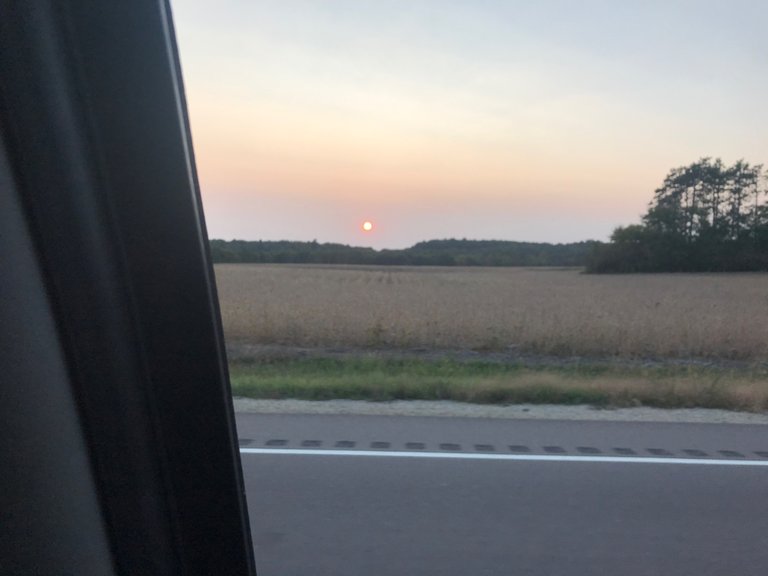 Una de esas dinámicas es que toda la costa oeste de los EE.UU. está en llamas y debido al hecho de que la corriente de chorro lleva el humo 1400 millas y lo deja caer justo encima de mí. No es tan malo a menos que tengas asma. Tengo asma. Así que incluso conduciendo el coche parece ayudar un poco usar una tapaboca. Esto es un gran dolor en el culo y me hace parecer estúpido, excepto que es difícil para mí parecer estúpido porque...bueno ya.
I've gotten to recover some of the time I lost with my daughters during the pandemic when everyone decided they were too scared to show up to work and I was the one chosen to cover their shifts. The girls love to shop even though they don't have any money, which doesn't seem to bother them until they ask me to buy something dumb and I laugh.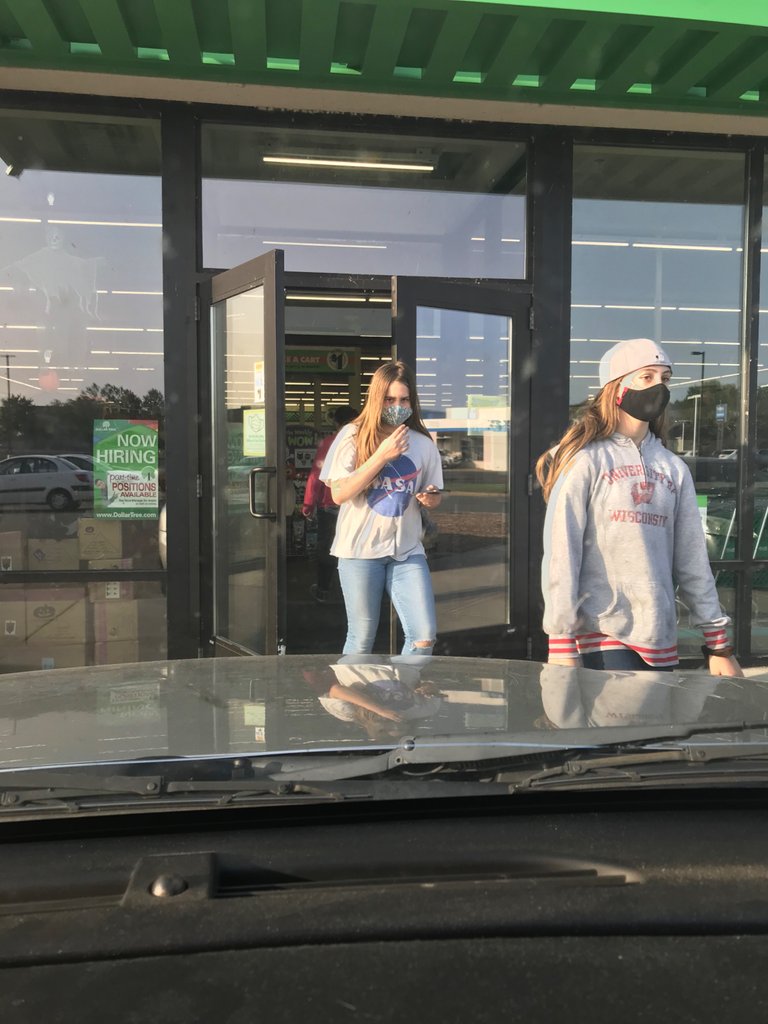 He conseguido recuperar parte del tiempo que perdí con mis hijas durante la pandemia cuando todos decidieron que estaban demasiado asustados para presentarse a trabajar y yo fui el elegido para cubrir sus turnos. A las chicas les encanta ir de compras aunque no tengan dinero, lo que no parece molestarles hasta que me piden que compre algo tonto y me río.
This mask is obviously a fashion statement. She is going through a "cool" phase lately but for some reason I think she might actually be cool.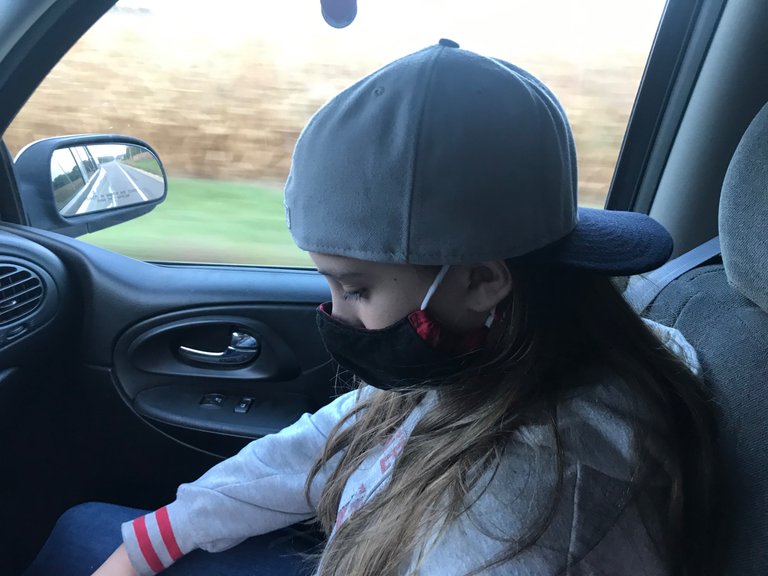 Esta tapaboca es obviamente una declaración de moda. Ella está pasando por una fase "cool" últimamente, pero por alguna razón creo que podría ser realmente cool.
School started which frees up a little time for me and I've gotten to go back to what I love doing-hunting. It's been 4 years since I even had the opportunity or desire, really, to set foot in the woods and do what I do best-kill meat.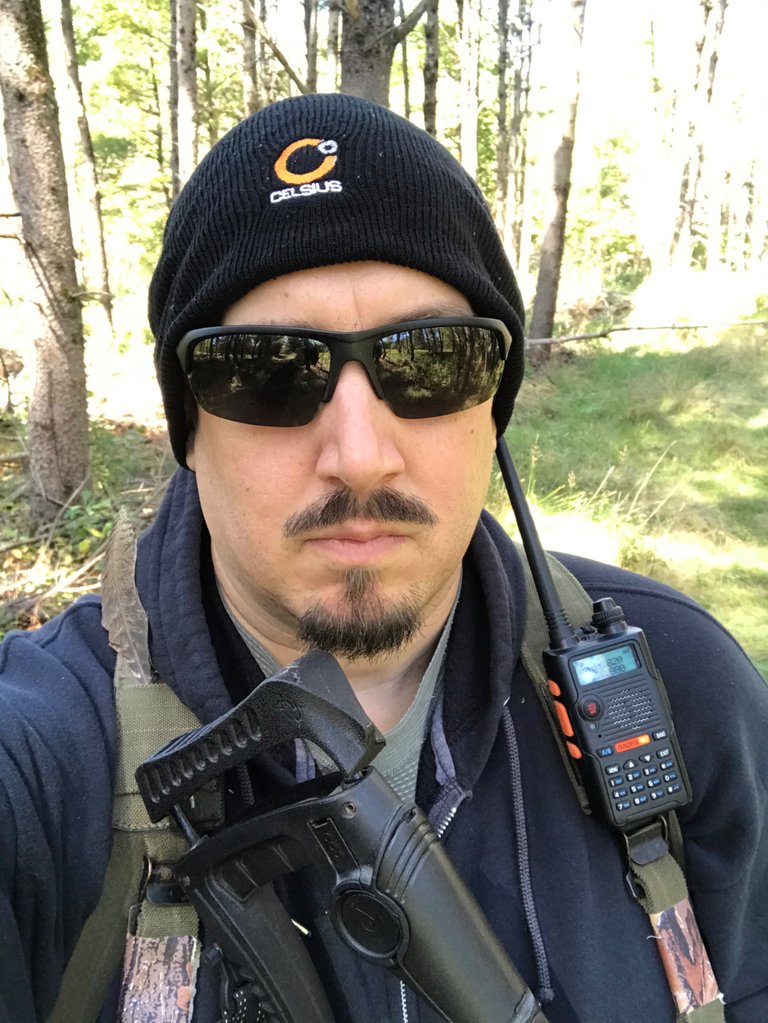 La escuela empezó, lo que me deja un poco de tiempo libre y puedo volver a lo que me gusta hacer-cazar. Han pasado 4 años desde que tuve la oportunidad o el deseo, en realidad, de poner un pie en el bosque y hacer lo que mejor hago-matar carne.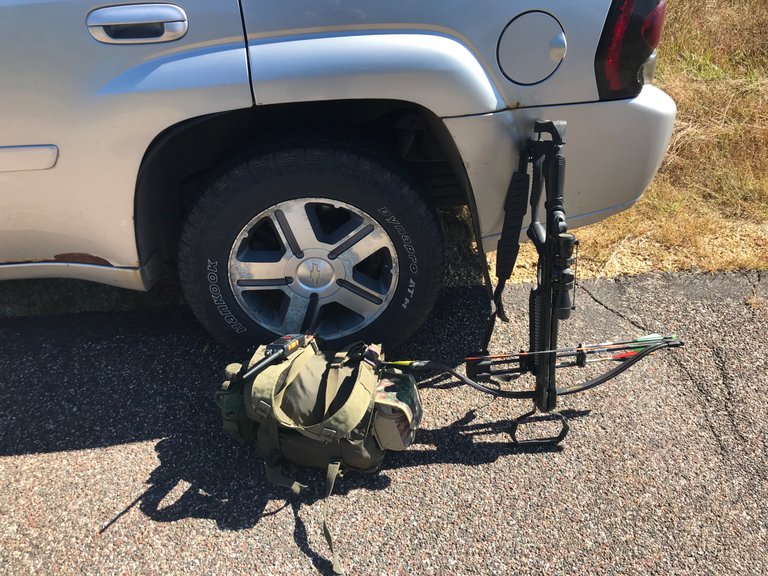 Yesterday I spent the better part of an afternoon tracking a doe only to find out that she had a fawn in tow, so I watched them graze for a while and then made my way to another area, where I lost another larger doe to a property line.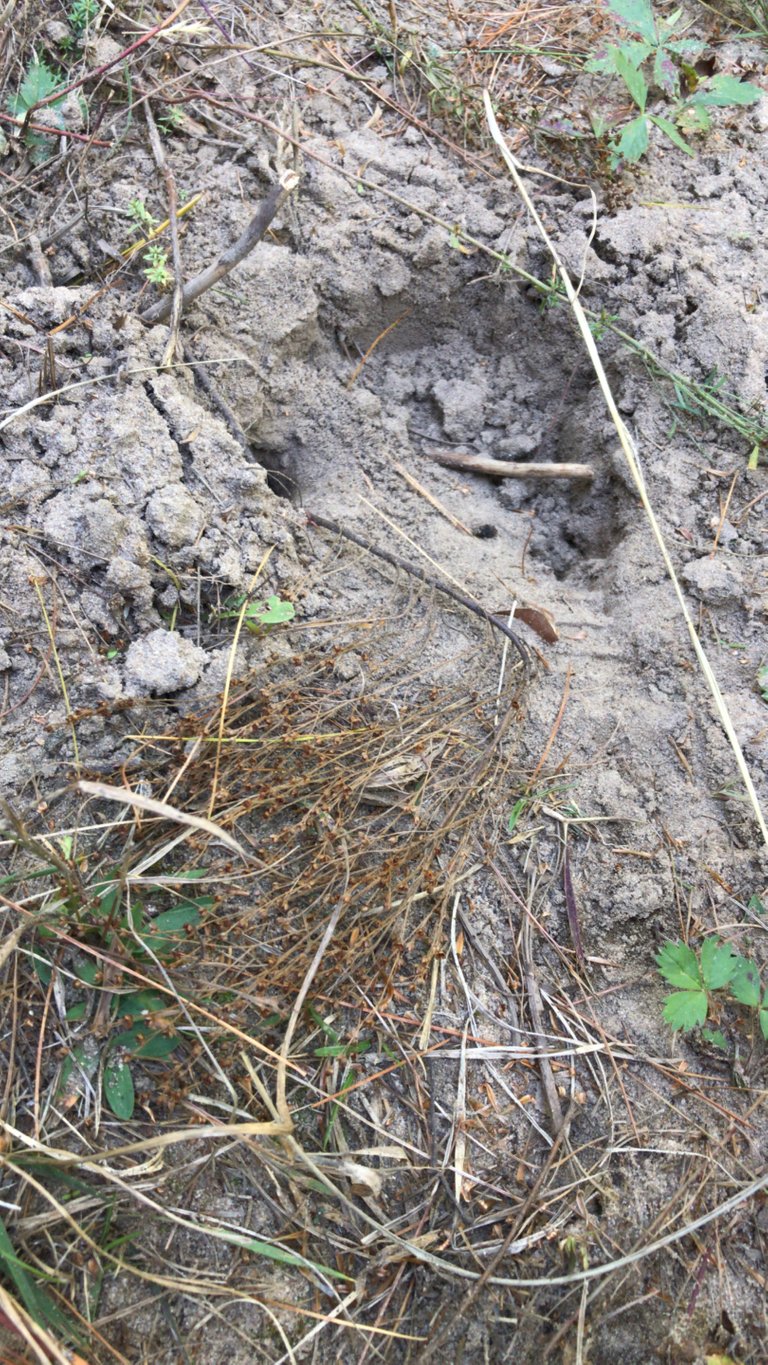 Ayer pasé la mayor parte de la tarde rastreando a una cierva, pero descubrí que tenía un cervatillo, así que los vi pastar un rato y luego me dirigí a otra zona, donde perdí otra cierva más grande en una línea de propiedad.
On the way I met a friend. We quietly discussed the best mobile MMORPGs over a few peanuts before it was discovered that I was out of peanuts and therefore undeserving of an audience or interspecies friendship.
En el camino me encontré con un amigo. Discutimos tranquilamente sobre los mejores MMORPGs móviles sobre unos pocos cacahuetes antes de que se descubriera que me había quedado sin cacahuetes y por lo tanto no merecía una audiencia o una amistad interespecie.
I found the spot where I once double-tapped a doe and she managed to run 300 meters and drop herself into a flooded river-all so I could not eat her. I decided that this time I would just shoot her in the face...I'm not sure how that will work out because this time around I have a crossbow and not a rifle. (I guess we will find out.) The opportunity never presented itself and I ended up leaving after only spending 6 hours in that small section of forest.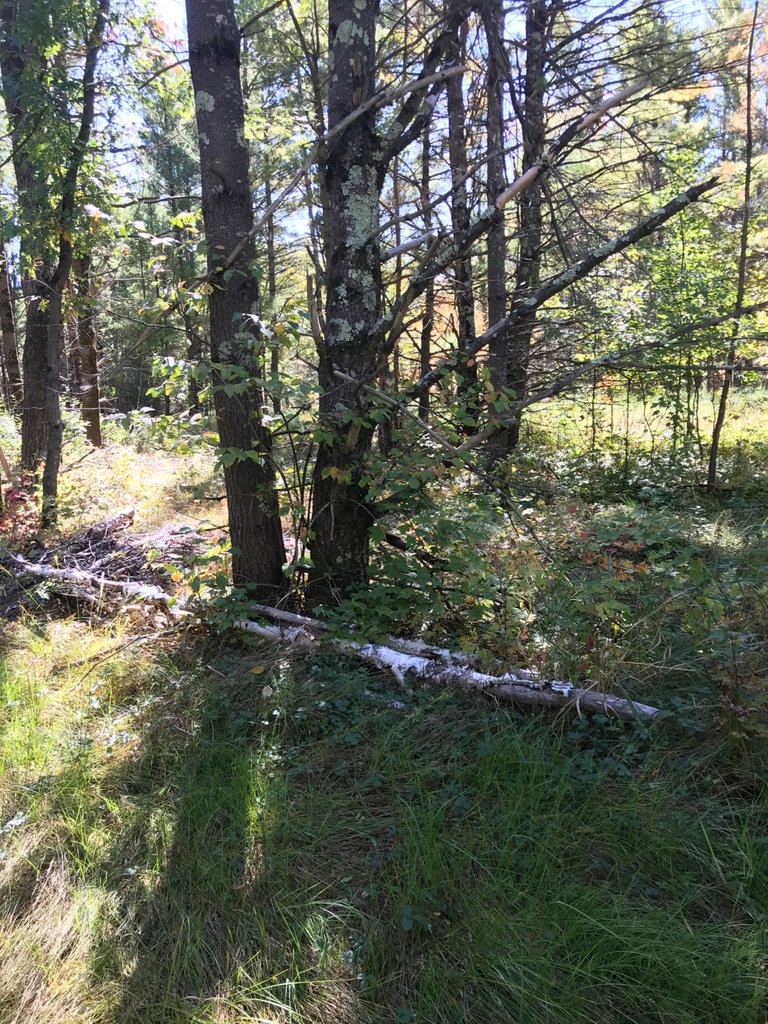 Encontré el lugar donde una vez golpeé dos veces a una cierva y ella se las arregló para correr 300 metros y caer en un río inundado, todo para que yo no pudiera comérmela. Decidí que esta vez sólo le dispararía en la cara... no estoy seguro de cómo funcionará, porque esta vez tengo una ballesta y no un rifle. (Supongo que lo averiguaremos.) La oportunidad nunca se presentó y acabé marchándome después de pasar sólo 6 horas en esa pequeña sección del bosque.
I think life has finally reached a "normal" sense for me, regardless of the obvious weak attempt at a communist revolution taking place across this country. There is one final goal that I have to achieve but it is completely out of my hands for the time being and I guess all that can really be done is to live my life the best that I can. That is all anyone can really do. Until then, I will spend the remainder of the year hunting and fishing and biding my time. Here's to hoping there isn't a full scale civil war that will force my hand.
Creo que la vida ha alcanzado finalmente un sentido "normal" para mí, a pesar del evidente y débil intento de revolución comunista que se está llevando a cabo en todo el país. Hay un objetivo final que tengo que lograr pero está completamente fuera de mis manos por el momento y supongo que todo lo que realmente se puede hacer es vivir mi vida lo mejor que pueda. Eso es todo lo que cualquiera puede hacer realmente. Hasta entonces, pasaré el resto del año cazando y pescando y esperando el momento oportuno. Esperemos que no haya una guerra civil a gran escala que me obligue a ello.

All photos and content are the intellectual property of the author and are not to be downloaded or reproduced in any manner without prior written authorization. // Todas las fotos y el contenido son propiedad intelectual del autor y no deben descargarse ni reproducirse de ninguna manera sin autorización previa por escrito.