Happy Independence Day Finland! - Celebrating it with AI generated art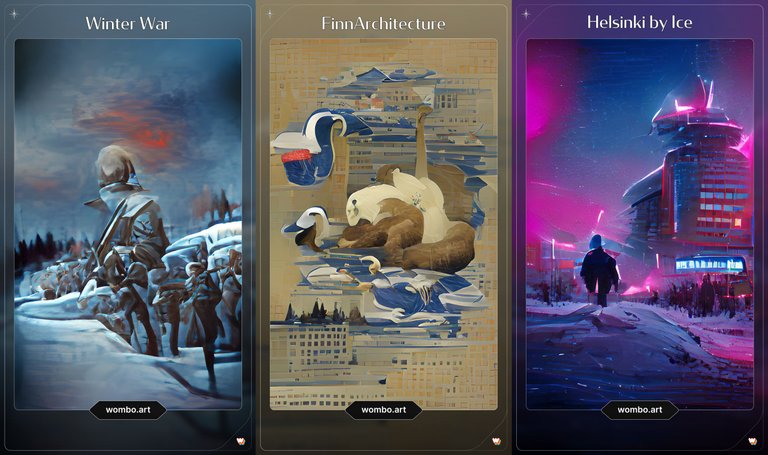 Finland is a youngster, only 104 years old. Happy birthday Finland!
After Independence day meal I thought that I should perhaps go outside for a walk, but as there's about -10°C (although it's nothing because it's not windy today like it was yesterday and it was -17°C which probably felt like -27°C because of the wind) and because I was pretty full and lazy, I didn't go out but thought that I should at least do something that should have been done a while ago. The vines of my Dragon Tail Plant (Epipremnum pinnatum) are growing so quickly that it's like a jungle here and soon the leaves are so low that the cats might take a nibble and that's not good as the Dragon Tail Plant is a bit poisonous so I really should either cut them or tie the outgrown vines to the ceiling or the wall... so I sat in front of my computer, just wanted to quickly look at what's going on Twitter and one thing lead to another, ended up making independence day art with AI. Felt a bit like procrastinating connor.dewolfe with the exception that I'm not that good with the things I do when procrastinating because it's something that doesn't require that much new skill learning.
Anyway, I stumbled to https://app.wombo.art and dived in to the rabbit hole for... I don't know... three or four hours. Perhaps five. Who cares.
I used the words: independence day, festivities, dark, Finland, independent, watching, unknown soldier, wieners (the tiny sausages), potato-salad, swan, celebrating, bear.
Not all in English and not all at the same time. And this is what I got. The best of it that is related somehow, in my opinion, to Finnish Independence day or to Finland. The interpretation, of course, is in the eye of the beholder but since I used the words that I used, there is a slight resemblance to Finland and Independence day in the art. Although the images are not recognizable but in an odd way they are. It's like me listening Estonian, the words seem familiar but I can't understand anything. That's how this art is. And at it's best, that's just the thing that is fascinating in it. But then there are also the awful ones which I will show you too. The ones that I didn't like. But let's start with the ones that I did, in a "these are the ones's I like, in no particular order" order.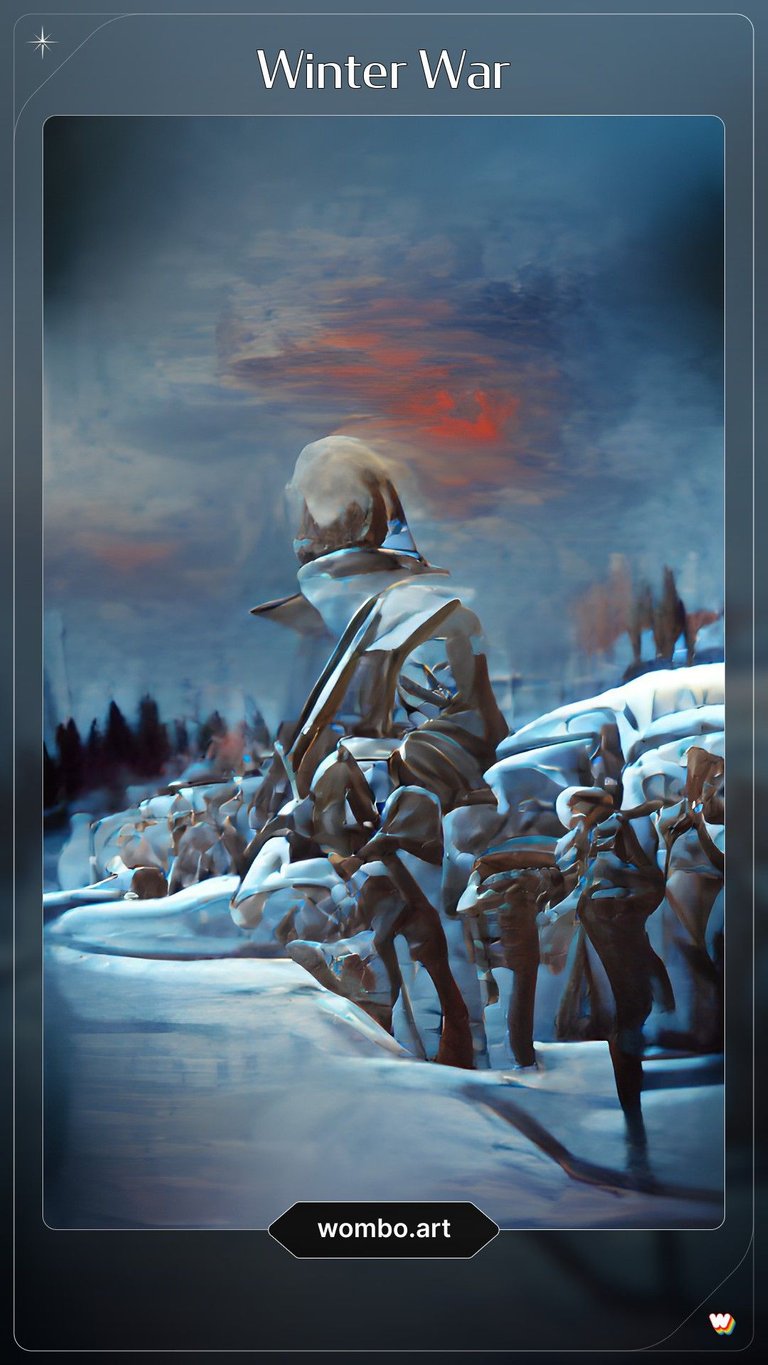 Always, almost every year there's this movie, which is a book and already has three different movie versions of it, sent from the television. Unknown Soldier (Book by Väinö Linna) which tells a story about the second world war which in Finland usually isn't called that but Winter War and Continuation War, soldiers and Finland fighting with Russia which, basically now makes you think: "Wait a minute, didn't you write in the beginning of this post that Finland is 104 years old, that's not right, the second world was was about 80 years ago so there's something fishy here..." to which I will answer: "Yes, you are absolutely right but as the story about Finnish families fighting each others back in 1917 and the fact that Finland made itself independent without that much fight with Russia because Russia was a mess back then isn't that glorious, but had to fight ALMOST ALONE against huge and mighty Red Machine called Russia in the second world war, only the disgusting Germans helping them which wasn't that big of a deal because they froze to death when the slight -40°C temperatures squeezed the balls of everyone during the Winter War and Finns just laughed to Russian propaganda trying them to go to the other side by yelling they have bread there and Finns answering that the Russian soldiers should actually come to Finnish side to get butter on top of their bread (a discussion in Unknown Soldier), and one Finn matching at least ten Russian soldiers, more blood, guts, explosions and guns and tiny Finland, although lost the war, managed to stay independent, is a much more fascinating story."
So the AI wombo.art generated image to me looks like Finnish soldiers marching through the snow with the thought of a huge frog-swamp-thing-easter-island-statue-russian-occupier in the back of their minds watching them go home during Winter War.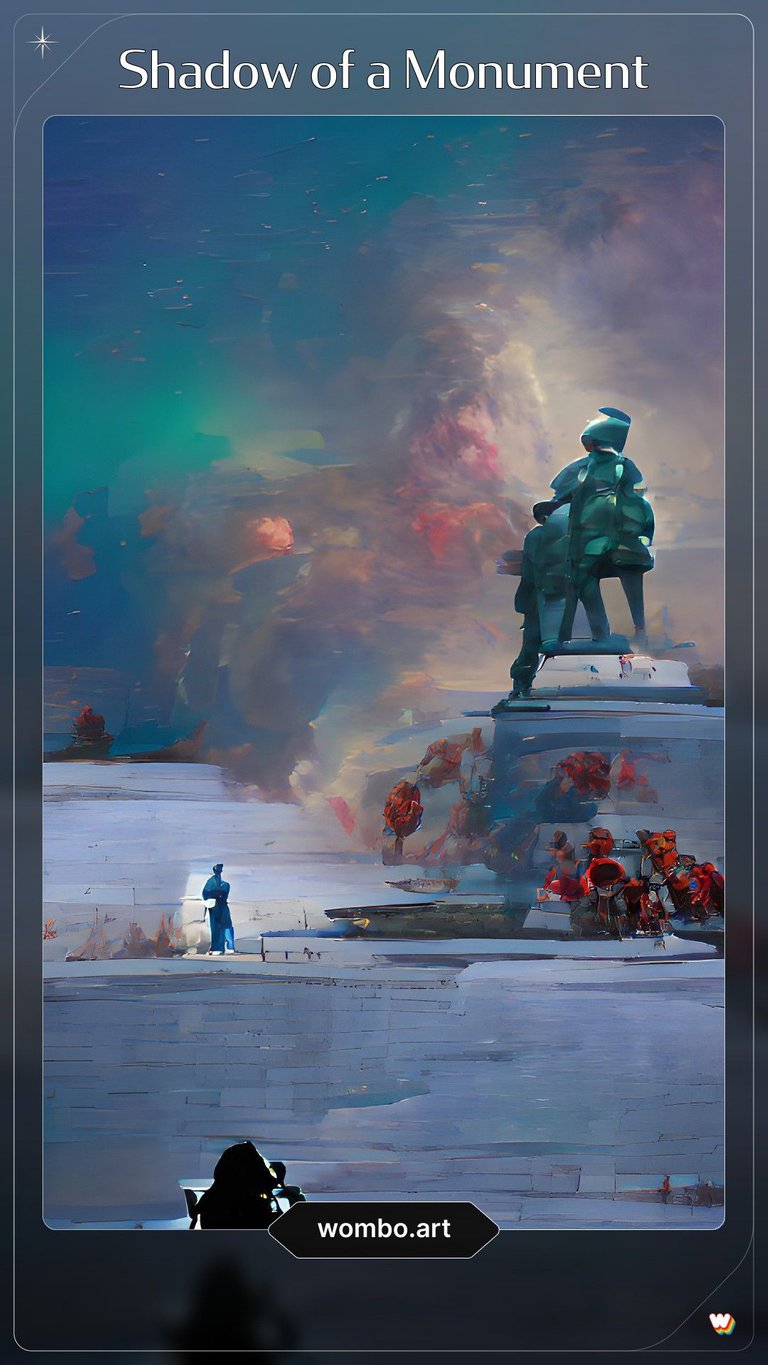 No-one in Finland wants or did not want back then to live under Russia. Or be part of it. There's a monument, soldiers with red coats underneath the statue, a spectator, some walls and another spectator looking at all of them and smoke from huge canons mixing with the clouds. It all may seem glorious but it's not. Thankfully Finland stayed independent.
| | |
| --- | --- |
Finland staying independent is of course, if you believe all the storytellers and poets, due to heroes. Heroes and lonely gunmen. Snipers like Simo Häyhä (17.12.1905–1.4.2002) who during the Winter War killed over 500 Russian soldiers which Russians called white death. And Sven Tuuva(Sven Dufva) who was a character in a story based to Johan Ludvig Runeberg poem, a story about the Finnish War in 1808–1809, a war between Russia and Sweden and now you again go: "Wait a minute, that's not... the dates do not match and what, isn't there supposed to be Finland between Sweden and Russia, as a buffer you know which the Swedes may be really happy about because if Russia ever wants to invade Sweden, they would have to kill all the Finns first" to which the Swedes would say:" Oh, jätte kiva, nu har vi time to run and not get killed!" which is not actually how it would go because we have this pact that all Nordic countries are in the same boat although Norwegians might say that "Finns were just slaves to us, the real Vikings and they don't even speak the same way the rest of us do, like, Swedes, Norwegians, Icelandic we all understand each other and Danes, do we count that as a Nordic country because NO-ONE understands what they are saying but yeah, like Finns have such a weird language but okay, yes, we would fight a little bit for them, just to maintain the buffer against Russia there" and where was I, oh yes, about a hundred years before Finland was Finland, it was Sweden and again, fighting against Russia in the Finnish War so EVERYTHING COUNTS AND IS RELATED TO Finlands independence day.
Besides Simo Häyhä there looks like he's in a very loosely structured bird watching tower in a modern school yard.
There's the Finnish flag, sort of, blue cross on a white background like white snow and blue skies. Independence Window is what people want you to see. Birches, blue and white flag, soldiers building houses for their families, rintamamiestalo, a type of detached house build after the Second World War for the families of soldiers who fought in the battlefront, everything is fine, war is over, soldiers have no problems because the problems were not talked about and independence days are as winters and summers, picturesque, you do like in the art Warmth in Cold, go to Christmas church, sing Christmas carols, be good, be devout and obedient.
The parliament house is guarded by a built in guard that for some reason has the Finnish flag colors on his clothes, not grey and has a raccoon look or skiing goggles on and then there's of course the symbiosis with soldiers and church that provides all the answers and again you are ready to kill on command if needed.
| | |
| --- | --- |
Then came progress. I love this one. Mill of Progress. There's still the second world war soldier watching from the tree line there. His family hoping for a helping had to post-war trauma, alcoholism and the negligence of so many women who worked during the war in a society called Lotta Svärd that had women helping in the front line too but what got a bad reputation perhaps mainly because Russia, who won, wanted it to be so and the former members weren't allowed to talk about it or keep their uniforms and people started to believe they were in every way bad or loose women to begin with and that it was something shameful. But Finland was in a hurry to take big leaps in to the future. Mills, factories, dams, forest industry. Finland wanted it's share of fame. Alvar and Aino Aalto architects. Clean, straight lines, boxes and concrete. Typical Finnish architecture needed to be efficient, cheap and easy.
| | |
| --- | --- |
A quick jump to the past and to the future. Gradually we are fortunately getting rid of the thought that independence day is all about the second world war. It should be more and it is more. Finland has a rich past and nothing can stop us -future.
The Kalevala (Finnish: Kalevala, IPA: [ˈkɑleʋɑlɑ]) is a 19th-century work of epic poetry compiled by Elias Lönnrot from Karelian and Finnish oral folklore and mythology, telling an epic story about the Creation of the Earth, describing the controversies and retaliatory voyages between the peoples of the land of Kalevala called Väinölä and the land of Pohjola and their various protagonists and antagonists, as well as the construction and robbery of the mythical wealth-making machine Sampo.
https://en.wikipedia.org/wiki/Kalevala
Tuonela is one of the Finnish words for the underworld.
Then there's Helsinki. The capital of Finland. Of course there are other magnificent cities too, like Tampere where I live, but the art that the AI generated just looked like an ice and snowy Helsinki somewhere in the near future so that had to be the name. Helsinki is big enough to be interesting but small enough to relax and be alone too if that's what you want.
Those were the good ones.
I absolutely have to show you some of the bad ones too. The ones that you might think: "What the..." and "I have no idea how I'm going to wipe this away from my retina."
Here we go. :)
There's a polar bear anteater with a handle on top of it's nose, sniffing a boxing glove in Cottage Dreams on the lower left corner. Then there's a polar koala in the Polar Koala on the upper right corner. And a cyberswan and a two headed polar bear sheep whale in the middle of the Cybearswan.
You can't see it? Well there is!
Cybearswan was a "is this good or awful" but yeah, it's just awful.
I don't want to end this post with completely uncool art so I'll post another three set that arent' totally bad.
Huff & Puff Vehicles has a bunny pouring water out of a container and it's floating, opf course, as it the house ship over it and I think this actually isn't that bad but what I do not understand is that how is this image any way related to Finnish Independence day which I definitely had there every time.
Prosper in Peace is just weird, it could be great and it seems really patriotic but then again I'm not that much into patriotism because I have a brain so...
Winter spirit is kinda cool, it looks a bit like anime style and has some sort of winter figure in it and a joyful parade towards the figure, but then again it seems to have Norwegian or Danish flags in it so...
Okay, not gonna end with those either. I have more good ones but I don't want to put those images to this post because this post is also about Finnish Independence day which, I now noticed, has passed about 1 hour and 40 minutes ago since it's that much past midnight so it's not December 6th anymore, but who bloody cares.
No-one bloody cares!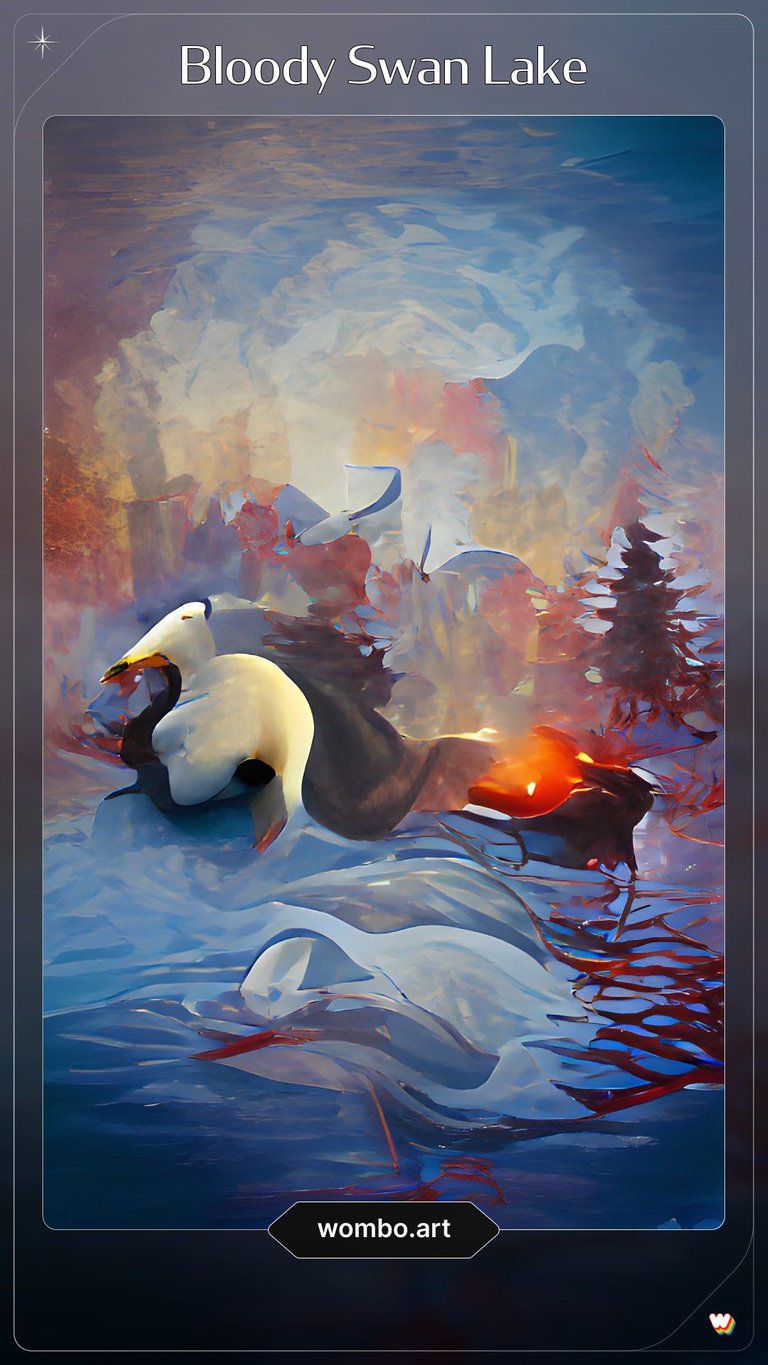 ---
---