Now that I have finished my exams, I have more time going about Hive doing some curating and engaging. This also definitely means I can continue the Initiative where you can share me links to any undervalued contents you find on Hive and if I like it, I would curate it and then write a curation post of the contents I curated. Though, I am only limited to curating 5 contents a day, so only 5 links under this post would be curated.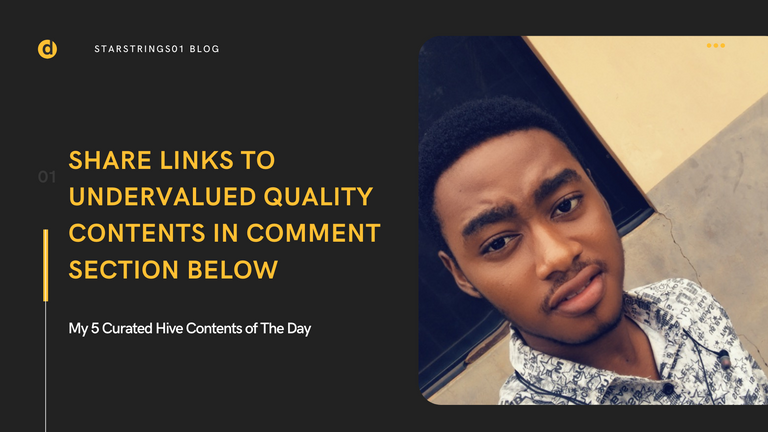 So, I would be sharing 5 contents I read and curated below, feel free to check the authors out.
---
https://peakd.com/hive-193816/@adreini/improvisation-in-cm-funk
---
This is a video content by @adreini jamming on a Cm progression. it is a well played jam running through the Cm scale. I got really interested in this as I am a musician and knows how difficult it is to be improvising and jamming over a progression and not just playing a known song.
---
---
https://peakd.com/hive-148441/@soyalex/espeng-feliz-dia-del-trabajado-a-esta-gran-familia-or-happy-labor-day-to-this-great-family
---
@soyalex wishes every worker a Happy labor day and extends extra gratitude to her parents and her husband. The content is an interesting one to read backed up with original images of her parents and husband.
---
---
https://peakd.com/hive-167922/@brutalisti/first-power-up-day-on
---
@brutalisti is about a month old on Hive and is partaking in his first Hive power up. He makes a powerup of a whooping sum of 220 Hive. This is awesome to see a newbie converting all his earned HBD for the month into Hive to power up. This shows he is on the long term run on Hive. Feel free to check him out.
---
---
https://peakd.com/hive-150329/@mrenglish/consequences-of-silence-the-need-to-speak-up
---
Here, @mrenglish shares his thoughts on the consequences of silence and the need to speak up. He shares a story of his colleague who lost someone dear due to not being able to speak up when need be. This is an interesting content to read, feel free to check it out.
---
---
https://peakd.com/hive-163921/@pashinni/bc-part-2-day-27-who-do-you-consider-family
---
@pashinni share who she considers family? she shares about her relationship with her family and also her friends especially the one who she considers very close like a sister. Feel free to check it out.
---
---
These are the total 5 content I came through and curated. I would love to explore other authors, so please feel free to share me links to quality undervalued contents to check out.


@aliento initiative by @eddiespino and @grisvisa

Click the banner to get redirect to SMILE server, or: https://discord.gg/wyhVUvt

---
All illustrations made by @tripode in Adobe Illustrator.
---
All images are mine except indicated otherwise
---


IF YOU LOVE THIS POST, YOU CAN KINDLY SUPPORT BY YOUR COMMENTS, REBLOG AND UPVOTE. IT WOULD BE MUCH APPRECIATED

THANKS FOR VISITING MY BLOG 😇💕