¿ARE THERE PROBLEMS TO DIE WITHOUT CHRIST IN THE HEART?
The human being has always reserved doubts about eternity because they mostly have the motto "after death nothing matters, everything ends" however to answer these questions it is necessary to go to the Bible the word of God that has the answer to all these questions
John 6:47
Truly, truly, I say to you: He who believes in me has eternal life.
(RVR1960)
Jesus assured his disciples that it was necessary to believe in him in order to obtain eternal life because he knew that the incredulity of many would deny them the right to obtain it and the only way to access eternity if they died was through him. However, many people also ask how to do it, but Jesus affirming what was said above tells them the following:
(Romans 10: 9-10)
that if you confess with your mouth that Jesus is Lord, and believe in your heart that God raised him from the dead, you will be saved. Because with the heart one believes for justice, but with the mouth one confesses for salvation.
(RVR1960)
In this way they believe in Jesus because the oral confession declares confirms and seals the belief of the heart, for this reason the gospel has universal application and demands to be spread throughout the universe so that all humanity recognizes Jesus as savior of the world.
Another argument that justifies and clarifies that there is an eternity after death is what the apostle John describes in the following verse:
John 11: 25-26
Then Jesus said to him, "I am the resurrection and the life. Whoever believes in me will live, even if he dies; and everyone who lives and believes in me will never die. Do you believe this
| NIV
In this statement there is no doubt that there is life after death and Jesus is the author of eternity to grant eternal life to man because he is the resurrection and the life
In this order of ideas, it is important to clarify that naturally, man is afraid of what he sees in this case, death, when they really should fear for the soul, for the spiritual, for what cannot be seen but which is a reality reflected in the Bible. for those who believe.
Matthew 10:28
Do not fear those who kill the body, but cannot kill the soul. Rather fear the one who can destroy soul and body in hell.
| NIV
Many people fear death and diseases that may touch it and naturally control is taken to avoid them, such as this case that today overwhelms the world about the pandemic caused by a virus that is not a bad thing to prevent and take care of, but nevertheless it does not take any forecasts about of eternal life that is more important since it will bring us a future problem to access eternal life.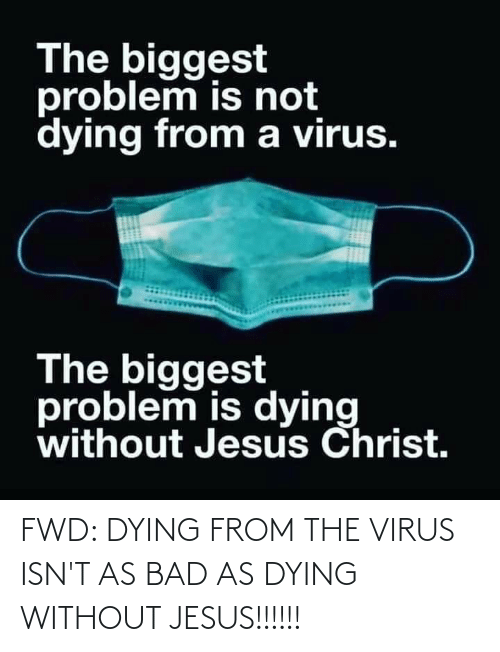 Source
Are there problems dying without Christ in the heart? Of course, there is a problem that is what the word of God determines. Anyone who dies without Jesus in their hearts will not see eternal life because he is the resurrection and the life and the word also affirms that it is necessary for every man to die for sin but Jesus is eternal life
<Romans 6:23
For the wages of sin is death, but the gift of God is eternal life in Christ Jesus our Lord.
(RVR1960)
Likewise, the Apostle John points out that God is the author of eternal life but it is in his son Jesus Christ.
1 John 5:11
And this is the testimony: that God has given us eternal life; and this life is in his Son.
RVR60
God finally loves us so much that he gave his son so that we could all access life but through Jesus Christ because there is no other way to obtain it
John 3:16
For God so loved the world that he gave his only begotten Son, so that everyone who believes in him may not perish but have eternal life.
RVR60
We need to take care of our lives, our bodies, but we also need Jesus in our hearts to access eternal life.
This message is reproduced on two technology platforms, in the Heartchurch community.
---
---