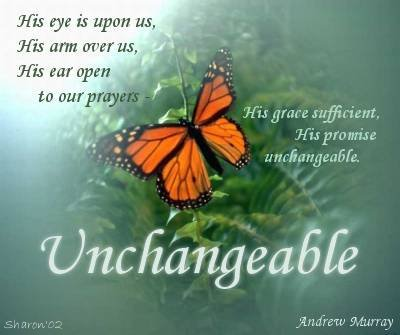 MALACHI 3:6
For I the Lord do not change; therefore you, O children of Jacob, are not consumed.
God has not changed and will never change. if God has ever helped you before, He still does and will always help you, He never ceases helping His children so don't be confused because God has not changed.
God is not man, that he should lie, or a son of man, that he should change his mind. What He says is what He does, and His promises for us stand firm, He can never and will never go back in His word.
Although His actions and dealings with each and every one of us may vary or change, He does not change. In His essential being, He is always the same.
It gives us relief that even though the world is changing constantly, our God is constant and never changes.
We all know that people change over time towards us by their attitudes and all, but God never changes and has not changed. He is still the same God we heard of in the days of Elijah, Abraham, Moses, and rest. That same God is still our God till today. His attributes, nature, character, and personality have never changed.
Everything and everyone might have changed right from the day we set foot into this planet earth till this day, but God is unchanging, He is constant.
God is unchanging. He has been complete for all eternity. He has not changed His mind about our future. He still has us in plan and does not change. So be rest assured that God has never chnaged neither His promisses concering your life.