Then man will say: Certainly there is a reward for the just;
Certainly there is God who judges on earth. Psalms 58:11 Reina-Valera 1960 (KJV)
It may happen that looking at your environment you find people who unfairly prosper because they use their job position or privileges that a government body can grant them.
Perhaps there will be situations where you have been the victim of a bad decision by a judge who is corrupted by receiving a certain reward that damages those who are fair and benefits those who really must pay the cause of their error. All this creates disappointment and discouragement when we have to face a society that has all its values ​​and principles extorted.
In the times of the prophet Malachi, the people complained so much to God, because there was so much injustice that they said that the proud were blessed, they prospered, they tempted God and escaped from the wrath of God "(Malachi 3: 13-15). However, King David reminds us in the word quoted at the beginning of this message that, "Certainly there is God who judges on earth." God is a supreme judge who in due course will call all men and lesser judges to account before the great white throne (Revelation 20: 11-15).
As much evil and corruption that Christians can see in our environment, David reminds us that, "Certainly there is a reward for the righteous." We must not lose heart in doing good, because in due course we will reap a great reward.
In Psalm 18:20, David says: "Jehovah has rewarded me according to my righteousness;
According to the cleanliness of my hands he has rewarded me ".
Our duty as a Christian is to practice divine justice, protected by God's law, and walk with an upright, pure and clean heart, in order to receive the great reward that God has promised to all who love him. God has promised the "Crown of Eternal Life." God will justly reward his children and deliver them from the arrogance of the wicked.
Then man will say: Certainly there is a reward for the just;
Certainly there is God who judges on earth. Psalms 58:11 Reina-Valera 1960 (KJV)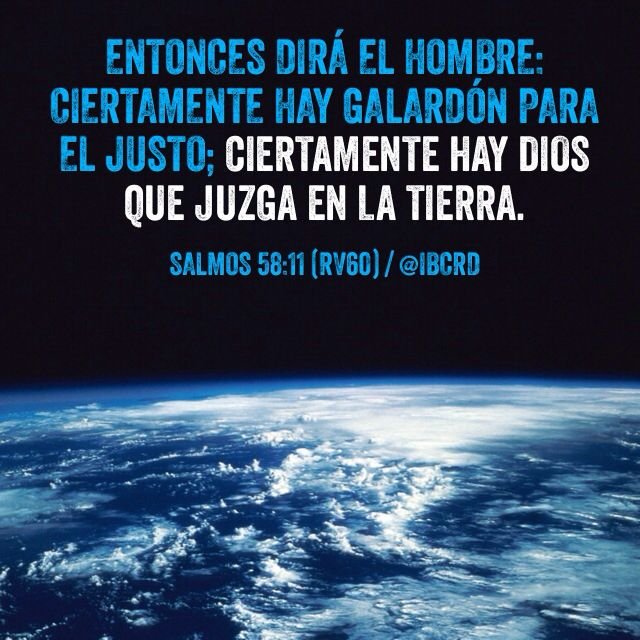 Imagen source