The peace of God be with you. Today I want to share a set of biblical portions that will encourage us in those moments when they appear in our paths, real obstacles that will try to prevent us from moving forward and reaching the goal of life that we have set for ourselves.
They are words of encouragement to regain strength when it seems that we cannot continue in life.
When we are about to stop our progress toward the goal, let us not forget that God is with us. Our best friends and family may leave us, but God never.
Do not fear, because I am with you; do not lose heart, because I am your God who strives you; I will always help you, I will always support you with the right hand of my justice. Isaiah 41:10 (KJV)
If something wants to stop us and prevent us from continuing in God's purpose, the Lord tells us "Do not fear." Let's not allow fear to hold us back, let's trust that "the one who is with us is more powerful than the one who is outside." God promises His continued presence in our lives, He said, "I am with you." Beloved brother, in this walk with the Lord we are not alone, He promised to be with us all the days of our lives. There is no reason to be afraid of the circumstances that we face, no matter how giant the problems, the same Spirit that was with David to bring down Goliath, is the same Spirit that is in you and in me, to bring down the giants that stand in our way.
If we find ourselves without strength to face the wall that tries to stop us, the Lord encourages us in his word and tells us: "because I am your God who makes you strive; I will always help you, I will always support you with the right hand of my justice ".
God promises to give us strength, and if we persevere until the end of the goal, God will take care of providing all the way to the goal, whatever it takes. God will sustain us and never forsake us, because his throne is full of righteousness, and in the end he will give us our glorious reward.
Don't stop, keep going! May God bless you more.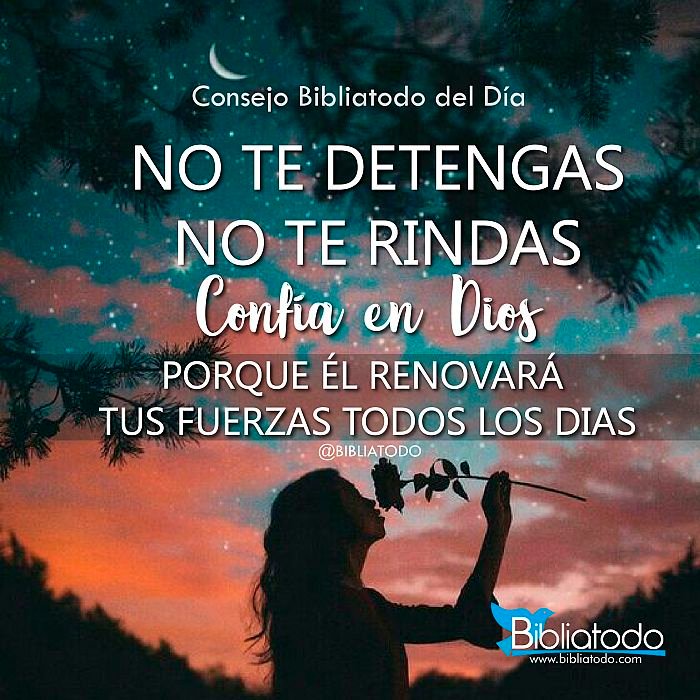 Imagen source