Today is my first performance with @steelparade since COVID-19 kicked in over here in California.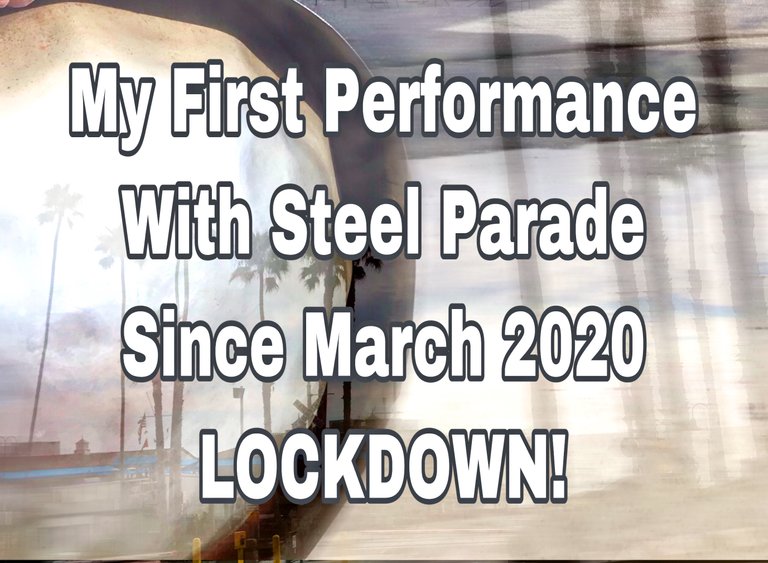 TODAY IS AUGUST 13 2020!
My destination is San Clemente. The venue is a restaurant. We will perform from the front porch area that's next to the sidewalk. Patrons will be eating on the temporary tables. Technically, the tables are on the street and on top of curb height risers. Most restaurants in the SoCal are have pivoted for COVID-19 by put seats in the streets. Most have barricades, but it still looks temporary.
"Pivot of die" someone on NPR said while referencing the food industry. Southern California is lucky to have weather that's nice enough to allow for this type of pivot. It's all status quo. I have't seen any NEW double drive throughs. I've seen adaptations for food delivery services, but no double drive throughs.
Our venue is located across from the San Clemente pier. I used Google maps for reconnoissance and then sent this video to the guys in the band. (Audio on, enjoy the video's music, it's us from an acoustic trio gig.)
https://3speak.online/embed?v=steemseph/uytszfmh
From the looks of the video, parking will be dumb. Typical beach area tourist spot. It was built long ago and they didn't expect all these people.
Showing up early is key to minimize stress and disorganized hosts/clients. We are scheduled for 3. If I leave by 12 or 12:30, I'll have time to figure-out the parking situation. Let me just double check the start time... oh shit.
THEN THIS HAPPENED!
After all these confirmations! I still had to confirm the times the day of. I woke up thinking the start time was 3!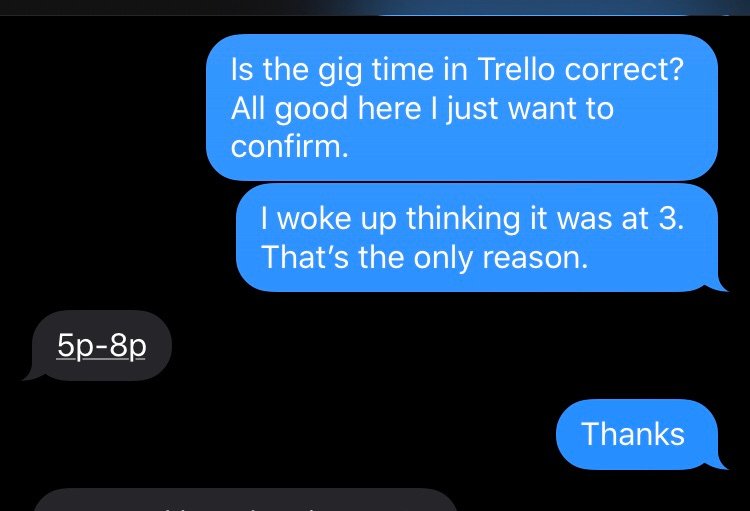 <

Better to ask than risk it.
By the way, I'm Joe.
I'm the text in blue.
The other is Phil.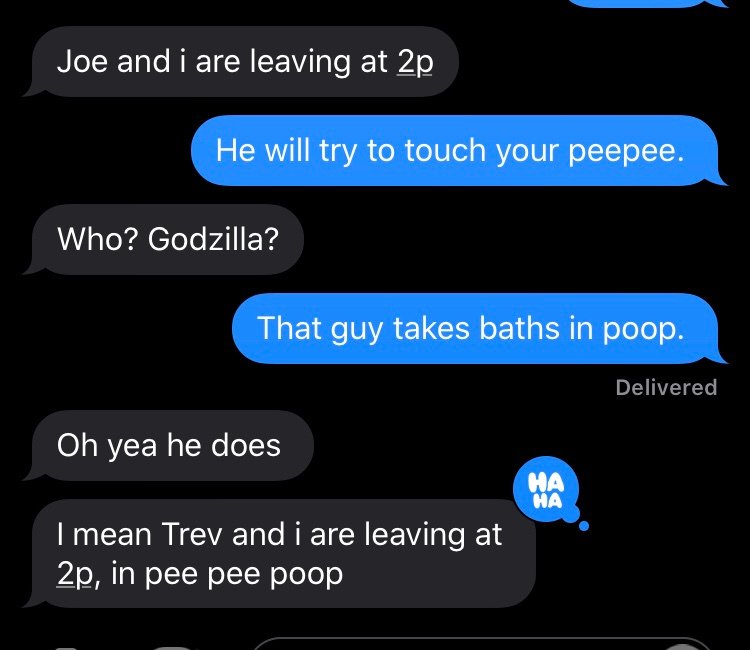 LOL, he used my name instead of Trevor's.
It's a little casual during prep, but we are professionals when it comes time to perform. Our past clients will speak for us.

Oh, and then I noticed my fish friend had eaten his own fins. Sad. I am sad. We don't deserve to hold animals captive as emotional support or entertainment. We have cellphones now. Cell phones defiantly don't have feelings. Tending for my little friend was not a fun moment. He has mutilated himself. Shame on me.

D'OH! Distractions! I NEED TO LEAVE NOW!

I have good habits. My car is preloaded. I always load the heavy stuff early in the day and take the instruments to the car on my final walk out of the house.

I have lots of gear with me today.

COVID-19 type traffic wasn't too bad.

COVID-19 traffic is less congested. Before COVID-19, it was traffic/congestion all the time. Every where, everyday, the specific 20-30 bottle neck locations, fuckin' always. 405, 91, 605, 5, 101, 110, 105, fucking stupid. WTF year is this? WTF did people put up with it? Munnie. I would be glad to stay home and see what it's like to almost be free.

Me and your gardeners love our neighbors houses. The neighborhood is quiet.

More high speed accidents have been reported and I believe it. There are lots of reckless people racing in and out of lanes/merge areas at excessive speeds. They usually drive a new Transformer car or a tricked out truck with crazy rims. It's dumb. People are disturbed here. People forgot how to wait.

Lot's of beautiful sky on my dirty windshield drive.

I drove faster than I wanted, but I did it legally and in the fast lane. This is not a good practice. I'm almost just as bad, almost. Technically, I consider myself late. I usually want to be at the location 1 and a half hours before the downbeat... and even that would be considered risky by some free lance veterans.

I blend in... a little. Slight cultural nuances appear, but nothing threatening. I've been here a million times already. Most of the other skinny, hairy dudes left as we started to perform. I hope I didn't intimidate them with my actually IDGAF appearance. We are in a band and we actually do need to look this way. It's what people want to pay for. It's a sheltered area. Opposites and parallels are interesting to ponder while compared to DTLA. I'll refrain here, but sociological pondering is fun to me.

Gear is ready and I need to meet the guys at the venue quickly.

No need to bring the amp today. I will plug the bass guitar into the small vocal PA. People like it. I think it cuts into the vocal's head room.

This is me walking to the performance location. This mask I am wearing is the best I have ever used. I could make some improvements, but it's the best.

✅ The nose piece is strong and durable.

✅ The cloth is like a woven sock inside.

✅ The elastic straps are of high quality and they go all the way around like most N95s do. This is essential for big cheesy beards.

I'm wearing a mask. It's about 50/50 here. It's a small town. They can probably get away with it for a day or two. Lockdown has probably served them. I don't think most people would drive all the way over here to San Clemente during lockdown, just to visit the beach. Plenty of other beaches between. We'll see... I guess?

Quarantine is a privilege.

I meet the set of the guys in Steel Parade and we start to setup. While we get ready, Phil's ol' friend Smoothie Jones educates us about the hard to know local history of Reggae. All of us in SoCal should be grateful for his promotions, productions, and support to the growth of Music from Trinidad and Jamaica... as far as I can tell... we traded contact info and I'm curious to see what services we can provide or each other. I might help him get a historically accurate forum for is knowledge.

Good conversation, and good setup. Let's walk back and get dressed.

Parked without paying. It was an accident. I got away with it. Security seemed very relaxed here. Lots of people doing things that people in my neighborhood would not get away with. San Clemente is a cute island. I'm grateful to be welcomed/blend in.

AH! Neds hair is under my mask!?! PEeewWy!

No, it's a beard squashed under a mask because it's fun. I chose the worst year to grow a beard for 8-9 months. My cat likes it. I liked it when it wasn't 94 degrees outside. Here we are walking back to perform after getting our shirts.

I found these sunglasses. Maui Jims are better. I miss them.

The steel drum and tubano are with us. My bass is already setup on stage.

This is Trev wearing a fresh shirt and holding a tubano:

Trevor has a chin and neck that is similar to the way mine was. I expect to have a glottal after I shave. Beards are heavy after a while. It's probably stretching my neck skin...

In the image below, we are seeing the bottom of the steel drum. The lighting reveals the notes that people don't alway see. It's like turtle shel, right. Each of those little circles and flat spots on the bowl shape are the notes. Big notes make a lower pitch and the small notes make a higher pitch. I skilled person hammers all that with fines and skill.

The musical trio will consist of steel drum, percussion, bass, and vocals.

Phil sings the lead while playing the steel drum. I sing the harmonies while playing the electric bass guitar. Trevor is playing percussion on two tubanos.

Phil makes a few adjustments and we get ready to perform. I hope he records the performance.

We are completely set up and it's time to ask the house to turn off their music. That's Trev again in the image above. He's not nervous. He knows how to cut people in half. I'm glad he is here.

I know, I know... you've read all that, I don't have music at the end of this post, and now you might be disappointed. I'm sorry. I tried. It didn't work out.

You can see 23 seconds. Poor signal quality and the distracting nature of managing a camera while playing the bass AND singing is difficult. Who does it better?

Enjoy the live music from our second to last performance before COVID-19 hit. March 6th was the performance date and it was also the @SOCALHIVE family's meetup at Taco Surf.

Thanks for the support. I will eventually buy some stuff to make it easier to entertain. For now, I'm grateful to pull it off with an iPhone 7 and MacBook. I'm grateful for your upvotes and tips.