Homemade Study Snack + Recipe 😋🍪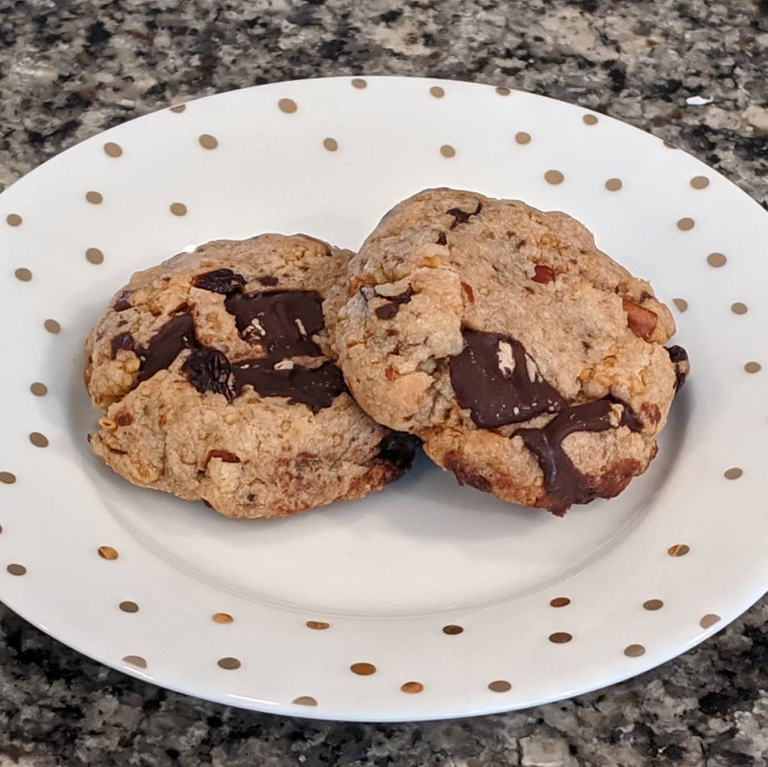 Hey everyone! Sorry if I become a little inactive on here, my exams start next week here in New Zealand. All seniors in NZ have exams at the same time. My statistics exam is first, so I've been busy preparing for that.
When you feel unmotivated to study it's always good to reward yourself after completing goals, one small step at a time. So I baked some chocolate chip study snacks haha. 🙃
---
The link to the recipe is here https://www.displacedhousewife.com/everything-chocolate-chip-cookies-from-the-cookie-book/
I'll also post it here:
Ingredients
10 tablespoons (143 g) unsalted butter
1 1⁄3 cups (293 g) light or dark brown sugar, packed
1⁄3 cup (67 g) granulated sugar
1⁄2 cup (118 ml )sunflower seed oil or other neutral oil
2 large eggs, room temperature
1 tablespoon (15 ml) real vanilla extract
2 cups (272 g) all-purpose our
1 cup (136 g) bread flour
1 teaspoon baking powder
1 teaspoon baking soda
1 teaspoon sea salt
2 cups (240 g) dark chocolate, coarsely chopped
1 cup (60 g) puffed quinoa
1 cup (140 g) dried tart cherries
3⁄4 cup (91 g) pecans, toasted and coarsely chopped
Sea salt flakes for dusting on top, optional
Instructions
Preheat your oven to 350°F (177°C). Place a rack in the top third of the oven at least 6 inches (15 cm) from the heat source and cover your baking sheets with parchment paper.

Put the butter in a medium saucepan and melt over medium heat. Once melted, crank up the heat to medium high. Continue stirring and look for small golden bits that will start to settle on the bottom of the pan. It will smell deliciously nutty and caramel-y. This should take around 3 to 5 minutes. Once this happens, take it off the heat and pour into a large, heat-safe bowl to cool a bit.

When cooled slightly, whisk in the brown sugar, granulated sugar and oil. Once smooth, add in the eggs one at a time, completely mixing in the first before adding the second. Whisk in the vanilla until blended. Be sure to scrape down the sides and bottom of the bowl to make sure everything is incorporated.

In another medium bowl, whisk together the all-purpose flour, bread flour, baking powder, baking soda and sea salt. Add this to the brown butter mixture and mix until just combined and you still see streaks of flour. Add in the chocolate chunks, quinoa, cherries and pecans and continue to blend until just combined. This dough is loaded with goodies and some may have a hard time adhering to the dough. Just force them back in there.

Gently roll 2 tablespoons (28 g) of dough into a ball. Place the dough balls on the covered baking sheet about 2 inches (5 cm) apart and press down slightly to form discs. Sprinkle each with a pinch of sea salt flakes, if using.

Bake one sheet at a time for 11 minutes in the top third of the oven. Let the cookies cool for 10 minutes on the baking sheet, and then transfer to a rack to finish cooling.
🍪 🍪 ~ Thanks for viewing !! ~ 🍪 🍪
---
---