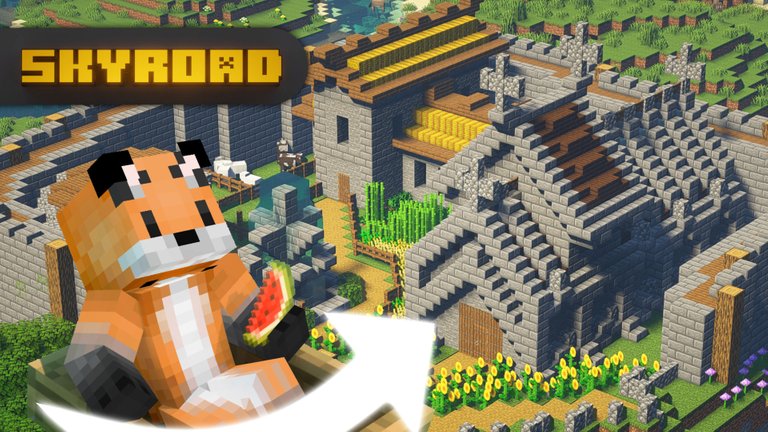 Welcome to the build contest results of the Minecraft server @skyroad (join.skyroad.me).
Herzlich Willkommen auf einem Bauevent Ergebnis Beitrag des Minecraft Servers @skyroad (join.skyroad.me). 
---
If you want, you can join the next build contest, join us every sunday at 14:00 o'clock in the timezone UTC+2. Topic voting starts a day before. After start, everyone can build up to 9 hours until 23:00 o'clock. Usually, the contest starts soon after this post has been published.
Wenn du möchtest, kannst du bei dem nächsten Bauevent mitmachen, jeden Sonntag um 14:00 Uhr geht es bei uns los. Die Themen Abstimmung findet einen Tag vor dem Bauevent statt. Jeder kann nach dem Start des Bauevents 9 Stunden (bis um 23:00 Uhr) bauen. In der Regel startet der Wettbewerb kurz nachdem dieser Beitrag veröffentlicht wurde.
---
Rank
Available Rewards*
1st
> 25 EP
> 10 Hive Power
2nd
> 20 EP
> 5 Hive Power
3rd
> 15 EP
> 4 Hive Power
4th
> 10 EP
> 3 Hive Power
Other participants
> 3 EP
> 1 Hive Power
*You can select only one of the rewards that are in the list. Default selection is Hive Power.
Rang
Verfügbare Belohnungen*
1.
> 25 EP
> 10 Hive Power
2.
> 20 EP
> 5 Hive Power
3.
> 15 EP
> 4 Hive Power
4.
> 10 EP
> 3 Hive Power
Weitere Teilnehmer
> 3 EP
> 1 Hive Power
*Es kann nur eine Belohnung aus der Liste ausgewählt werden. Standardauswahl ist Hive Power.
---
Here are the results of the last build contest with the topic "Village" from last Sunday.
Hier sind die Bauevent Ergebnisse des letzten Bauevents zum Thema "Dorf" vom letzten Sonntag.
---
This event has been rated by
@flyerchen
, the videos were made by me.
Dieses Event wurde von
@flyerchen
bewertet, die Videos wurden von mir gemacht.
---

join.skyroad.me



Transaction











I hope you enjoyed this post. Also if you like to write a comment, I read everything for sure.
Until the next build contest and keep it up! =)
@immanuel94
Ich hoffe, dass euch dieser Beitrag gefallen hat. Schreibt auch gerne einen Kommentar, ich werde alle Beiträge lesen.
Bis zum nächsten Bauevent und macht weiter so! =)
@immanuel94
---
The buildings that are shown here can be loaded using HiveCraft.
Die Gebäude, die hier gezeigt wurden können mit HiveCraft geladen werden.
---
/play immanuel94 be-village-1