I found this hanging in a tree around my home when I moved to Georgia, the previous owners must have had it up but it was quite weathered and I do not think any birds would want to make a home in it. The roofing had alot of rot in it and rain would get inside the house quite easily. I took it down from where it was hanging in a tree and got to fixing it.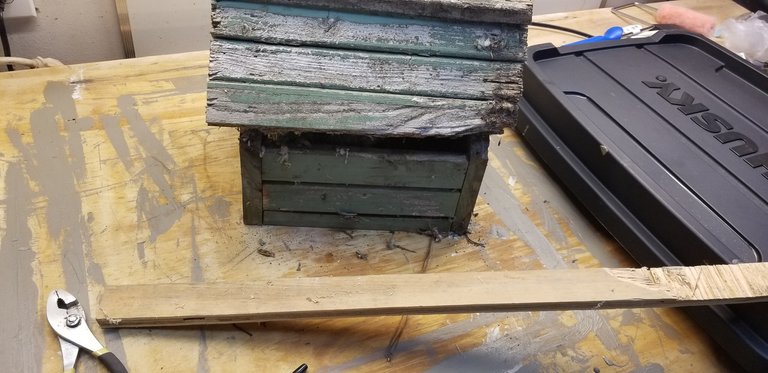 The wood slats that made its roof had various areas of dry rot. I had to remove these slats and put in new ones in a few places, a couple were spared but needed chunks taken out and a filler wood placed in their gap.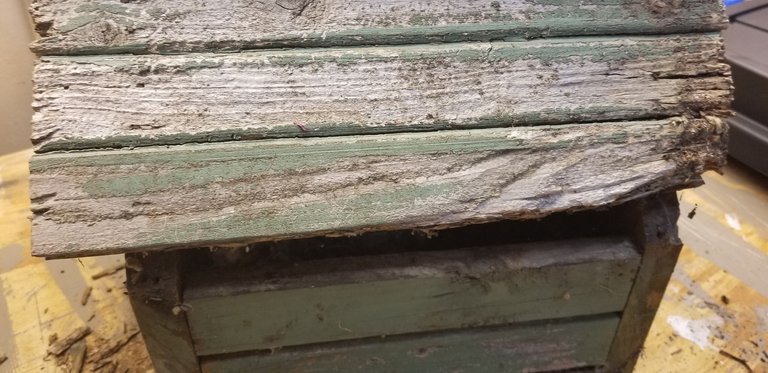 I wonder when this birdhouse was built. It must have already been at least ten years old by the time I saw it. The elements have really done a number on it.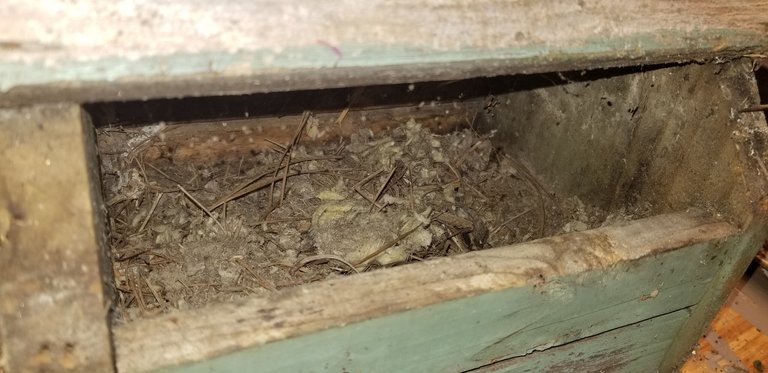 Inside some nesting material can be found, along with some yellow insulation found in houses. I was not expecting to see that.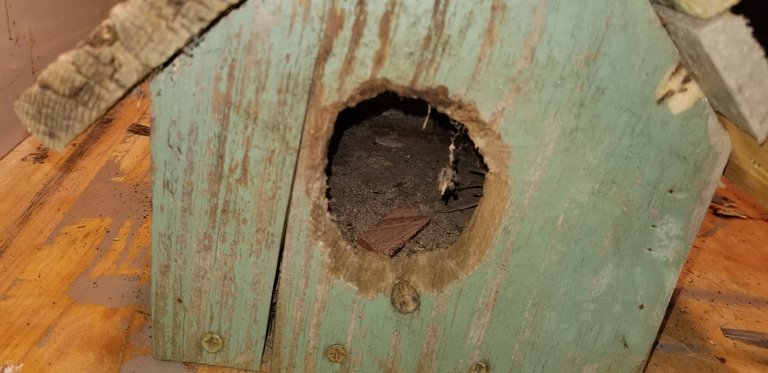 The hole to the entry of the bird house appears to have been enlarged. Looks like an animal did this, I wonder if a big bird wanted to make a home in it at some point. But could not fit with whatever hole the builder drilled into it.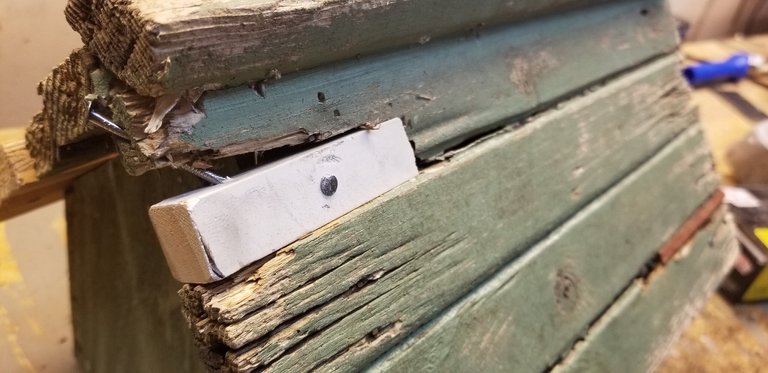 Where parts of the dry rot occurred I removed the wood and replaced it with some scrap cutoffs I had from left over projects. I used two nails to hold it in place. Once painted the nails are probably not even needed as the paint will act as a glue a little bit.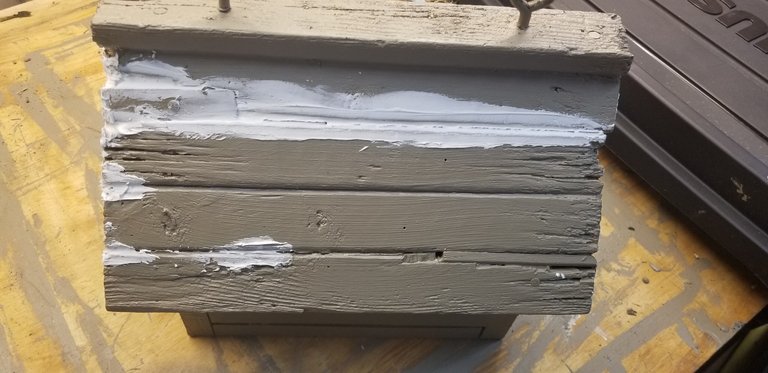 Once the roofing slats and large gaps of wood are filled, I get to putting the first coat of paint on the bird house. Its previous color was green but so faded it did not need to be sanded off. I just painted over it as most of it has fallen off by this point. I filled in any gaps with some caulk and let it dry overnight.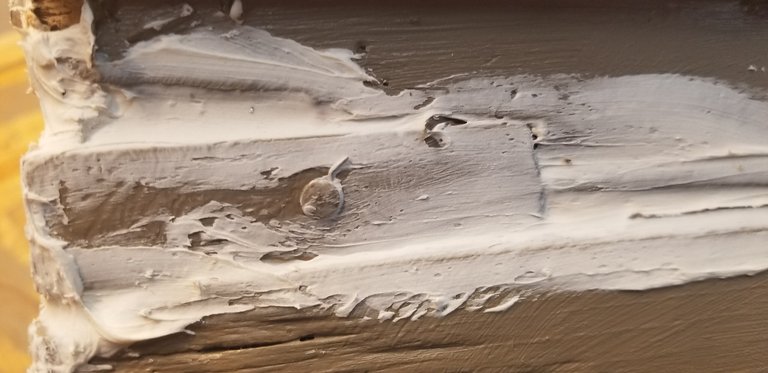 I applied three more coats of paint, using generous amounts since it will be outside all the time. Between the caulking and the paint it sealed up the roof quite nicely.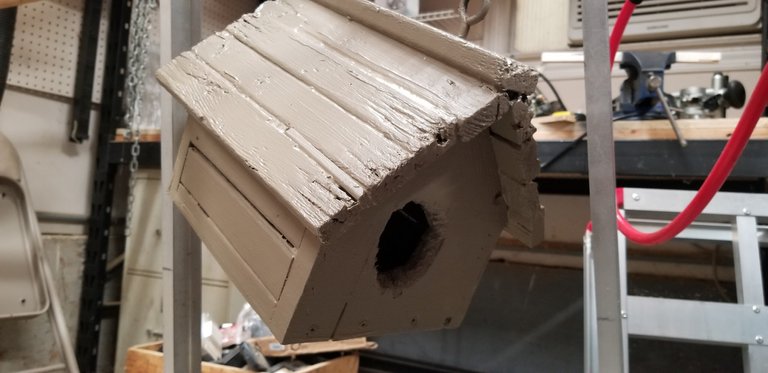 You can see where the large gap of dry rot was removed and the gap was filled with a piece of scrap wood held in with nails. Using the caulk and paint its almost like it was never removed.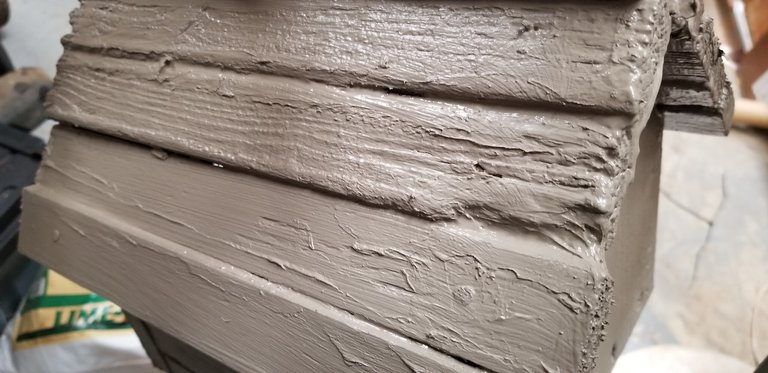 Using generous amounts of paint I was able to form a skin over the slats, I hope this will hold up for a decade or longer.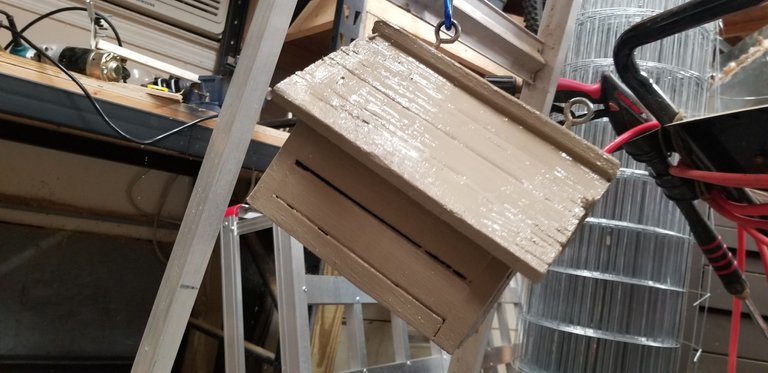 When drying I would hang it from a ladder so air could get all around the birdhouse. I painted the bottom of it too so placing it on the ground for drying would take longer.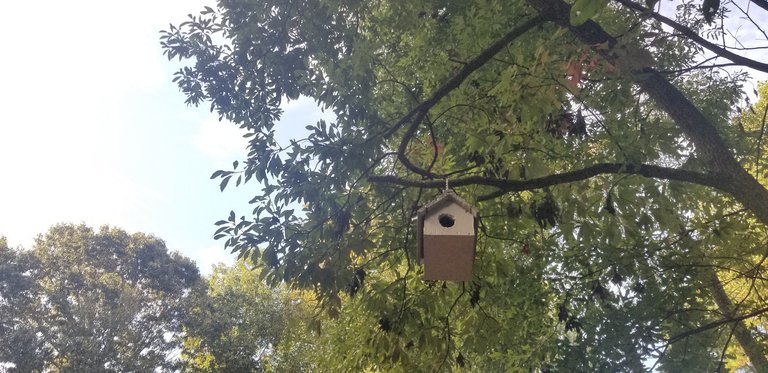 I eventually got it set up in the tree, using some chain and steel wire ties I made a loop for a tree branch to hold it. Using an bamboo rod I lifted it up high and placed it in the tree.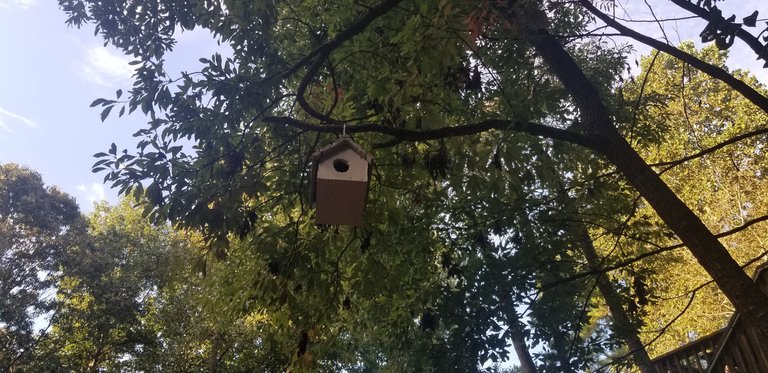 When I found the birdhouse originally it was only a few feet off the ground. I hope the birds like it much higher now since I placed it on a tree branch about fifteen feet or so up high.
---
Addresses below to help me buy better camera equipment and support me to travel to locations to do photo and video and overall great blogs in new places.
| Coin | Address |
| --- | --- |
| BTC: | bc1qhfmvd2gywg4fvrgy2kkkkyqta0g86whkt7j8r7 |
| LTC: | ltc1qdyzm5cwgt8e2373prx67yye6y9ewk0l8jf3ys9 |
| DASH: | XkSqR5DxQL3wy4kNbjqDbgbMYNih3a7ZcM |
| ETH: | 0x045f409dAe14338669730078201888636B047DC3 |
| DOGE: | DSoekC21AKSZHAcV9vqR8yYefrh8XcX92Z |
| ZEN: | znW9mh62WDSCeBXxnVLCETMx59Ho446HJgq |