With her latest post Feathered Friends- failed photos @melinda010100 gave me the idea that I could also make a post from the photos that are actually not suitable for the public - thank you 😊

She is also absolutely right when she says that a lot of bad photos have to be taken to get one acceptable photo of a bird.

@melinda010100 hat mich mit ihrem letzten Post Feathered Friends- failed photos auf die Idee gebracht, dass ich auch aus den Fotos, die eigentlich nicht für die Öffentlichkeit geeignet sind, einen Beitrag machen könnte - dankeschön 😊

Sie hat auch vollkommen recht, wenn sie sagt, dass für ein akzeptables Foto eines Vogels viele Fehlfotos gemacht werden müssen.
Birding: Fails and Misses
Feathered Friends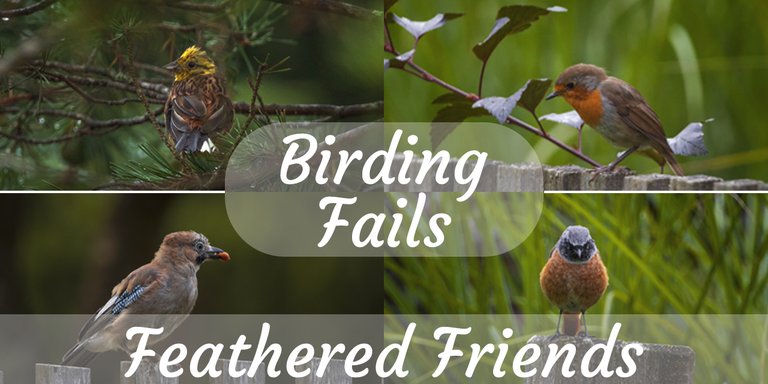 | | |
| --- | --- |
| I have to say, apart from the obviously failed photos, what annoys me the most is this crooked old wooden fence in the photos I took at home with my parents. | Ich muss sagen, abgesehen von den offensichtlich misslungenen Fotos, stört mich am meisten dieser schiefe alte Holzzaun auf den Fotos, die ich zu Hause bei meinem Elternhaus aufgenommen habe. |
Yellowhammer - Goldammer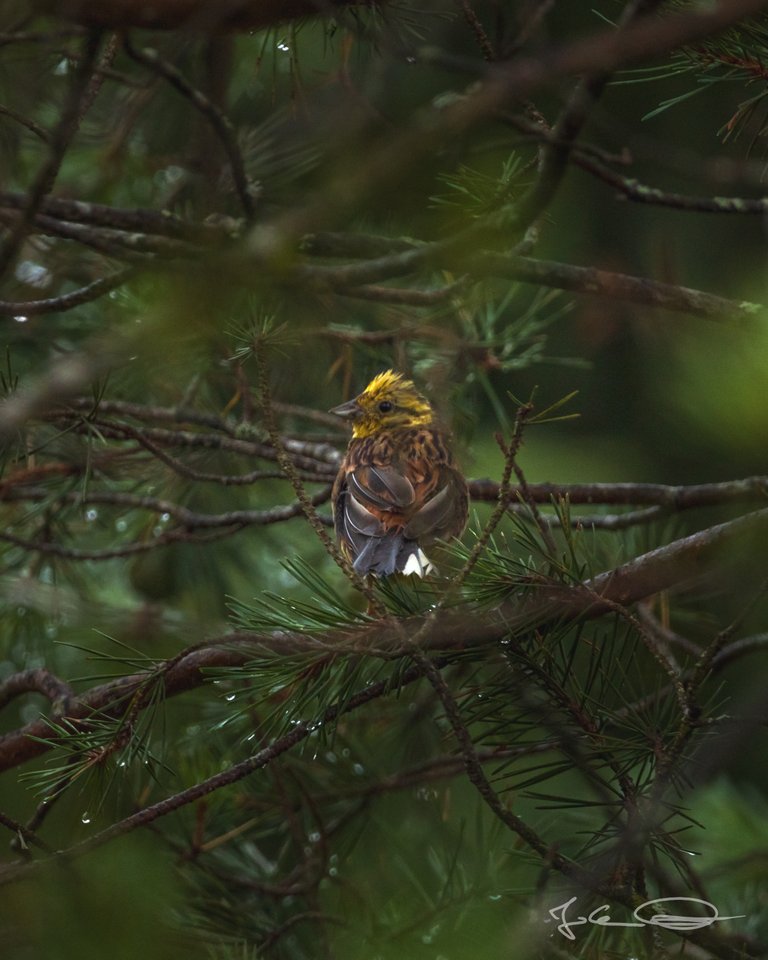 ❖ click the image for fullsize view ❖
| | |
| --- | --- |
| I usually photograph birds in automatic aperture mode, which means that I set a fast shutter speed of 1/250 seconds or faster and the camera automatically selects the appropriate aperture. I prefer ISO100 as ISO value, but depending on how much light I have available for photography, I also set a higher ISO value. Because of the resulting ISO noise, I only go as high as is absolutely necessary to achieve an acceptable exposure. | Ich fotografiere Vögel meistens mit Blendenautomatik / Zeitvorwahl, das heißt, ich stelle eine schnelle Verschlusszeit von 1/250 Sekunde oder kürzer ein und die Kamera wählt die passende Blende automatisch. Als ISO Wert habe ich am liebsten ISO100, aber je nachdem, wieviel Licht ich zum Fotografieren zur Verfügung habe, stelle ich auch einen höheren ISO Wert ein. Wegen des dadurch entstehenden ISO Rauschens gehe ich nur so hoch wie unbedingt erforderlich, um um eine akzeptable Belichtung zu erreichen. |
---
Eurasian Jay - Eichelhäher
| | |
| --- | --- |
| In addition, I usually also set the camera to take quick series of shots (burst mode), because then each time I press the shutter button, several photos are taken in quick succession. There are of course many bad photos by using this method, but there is also a greater chance that one of the photos will be sharp. | Zusätzlich stelle ich die Kamera meistens auch noch schnelle Reihenaufnahmen ein, weil dann werden bei jedem Abdrücken mehrere schnell aufeinanderfolgende Fotos gemacht. Hier ist der Ausschuss natürlich auch groß, aber auch die Chance größer, das eines der Fotos scharf ist. |
---
Eurasian Blue Tit - Blaumeise
---
European Robin - Rotkehlchen
Das Rotkehlchen
Friedlich sank der Abendschein
Hinter fernen Gipfeln,
Nur ein kleines Lied allein
Klang noch aus den Wipfeln.
Und was dieser Vogel sang
Mit der rothen Kehle,
Zog mit gleichgestimmtem Klang
Mir durch meine Seele.
Als es tönte mild und weich
Und wie sanfte Klage,
Da gedacht' ich wehmutsreich
Jener schönen Tage.
Die begrenzte Jugendzeit
Schwand mit schnellen Flügeln
Wie das Abendroth so weit
Hinter jenen Hügeln.
von Heinrich Seidel
| | |
| --- | --- |
| The robin just looked too sad to me. | Das Rotkehlchen hat mir einfach zu traurig ausgesehen. |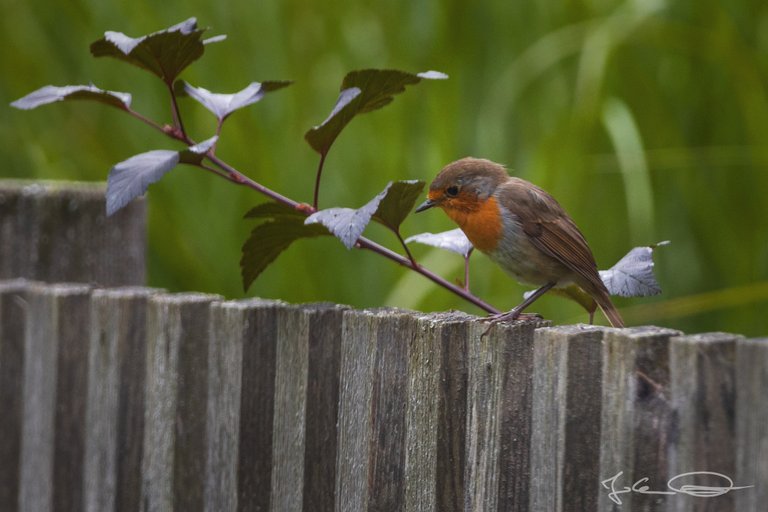 ❖ click the image for fullsize view ❖
How dare the robins sing
How dare the robins sing,
When men and women hear
Who since they went to their account
Have settled with the year! —
Paid all that life had earned
In one consummate bill,
And now, what life or death can do
Is immaterial.
Insulting is the sun
To him whose mortal light,
Beguiled of immortality,
Bequeaths him to the night.
In deference to him
Extinct be every hum,
Whose garden wrestles with the dew,
At daybreak overcome!

by Emily Dickinson
---
Common Redstart - Gartenrotschwanz
female / male
| | |
| --- | --- |
| The female Redstart had just spotted me, stared at me for a second and had flown away in the next second. | Der weibliche Gartenrotschwanz hatte mich gerade entdeckt, starrte mich kurz an und war in der nächsten Sekunde auch schon weggeflogen. |
---
Unkown Bird - Unbekannter Vogel
| | |
| --- | --- |
| I searched for quite a while, but unfortunately could not find out which bird it is. But it is probably too easy and I searched too complicated. | Ich habe lange gesucht, aber leider nicht herausfinden können, um welchen Vogel es sich hier handelt. Wahrscheinlich ist es aber zu einfach und ich habe zu kompliziert gesucht. |
| | |
| --- | --- |
| So, these were the bad bird photos from 2019. The rest of the bird photos never made it to Lightroom or Photoshop. | DSo, das waren also die schlechten Vogelfotos aus 2019. Die restlichen Fotos haben es gar nicht nach Lightroom oder Photoshop geschafft. |
Information
All photos were shot hand holding the Canon EOS R Camera and the telephoto lens SIGMA 150-600mm F5-6.3 DG OS HSM C.
---
If you like my photos I would appreciate an upvote, nice comment or a resteem 😊 ... and maybe you would like to follow me, so you do not miss a post from me anymore.
Thank you for visiting my blog,
have a nice evening,



Photos and Text: Johann Piber | All rights reserved - do not use without my permission
#originalcontent #originalworks
2020-01-24