Bunnies, Breakfasts and beautiful Blooms by a Buzzy Silver Bee

Loving Autumn and Loving Life as a Silver right now; there are many benefits, such as doing stuff as and when you can, not being restricted to lunchtimes or weekends!
So, hubby now often pops into the restaurant next to his hairdresser where they serve some of the best Bunny Chows in town.
He comes home well groomed and well-fed at the same time; no wonder when you look at the size of this meal; a quarter loaf of bread filled with a spicy Lamb curry, aka Quarter Lamb Bunny Chow!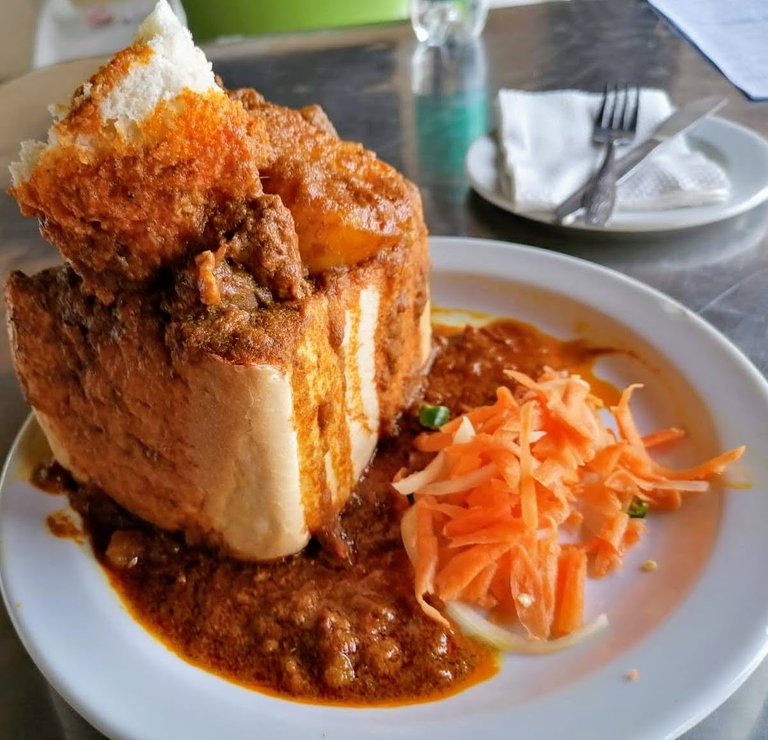 A Bunny Chow is a Durban Specialty, served in Indian Restaurants, and there are many legends around their origin...
Some say this was an invention of neccesity; serving curry inside a loaf of hollowed out bread so that sugarcane workers had an edible receptacle for their lunchtime meals.
Another legend says that it started with the horrid Apartheid system whereby only whites were allowed inside restaurants, but a clever chef came up with the idea of smuggling curry out by hiding it inside a loaf of bread and giving it to the sugarcane workers through the kitchen window.
One is supposed to eat a Bunny Chow by hand, but I still have not mastered that art so also use cutlery when eating this delicious curry soaked bread.
I prefer a takeout Broad Bean Roti as I've been nursing soon-to-be 90 year old Mom Lily who fractured her ankle and still is battling to walk on her own again!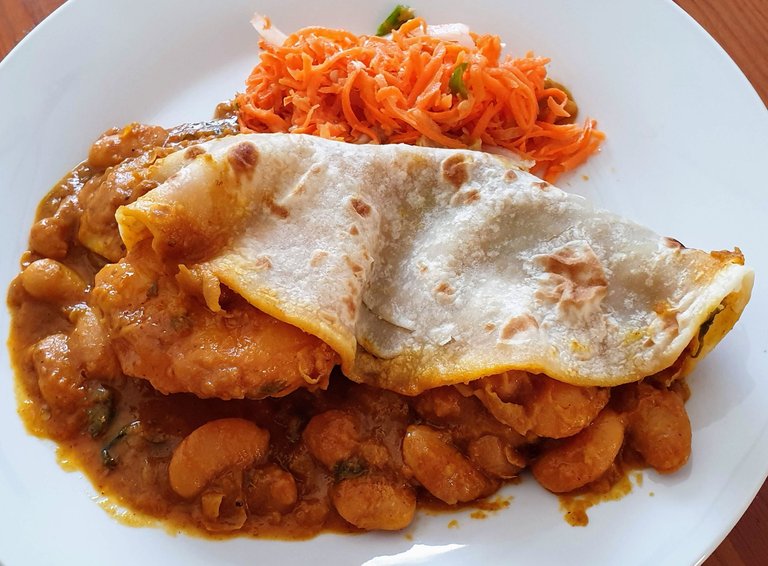 Nothing like enjoying a glass of a good South African Cabernet Sauvignon red wine at the end of the day to relax and contemplate the happenings of the day; of which there have been many, some really disturbing and a little too close to home these past few months!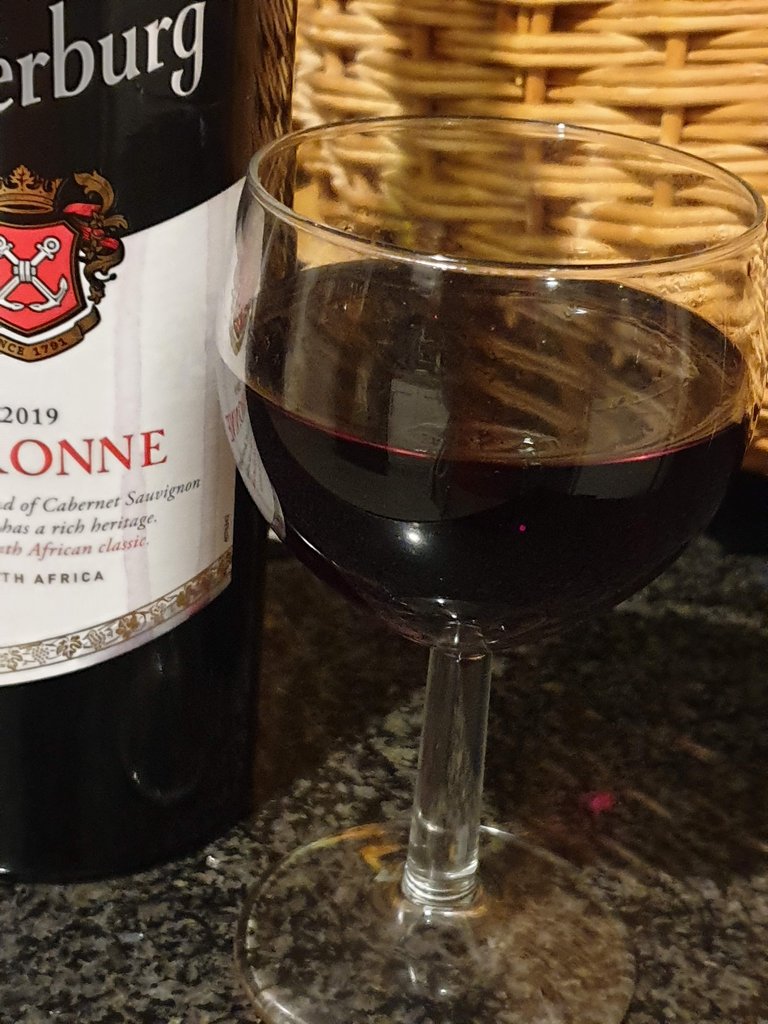 ---
Despite threats and talk of a Covid third wave, our little BnB Lily's Cottage is still being kept busy with business guests from all walks of life coming and going with some of our leisure guests slowly returning.
Everyone knows that the tourism industry was one of the hardest hit industries by Covid, so we feel especially thankful for being kept busy.
In order to keep contact with guests to the bare minimum, we've been offering self-service Continental Breakfasts by leaving all the breakfast provisions in their units.
Some guests however still want a hot cooked breakfast, often very early as they're here for business and need to get on the road early.
So this old Silver gal who is NOT a morning person, does as much prepping the night before, which also offers the opportunity of providing something a little different to the usual Bacon & Eggs.
This week we had a Meat lover and a Lacto-Ovo-Vegetarian (eats eggs and dairy products but no meat), so it was a little more work, but food prepping has never frightened me; in fact I do enjoy a challenge, just not too early in the morning!!!
I made crustless mini Ham & Cheese Quiches as well as Spinach & Feta Quiches the night before as well as a Basil Tomato & Onion Sauce, both quick to heat up in the microwave. All I had to cook with sleepy eyes still half closed, was Pork Sausages and Vegan Sausages.
The guests thankfully were happy I must say!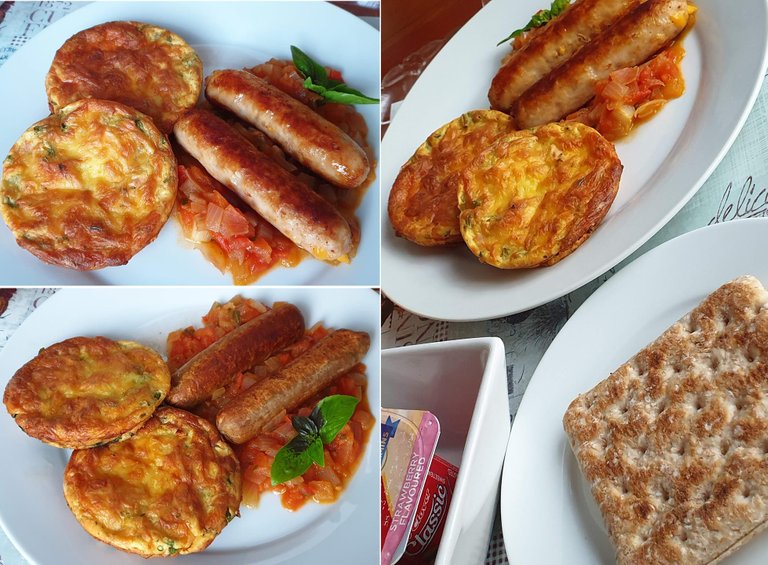 ---
Walking through our Autumn garden at any time of the day in between doing my BnB admin, is a real bonus and a balm to the soul.
Now that the heat of summer has died down, the various types of Ferns are doing very well.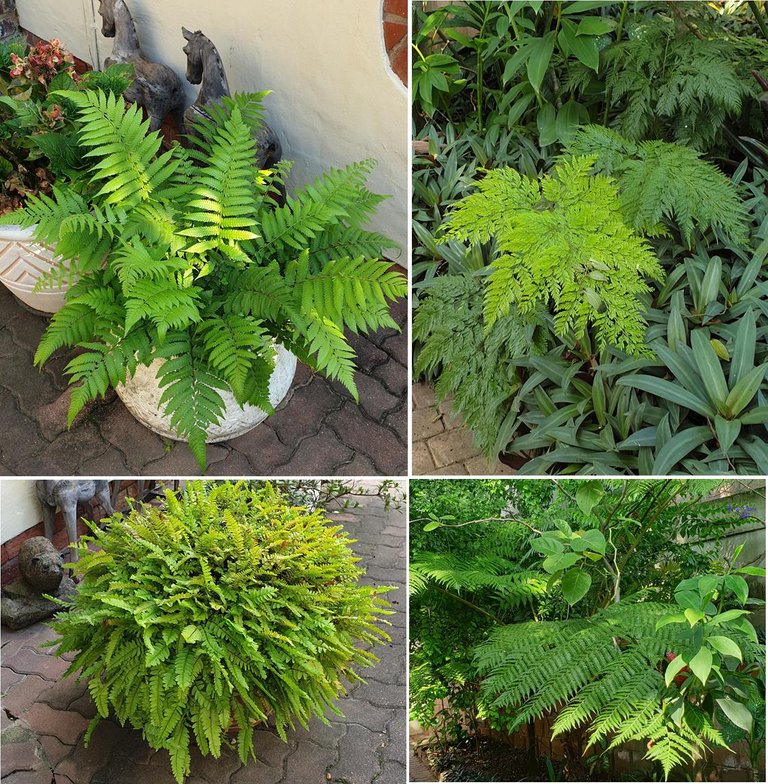 The Lollipops beautifully trimmed by our skilled gardener.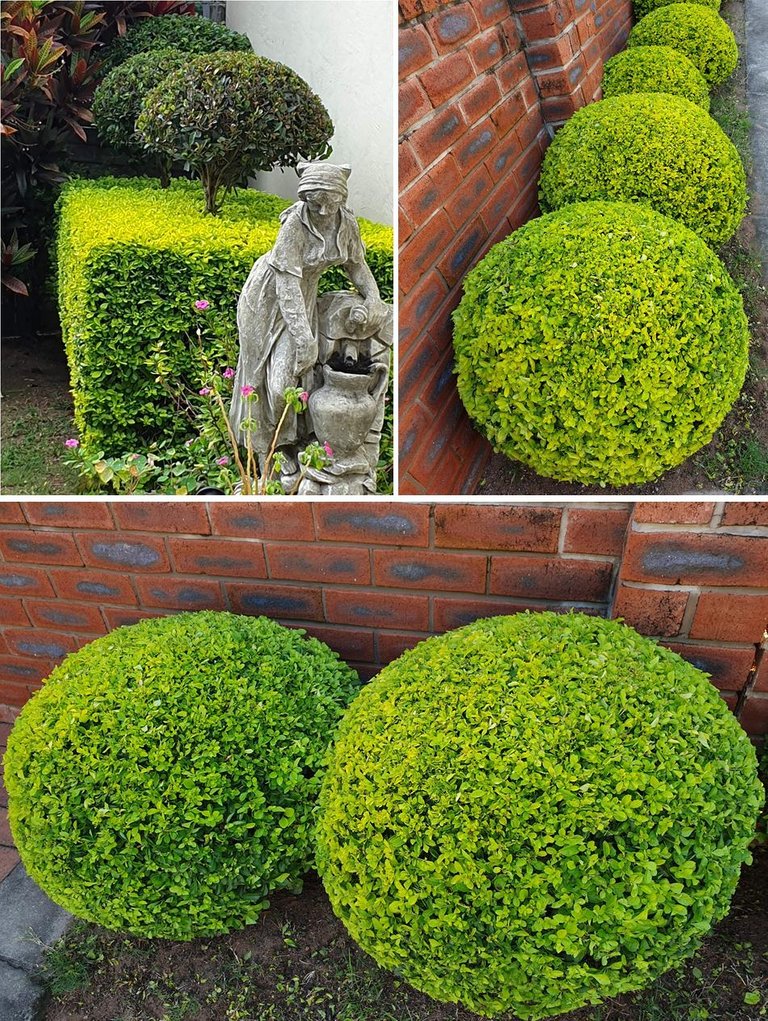 Vitamin C ready to be picked - our Pomelo tree is laden with ripe fruit filled with sweetish juice which we enjoy every morning, just in time to build up the immune system before winter.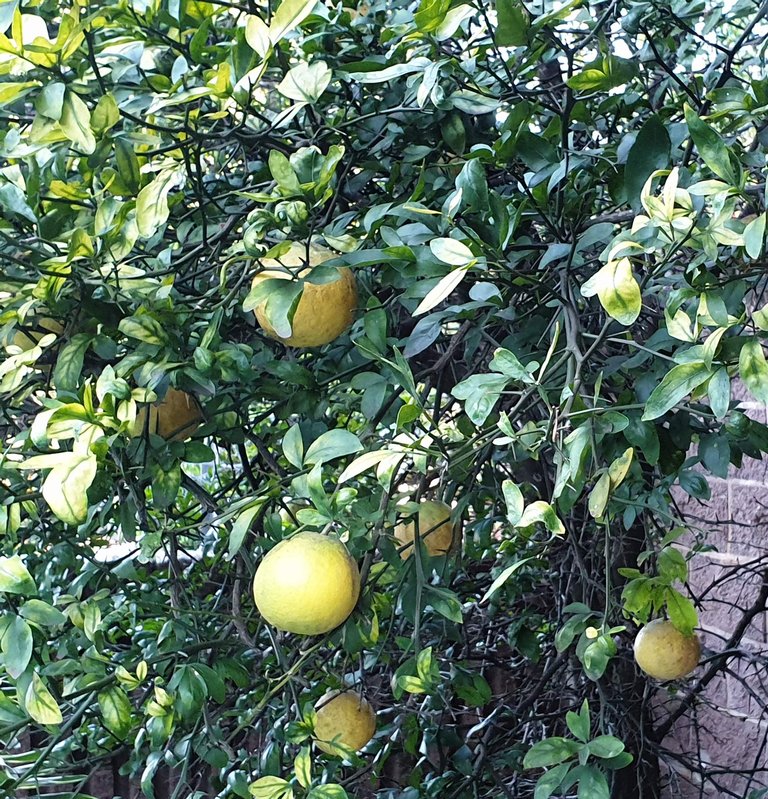 The beautiful Barberton Daisies are slowly coming into bloom again, a semblance to the picture of happiness such as I've found in my Silver years!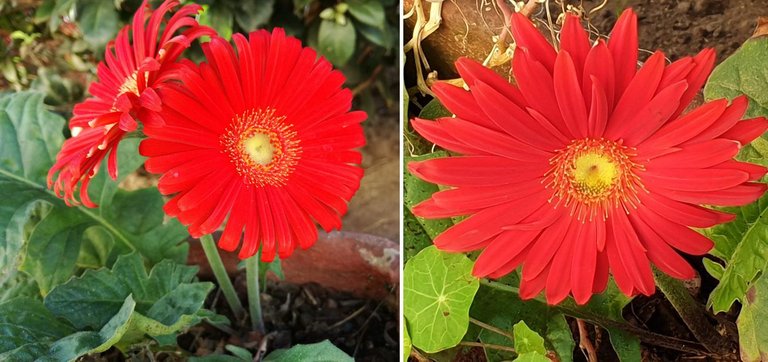 Banner created by @zord189



Original Content by @lizelle
Thank you for stopping by
Copyright @lizelle – All Rights Reserved


Do you know this Badge?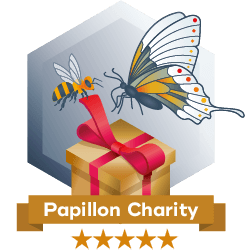 It says "Thank you for partnering with the Papillon Foundation by participating in the
Weekly Hive Charity Giveaway."
Do you want this Badge?
If you like this badge and if you want to help too, you can learn more about @combination and the badge in their blog post:
Some Exciting News! Badge release!


HIVE SILVER BLOGGERS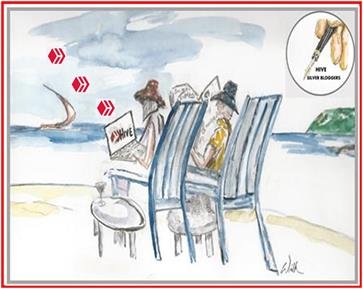 If you're between the ages of 40 and 100 and have a passion for blogging and cryptocurrency plus have some wisdom to share, please stop by and subscribe to the new exciting Hive Silver Bloggers Community that is already attracting some of the best talent here on Hive.




Banner created by @derangedvisions
---
---