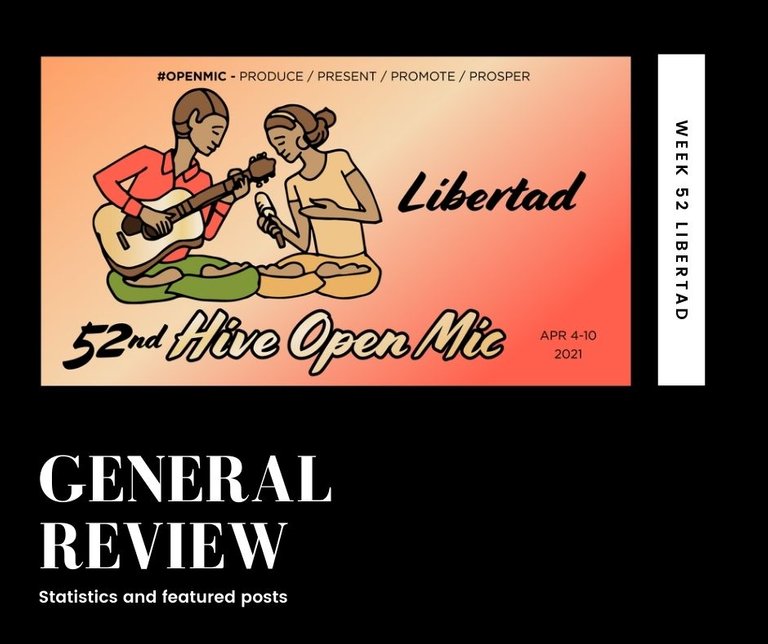 I am happy I can participate in this weekly event, although I was not here from the beginning. Some of the participants probably celebrated 52 weeks already of participating, congratulations to all of them! For being persistent and hardworking. However, there were some new participants in Open Mic, those who are new on the platform and those who maybe had some break and came back. A very warm welcome to everyone.
Also, I would like to emphasize here the fact that every week there are more and more participants, and week 52 had 86 entries. Imagine that, 86 musicians gathered around the topic Libertad, (Freedom).
That is so good news, but at the same time very difficult to host alone for the admin. So as @cabelindsay already announced yesterday, there are now three official members of the team, two moderators and the admin who is the host. I am so happy @juliopalomo that we can support together with joined forces the community! Your comments had been always so valuable and encouraging, thank you again for everything, and really so gratefully looking forward to supporting this weekly event together!
Also I would like to invite every participant to listen to others, comment and encourage each others, as that is the community spirit.
The week 52, Freedom as I already mentioned had 86 entries. I will try to mention everyone here. The participants in the following list are sorted by the date of the entry how it the serach showed me, and later searching them in other communities using the tag. So, just to remind, please do not forget to use the tag #openmic and state in the title if the post is your entry for Hive Open Mic, and the number of the current week. Please, let me know if I misspelt some name, so I will correct.
@acousticsteveo
@medicomusical
@jaredkhamanah
@rezasofyan
@rosana6
@ricardopercusion
@maitt87
@askeb
@melor9
@eduardojc
@edmundcentenor
@celticheartbeat
@mipiano
@danieldedosd2
@colorcareer
@jrcenteno
@luisenriquecp
@arunimabiju
@digitalopus
@alinares
@daniel2001
@natashamartinez
@franciscodesousa
@jesusmedit
@elisonr13
@adreini
@nithwit
@stickupboys
@juliolunar
@romirspc
@zorajr
@palimanali
@lecumberre
@nahupuku
@armandolnrs
@labeba1969
@cesar24
@cephas08
@yusmi
@joecariac0
@joseannyt
@sebastianjvarela
@holisticmom
@irissol
@oriongg
@holuseyi
@alejandrop
@mariajruizb
@brameliamaestre
@kimberlycmq
@gilliatt
@ricardomello
@jhoxiris
@joshuabbey
@jesuslnrs
@dreamystar
@cabelindsay
@diosmarymaiz1
@sayury
@gabrielinho
@cochanet
@luis.colina212
@anitacariaco
@beatriche
@oscarcede
@brujulamusical
@davidcentenor
@nastyasam
@cesarc
@josesalazar200
@cbuendia57
@andrewmusic
@pedrovivaz
@dealtokilate
@kelvincentenor
@juliopalomo
@osomeltrozo
@weirdestwolf
@ylich
@ikasumanera
@edwardstobia
@davidsuarezms
@andiesongmusic
@helyorsini
@ebingo
@mightyjoenolan
I would like to feature here just a few entries that made a special impact on me. It doesn't mean the other participants were not good. We all are improving from week to week, and we should continue to grow. As individuals and musicians. My highlights will be some new ones, and also those that already participated before. There will be other highlights posts this week, so stay tuned and check out the other highlighted ones.
Hive Open Mic week 52 | Debemos Tomarlo by @acousticsteveo
I was so surprised that a user who doesn't speak Spanish, composes and sings in Spanish!! That was so funny, that was so cool, that entry made my day when I saw it. He sings very well, indeed, and although it was not his native language, I can listen to the song again and again :)
Thank you for that gift and for bringing very good music to the scenery Acousticsteveo!
---
Hive Open Mic | Week 52| Queen - I Want To Break Free (Piano Cover) by @nithwit
This was his second participation in Hive Open Mic, and he did great again. He made the tracks apart, and then put them together.
He also wrote a nice post too and I agreed with the statements he exposed. I would like to stress out the last sentence he wrote
We are all trying to achieve 'Freedom' in one way or the other.
The least we can do is help each other out during our time on earth together.
I can totally agree that this is the essence of life, indeed. The real thing of our relationships and I could dare to say, in the same way, the essence of this platform also 💙 . Don't forget to start the video this week with the introduction Hive Open Mic week 53 :) Thank you Nithwit.
---
Hive Open Mic - week 52 – Hymn To Freedom (Cover) by @askeb
I liked his jazz playing so much, he has a soft touch, great sensitivity, perfect right-hand lead.
I liked the angle of his video recording too, but I thought it was not the best for the sound recording. However, afterwards, I realized it was so nice and perfect... You don't have to change anything Askeb, I enjoyed your video that much, so listened to it several times. Thank you!!
---
Hive Open Mic Week 52 | I Want To Be Free - Original Song by @jaredkhamanah
This entry is awesome! What an uplifting song with a hip-hop influence and what a passionate interpretation! I am so glad he came back, although we didn't meet before. He posted also about his students, and a bit of his musical journey, and I am sure we will listen to many more excellent songs by him. Thank you Jared.
---
Hive Open Mic week #52 (Cover) "Cree y atrevete" por @dreamystar
This young girl will have a nice musical future, as guided by her loving parents, she already brought us several good entries to Hive Open Mic. Never stop learning and growing dear Maria, your voice is so lovely and you have a lot of faith. Go, girl!!!
---
---
Para mis amigos hispanohablantes la traducción de algunas partes de la publicación pueden leer aquí:
Estoy feliz de poder ser parte de este evento semanal, aunque no estuve aquí desde el principio. Algunos de los participantes probablemente ya celebraron 52 semanas de participación, ¡enhorabuena a todos ellos! Por ser tan trabajadores. Sin embargo, hubo algunos nuevos participantes en Open Mic, los que son nuevos en la plataforma y los que tal vez tuvieron un descanso y regresaron. Una muy cálida bienvenida a todos.
Además, me gustaría destacar aquí el hecho de que cada semana hay más y más participantes, y la semana 52 tuvo 86 entradas. Imagínense que 86 músicos se reunieron en torno al tema Libertad.
Esas son muy buenas noticias, pero al mismo tiempo es muy difícil trabajo para el administrador. Entonces, como @cabelindsay ya anunció ayer, ahora hay tres curadores oficiales que forman un equipo. ¡Estoy tan feliz @juliopalomo de que podamos apoyar juntos a la comunidad! Tus comentarios siempre han sido tan valiosos y alentadores, gracias de nuevo por todo, y realmente, estoy muy agradecida formar parte de este equipo.
También me gustaría invitar a cada participante a escuchar a los demás, comentar y animarse unos a otros, ya que ese es el espíritu comunitario.
La semana 52, Freedom como ya mencioné tuvo 86 entradas. Intentaré mencionar a todos aquí. Los participantes en la siguiente lista están ordenados por la fecha de la entrada, cómo me mostró el buscador, y luego buscándolos en otras comunidades usando la etiqueta. Entonces, solo para recordar, no olviden usar la etiqueta #openmic e indicar en el título si la publicación que es su entrada para Hive Open Mic y el número de la semana actual. Por favor, avísarme si escribí mal algún nombre en el listado.
---
Stay tuned for the other highlited entries in the following days, and see you in the week 53, with the topic TOYS!!