Hive Open Mic 129: "Trust" | Make You Feel My Love (Adele) - Violin and Piano
---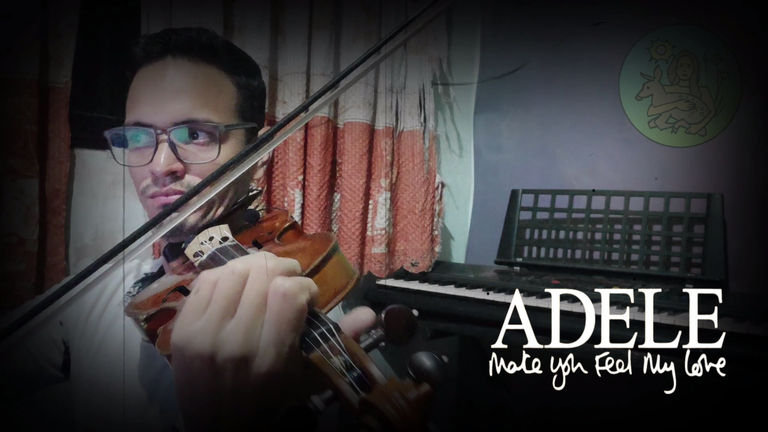 Muchas veces sentimos el mundo en nuestra contra, es cuando realmente sabemos en quién confiar y a quien es mejor sacarlos de nuestra vida. Hoy les interpreto en mi violín una canción con un bonito mensaje de confianza que sin duda encaja a la perfección con la temática de esta semana en "Hive Open Mic", el tema fue propuesto por nuestra amiga @ruthlopez para la semana 129 del micrófono abierto.
Podemos manejar la palabra confianza en diferentes escenarios, aunque su esencia seguirá siendo la misma. Por un lado, relacionándolo con la canción que les he traído el día de hoy; la confianza puede estar en regalar esa seguridad a alguien más o recibirla. Las circunstancias por lo general definen cuanta confianza es requerida, es confianza como cuando de niños nos refugiábamos en el regazo de nuestros padres.
Otro modo de ver la confianza puede ser la que ponemos en nosotros mismos, es cuando decimos "es momento de creer en mí, en mis capacidades". Esos serían los escenarios que veo más frecuentemente, confiamos en nosotros o confiamos en alguien más, incluso una mezcla de ambos. Quedo abierto a cualquier aporte respecto al tema de la confianza en la caja de comentarios.

Many times we feel the world against us, that's when we really know who to trust and who it is better to get them out of our lives. Today I perform on my violin a song with a beautiful message of trust that undoubtedly fits perfectly with the theme of this week in "Hive Open Mic". The theme, was proposed by our friend @ruthlopez for week 129 of the open mic.
We can handle the word trust in different scenarios, although its essence will remain the same. On the one hand, relating it to the song I brought you today, trust can be in giving that security to someone else or receiving it. Circumstances usually define how much trust is required, it is trust as when as children we took refuge in the lap of our parents.
Another way of looking at trust can be the trust we place in ourselves, when we say "it's time to believe in me, in my abilities". Those would be the scenarios I see most often, we trust in ourselves or we trust in someone else, even a mixture of both. I remain open to any input on the topic of trust in the comment box.

Les comparto por acá la canción original de su fuente oficial, pueden ir directamente a la canción a través de este enlace, esta forma parte del álbum ADELE19 y estoy seguro de que al igual que a mí los dejará cautivados. Adele es de esas cantantes que te toca el corazón, quieras o no, hasta los que no son fan la han escuchado más de una vez.
I share here the original song from its official source, you can go directly to the song through this link, this is part of the album ADELE19 and I'm sure that like me it will leave you captivated. Adele is one of those singers that touches your heart, whether you like it or not, even non-fans have heard her more than once.
Letra
Cuando la lluvia esté soplando tu cara
Y todo el mundo esté en tu contra
Yo te puedo ofrecer un cálido abrazo
Para hacerte sentir mi amor
Cuando las sombras del atardecer y las estrellas aparezcan
Y no hay nadie allí para secar tus lágrimas
Yo podría sostenerte por un millón de años
Para hacerte sentir mi amor
Sé que aún no te has decidido
Pero yo nunca te haría daño
Lo he sabido desde el momento en que nos conocimos
No hay dudas en mi mente donde tú perteneces
Pasaría hambre, me pondría negro y azul
Iría acurrucada por la avenida
No, no hay nada que no haría
Para hacerte sentir mi amor
Las tormentas estallan en el mar
Y en las autopistas del arrepentimiento
Los vientos del cambio soplan salvajes y libres
No has visto nada como yo, aún
Puedo hacerte feliz, volver realidad tus sueños
Nada que no haría
Ir al fin del mundo por ti
Para hacerte sentir mi amor
Para hacerte sentir mi amor
Lyrics
When the rain is blowing in your face
And the whole world is on your case
I could offer you a warm embrace
To make you feel my love
When the evening shadows and the stars appear
And there is no one there to dry your tears
I could hold you for a million years
To make you feel my love
I know you haven't made your mind up yet
But I will never do you wrong
I've known it from the moment that we met
No doubt in my mind where you belong
I'd go hungry, I'd go black and blue
I'd go crawling down the avenue
No, there's nothing that I wouldn't do
To make you feel my love
The storms are raging on the rolling sea
And on the highway of regret
The winds of change are blowing wild and free
You ain't seen nothing like me yet
I could make you happy, make your dreams come true
Nothing that I wouldn't do
Go to the ends of the Earth for you
To make you feel my love
To make you feel my love

Espero hayan disfrutado de mi interpretación y una vez más muchas gracias por escuchar, el poder de la música no tiene límites ni fronteras. Soñemos y trabajemos por hacerlos realidad, la vida es ahora, no esperes ni un segundo más para trabajar en alcanzar vuestras metas.
I hope you enjoyed my performance, and once again thank you very much for listening. The power of music has no limits or boundaries. Let's dream and work to make them come true, life is now, don't wait for a second longer to work on reaching your goals.

- Los separadores usados y muchos otros están disponible haciendo clic aquí (Página no disponible) y su uso es de libre distribución, hay muchos que son realmente geniales, se los recomiendo.
- Fuente de Imágenes, captura de pantalla del video original. Vídeo realizado y editado con mi Xiaomi Redmi Note 10 Pro y el programa Filmora X.
- Grabación de audio con Audacity usando un micrófono condensador Maono, mezcla y masterización por la página de BandLab.
- Fuente de las imágenes y videos de fondo utilizados en la edición del video: Font, Video Background
---
- The used separators and many others are available by clicking here (Page not available)

- Image source, a screenshot of the original video. Video made and edited with my Xiaomi Redmi Note 10 Pro and Filmora X program.

- Audio recording with Audacity using a Maono condenser microphone, mixing and mastering by the BandLab website.

- Source of the images and background videos used in the editing of the video: Font, Video Background

---

Banner made in Canva ||| Banner realizado en Canva



---
▶️ 3Speak
---
---