我在布里斯班市中心表演祖克舞 I performed Zouk in the middle of Brisbane CBD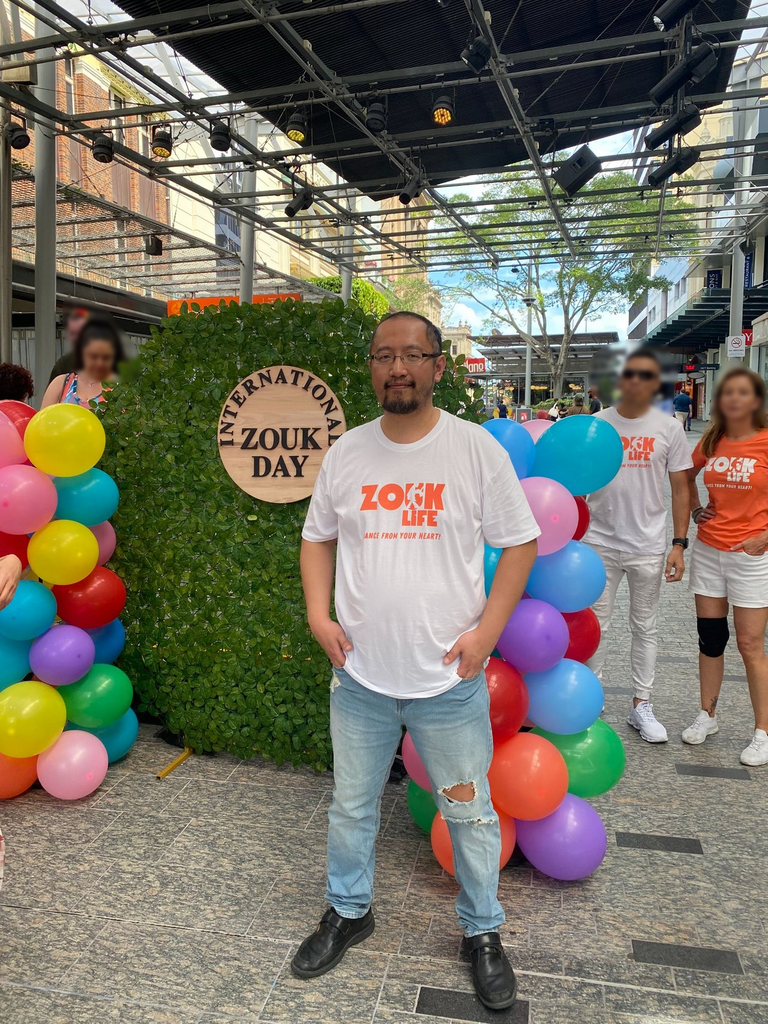 祖克舞(Zouk)是拉丁舞的一種,大部分人跳拉丁舞第一個想到的是萨尔萨舞(Salsa),而祖克舞跟萨尔萨舞最大的不同就是,萨尔萨舞非常的快,快到腳都看不到,像青翼蝠王韋一笑在跳舞似的,而祖克舞則是慢舞,跟張三豐打太極似的,講究柔軟的姿態,因而製造出浪漫的氣氛。
Zouk is a style of Latin dance. When we talk about Latin dance, many people think of Salsa to start off. The main difference between Salsa and Zouk is that Salsa is super fast, so fast that you can't even see the feet. A bit like watching Flash or Superman dance. On the other hand, Zouk is slow, a bit like watching Avatar the air bender performing Tai Chi. It focuses on being soft and spongy and creating the romantic feeling.
大概六個禮拜前,我上的舞蹈學校參加了全球祖克舞活動,就是在今天各個國家都會有祖克舞表演。我們花了六個禮拜的時間練習這套舞步。其實這對我來說還是有相當難度,因為我主要跳的不是祖克舞,一直到三個月前我主要跳的是搖擺舞以及萨尔萨舞,祖克舞最近三個月才開始學。
About six weeks ago, my dance school joined with the International Zouk Day movement, which means that on this day (Sep 17th), every country around the world would have a Zouk dance performance. I took 6 weeks to learn this routine, which was not easy for me, because until about 3 months ago, my dance styles were Salsa and Swing. I only started taking Zouk seriously for the last 3 months.
以下影片是我爸爸幫我拍的表演影片。因為我是在最後一排,所以他從旁邊拍,效果其實還算不錯。我從頭到尾都沒有忘記舞步,而且還跳得比平常順。唯一沒做好的就是沒有多笑一點,因為太專注了。
The following video is filmed by my dad. Because I am in the back row, so he filmed from the side, and it actually looks pretty good. I did not forget any moves from beginning to end, and I did better than usual. The only thing I didn't do too well is I didn't smile a lot, only because I was concentrating on trying to remember the steps.
除了我的表演片段以外,以下是我跟我的舞伴練習的影片,也一起放在這,你們可以看看我們有沒有進步!
Other than my performance video, below are the practice videos between my dance partner and myself, so you can see whether we have improved!
---
第一個禮拜的練習成果
First practice session for International Zouk Day 2022
我跟我的舞伴是在攀岩的時候認識的,所以我們在攀岩館裡面的瑜珈教室練習。這個瑜珈教室裝潢不錯而且很安靜,剛好沒有其他人用。
We are actually practicing in a yoga room inside our local climbing gym, which has a lot of space and is nice and quiet. Very lucky that nobody else is using it! Hope you enjoy the video.
---
第二個禮拜的練習成果
Second practice session for International Zouk Day 2022
我最近才開始認真跳Zouk,所以有很多舞步還不熟悉。但認真練習過後,成果還算可以。我有些舞步跳得有點模糊,但能讓我的舞伴發揮就好了。其實我的肩膀有點運動傷害,過一陣子還得去看物理治療師,所以有些肩膀抬高的動作覺得做的很勉強。
I hadn't danced Zouk for a while so initially I wasn't too sure about my ability to actually do this routine. But after 2 training sessions I think I am picking it up. We have a one hour per week training for six weeks and then it's the big day performing in front of a huge crowd in the middle of Brisbane. You can see compared to the first video, we have added quite a few new moves. I guess what I find difficult is towards the end the footwork is quite complex. I couldn't match it up with the music very well so I'm just stepping without worrying too much about it. I also find it quite hard to turn the follower under my elbow because I have been dealing with a shoulder injury for a while. Either way, you probably wouldn't have noticed if I didn't point it out :) Enjoy the video!
---
---