It was a hot, hot day when we visited The Nag's Head in June 2020. Lockdown was starting to get relaxed and this month appeared to be 'our summer'.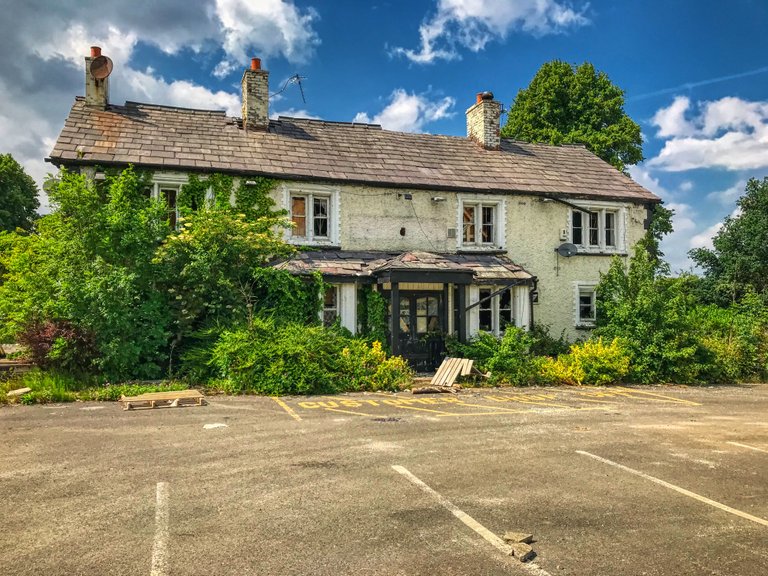 The Nag's Head closed in 2015 and for the next two years, the car park and grounds were occupied by gypsies with a large mass of caravans.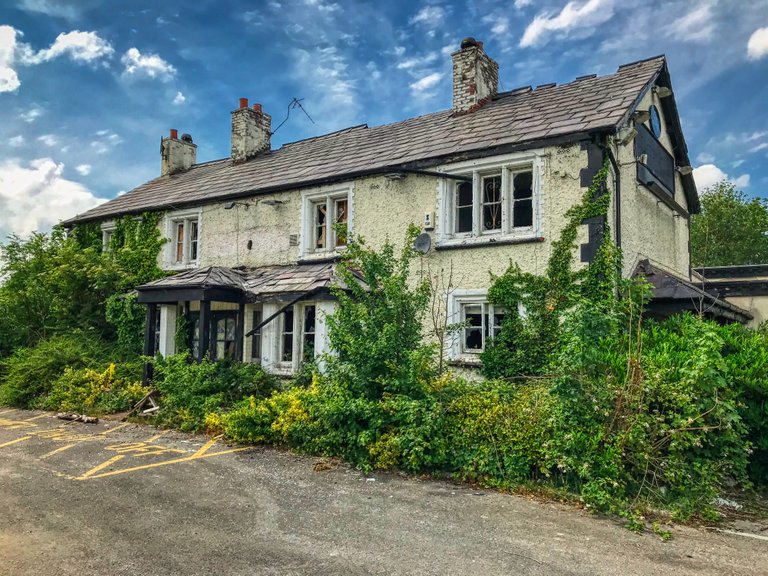 Who knows what they did to the poor pub during this time but they have finally vacated, probably forced to move on by the cops I imagine.
I can understand why The Nag's Head was not a hit. It is next to a motorway but too confusing to find. One must drive down a long road that runs adjacent to the motorway, but getting off the damn thing is a different problem.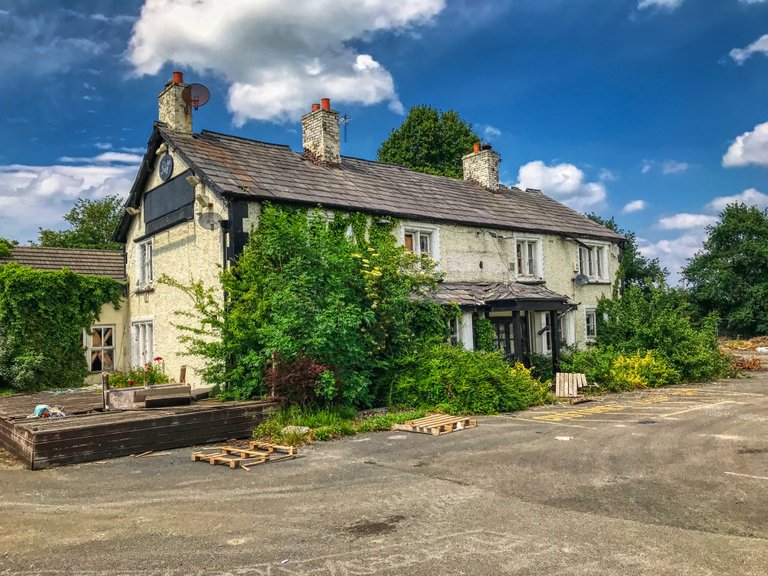 I could imagine many a motorist seeing it, and getting frustrated at not being able to get to it.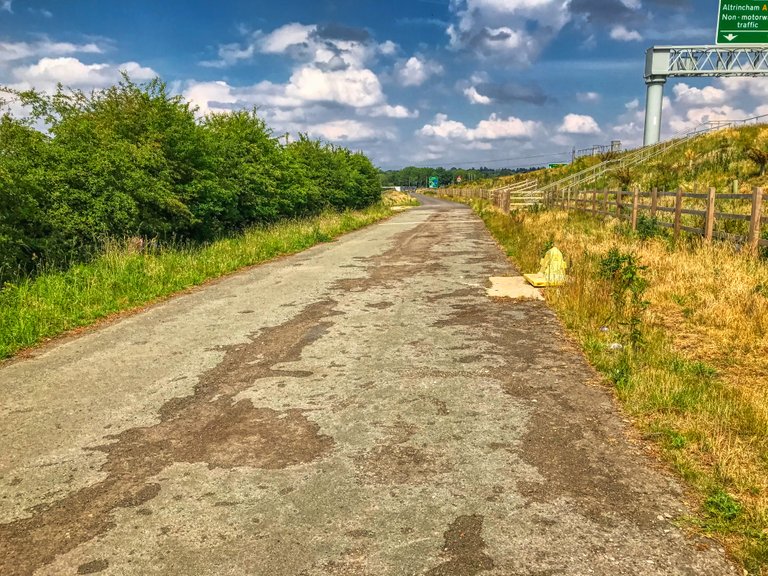 We also had to walk down this never-ending road in the blistering heat and wearing black too. Wearing bright colours makes it easy for people to see you, and a certain amount of subterfuge is necessary for Urbex.
It also makes you sweat your bollocks off when there's an unyielding sun belting down on you.
We strolled past a security bloke for a housing company on the way who did not seem to give a shit. All the better I say. I guess they are building some new homes in close proximity to The Nag's Head.
At the time I had no idea how long The Nag's Head had been left empty. 5 years isn't so bad and maybe there would be something other than a shell within.
The outside did not look in too bad a shape but looks can be deceiving.
It would have been nice to walk in the front door, but it was not going to happen. It did not look very welcoming at all.
A scout around yielded plenty of other access points; I would have needed 2 hands to count them all.
There was definite evidence this was a pub once with some fancy furniture. The sofa just needs to be straightened out before it can be sat on again.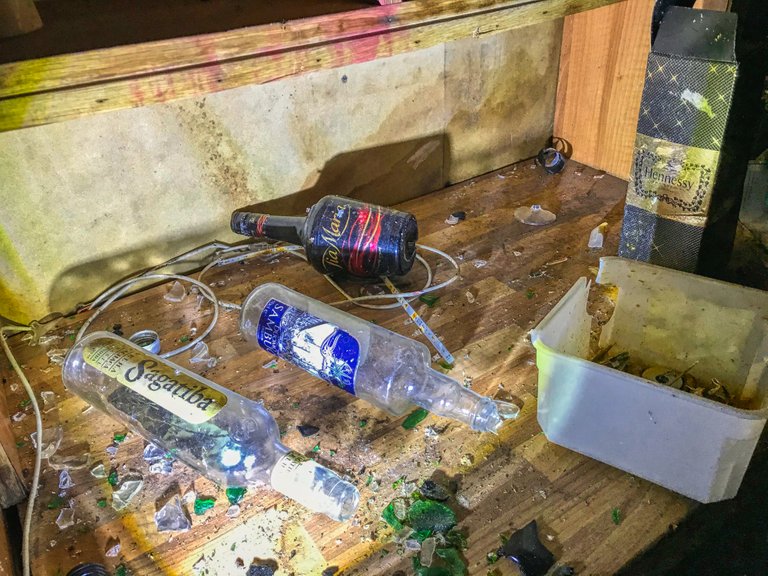 I wonder if those gypsies had been swigging all the spirits that were left?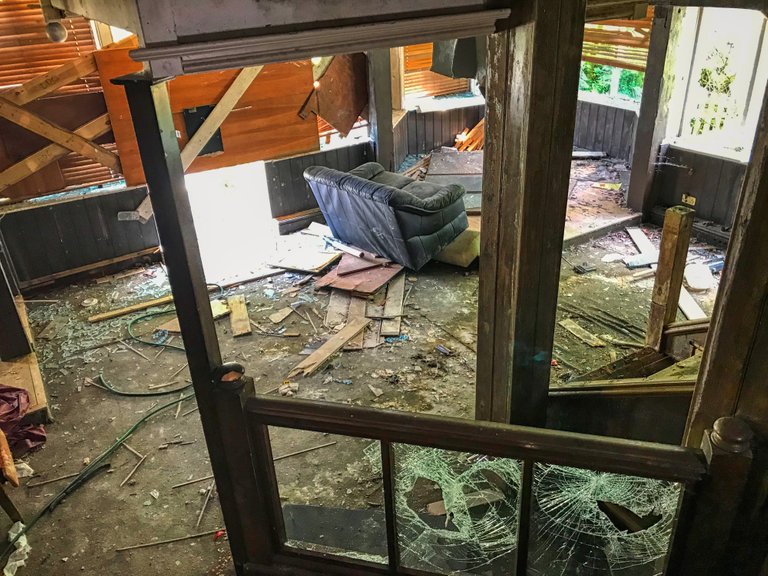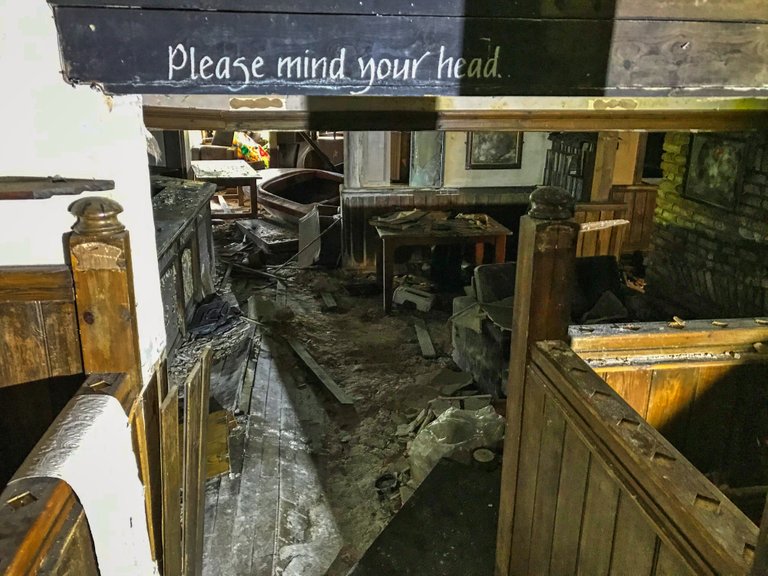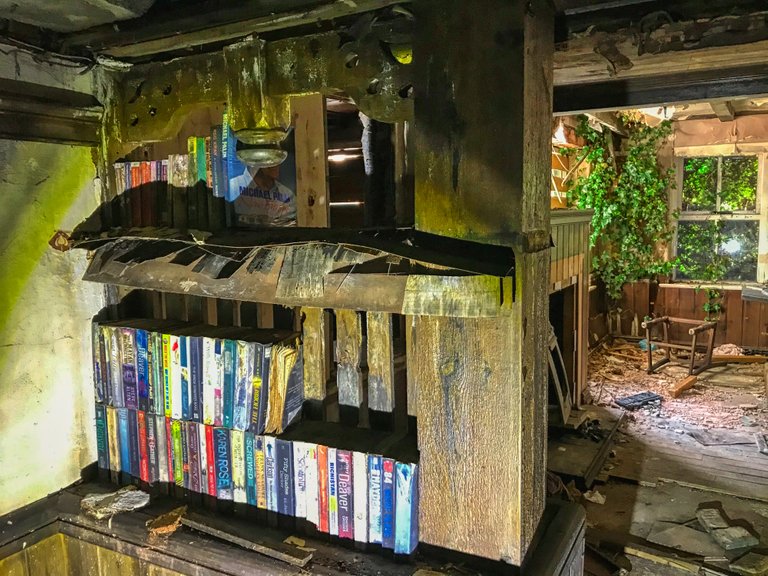 A nice selection of paperbacks, albeit a little on the damp moldy side.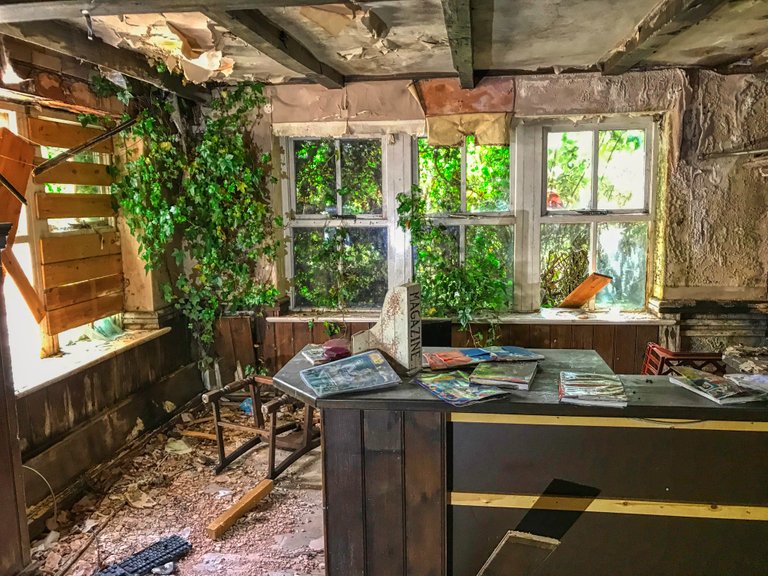 It would have been nice before all the greenery started poking its way through the windows.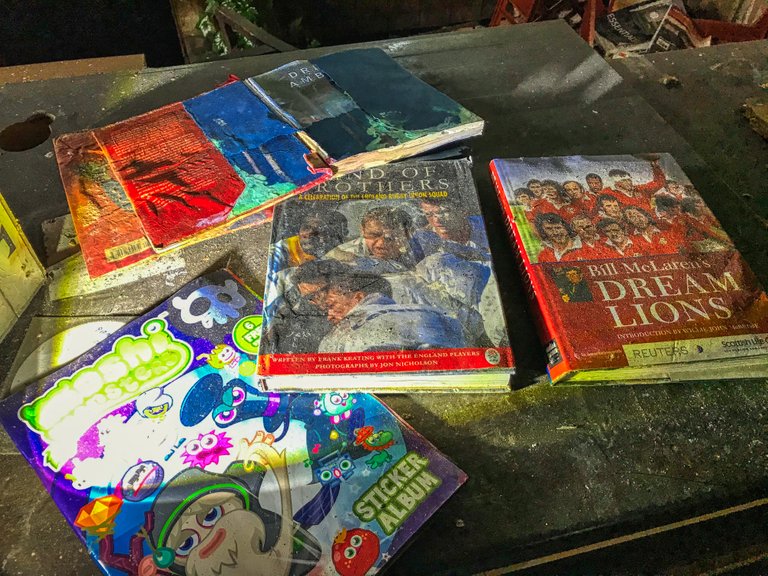 There's no shortage of reading matter at The Nag's Head.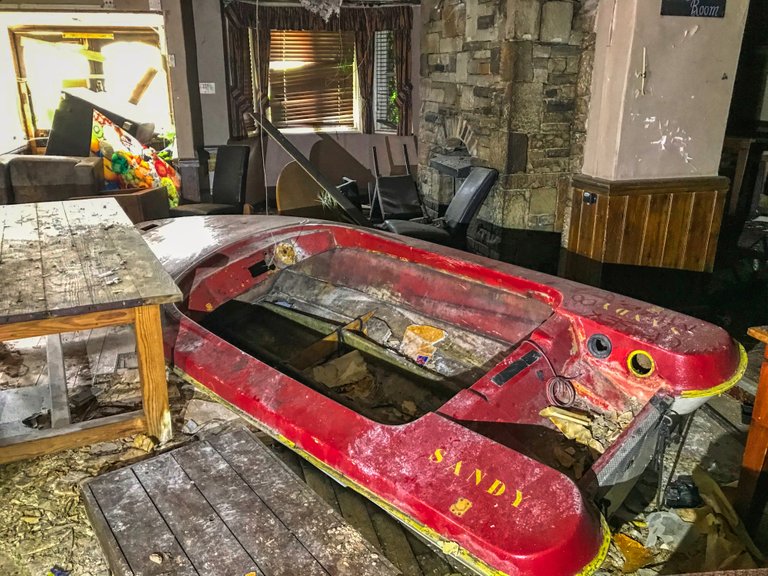 Now why a boat is in the bar area is a real puzzler.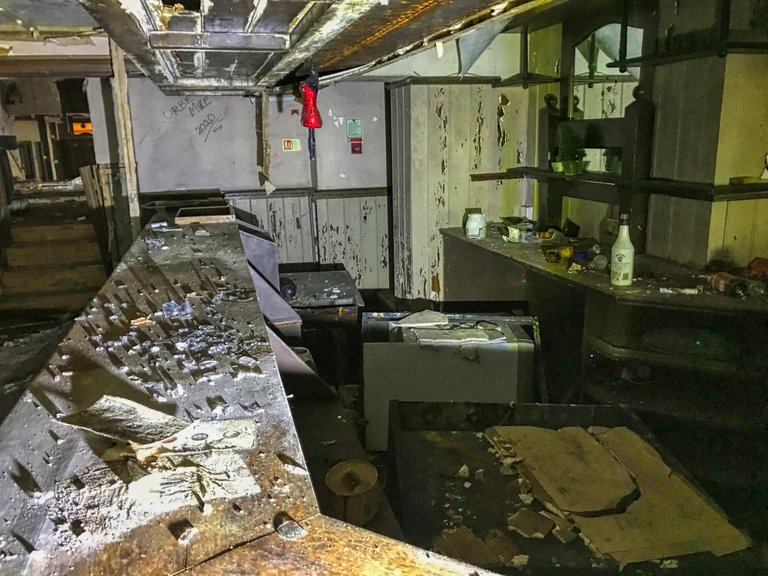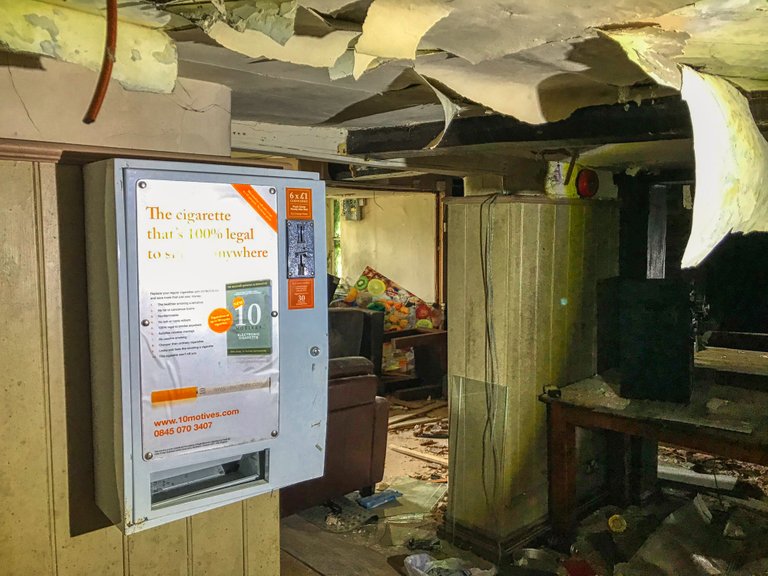 I didn't check the vending machine as I don't smoke.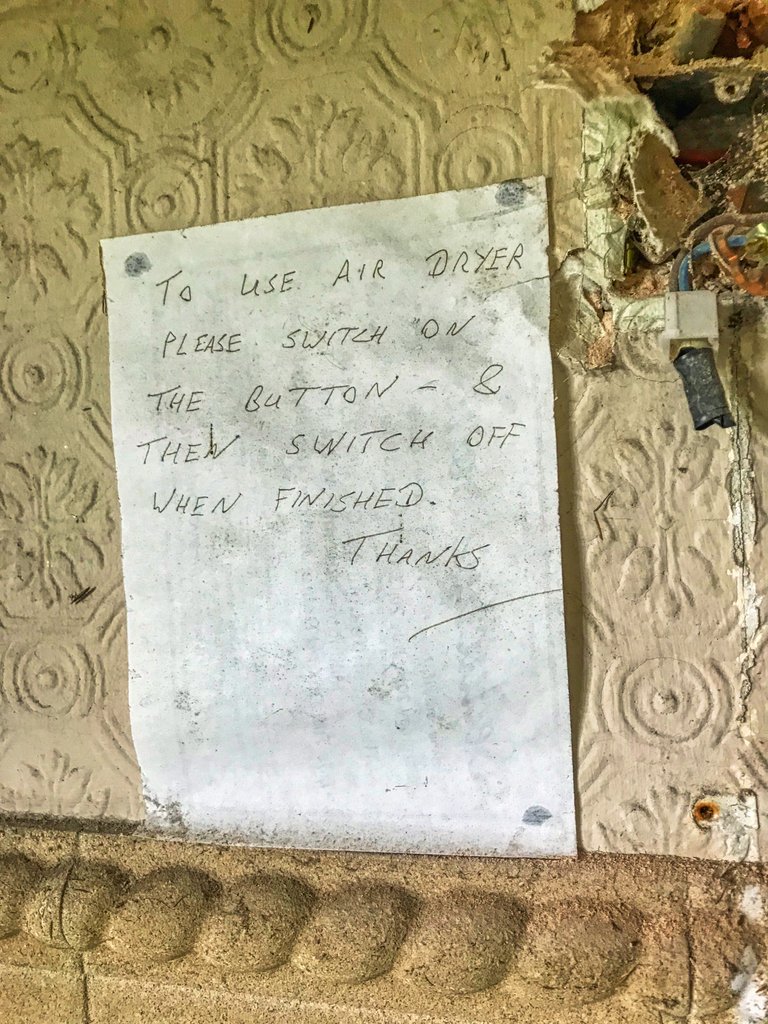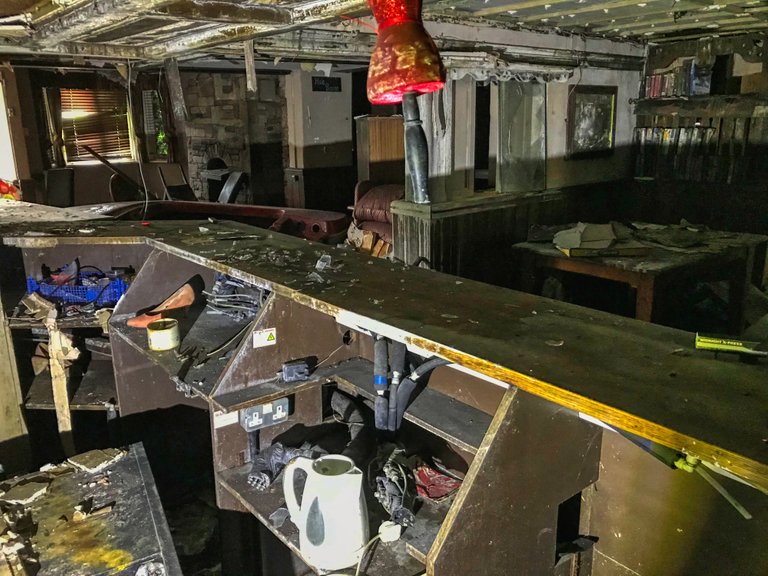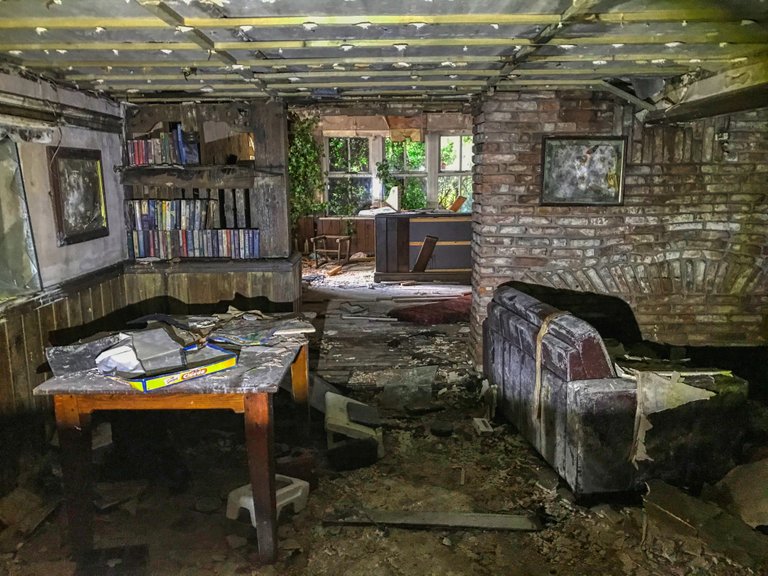 You know, sections of it looked almost passable for a bad looking pub. Add a couple of flesh-eaten rotting zombies drinking pints and it will look perfectly passible.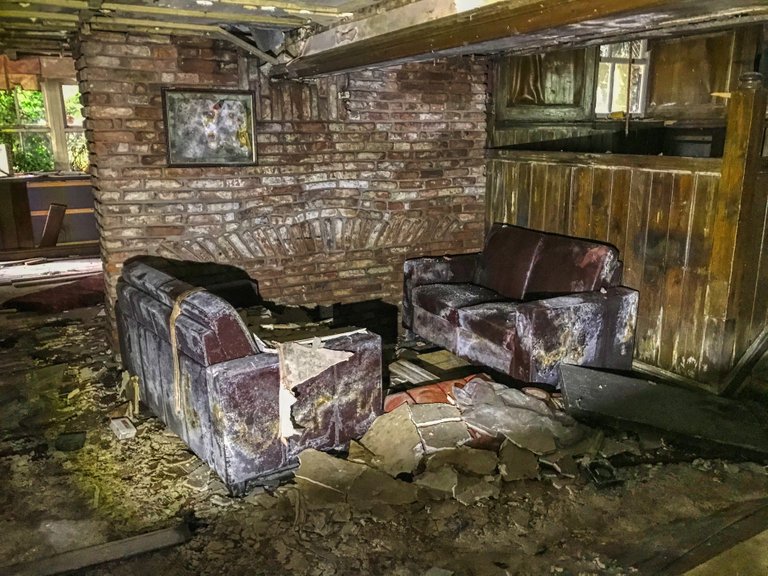 ...'Oh yes... very cozy.. just don't take any notice of the mold'...
If there was a window, it had to be smashed. There seemed to be non left intact.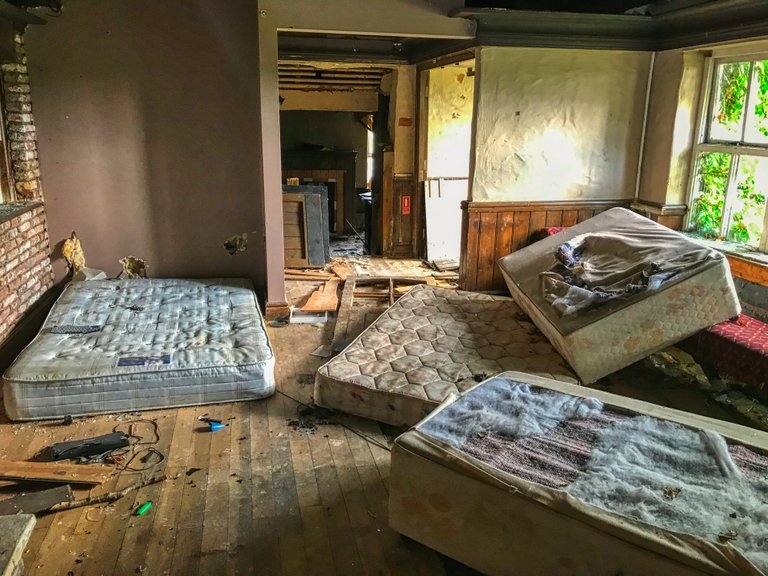 The gypsies had been bedding down in here. Can you blame them? It would have been nice a few years ago. They always dump the beds.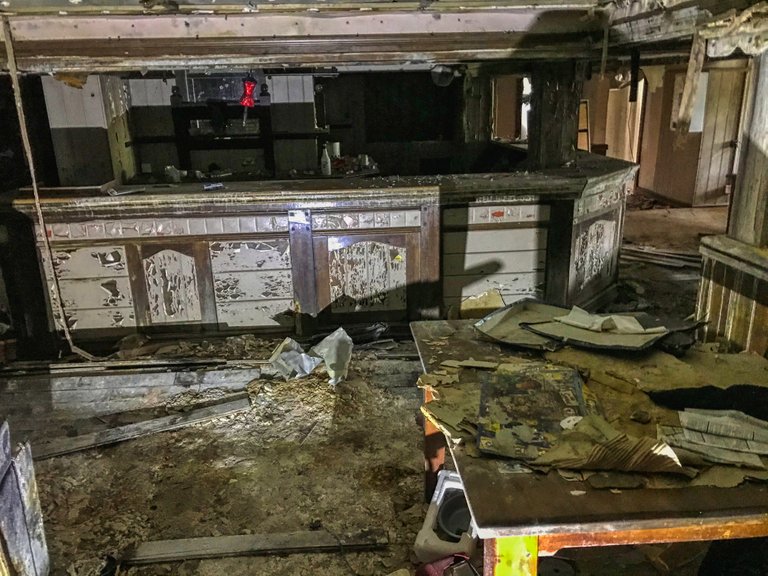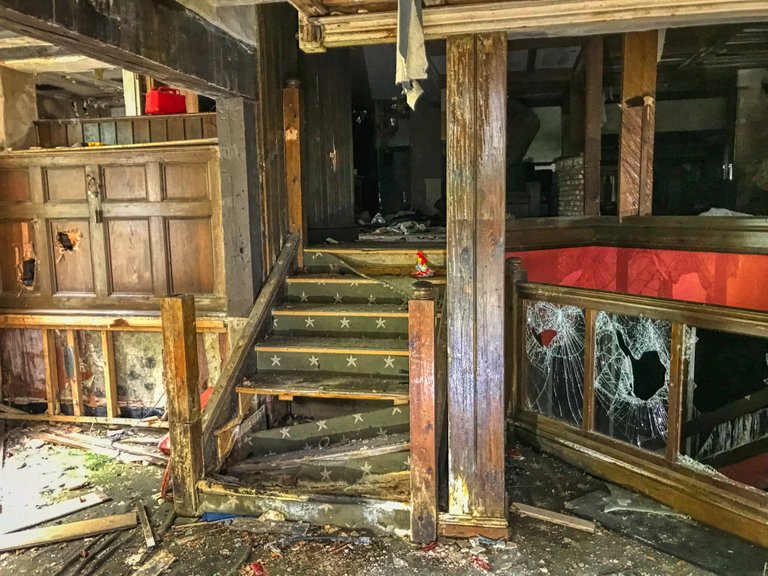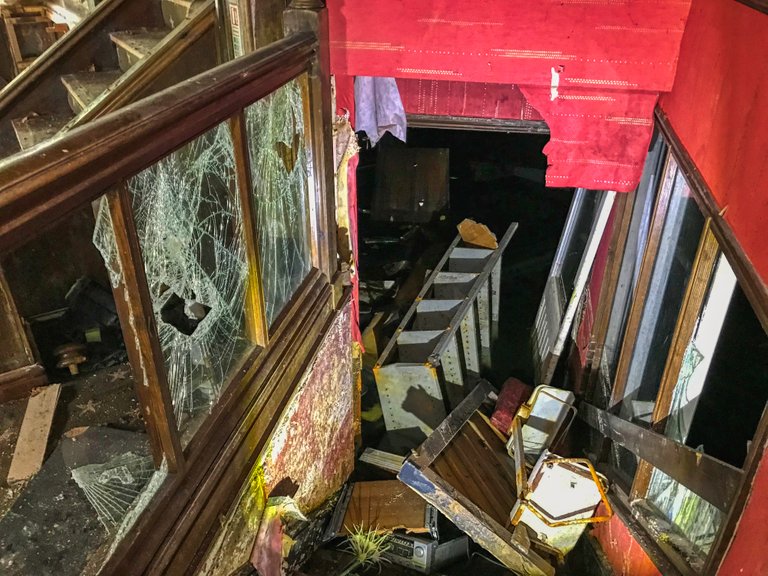 The restaurant was down here once. It was flooded, and too deep to even have a look.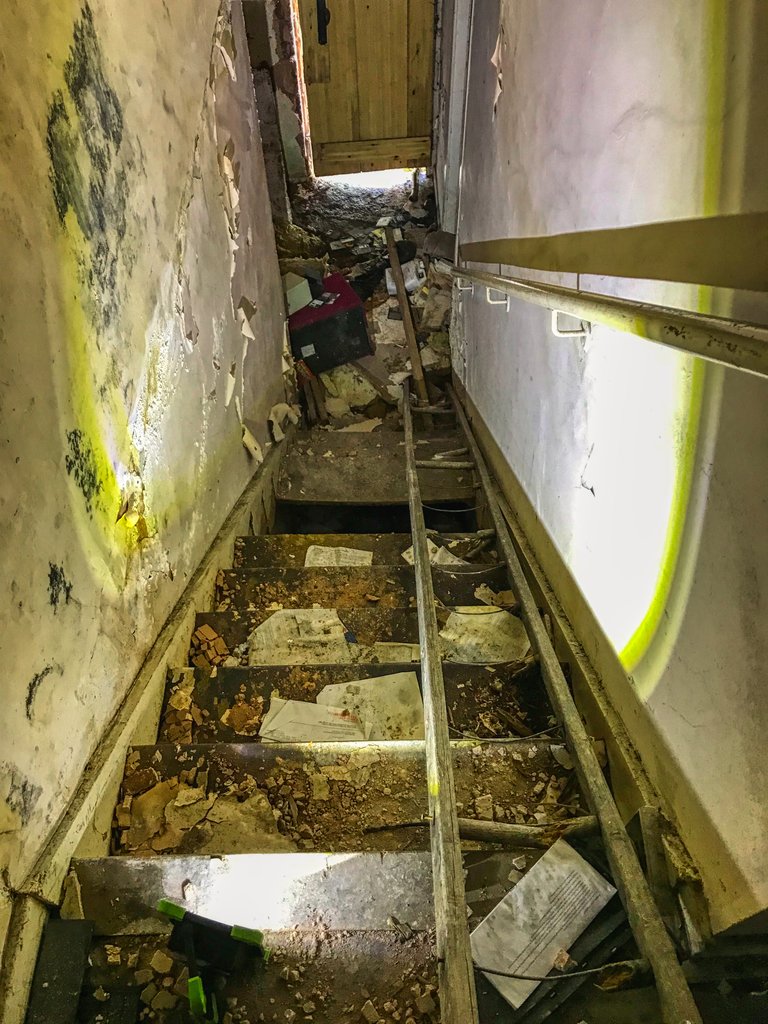 Upstairs was fun. Part of the stairway had collapsed but someone had left a handy ladder to use.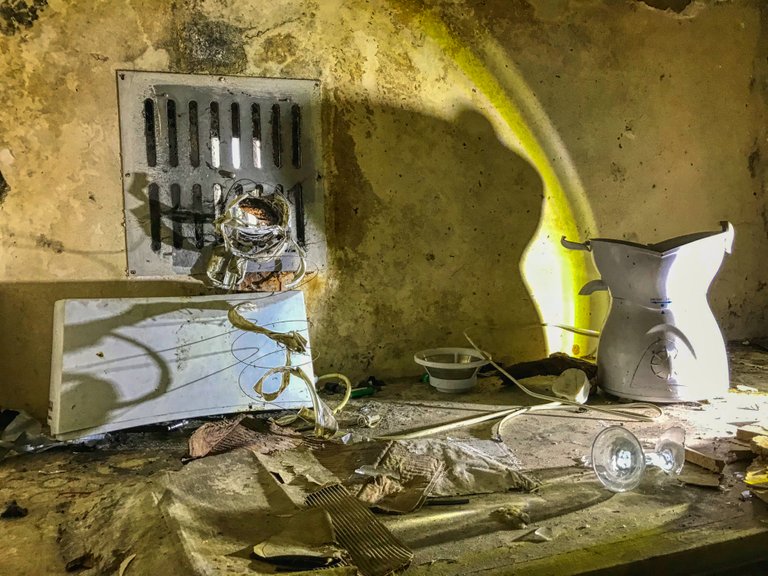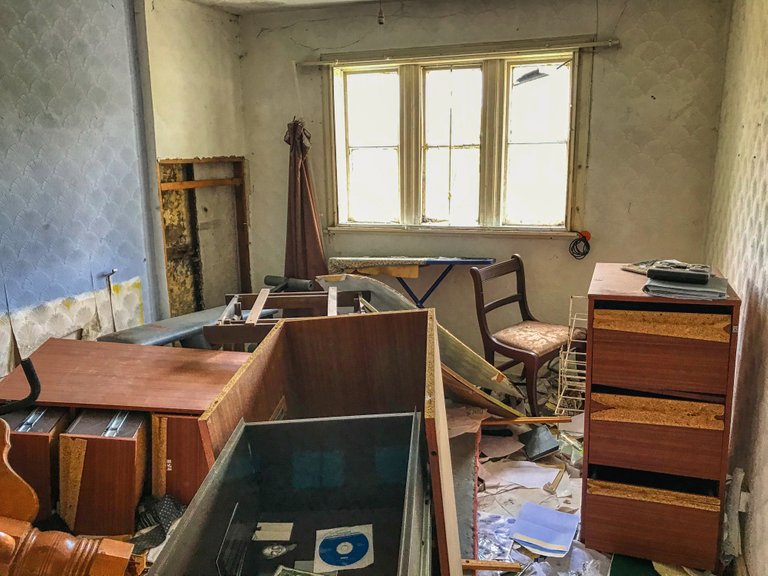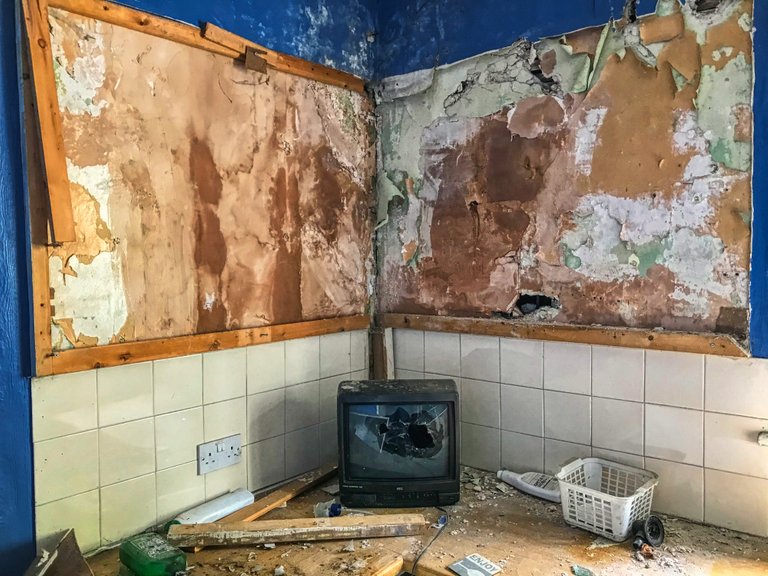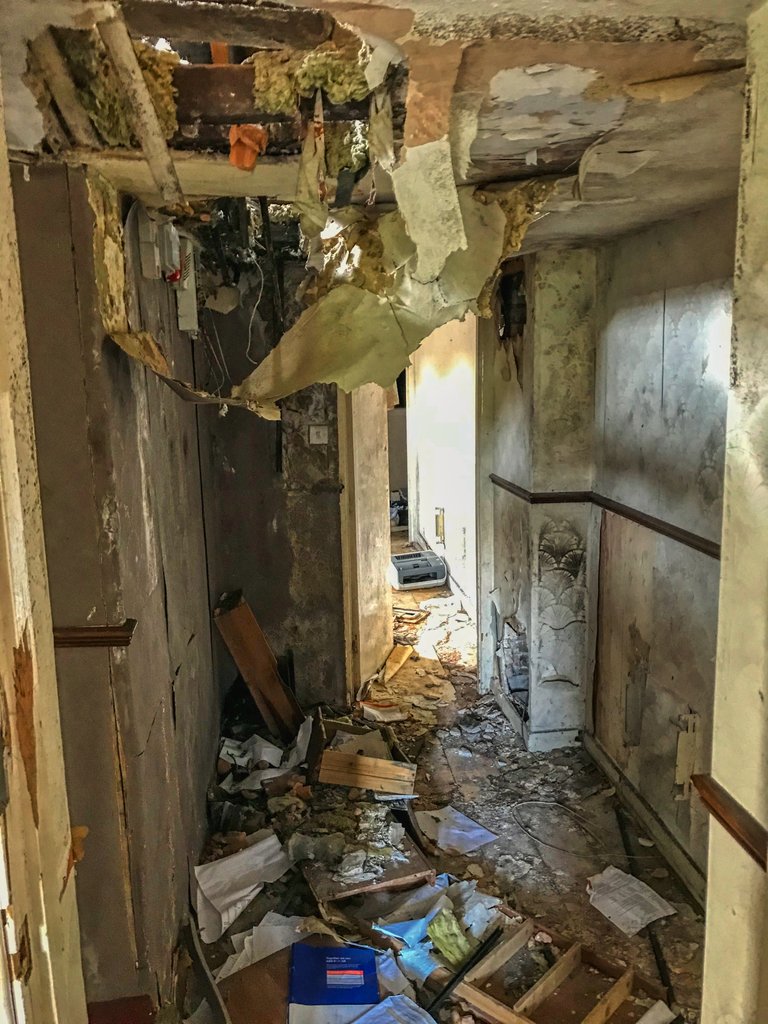 The living quarters had not fared too well with sections of the loft poking down.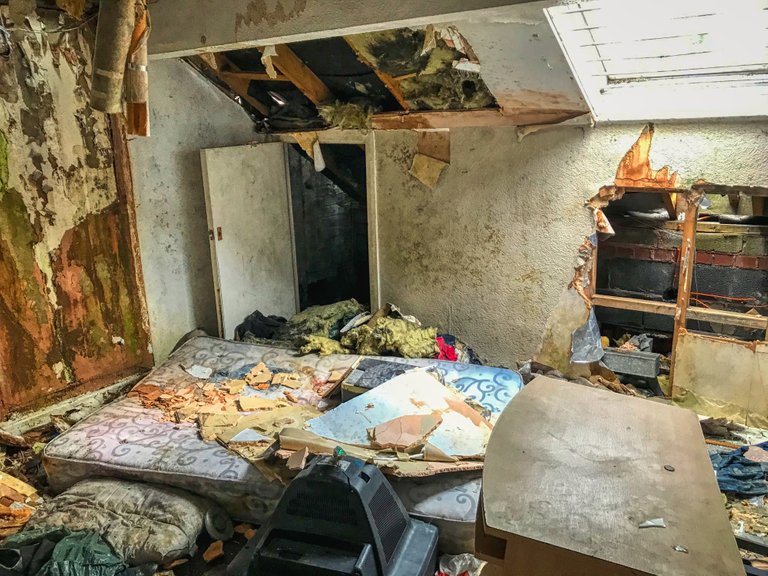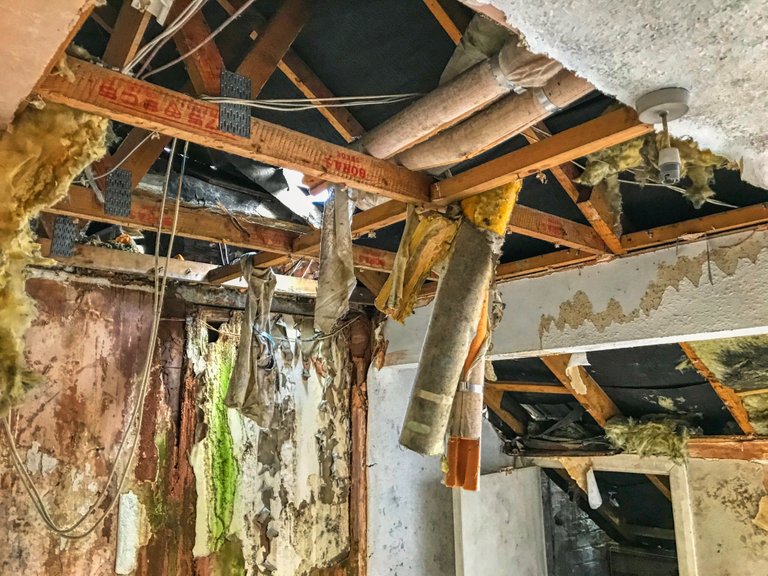 When you can see the sunlight streaming through its always a bad sign.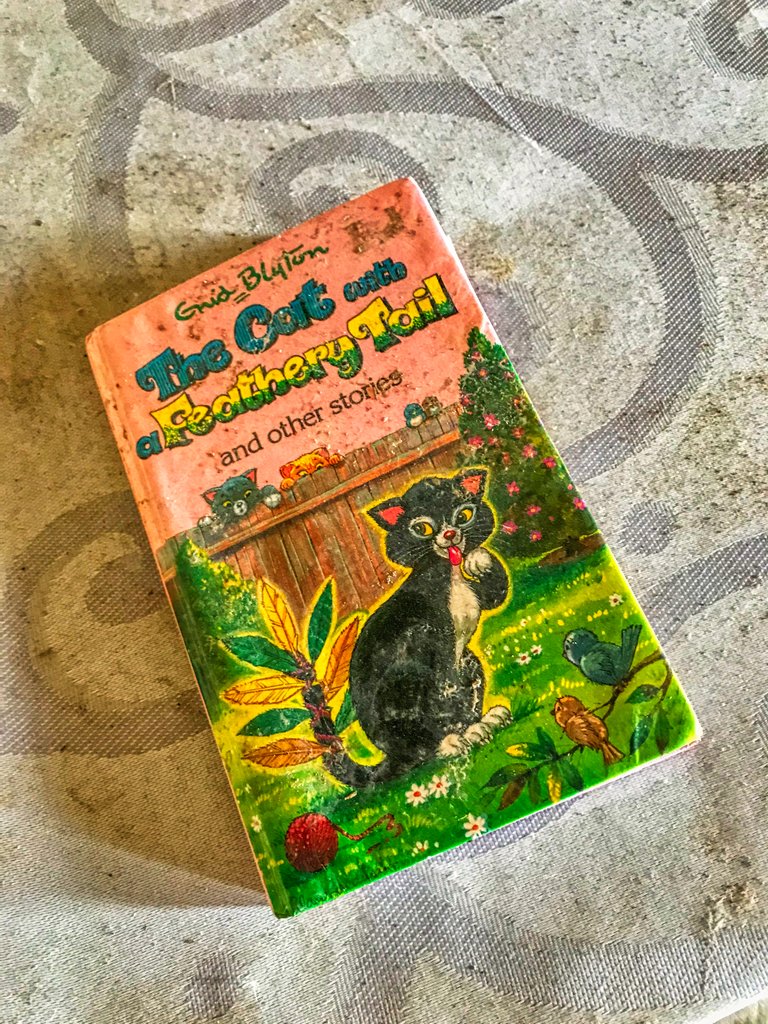 I don't remember reading this one as a kid, and I was a big Enid fan.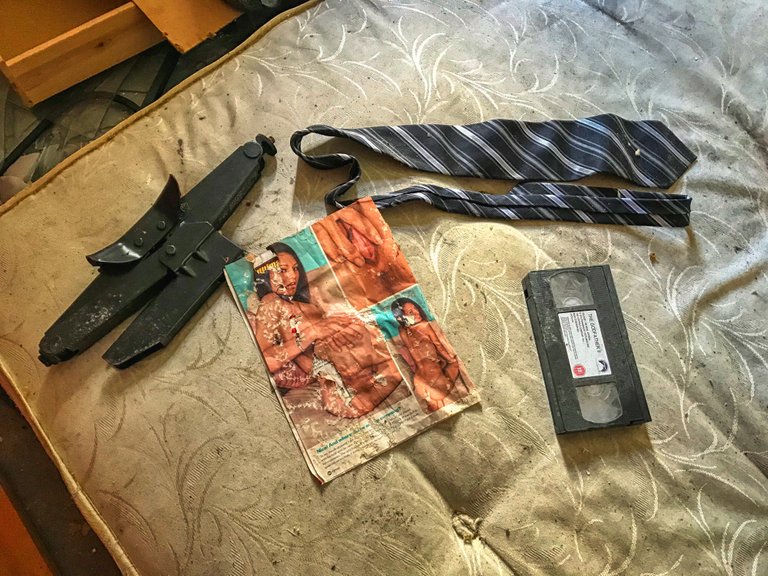 A tie, something nondescript, some porn, and a copy of The Godfather II didn't seem to fit. Am I missing something or is the nondescript thing some kind of pleasure tool?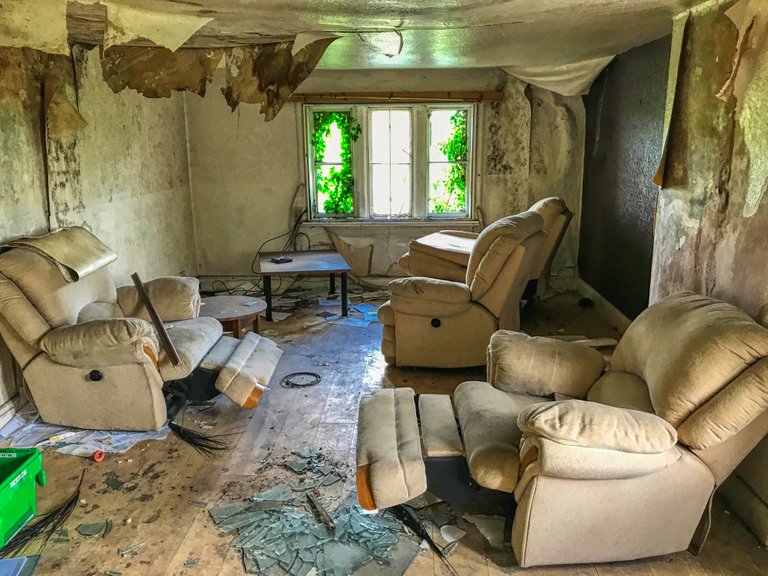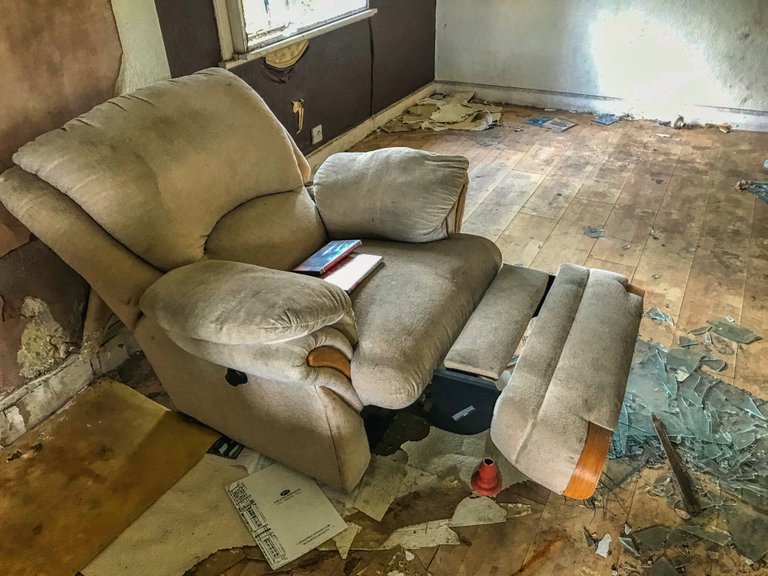 Then we came to the room at the end; Posh comfy leather recliners? Now this is more like it, I was almost tempted to take a seat and have a nap.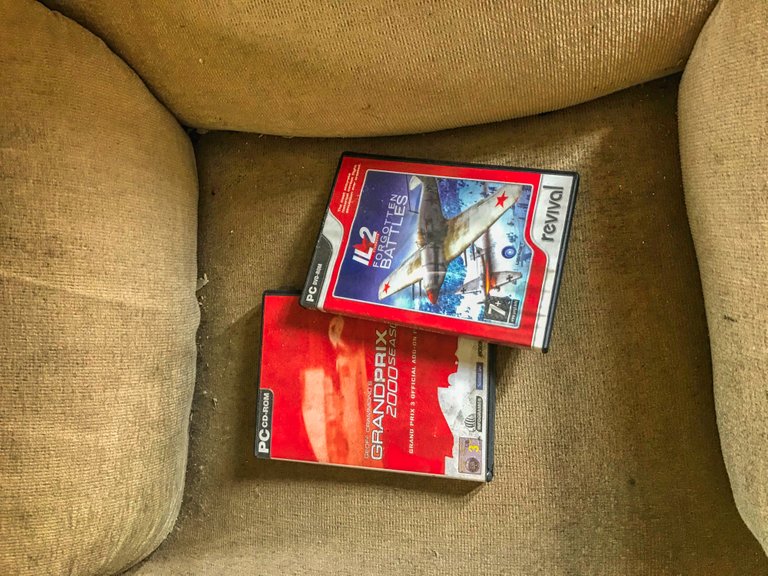 The games were not really my style, and budget ones too, cheapskates!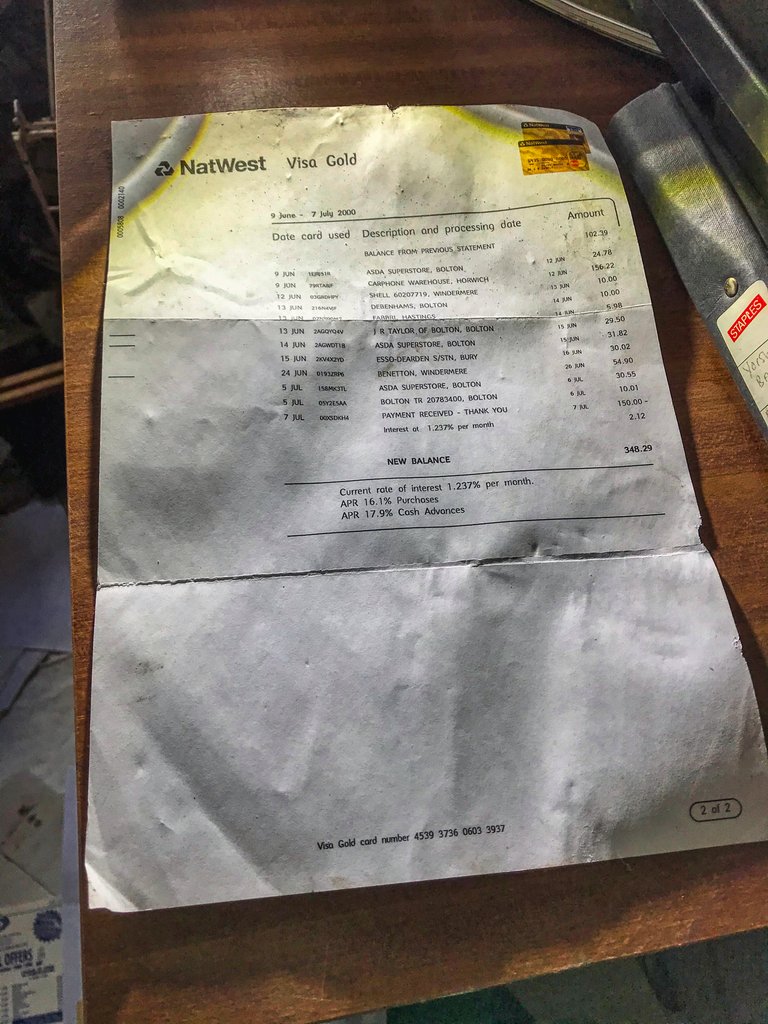 Someone was racking up a little debt.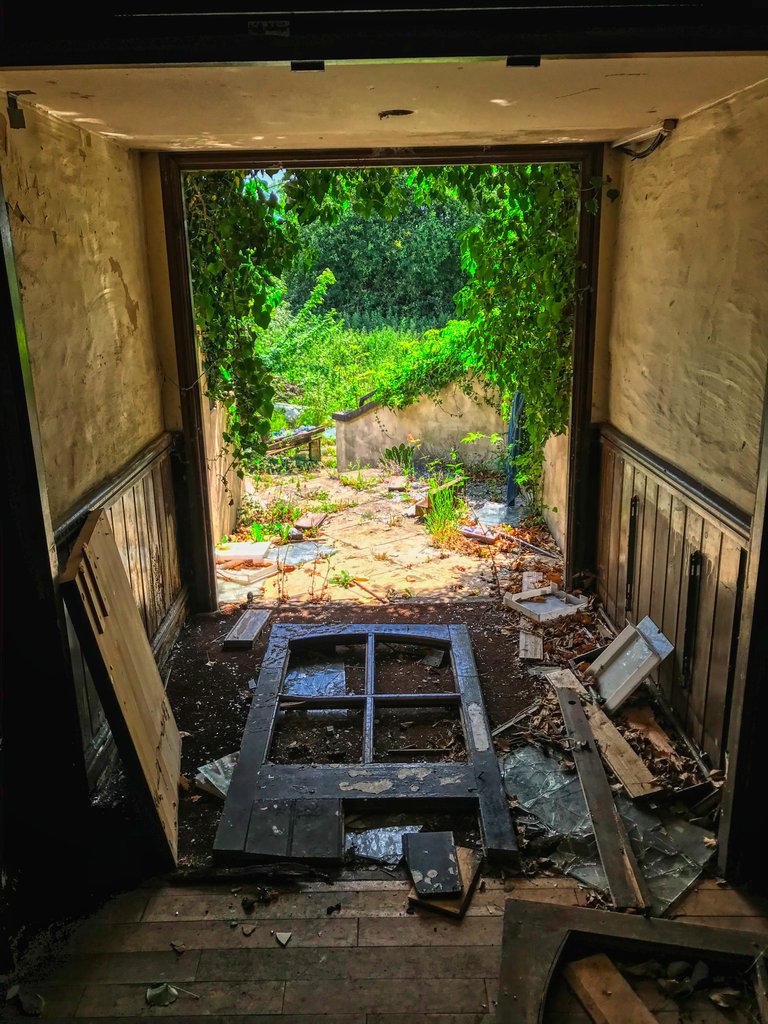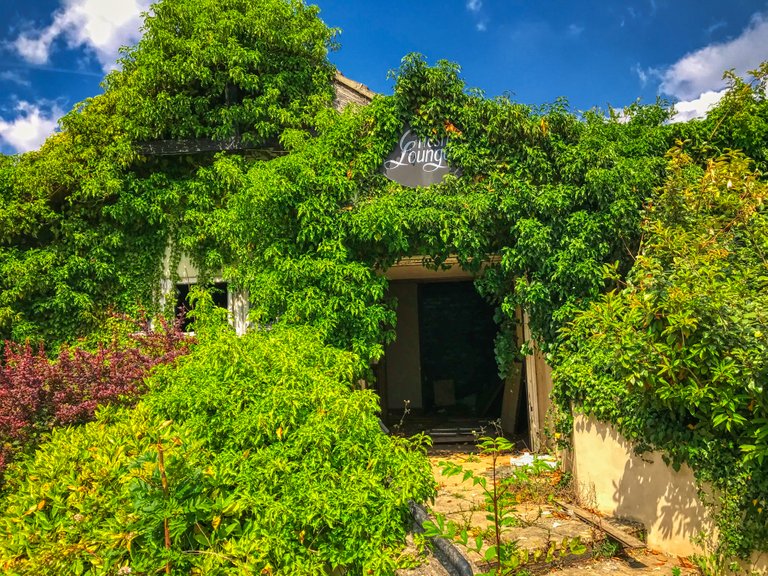 The back door opened (actually it was lying on the floor) to a marvellous beer garden and tent.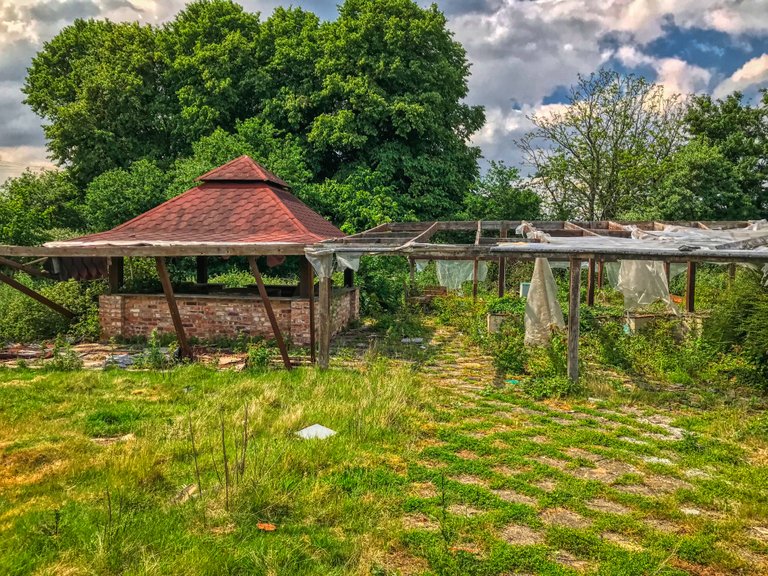 I could have used a pint, but sadly nobody was pulling the pumps.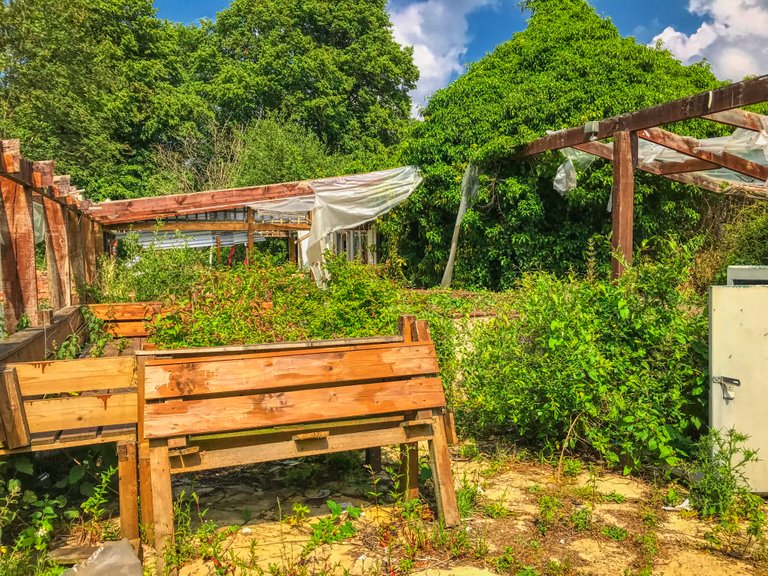 There was plenty of wild foliage to be seen with lots of brambles and nettles.
Well, what a waste. I figure The Nag's Head would have been a lovely stopover once.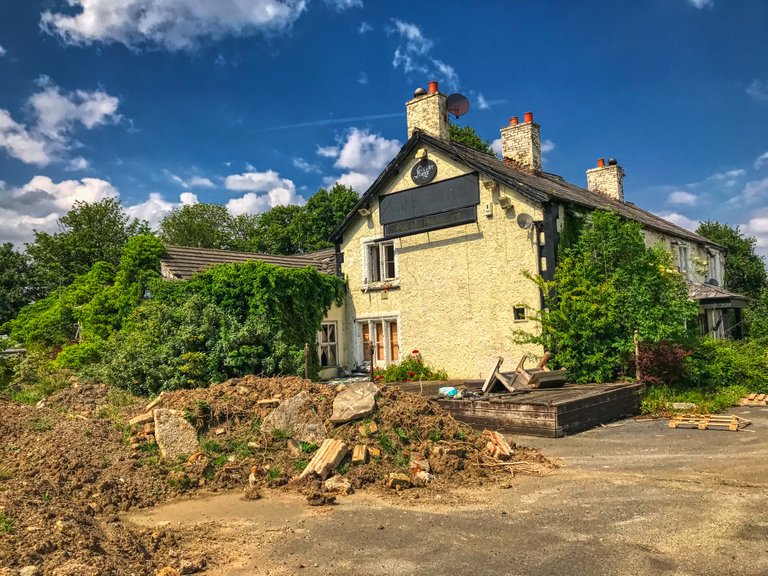 Nobody seems to care at its so far removed from anywhere, and nobody seems to want to even board the place up.

Do you like posting your Urbex content and photography for FREE on Facebook and YouTube? I like to get some form of reward for my work and every time I create I do just that. Take a look at The Urbex Community on HIVE.
If you want to keep creating for FREE then ignore what you are reading. If you want to be like me and gain something other than BUGGER ALL for your work then click here and learn about posting on the HIVE blockchain.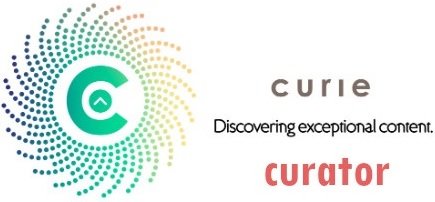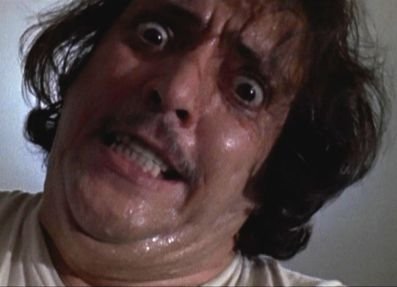 If you found this article so invigorating that you are now a positively googly-eyed, drooling lunatic with dripping saliva or even if you liked it just a bit, then please upvote, comment, rehive, engage me or all of these things.