I figured St Mary's in the Woods was not going to be the finest or most exciting explore.
I did feel it was not going to be a fail and as this was the first of many in our Leeds expedition, it's always good to get off to a positive start.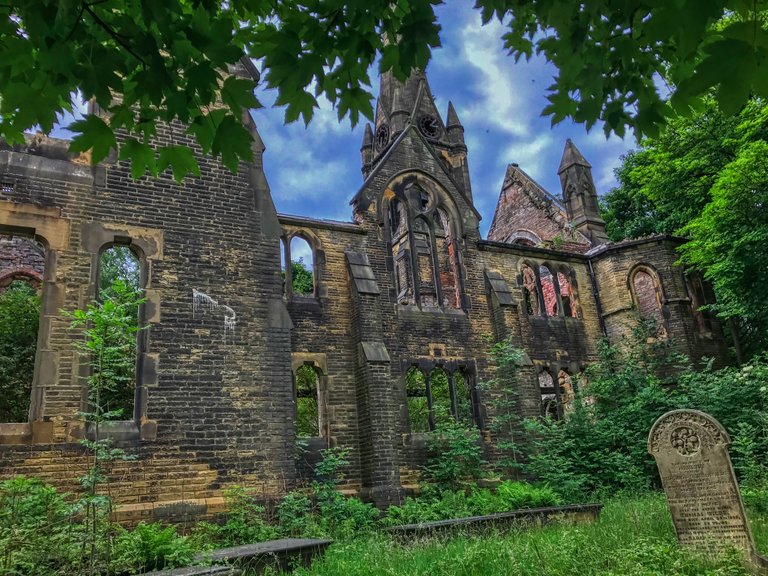 Scraping my car on a nearby lamp post while parking up was far from great, but you know…, shit happens.
"That will come out with t-cut", explained @dizzydiscovery to me, after inspecting the damage.
It does look pretty bad, but you are not here to look at my sorry looking car with its new damage marks, are you?
The present church was built in 1878 and is Grade II Listed. That means it can't be demolished.
Graves in churchyard go back to 1699 and many of the graves are listed as well.
Due to a dwindling congregation and unable to fund the upkeep of the Church, it was closed around 2007 and in 2008 was sold to an entrepreneur a former Leeds Magistrate, Graham Butterworth who now lives in Gibraltar.
A planning application was made in February 2010 to turn the church into a restaurant & 9 luxury hotel suites as well as a block of 30 more suites nearby.
On the 12th June 2010 in the early hours there was a devastating fire that gutted the church. No conclusion has been made by the Fire Service as to how this started and no one has been arrested.
The Church tower housed the Pancake Bell which originally came from Kirkstall Abbey in Leeds.
The Bell had been rung on Shrove Tuesday since the 17th Century. It was thought this had been lost in the fire but was later recovered at the base of the tower having crashed down through all the floors.
Getting into St Mary's in the Woods involved a little climbing as the gate was locked securely. This is no walk around the casual ruin affair.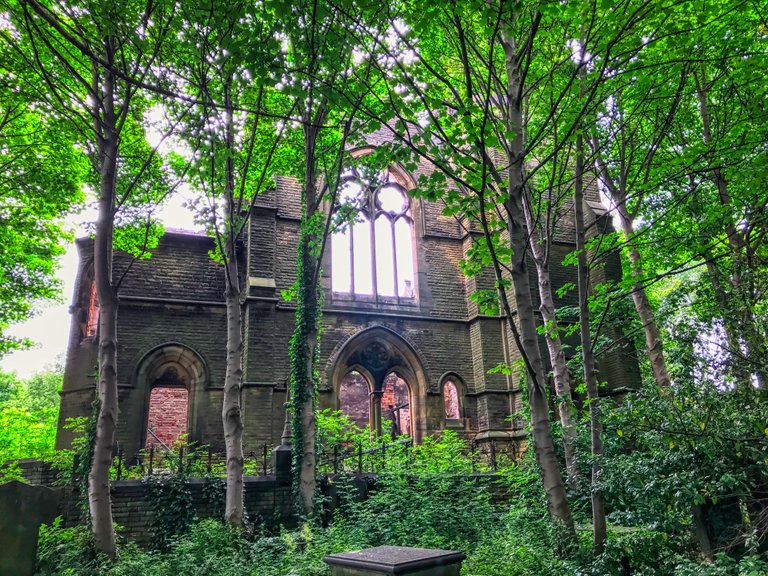 Approaching the old ruinous church, the sun came out and gave me this scene of holy light emitting from the windowless arches.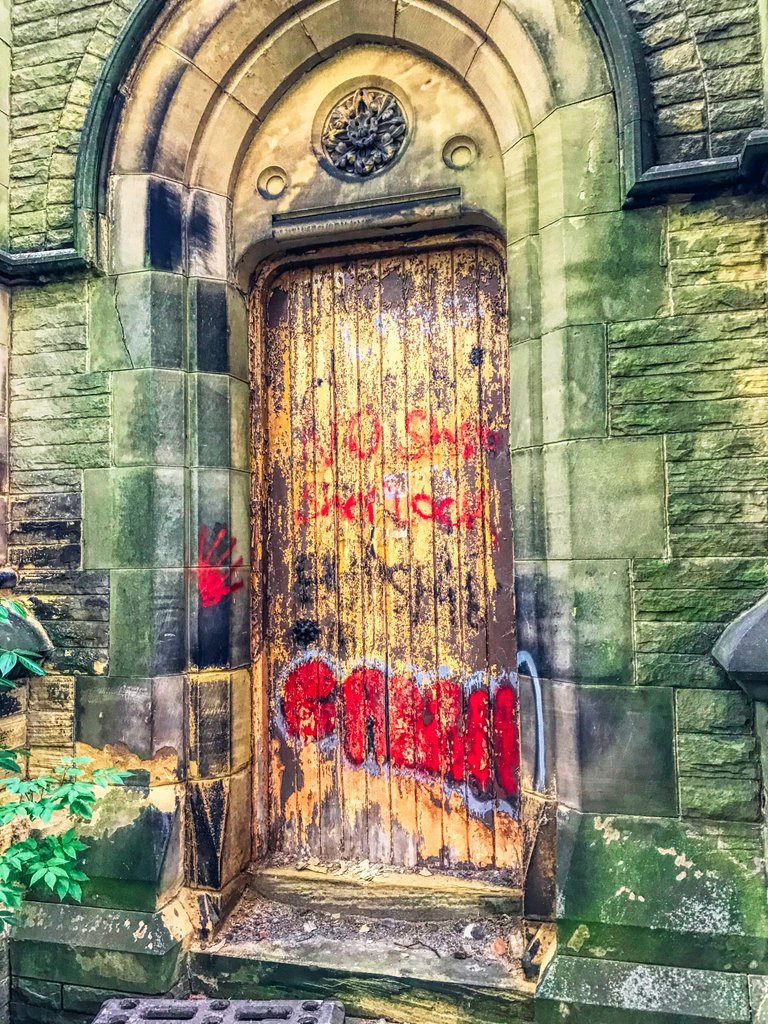 Getting inside meant walking through one of the many holes, this door has long since become an inactive deterrent for unwanted intruders.
Anti-climbing fencing has its uses, it 'helps' you climb if rotated 90 degrees. Not that I had any intention of climbing up there.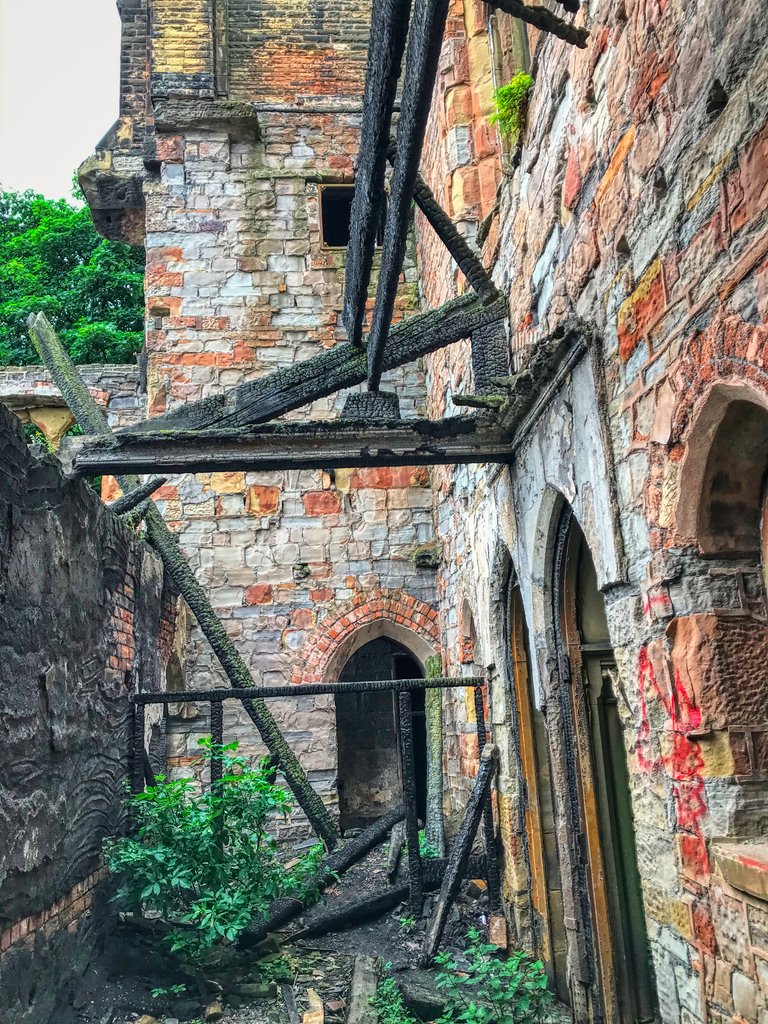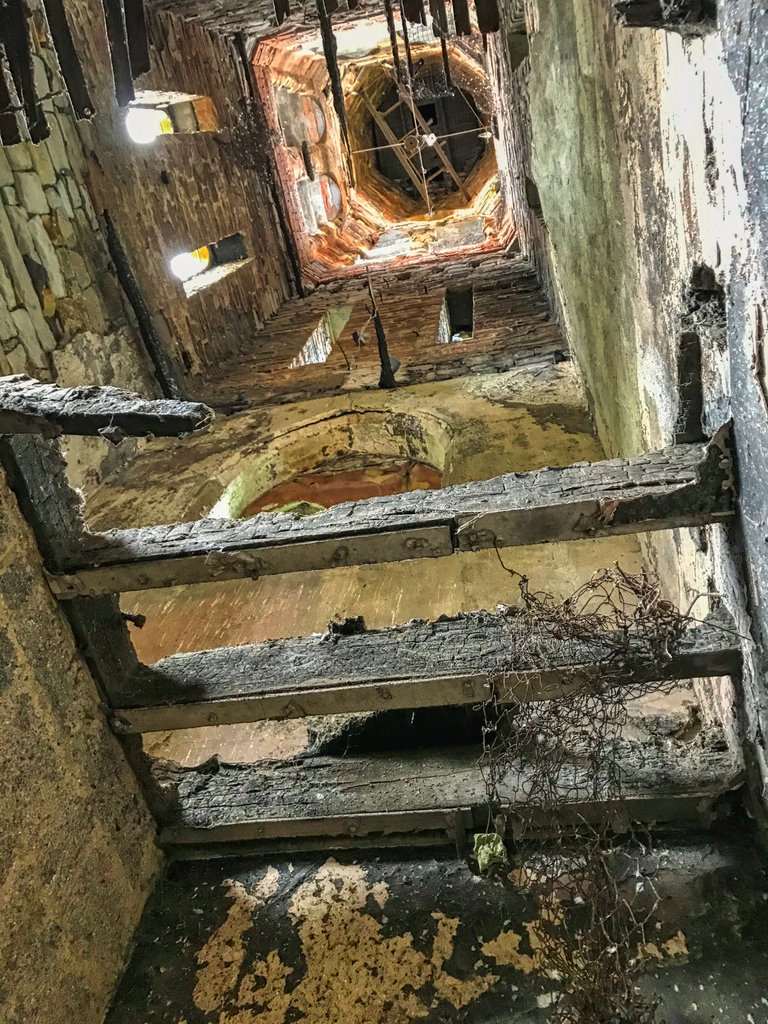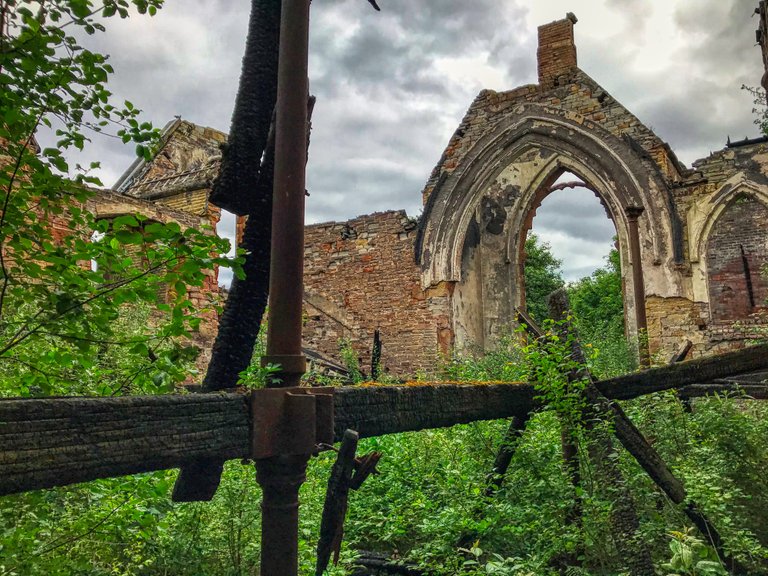 St Mary's in the Woods is suffering from mass overgrowth both outside and where the pulpits, pews, and other religious artifacts once sat.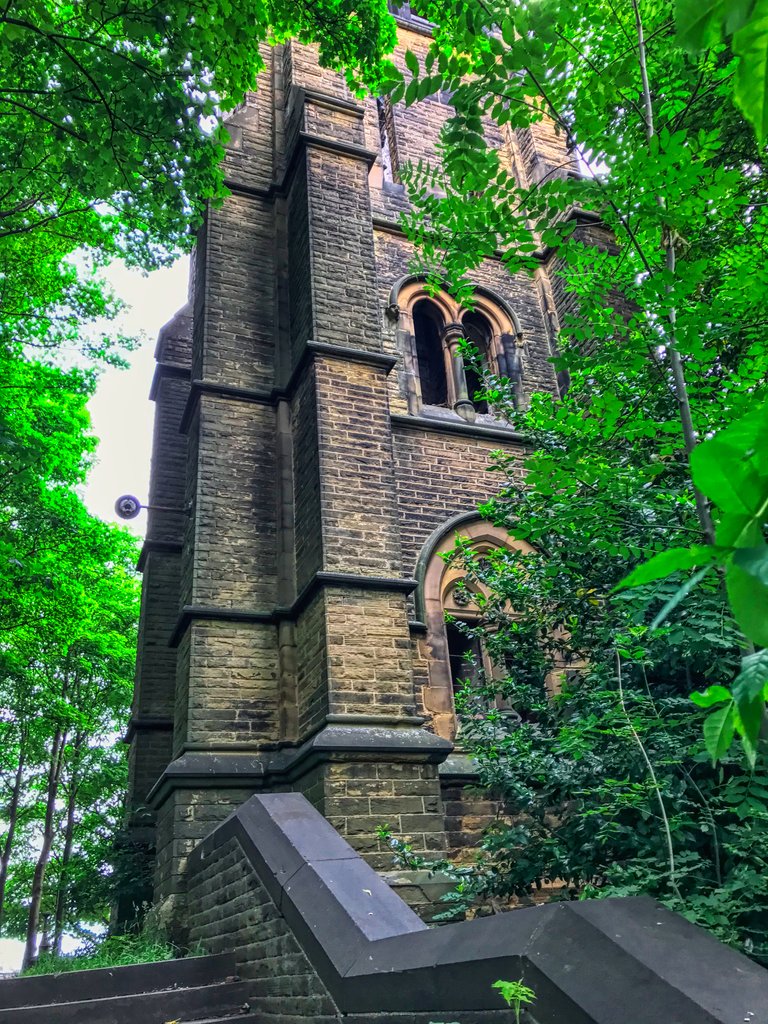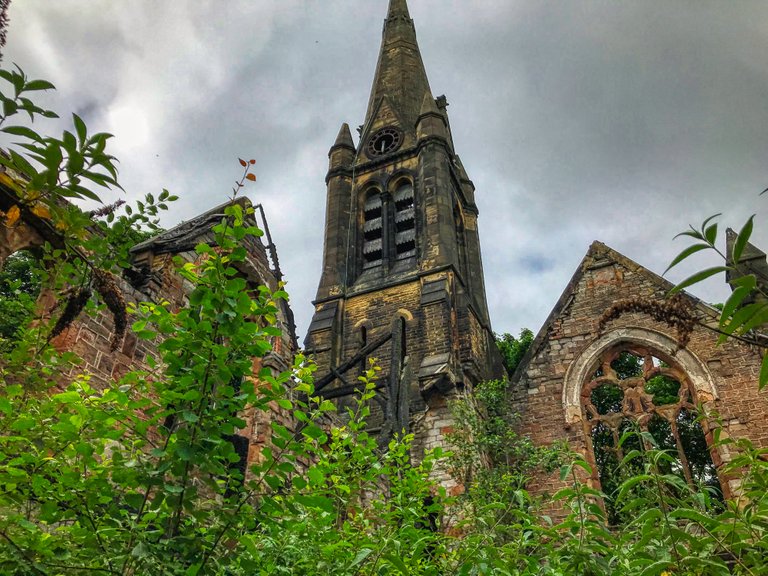 Some scaffolding has been erected but I had the feeling it's been left, just as the building has.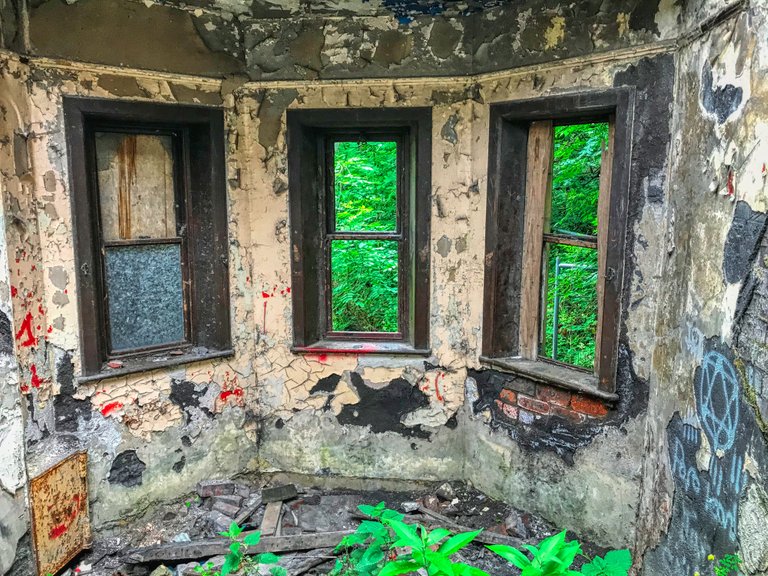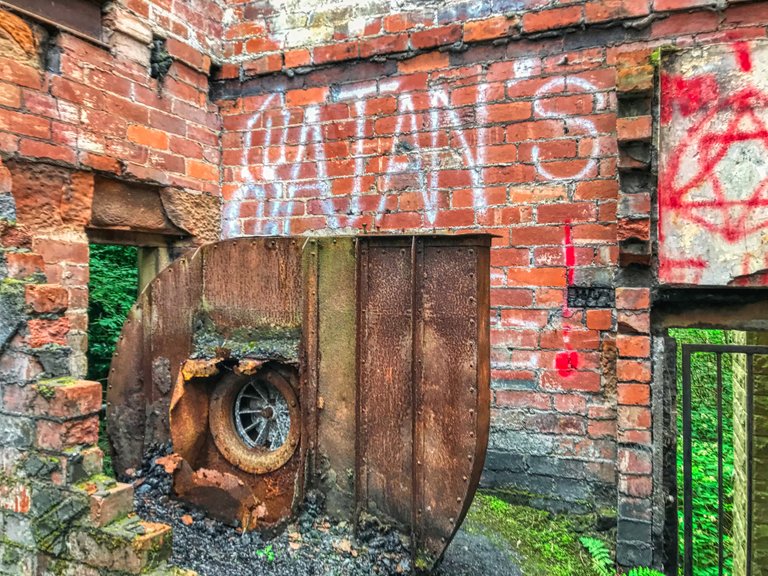 Like most religious ruins, Satan always finds his way inside, in the form of graffiti.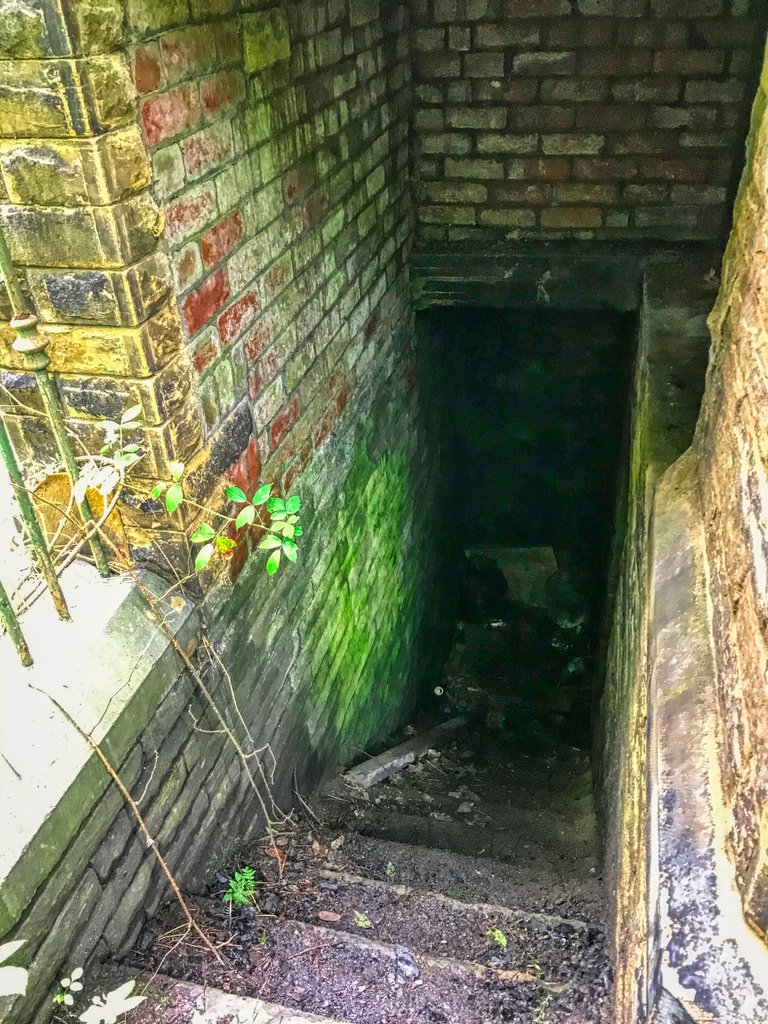 We were told to look for the crypt by a previous explorer who did not find it. Was it down here?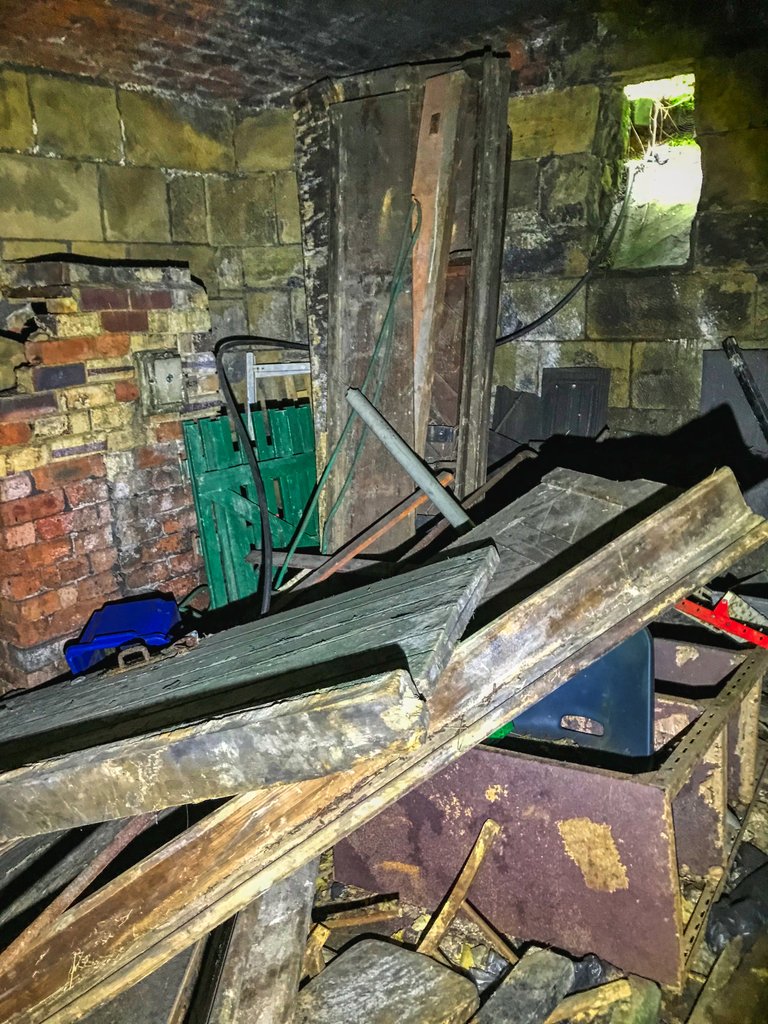 More like a junk room down the steps. I didn't want to move all this crap to see what lay underneath.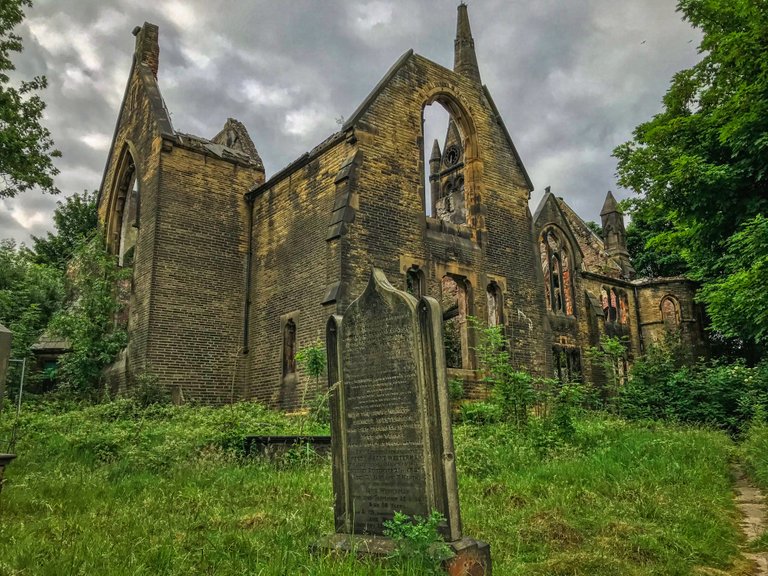 We walked around the edges taking some snaps and looking for this 'crypt'. Several areas were so overgrown we did not want to look, the brambles were way too thick.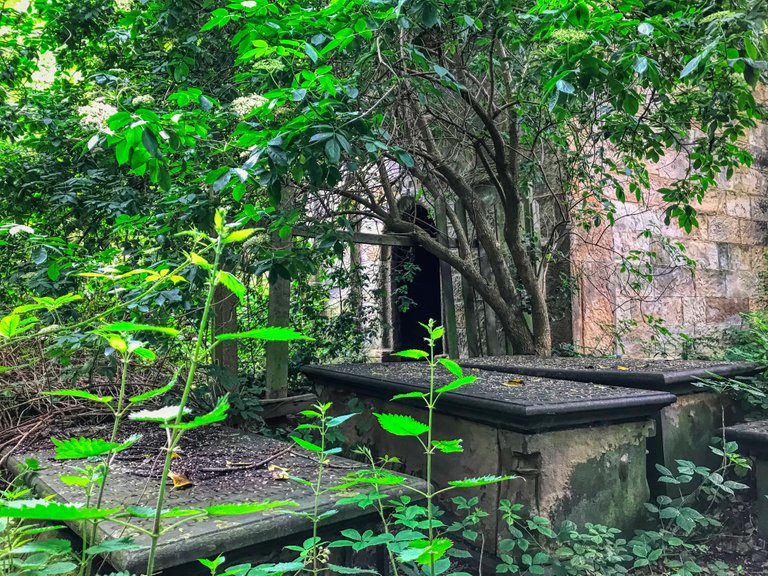 After climbing through what looked like a jungle we spotted a hole, was this it?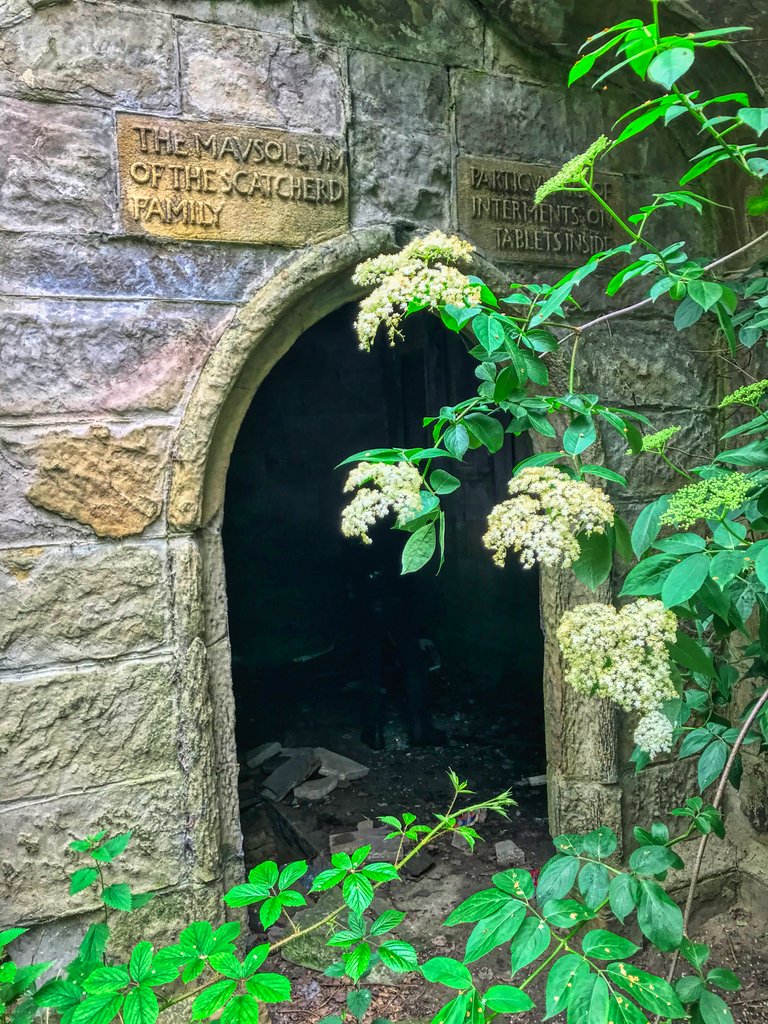 ...'The Mausoleum of the Scatcherd Family'...
This is not exactly a place underground, more a separate small area. Crypts to me are creepy places, with a small chance of the walking dead being present.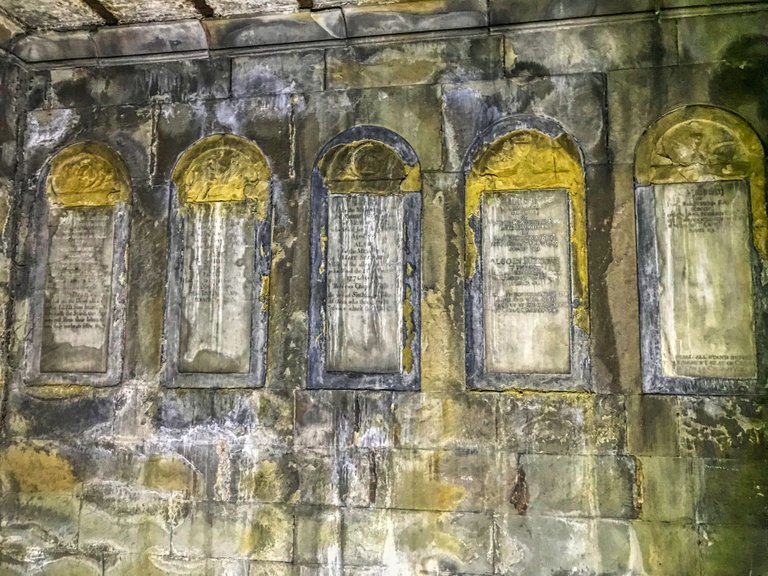 The 'Scatcherd' family must have had some money, to have their own burial chamber,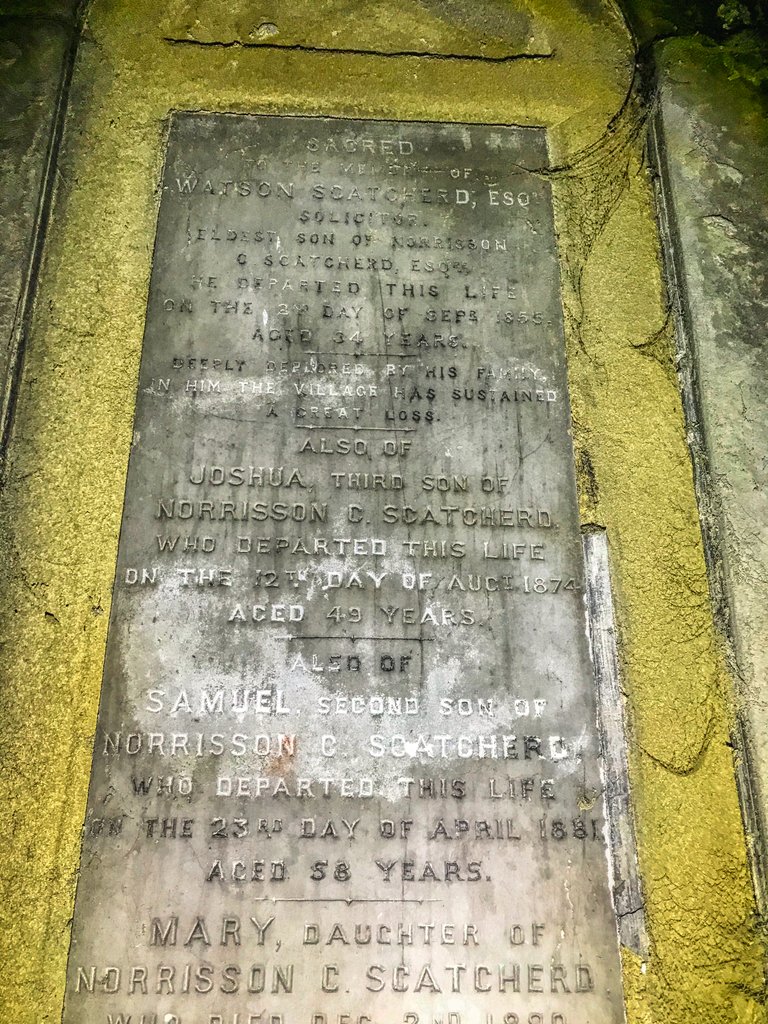 They died aged 34, 49, and 58. People didn't live too long in the 19th century, even rich ones.
If this was the crypt under all this junk then it would have to remain unexplored.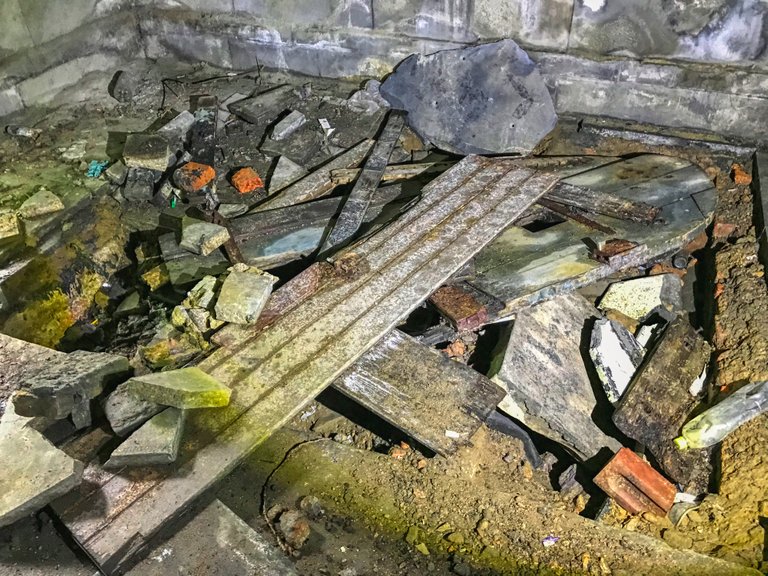 We didn't feel like digging out way down there. The Mausoleum is mentioned within this link
I did a little more digging on the Scatcherd family and found that Alice Cliff Scatcherd was an early British suffragist who in 1889 founded the Women's Franchise League.
Along with Emmeline Pankhurst, these women are best remembered for organizing the UK suffragette movement and helping women win the right to vote.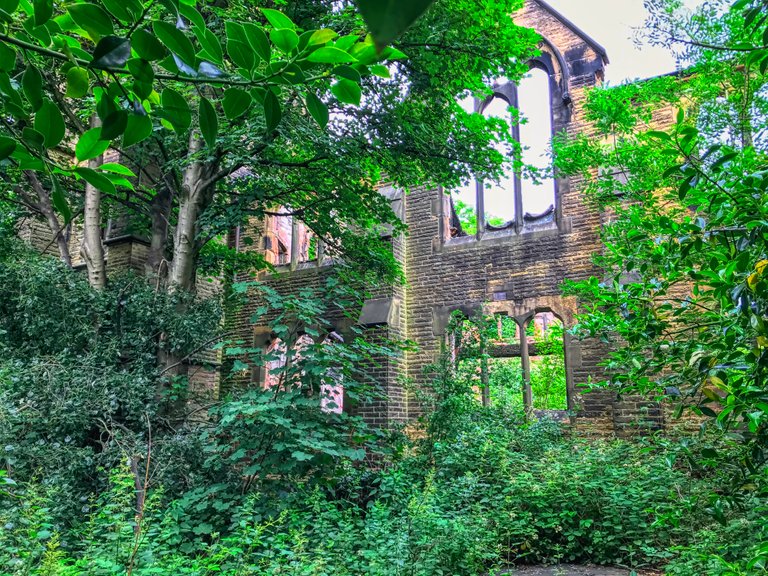 I did remember all this stuff from school, they must have taught me something despite it being the very worst school in Lancashire.
Alice Cliff Scatcherd is buried in this very Mausoleum. It's amazing what you can find with a little digging!

Do you like posting your Urbex content and photography for FREE on Facebook and YouTube? I like to get some form of reward for my work and every time I create I do just that. Take a look at The Urbex Community on HIVE.
If you want to keep creating for FREE then ignore what you are reading. If you want to be like me and gain something other than BUGGER ALL for your work then click here and learn about posting on the HIVE blockchain.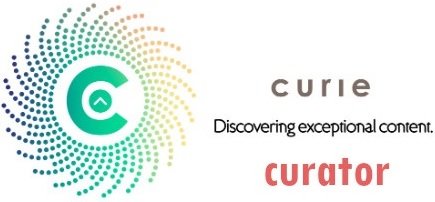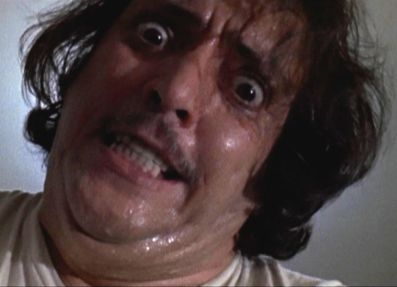 If you found this article so invigorating that you are now a positively googly-eyed, drooling lunatic with dripping saliva or even if you liked it just a bit, then please upvote, comment, rehive, engage me or all of these things.