¡Hola comunidad de Makeup Power!
Hello Makeup Power community!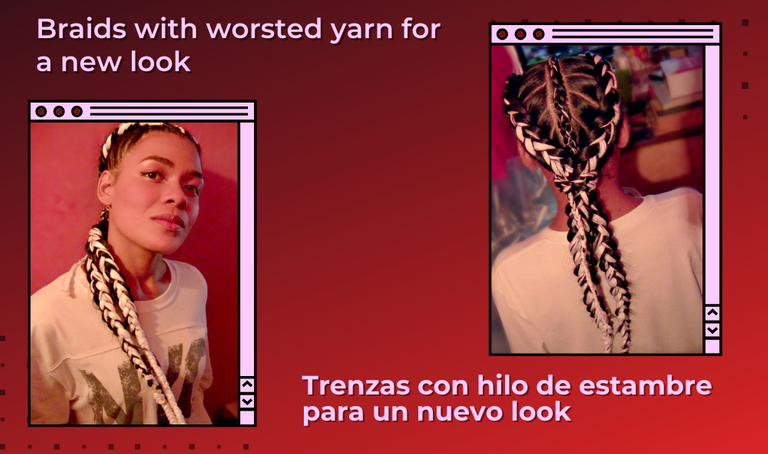 Image made by me in Canva.
---
Después de tanto tiempo me animé a traer contenido para este espacio donde di mis primeros pasos en Hive y me dio la oportunidad de crecer rápidamente. Este espacio siempre tendrá un lugar especial en mi corazón porque pude sacar algo de mi creatividad en el maquillaje.
After so long I was encouraged to bring content for this space where I took my first steps in Hive and gave me the opportunity to grow quickly. This space will always have a special place in my heart because I was able to get some of my creativity in makeup.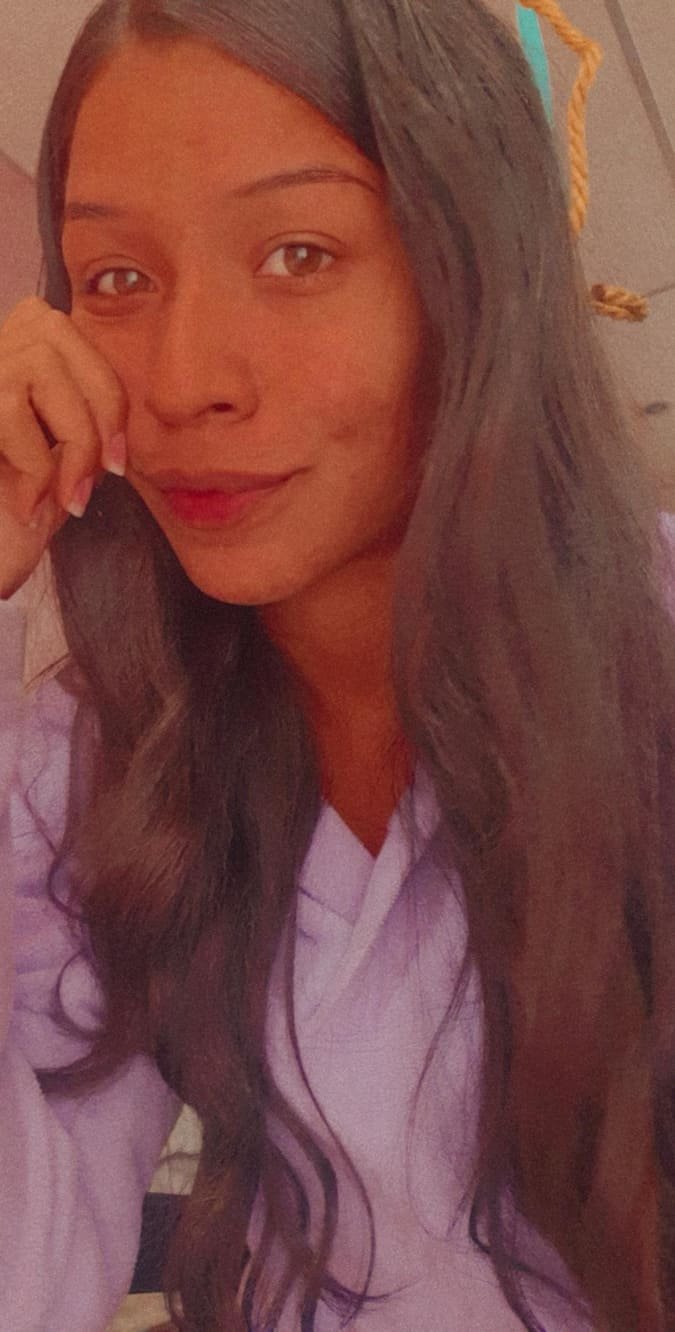 Este contenido tenía varios meses guardado en una carpeta y lo hice como prueba, buscando aprender a hacer este tipo de trenzado con estambre, se me ocurrió documentar un poco el proceso con la intención de traerlo a mi blog pero estaba tan indecisa que terminé dejándolo en el olvido.
Hace unos días mientras limpiaba y ordenaba cosas en mi ordenador encontré las fotos del proceso de este trenzado y decidí compartir con ustedes parte de lo que fue el proceso, el resultado y la experiencia, espero que se queden a verlo y me cuenten qué tal quedó.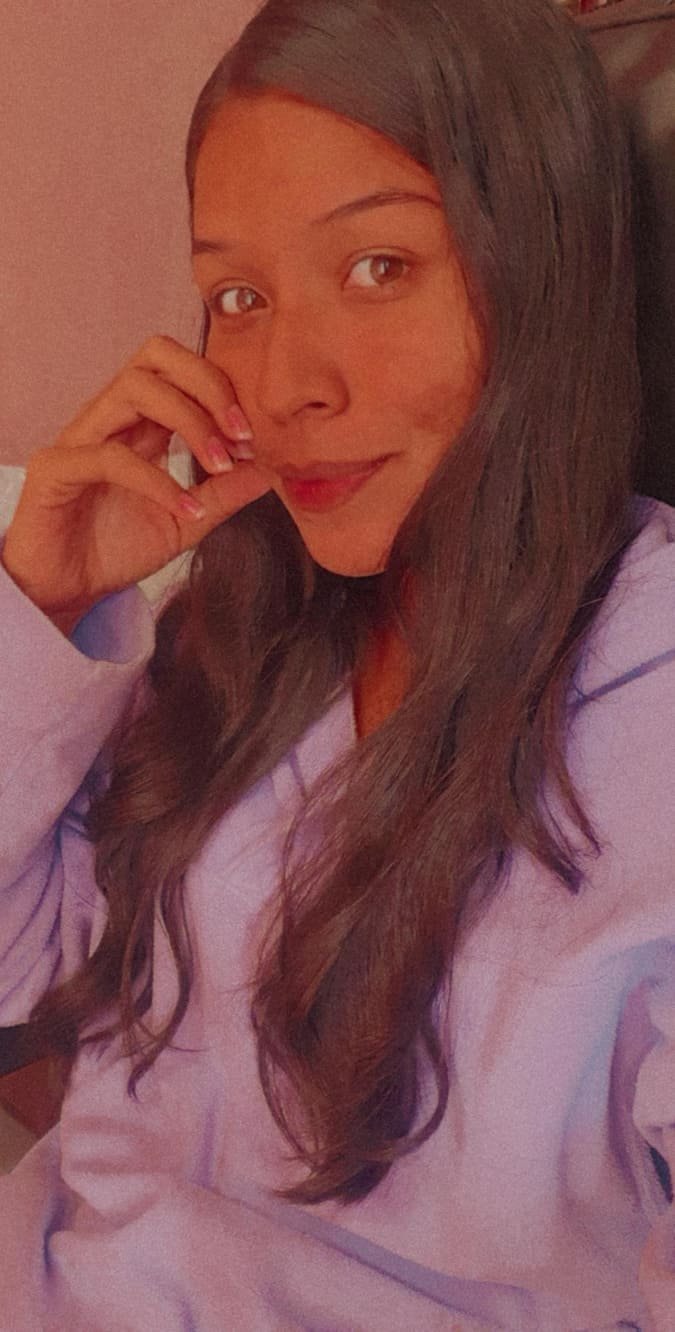 This content had several months saved in a folder and I did it as a test, looking to learn how to do this type of braiding with thread, it occurred to me to document a little of the process with the intention of bringing it to my blog but I was so indecisive that I ended up leaving it in oblivion.
A few days ago while cleaning and tidying things on my computer I found the photos of the process of this braiding and decided to share with you part of what was the process, the result and the experience, I hope you stay to see it and tell me how it turned out.

Esta idea surgió porque mi hermana tenía muchas ganas de hacer un look de trenzas y darles color con estambre porque es la forma más accesible y menos costosa de hacerlo. Normalmente estas trenzas se decoran con Kanekalon.
Mi hermana ya tenía días con el tema de las trenzas con estambre así que ella misma ya había cortado una cierta cantidad, nosotras sólo cortamos un poco más y no tomamos foto de cómo lo hicimos porque es un poco tedioso y me estresé un poco en el proceso, estaba tirando la toalla.
This idea came up because my sister really wanted to do a braided look and add color to them with yarn because it is the most accessible and least expensive way to do it. Normally these braids are decorated with Kanekalon.
My sister already had days with the theme of braids with yarn so she herself had already cut a certain amount, we just cut a little more and did not take a picture of how we did it because it is a little tedious and I got a little stressed in the process, I was throwing in the towel.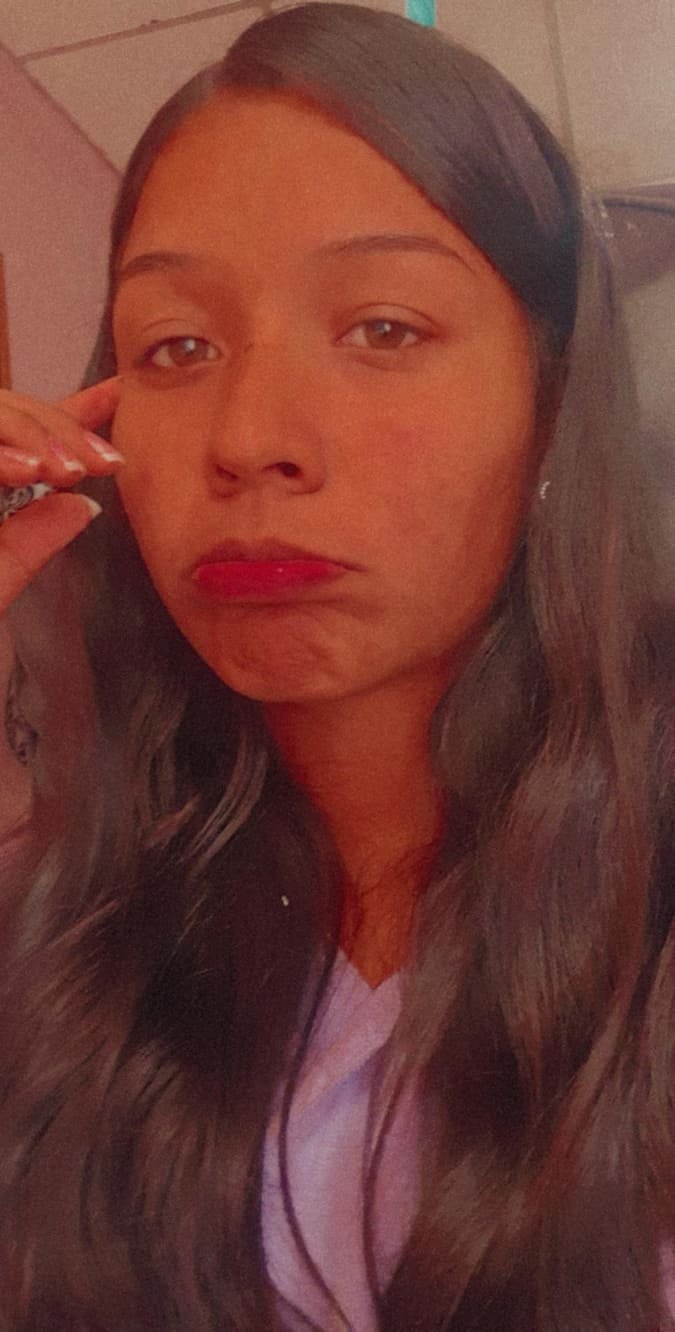 Básicamente cogemos el extremo del hilo y medimos la longitud del pelo con él, tenemos que añadir unos centímetros más porque a medida que vayamos trenzando se irá recogiendo un poco, además tenemos que sellar bien las puntas y también tener en cuenta la longitud deseada. Hay que intentar mantener el mismo tamaño de las tiras que se cortan porque si no será un desastre como nosotras.
Basically we take the end of the thread and measure the length of the hair with it, we have to add a few centimeters more because as we go braiding it will be collecting a little, we also have to seal the ends well and also take into account the desired length. You have to try to keep the same size of the strips that you cut because otherwise it will be a disaster like us.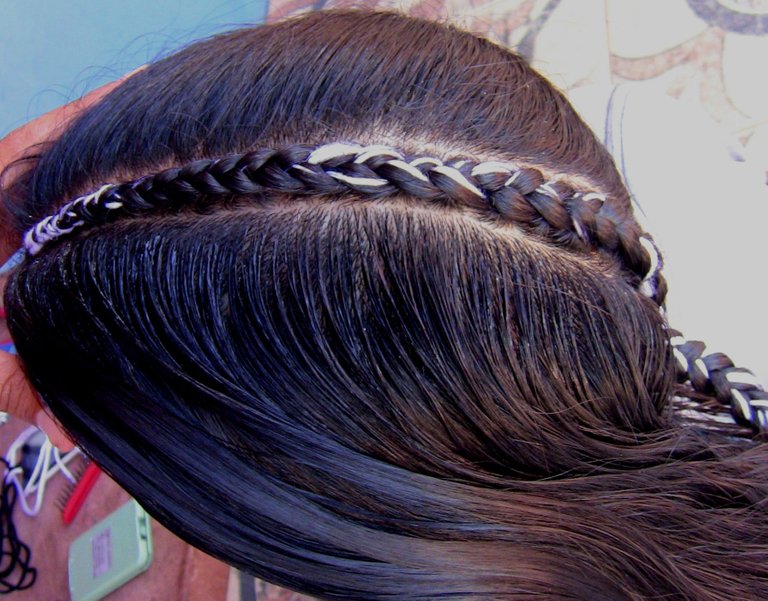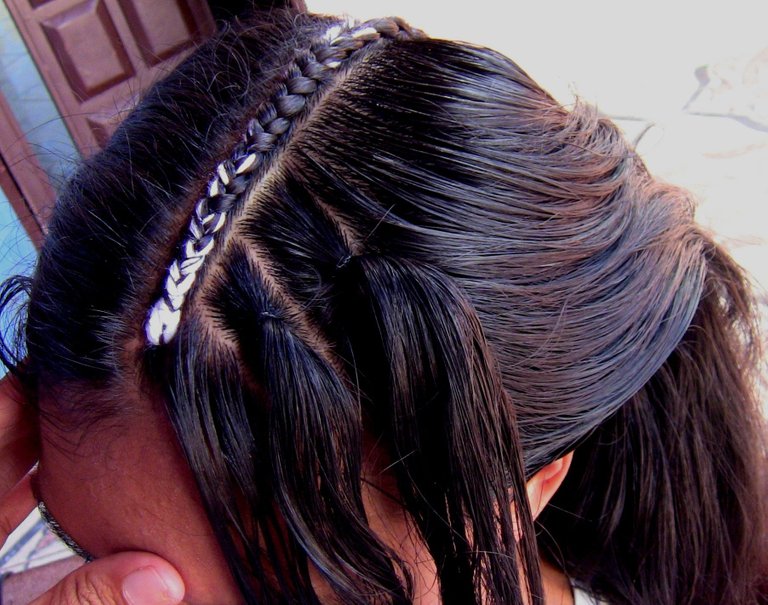 Empecé haciendo una trenza de tres cabos hacia fuera en el centro, tejida con muy poco hilo -un error- porque la idea era que cubriera más el pelo pero no había mucho hilo y mi hermana tiene abundante pelo.
Luego apliqué un poco de gelatina y comencé a dividir el cabello por mechones sujetándolos con ligas, es importante distribuir bien las divisiones para que no haya tanta separación como se ve en mi peinado.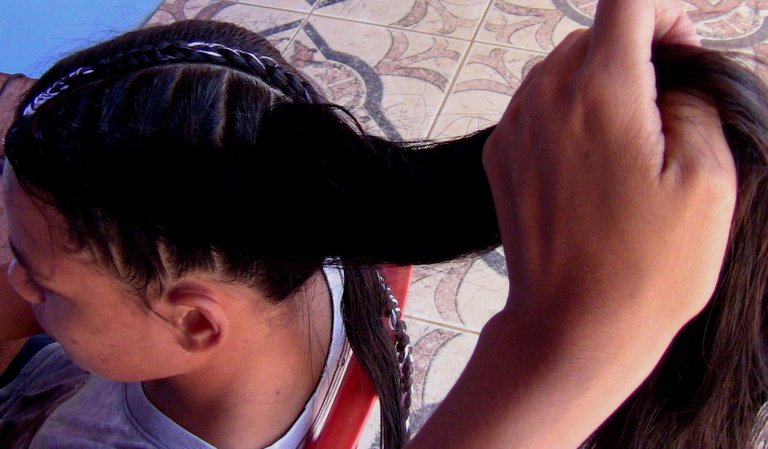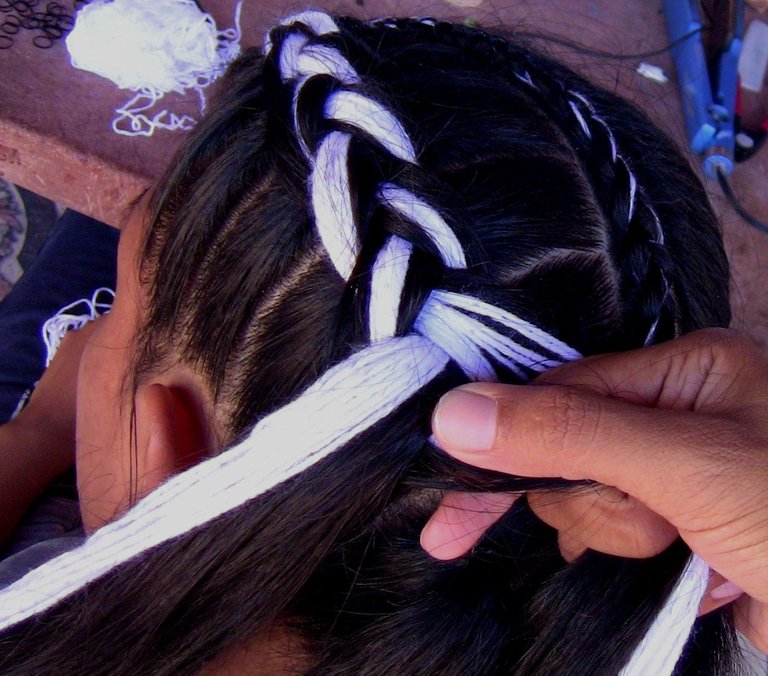 I started by making a three strand braid outwards in the center, woven with very little yarn - a mistake - because the idea was that it would cover more of the hair but there wasn't much yarn and my sister has abundant hair.
Then I applied some gelatin and started to divide the hair by strands holding them with rubber bands, it is important to distribute the divisions well so that there is not as much separation as seen in my hairstyle.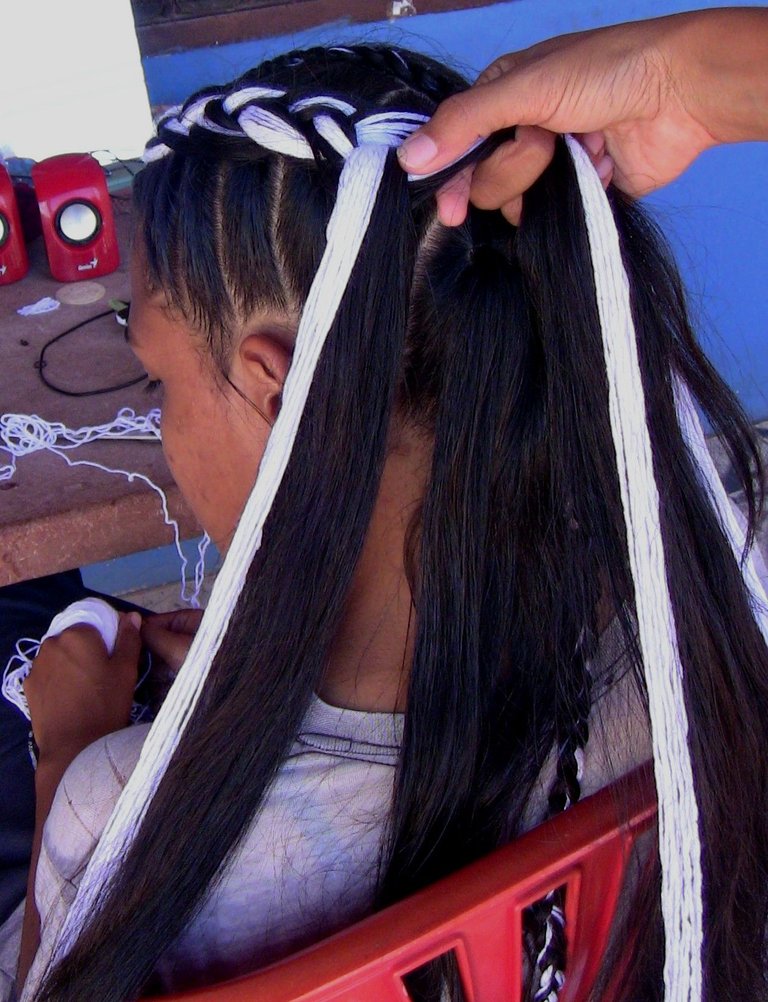 Luego dividí el hilo por mechones y los puse entre cada mechón de pelo y luego empecé a tejerlo todo junto. Una vez que terminé con el trenzado decidí maquillar a mi hermana para hacer una pequeña sesión de fotos mostrando su look para compartirlo en facebook con sus amigos y familiares.
Hice un maquillaje muy sencillo, quería que su rostro se viera tierno, utilicé tonos rosados porque es su color favorito y le queda muy bien y las cejas un poco sombreadas porque tiene cejas pobladas.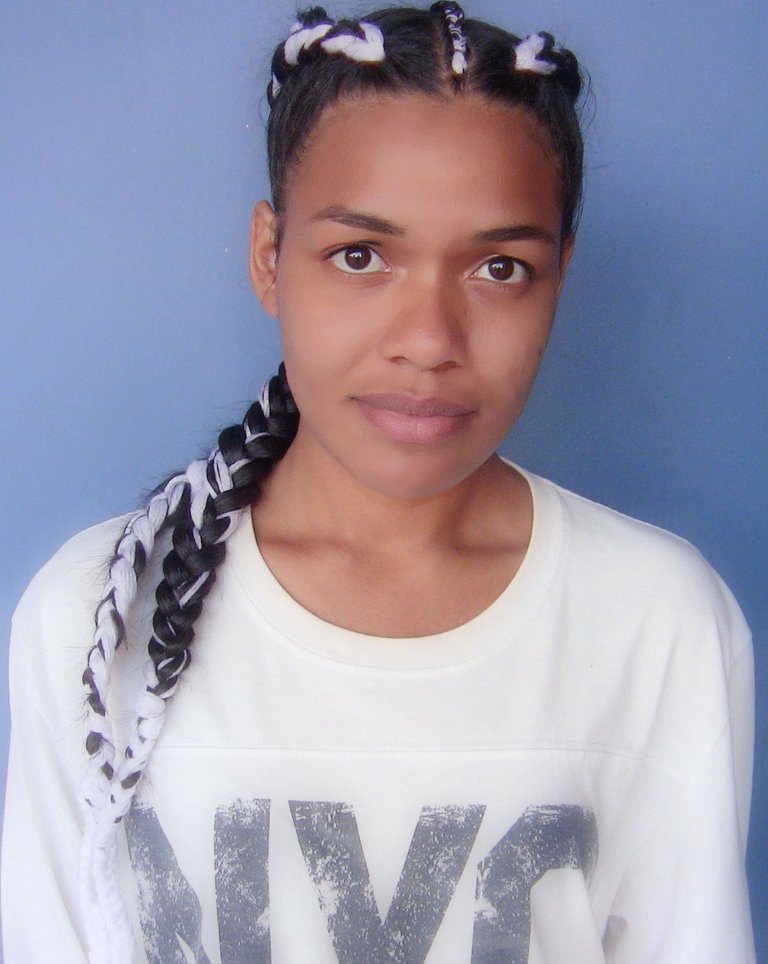 I then divided the yarn by strands and put them in between each strand of hair and then started weaving it all together. Once I was done with the braiding I decided to do my sister's makeup to do a little photo shoot showing her look to share it on facebook with her friends and family.
I did a very simple makeup, I wanted her face to look tender, I used pink tones because it's her favorite color and it suits her very well and the eyebrows a little bit shaded because she has bushy eyebrows.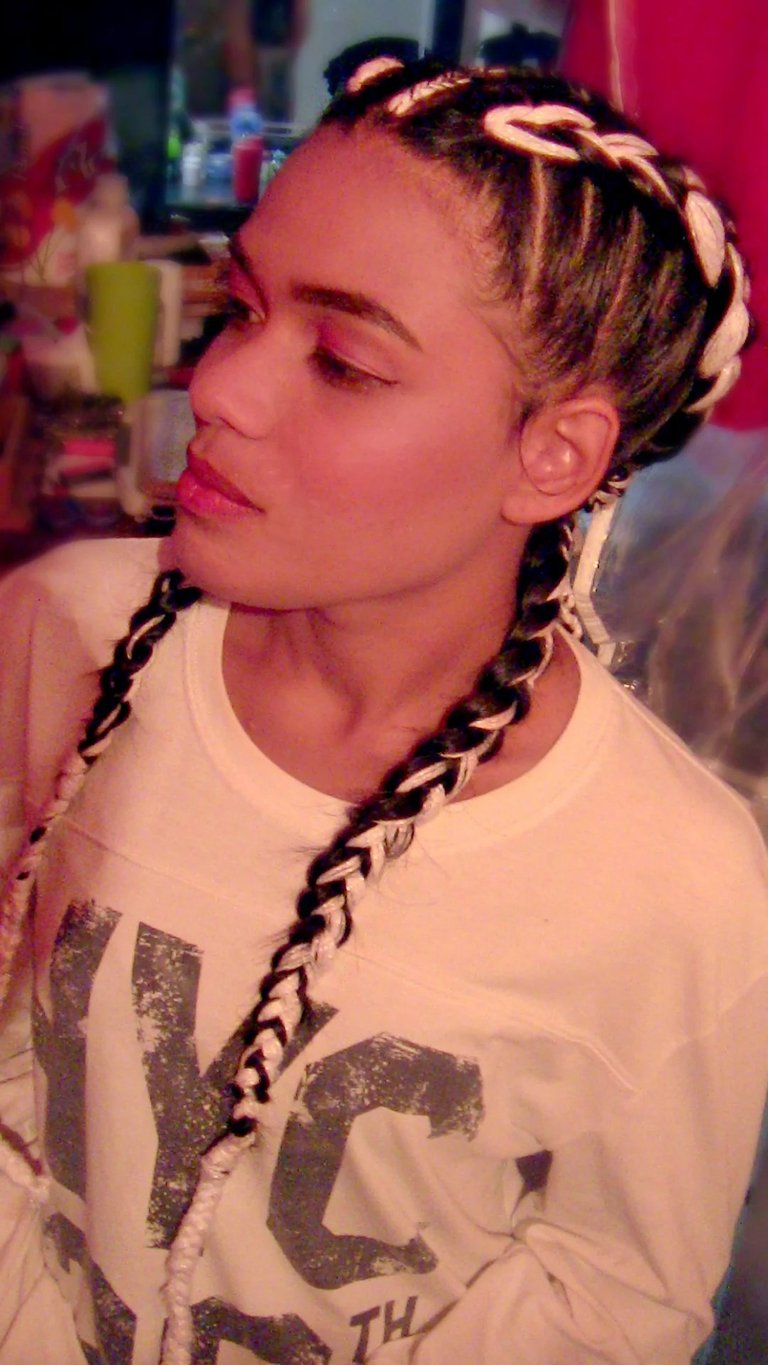 La parte más delicada fue cortar las tiras de estambre supongo que es cuestión de práctica o de conseguir la mejor manera de hacerlo ya que lo mejor es dejarlas del mismo largo, para estos trabajos recomiendan tener seis rollos de hilo si la persona tiene abundante pelo y quiere cubrirlo para que solo se vea el color. Nosotras solo usamos uno y aunque no cubrió el pelo quedamos muy contentas con el resultado.
Si piensas que va a quedar feo por ser ese material, te digo que no es así porque yo era de las que estaba más preocupada por cómo quedaría y la verdad es que quedé encantada porque llamaba demasiado la atención, si se hace un buen trabajo puede quedar espectacular, en mi caso confieso que me faltó ser más detallista, pero era una prueba y no pensé que llevaría tanto trabajo.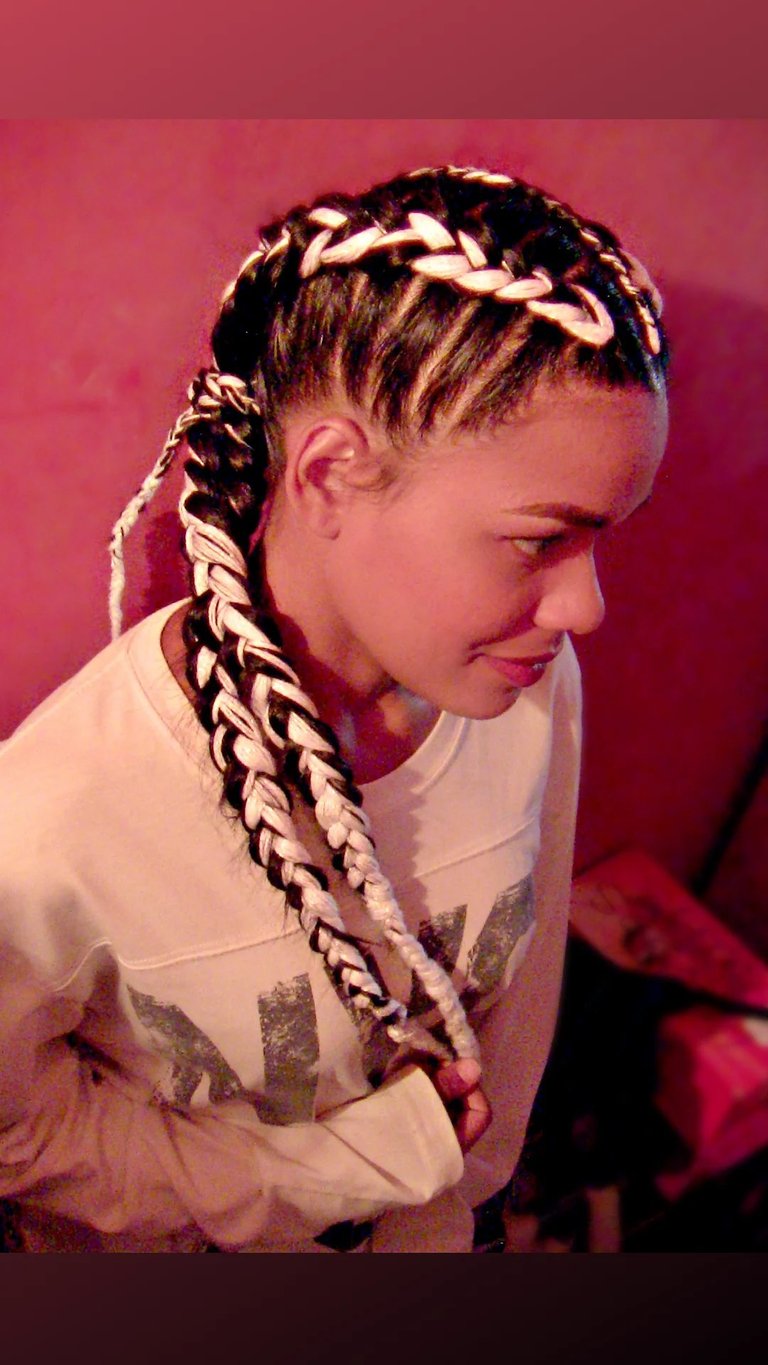 The most delicate part was cutting the strips of yarn I guess it is a matter of practice or getting the best way to do it since it is best to leave them the same length, for these jobs they recommend having six rolls of yarn if the person has abundant hair and wants to cover it so that only the color is visible. We only used one and even though it didn't cover the hair we were very pleased with the result.
If you think that it will be ugly because it is that material, I tell you that it is not so because I was one of those who was more worried about how it would look and I was really delighted because it called too much attention, if you do a good job it can look spectacular, in my case I confess that I lacked to be more detailed, but it was a test and I did not think it would take so much work.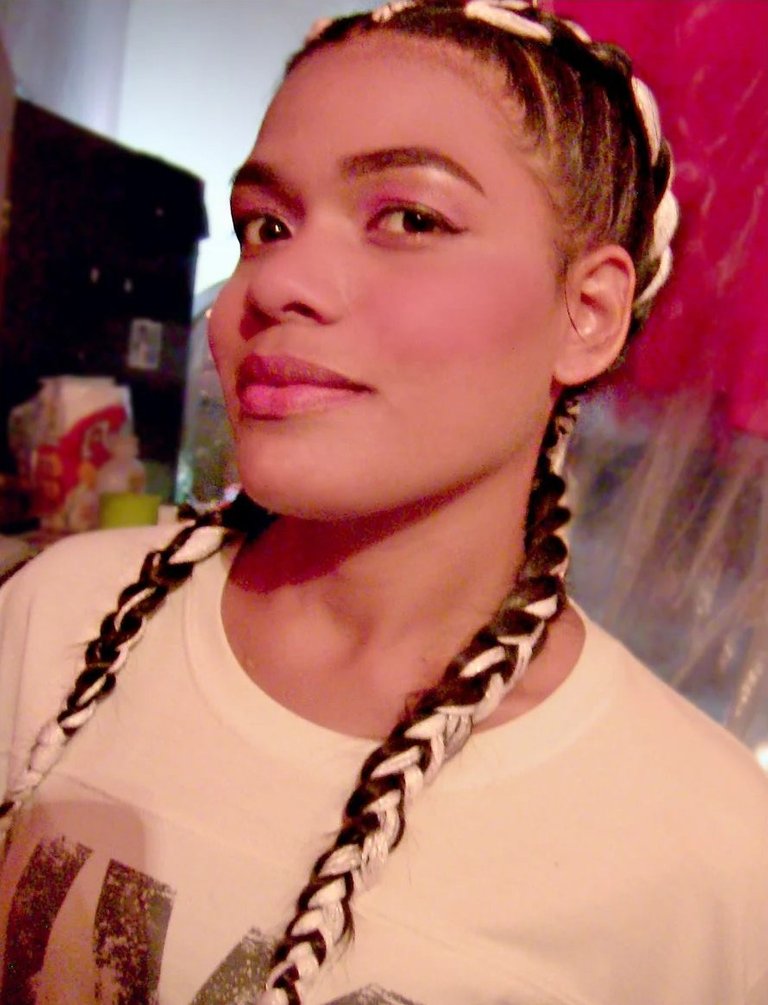 Aun así tengo pensado volver a probarlo en alguien con menos pelo para ver como queda con todo el pelo escondido, y bueno poner más paciencia y dedicación. Cuando ordené las fotos en el post me di cuenta que no mostré el paso a paso para quienes quieran probarlo, así que disculpen, tal vez la próxima vez les muestre los pasos.
Bueno amigos eso es todo, las fotos donde mi hermana ya está arreglada fue parte de la sesión, lamentablemente las otras se perdieron pero solo puedo decirles que me encantó intentarlo y volveré pronto con un mejor trabajo, muchas gracias por leer y espero que les haya gustado tanto como a mí.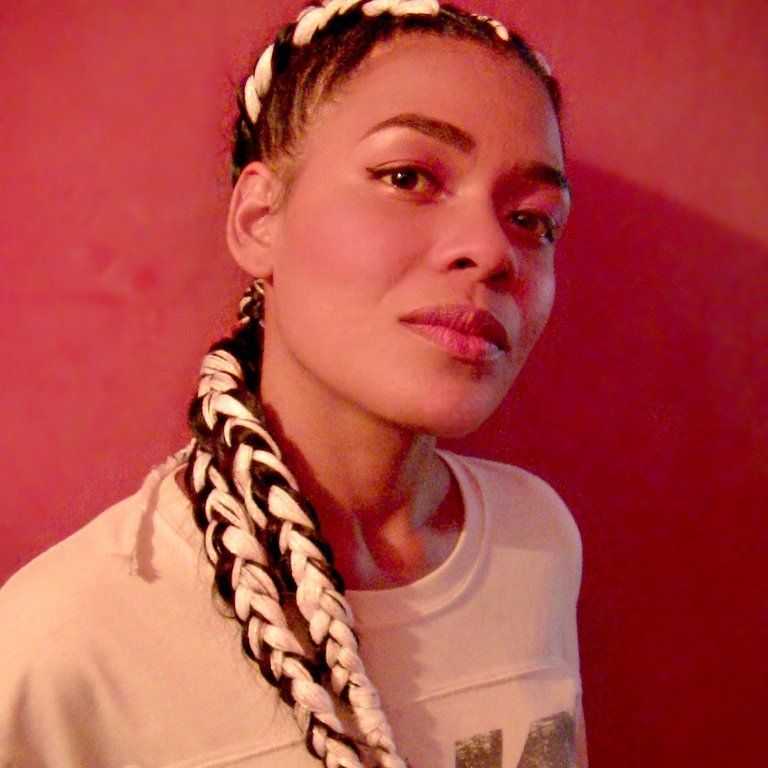 I still plan to try it again on someone with less hair to see how it looks with all the hair hidden, and well put more patience and dedication. When I ordered the photos in the post I realized that I didn't show the step by step for those who want to try it, so excuse me, maybe next time I will show you the steps.
Well friends that's all, the photos where my sister is already arranged was part of the session, unfortunately the others were lost but I can only tell you that I loved trying and I'll be back soon with a better job, thank you very much for reading and I hope you liked it as much as I did.

Fotos extras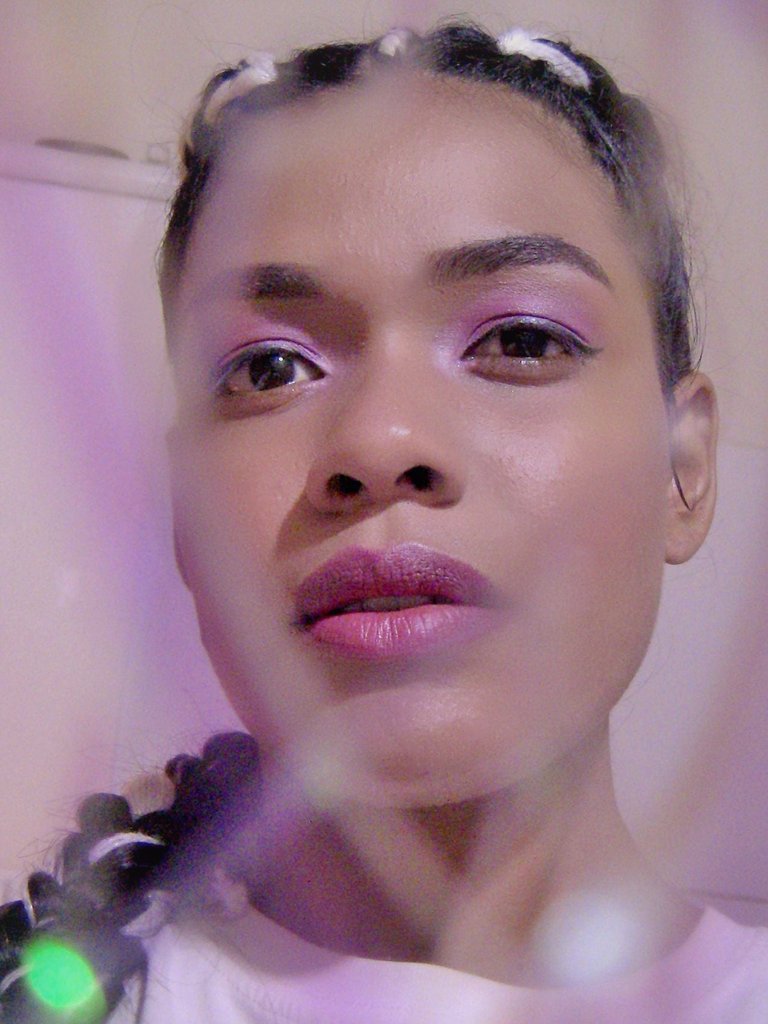 Extra photos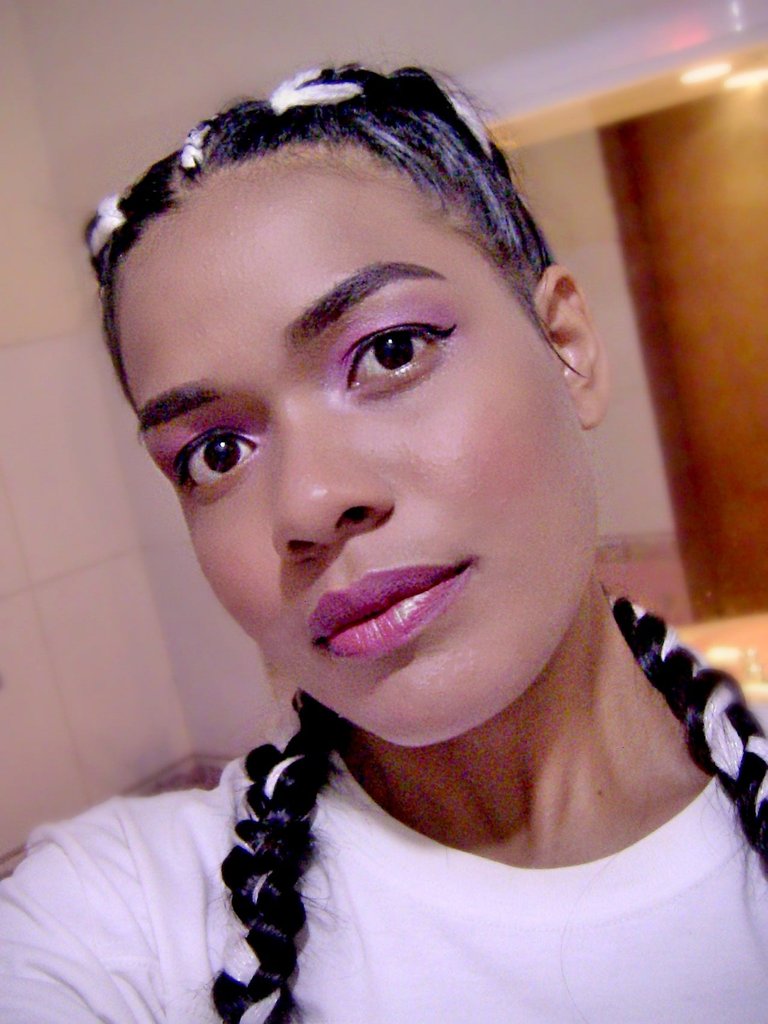 Todas las fotos son de mi propiedad.
Separadores realizados por mí en Canva.
Texto traducido en DeepL.
¡Hasta la próxima!
---
All photos are my property.
Dividers made by me in Canva.
Text translated at DeepL.
See you next time!

Banner created by me in Canva.