(ESP/ENG) Nuestras valiosas herramientas | Our valuable tools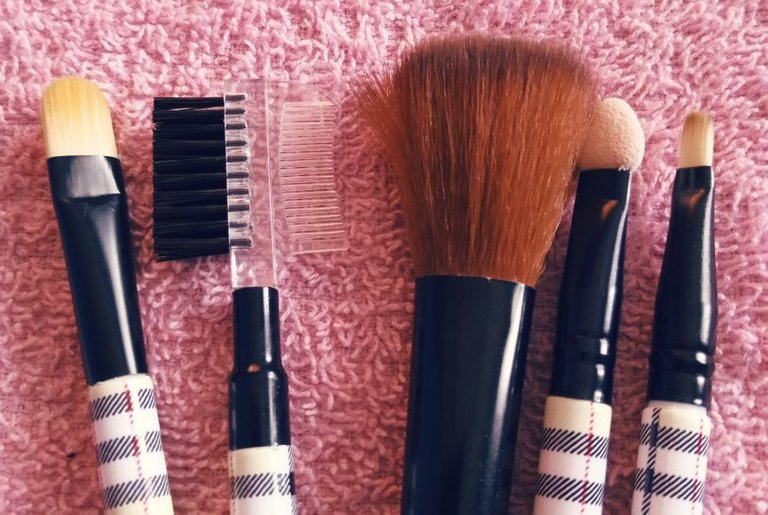 Hola muñecas 😘 el día de hoy quiero hablarles de nuestras Herramientas o utensilios empleados para el uso del maquillaje en nuestro mundo mágico del maquillaje, dónde podemos conseguir muchos utensilios pero con exactitud no podríamos saber cuántas marcas y cuantas cosas existen, lo cierto es que cada día las mujeres quieren tener más productos, pues se hace parte de la necesidad, son como los juguetes para los niños.
Hello dolls 😘 today I want to talk about our Tools or utensils used for the use of makeup in our magical world of makeup, where we can get many tools but exactly we could not know how many brands and how many things exist, the truth is that every day women want to have more products, because it becomes part of the need, they are like toys for children.

Por eso Hoy les hablaré sobre lo más común que podrás encontrar en la casa de cualquier mujer que se maquille seguido, las famosas "Brochas" son muy populares, las venden por todo el mundo, algunos le llaman pinceles de maquillaje y lo cierto es que para lo que piense hacerte en el rostro vas a necesitar al menos algunas de estas brochas.
So today I will talk about the most common thing that you can find in the house of any woman who often make up, the famous "brushes" are very popular, they are sold all over the world, some call it makeup brushes and the truth is that for what you plan to do on your face you will need at least some of these brushes.
Las brochas duran mucho y no es algo que tenemos que comprar todos los días pero si tenemos que tomar en cuenta que requieren de cuidados para alargar su vida útil porque como todo en la vida tiene un tiempo de caducidad.
Brushes last a long time and it is not something that we have to buy every day but we have to take into account that they require care to extend their useful life because like everything in life has an expiration date.
Así que he decidido comprar un set de brochas, no es de marca famosa, ni mucho menos costosas, pero es que luego de mi post parto yo he decido comprar algunos utensilios para reemplazar las antiguas cosas que tenía, pues con el tiempo los cosméticos se dañan, y esto es de suma importancia, al usar cosméticos dañados nos podemos intoxicar y las herramientas no trabajarán igual, se desgastan y las brochas botan pelitos, así que cuando ya pasen tres años de los cosméticos recomiendo ya desechar, aunque no creo que se llegue a ese tiempo pero de igual manera lo dejo como recomendación, más que todo cosas como máscaras, pestañas, delineador de ojos líquidos, creyones es lo que mas se daña.
So I have decided to buy a set of brushes, it is not a famous brand, much less expensive, but after my postpartum I have decided to buy some tools to replace the old things I had, because over time cosmetics are damaged, and this is of utmost importance, when using damaged cosmetics we can get intoxicated and the tools will not work the same, They wear out and the brushes shed hairs, so after three years of cosmetics I recommend discarding them, although I don't think you will reach that time but I still leave it as a recommendation, especially things like mascaras, eyelashes, liquid eyeliner, crayons are what gets damaged the most.
Eres nueva en este mundo ¿Sabes para que se usa cada brochas?, yo no soy una experta en el tema, pero puedo enseñarte para que sirve y como se utilizan estás 5 brochas.
If you are new in this world, do you know what each brush is used for? I am not an expert in the subject, but I can show you what these 5 brushes are for and how to use them.

Brocha plana | Flat brush
La brocha plana, este tipo de brocha se utiliza para bases fluidas es una brocha planita y firme, también sirve para compactar, podrás notar que trabaja muy bien dejando una base uniforme.
The flat brush, this type of brush is used for fluid foundations, it is a flat and firm brush, it is also used for compacting, you will notice that it works very well leaving a uniform base.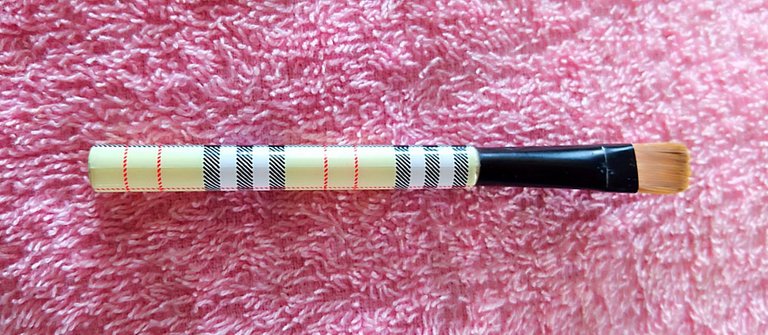 Brochas para polvos | Powder brushes
Te ayuda a sellar el maquillaje, yo la utilizo más que todo para los polvos sueltos como los traslúcidos o también para los bronceadores, los iluminadores o cómo famosamente los llaman "bronzer" me encanta los pelitos flojos.
It helps you to seal the makeup, I use it mostly for loose powders such as translucent powders or also for bronzers, highlighters or how they call them famously "bronzer" I love the loose hairs.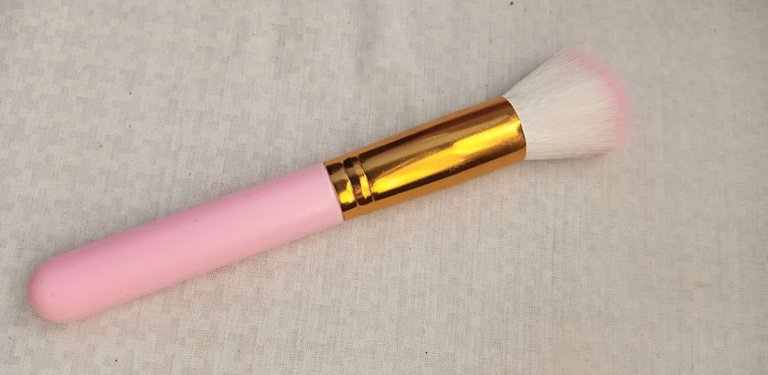 Brocha doble para cejas | Double eyebrow brush
Está me encanta, con ella puedo conseguir tener unas cejas hermosas por su función dúo, de un lado puedo peinar y con el otro dejar el color muy natural, para que luzca un poco profesional.
I love this one, with it I can have beautiful eyebrows because of its duo function, on one side I can comb and with the other side I can leave the color very natural, so it looks a little professional.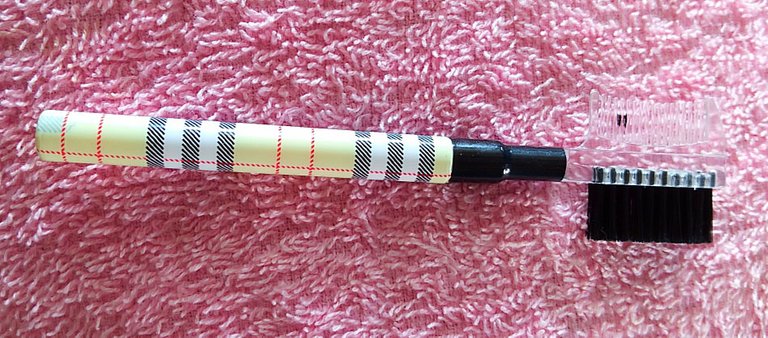 Brocha para difuminar sombras de ojos | Eyeshadow Blending Brush
Esta en particular la utilizo mucho, porque le da precisión al aplicar la sombra debajo de las pestañas, deja un acabado genial.
I use this one in particular a lot, because it gives you precision when applying the shadow under the lashes, it leaves a great finish.


También utilizo una esponja, que en el mundo del maquillaje es conocida como Beauty Blender, una esponja mezcladora, deja una adorable apariencia, te ayuda a cubrir totalmente todo el rostro, estás esponjas son hermosas, vienen de diferentes colores y formas. Estás esponjas son de cuidado porque se llenan mucho de bases y colores, lo mejor es que se pueden lavar, exprimir y secar siempre con mucho cuidado.
I also use a sponge, which in the makeup world is known as Beauty Blender, a blending sponge, it leaves a lovely look, it helps you to fully cover the entire face, these sponges are beautiful, they come in different colors and shapes. These sponges are very careful because they get very full of foundations and colors, the best thing is that they can be washed, squeezed and dried always very carefully.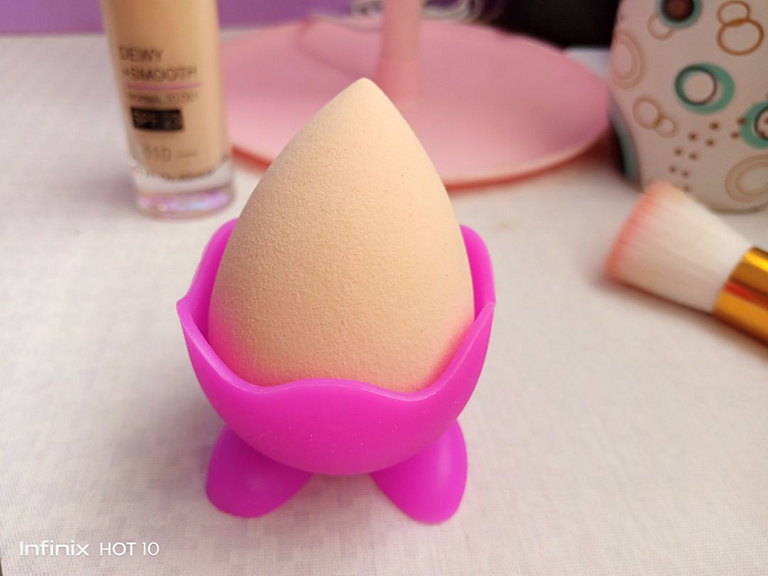 Se que existe muchas otras brochas nuevas y con otra utilidad pero yo considero que está son las más usadas por las que estamos iniciando en este mundo, recuerden siempre que compren algún producto cosmético deben preguntar, ¿El resultado de esto? La posibilidad de que el efecto ofrecido por el producto cosmético sea bueno, pero no tanto como lo podría ser de haber utilizado un elemento más adecuado, o en mejor estado, para su aplicación.
I know that there are many other new brushes and with other utility but I consider that these are the most used by those who are starting in this world, remember that whenever you buy a cosmetic product you should always ask, the result of this? The possibility that the effect offered by the cosmetic product is good, but not as good as it could be if you had used a more suitable element, or in better condition, for its application.

Recursos Utilizados | Resources Used
La imagen del banner y el divisor fueron realizadas y editadas con Photoshop Cs 6 | The image of the banner and the divider were made and edited with Photoshop Cs 6.

Todas las imágenes fueron tomadas por mi con mi celular Realme C3 | All images were taken by me with my Realme C3 cell phone.

Traducido con www.DeepL.com | Translated with www.DeepL.com/Translator.


---
---