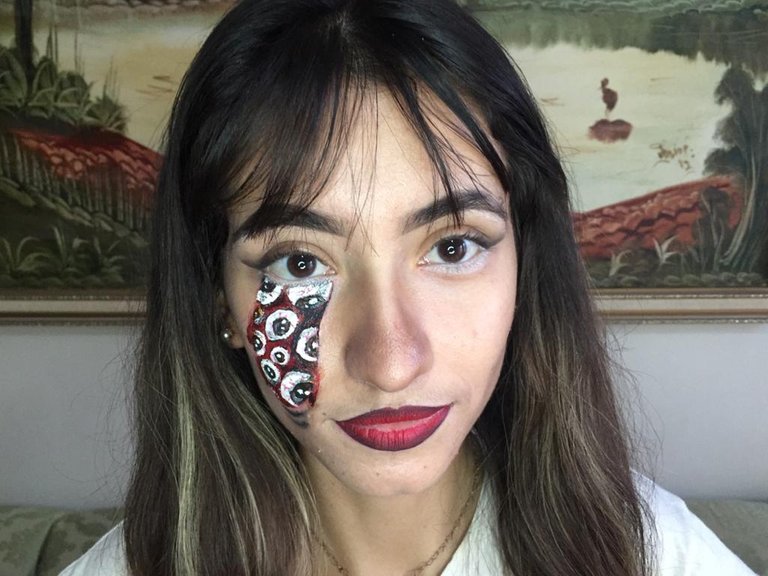 Hello to everyone in the beautiful MakeUp Power community, today I bring you a slightly different publication. It is a quite creepy optical illusion makeup with which I wanted to do this first practice, so for being the first I wanted to do it on myself.
What I got was a great result that I liked very much as well as my friends and people who support me.
Making this makeup only took me a couple of hours because of the knowledge I already have about drawing and art.
Hola a todos en la hermosa comunidad de MakeUp Power, hoy les traigo una publicación un poco diferente. Se trata de un maquillaje de ilusión óptica bastante creepy con el que quise hacer esta primera práctica, así que por ser el primero quise hacerlo en mi misma.
Lo que obtuve fue un gran resultado que me agradó muchísimo al igual que a mis amigos y personas quienes me apoyan.
Realizar este maquillaje solo m tomó un par de horas debido al conocimiento que ya tengo en cuanto al dibujo y el arte.
♡♡👁️♡♡
Starting this makeup I took some moisturizer and spread it around my face giving a soft massage to activate the blood vessels of the skin and absorb the cream better.
Taking two pens, one red and one black, I began to make the shape I wanted under my eye.
Iniciando este maquillaje tomé un poco de crema hidratante y lo esparcí alrededor de mi rostro dando un suave masaje para activar los vasos sanguíneos de la piel y absorbiera mejor la crema.
Tomando dos lapiceros, uno rojo y uno negro comencé a hacer la forma que quería por debajo de mi ojo.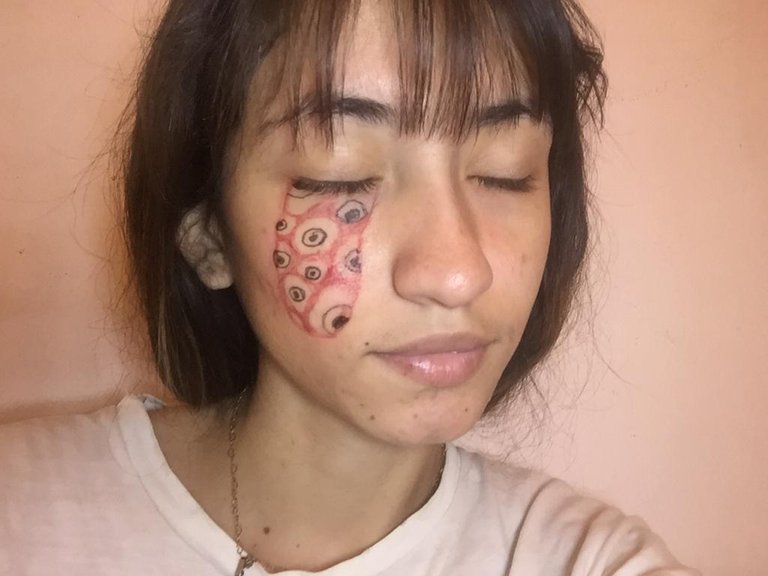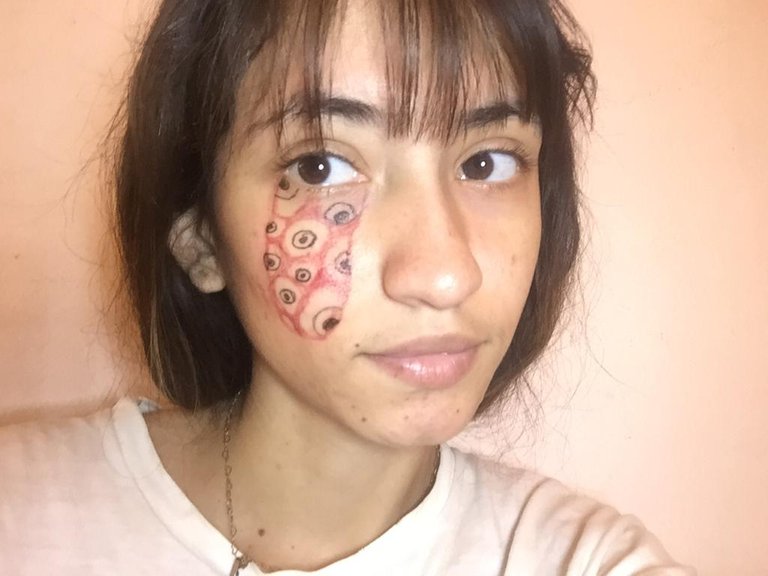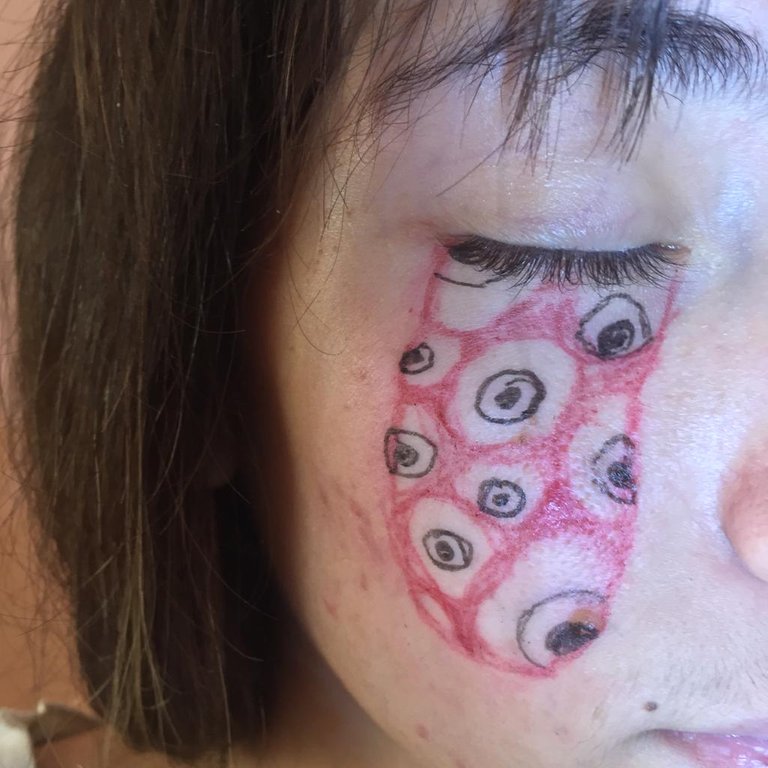 The materials I used in this detail of the eye were: paint for Red, Wine, White, Brown and Black cloth along with a very fine brush.
I started by filling in the sketch I had already done on my face with color and then giving it shadows with the black and wine tones.
Los materiales que usé en este detalle del ojo fueron: pintura para tela roja, vinotinto, blanca, marrón y negro junto con un pincel muy fino.
Comencé rellenando de color el boceto que ya había hecho en mi rostro para luego darle sombras con los tonos negros y vinotinto.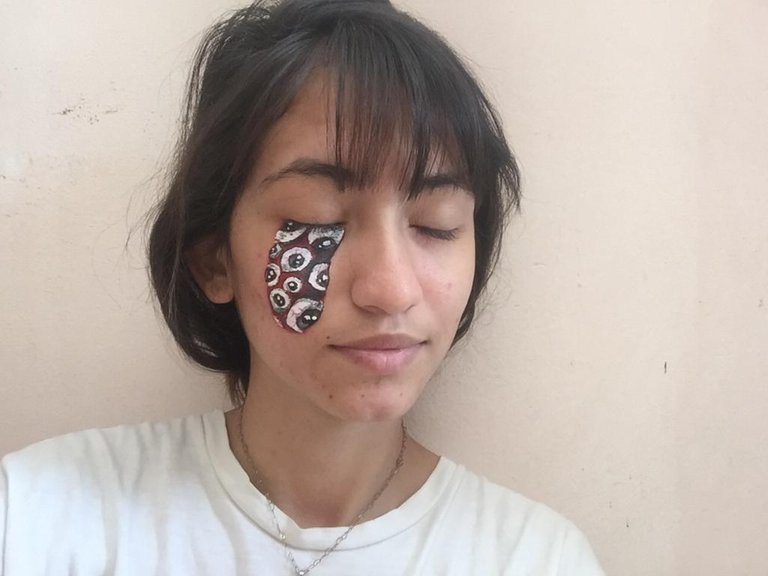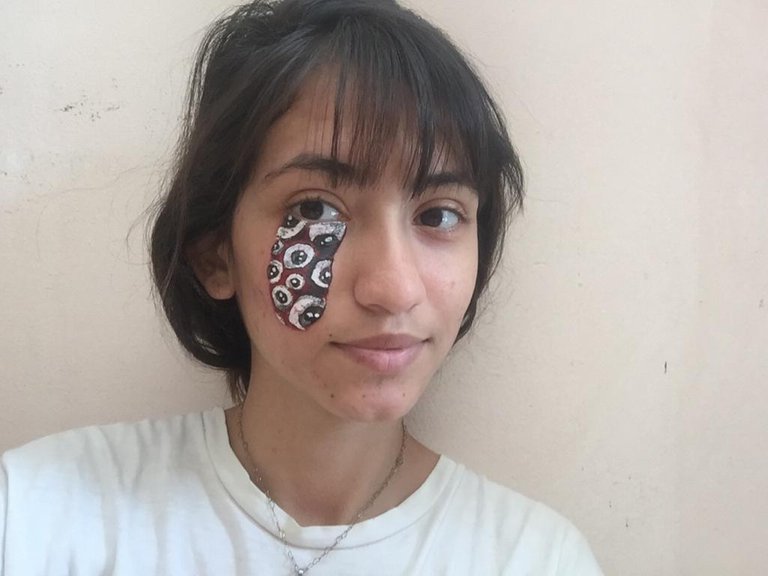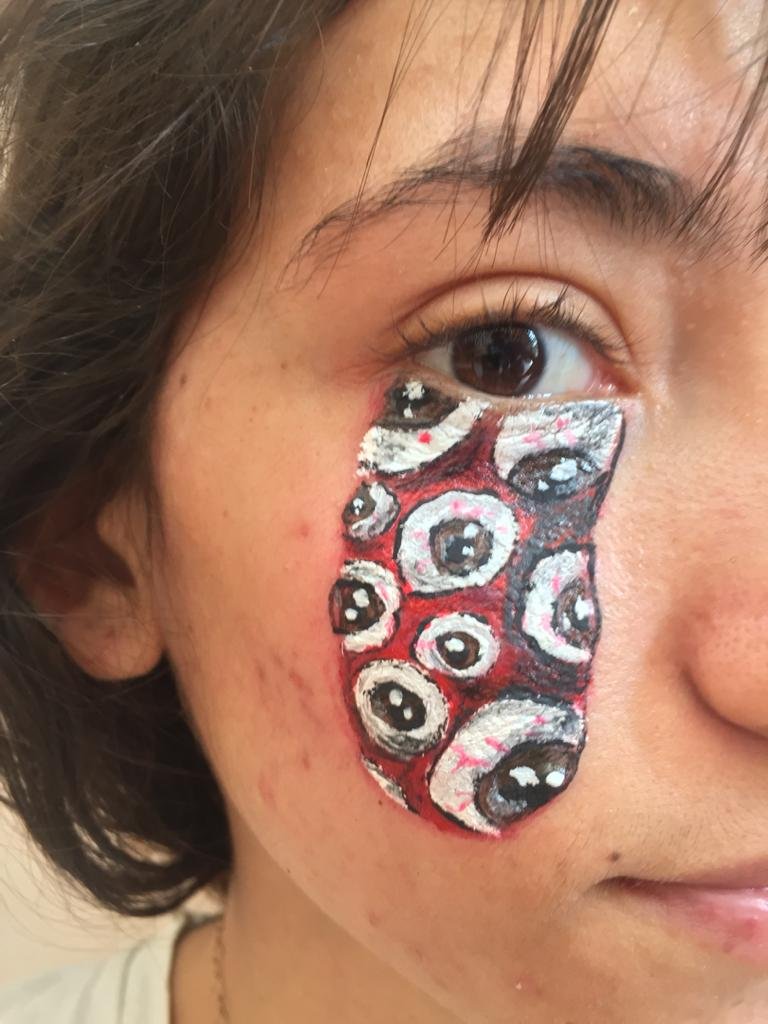 I proceeded to clean the edges with a wet wipe, did my eyebrows and applied some base around my face and marked the folds under the sketch painted with a little black shadow.
Procedí a limpiar los bordes con una toallita húmeda, me hice las cejas y apliqué un poco de base alrededor de mi rostro y marque los pliegues bajo el boceto pintado con un poco de sombra negra.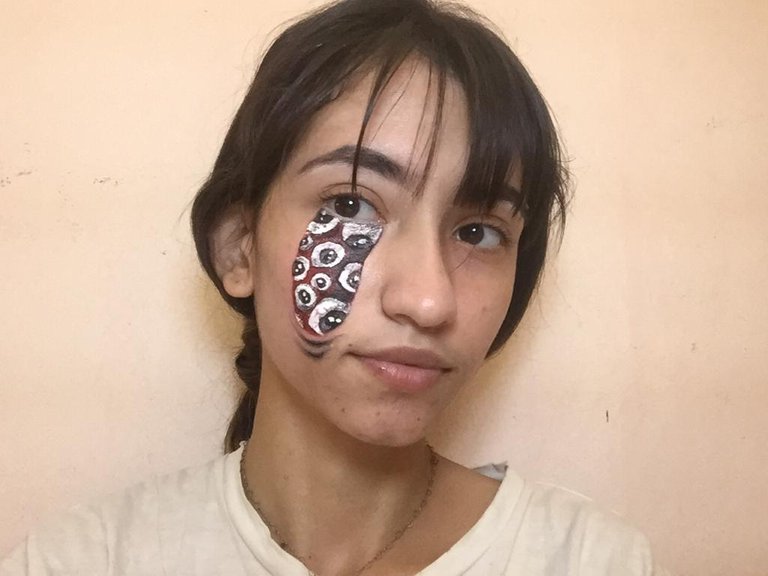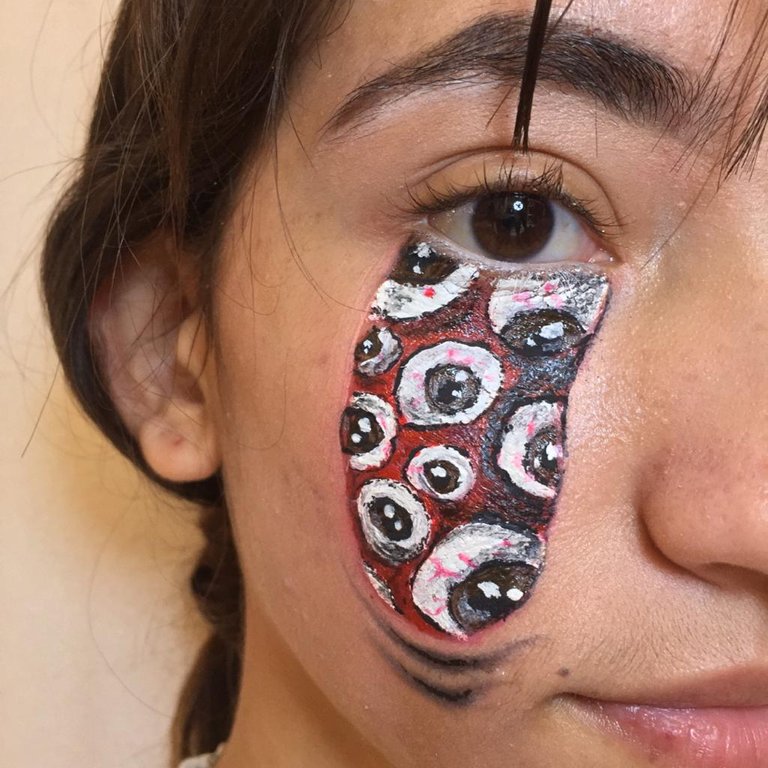 I did a little blurry eyeliner on my eyes, painted my lips red and lined them with a little black shadow and swept it in a little to make an ombré.
Hice un delineado difuminado en mis ojos, pinte mis labios de rojo y los delinee con un poco de sombra negra y lo barrí un poco hacia dentro para hacer un ombré.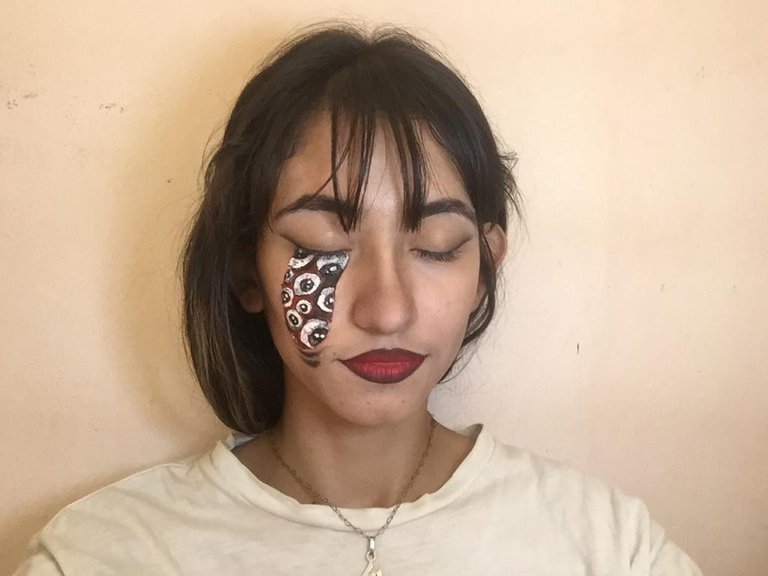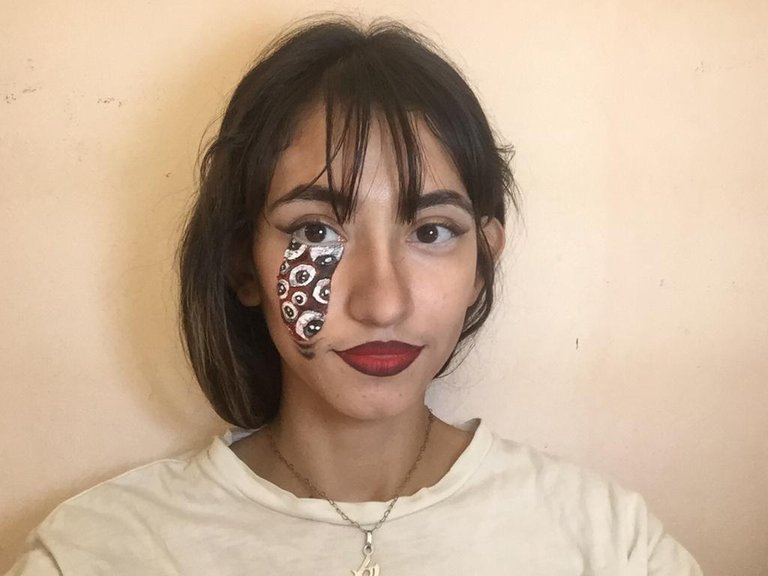 Outline my face with a rather dark shade for a more theatrical and dramatic effect.
I also took some blood-red liquid and dropped it on the sketch, and to darken it a bit I put some red paint on it.
Contornee mi rostro con un tono bastante oscuro para lograr un efecto más teatral y dramático.
También tomé un poco de liquido rojo parecido a la sangre y lo deje caer por el boceto, y para oscurecerlo un poco coloqué un poco de pintura roja encima.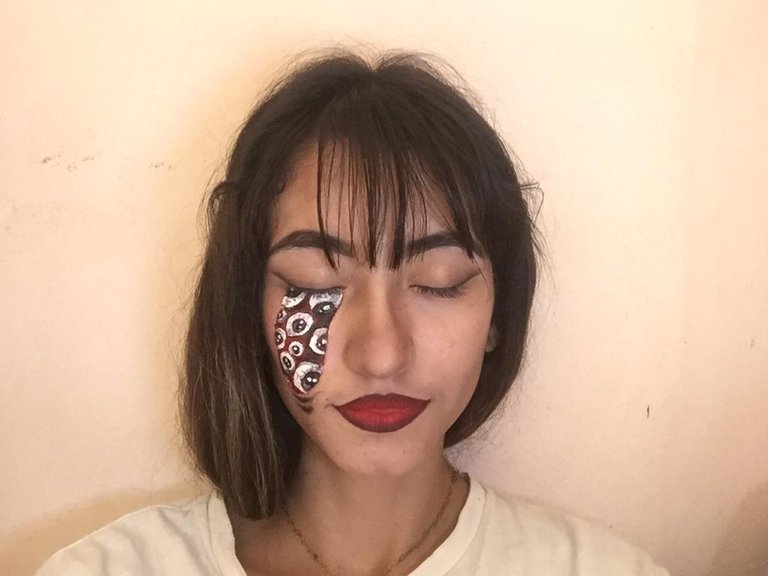 To give the last touches with the white pencil I put it in the water line of my eyes and in the lower eyelashes in added a little bit on the eyebrow bone.
Para dar los últimos toques con el lápiz blanco lo coloque en la línea de agua de mis ojos y en las pestañas inferiores además de un poco en el hueso de la ceja.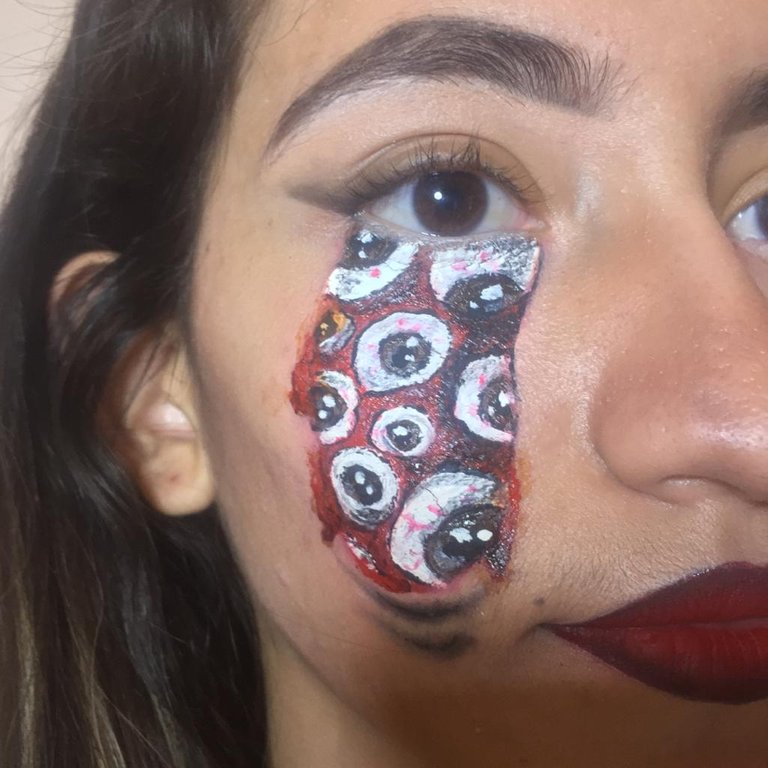 At the end I placed some translucid powder and started with the photos, after this my friend borrowed me her ring of light to take more detailed photos of my work.
This was the sequence of how I performed my first optical illusion makeup step by step.
Al finalizar coloqué un poco de polvo translucido y comencé con las fotos, luego de esto mi amiga me prestó su aro de luz para tomar fotos más detalladas de mi trabajo.
Esta fue la secuencia de cómo realice mi primer maquillaje de ilusión óptica paso por paso.
---
---
---
👁️ғɪɴᴀʟ ʟᴏᴏᴋ👁️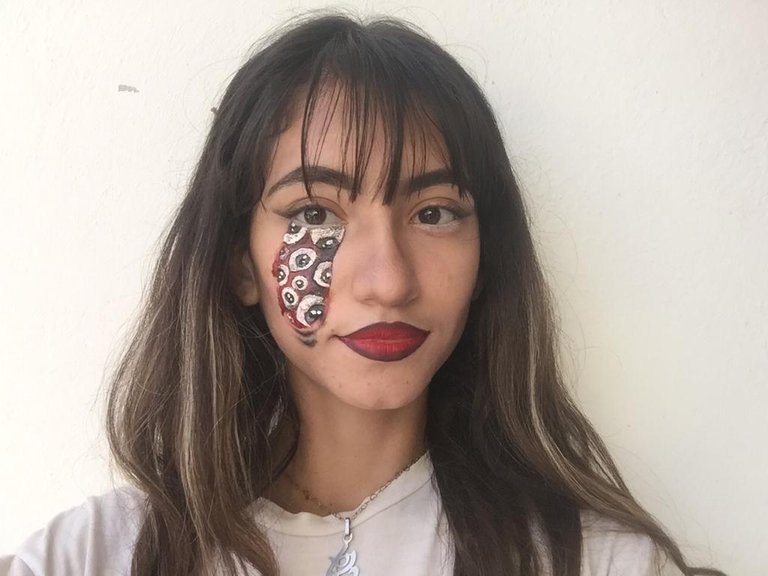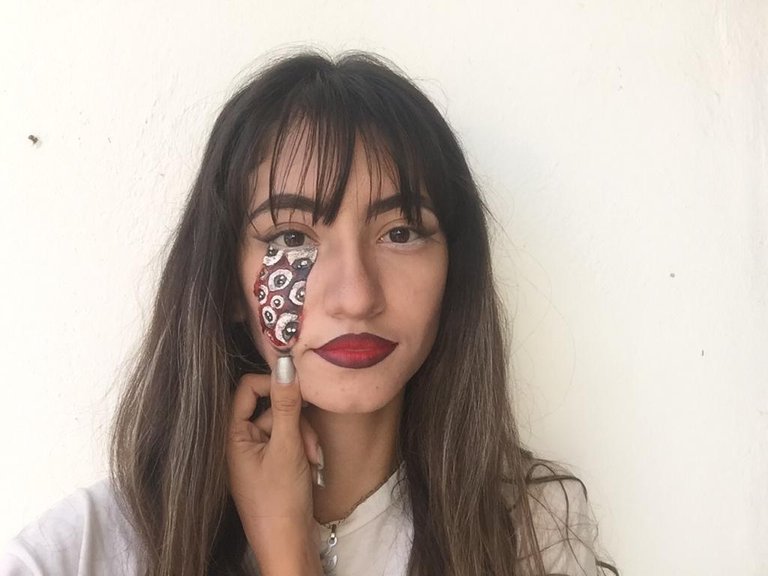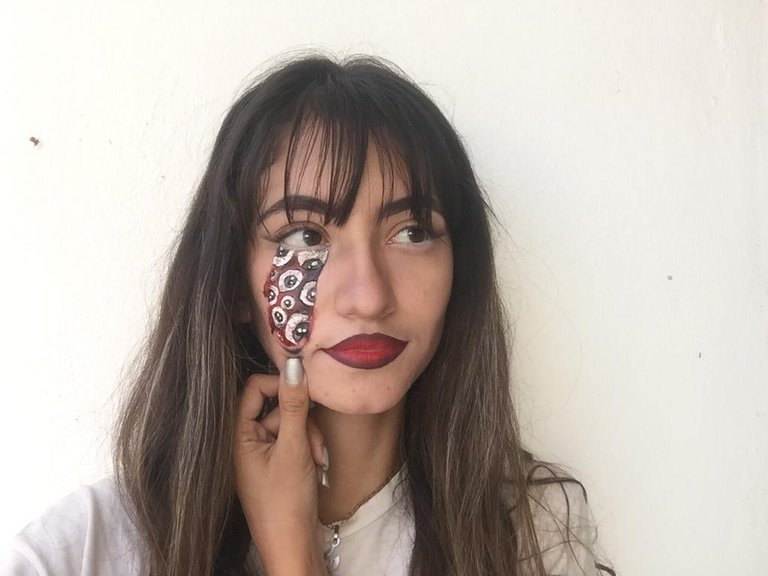 You can see the optical illusion of the makeup.
♡♡👁️♡♡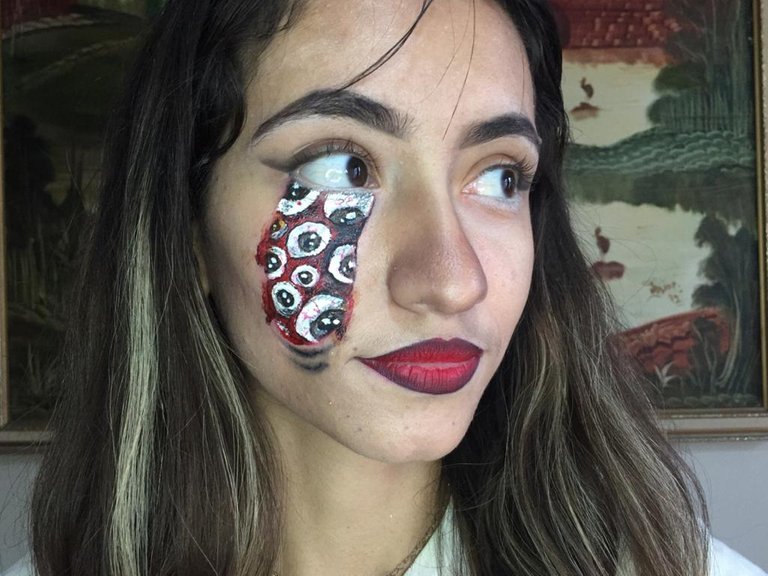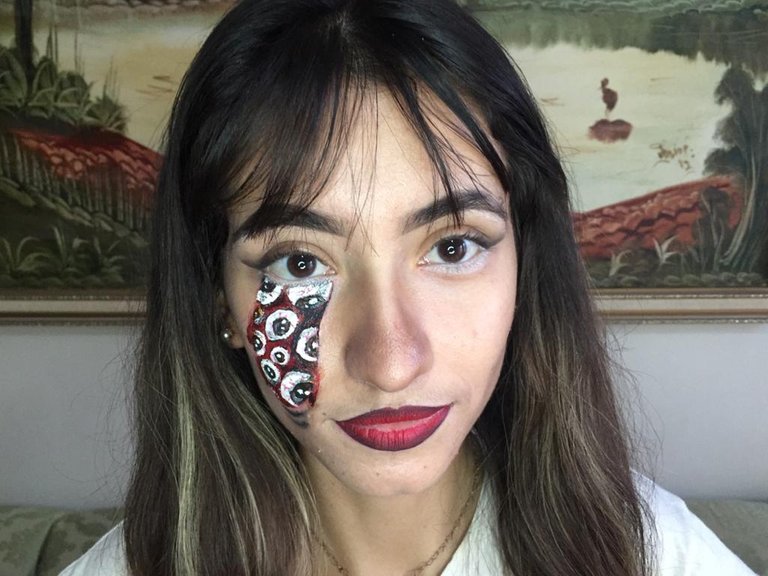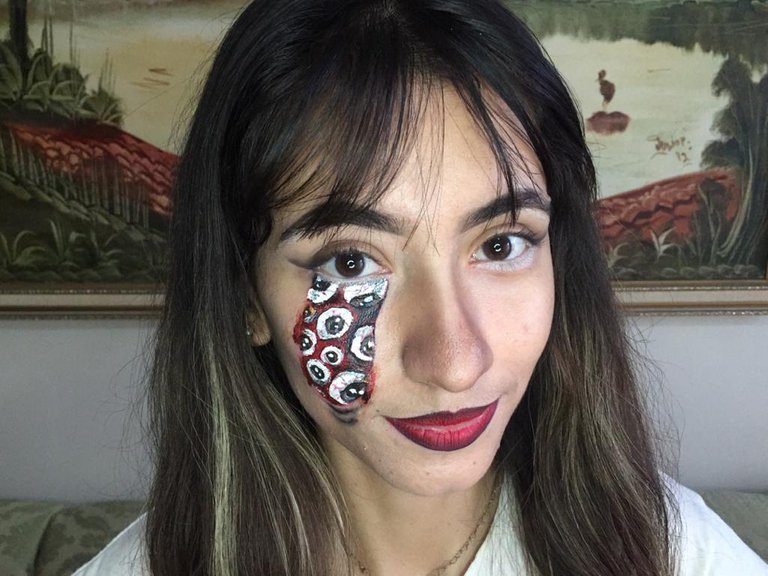 ---
---
---
Thank you for read my post, hope you liked it… vote me and leave me a comment and tell me what do you think about my work.
If you want so, you can follow me on Instagram
All the photos have been taken by myself, i am the author.
Editions made with CANVA
Gracias por leer mi post, espero que les haya gustado... voten por mí y déjenme un comentario y díganme qué piensan de mi trabajo.
Si quieres, puedes seguirme en Instagram
Todas las fotos han sido tomadas por mí misma, soy la autora.
Ediciones hechas con CANVA